These 100% whole grain orange sweet rolls are soft, fluffy and not like any other whole grain cinnamon rolls you've tried in the past.
It's time for another giveaway! Today I have an amazing Microplane Professional Series Gift Set up for grabs.
I absolutely love my Microplane Professional Series graters and couldn't get by without them. On Monday, I told you about one item that I just had to bring over here with me to Germany. I wasn't able to fit much in my two suitcases, but these Microplane graters were one of few other kitchen tools that came with me! I couldn't have possibly left them behind. I figured that if I adore my set so much, that one of you would, too. So I contacted Microplane and they generously offered to sponsor this giveaway. Thanks, Microplane!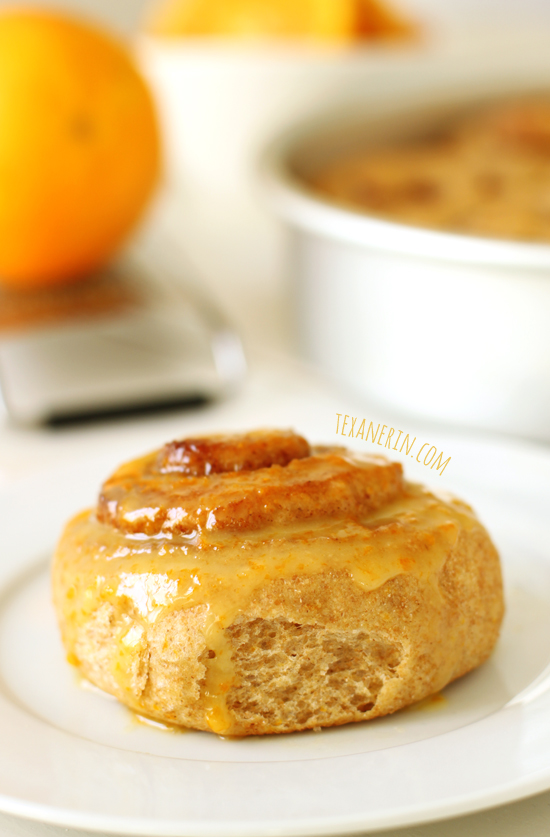 My favorite is the fine grater, which I use as a zester. I remember when my mother first brought home a Microplane zester. My father, the zester in the family, was elated. Do you remember zesting before Microplanes existed? It was a lousy task. So here's your chance to win all of the graters in Microplane's Professional Series!
Just enter your email address in the widget above! The rest of the entries are totally optional but each one gives you an additional chance at winning. Anything you already do (follow me on Twitter, Facebook, etc.) counts, too. The giveaway runs until December 15th at 11:59 PM EST and is only open to US residents with a valid mailing address (no PO box) – sorry dear friends outside the US! The winner will be notified via email on December 16th. Good luck!
And finally for the healthier orange sweet rolls! You know Pillsbury's Orange Sweet Rolls? I remember when those came out. It was like Christmas when I woke up to the smell of those baking in the oven! Sadly, you can't make 100% whole grain cinnamon buns that taste exactly like the Pillsbury ones, but at least these are heading in that direction. :)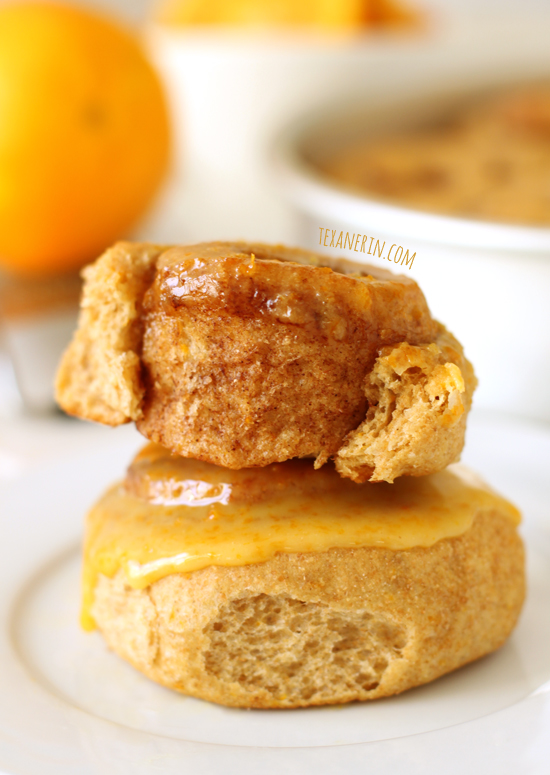 The dough is the same dough I used in these soft and fluffy dinner rolls, which I declared the best 100% whole grain dinner rolls ever. Really, they are! And that means these have the best base possible. Soft, fluffy, and no unpleasant whole grain taste here.
I added orange zest (with my beloved Microplane, of course! ;)) to the dough as well as to the icing on top. I know that many people prefer not to use powdered sugar but the problem is that there really isn't a good powdered sugar substitute. Using coconut sugar or honey, in my opinion, just wouldn't be very good on these orange sweet rolls. I don't know if you can tell by the pictures, but my glaze was pretty thin. I didn't use nearly as much powdered sugar as most recipes do! So it's a small improvement and I think it's one I can live with. :)
If you need a gluten-free version, try these awesome looking gluten-free cinnamon rolls!
❀
Healthier Orange Sweet Rolls
Prep Time:
Cook Time:
Ready in:
Yield:

24 rolls
Ingredients
For the rolls:

2 tablespoons active dry yeast
1/2 cup warm water
1/2 cup butter, softened + additional butter for brushing on top
1/4 cup honey
2 teaspoons orange zest
3 eggs
1 cup buttermilk
1 tablespoon vital wheat gluten
1 1/2 teaspoons salt
4 1/2 to 5 cups whole wheat flour

For the filling:

3 tablespoons sugar (I used coconut but you can use whatever you like)
2 tablespoons melted butter
2 1/2 teaspoons cinnamon

For the icing:

3/4 cup powdered sugar
1 tablespoon orange juice
1/4 teaspoon vanilla extract
zest of 1 orange
a pinch of salt
Directions
In a small bowl or measuring cup, dissolve the yeast in 1/2 cup of warm water. Set this bowl aside.
In the bowl of your stand mixer fitted with the paddle attachment, beat the butter, honey and zest until thoroughly combined.
Add the eggs, buttermilk, and the yeasty water mixture and beat until well combined.
Add in the vital wheat gluten and the salt, mix until combined and then switch to the dough hook.
Add in 2 cups of the flour and mix.
Then add in just enough flour so that the dough just comes together. Depending on the day, you may need a bit of extra flour. I've had to add up to an extra cup before!
Knead the dough for 2 minutes (not more!).
Wait until the dough is no longer tacky, then cover the bowl with plastic wrap and let the dough rise in a warm place for 1 hour. I like to turn the oven to the lowest setting for 1 minute, turn it off and then let the dough rise in there.
Turn the dough out onto a slightly floured surface and knead it a few times.
Let the dough then rest for 3 minutes.
On a lightly floured surface, roll the dough into a large sheet, about 16" x 24".
Spread the filling over the dough, keeping a small border of about 1cm around the edges.
Starting at the long end of the dough, tightly roll the dough into a jellyroll shape.
Cut the dough into 1" pieces and place them in a greased 9" x 13" pan.
Cover the rolls with some greased plastic wrap or a towel and allow the rolls to rise again, this time for about 20 – 30 minutes.
Preheat the oven to 350°F (175°C).
Bake the rolls for 20 – 25 minutes or until golden brown. It's very important not to overbake the rolls! The time it'll take to bake the rolls will depend on exactly how big you cut the rolls and what size pan you use, so remember to adjust that, if necessary.

For the icing:

Mix all the ingredients together.
Drizzle over the rolls before serving.
Dough recipe adapted from Soft 100% Whole Wheat Dinner Rolls from An Oregon Cottage
Thanks to Microplane for generously offering a Professional Series Gift Set to give away!