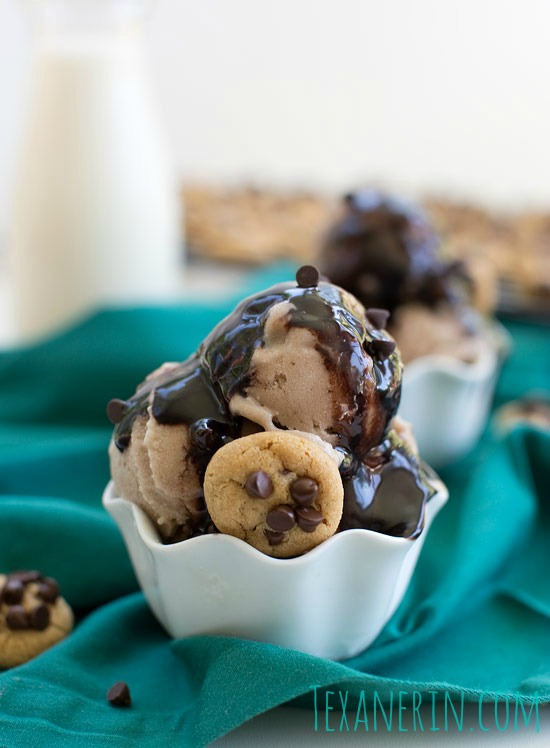 To start off pajama party week, Caroline posted some whole grain restaurant style pizza yesterday. It's pretty easy to make and most definitely worth the wait that's required for the dough to rise. Go check out Caroline's site for the recipe!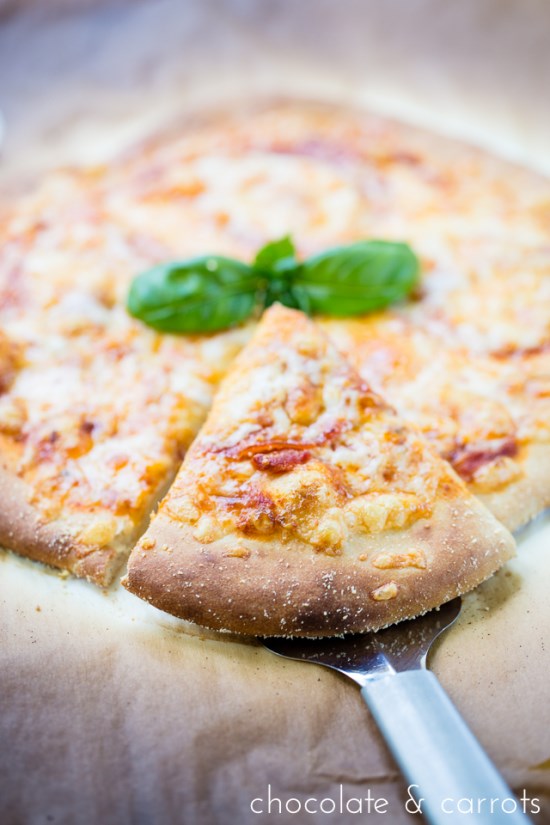 And we all know after pizza you have to have dessert! So we went with healthier sundaes.
First we made these super tiny and cute 100% whole wheat peanut butter cookies. It was my first time using white whole wheat (we don't have it over here) and I love it! You can expect to see quite a few recipes calling for white whole wheat flour in the next few months because I brought back a ton with me.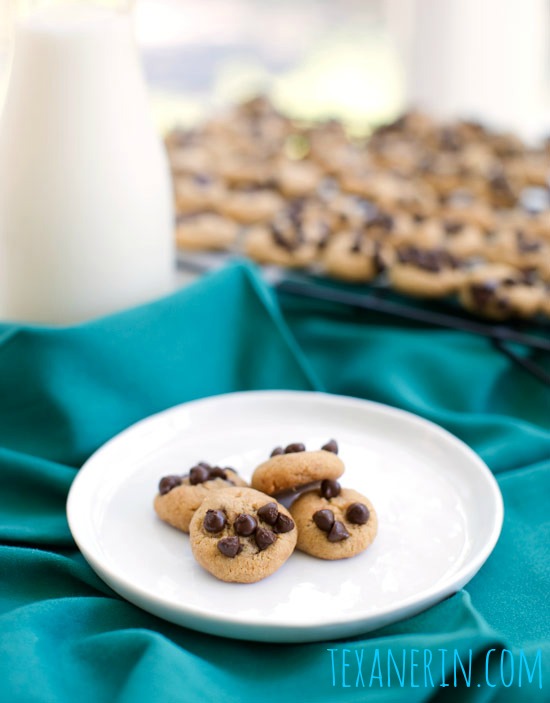 So. These cookies. After the first batch, Caroline said, "I'm so over these cookies." She had a point. They take a lot of time to scoop, roll into balls, and then to add chocolate chips to the top. I think we're both in agreement that it's easier just to make normal sized cookies. But for the sake of cuteness, we continued with the super tiny cookies.
And we had to make ice cream. But healthy ice cream! I'm sure most of you already know about the whole frozen banana ice cream thing, but if not – the recipe is below! In your Blendtec or food processor, you blend the frozen bananas, milk and peanut butter and then eat immediately as soft serve or freeze for a while like we did. I think we're both in agreement that peanut butter always = better.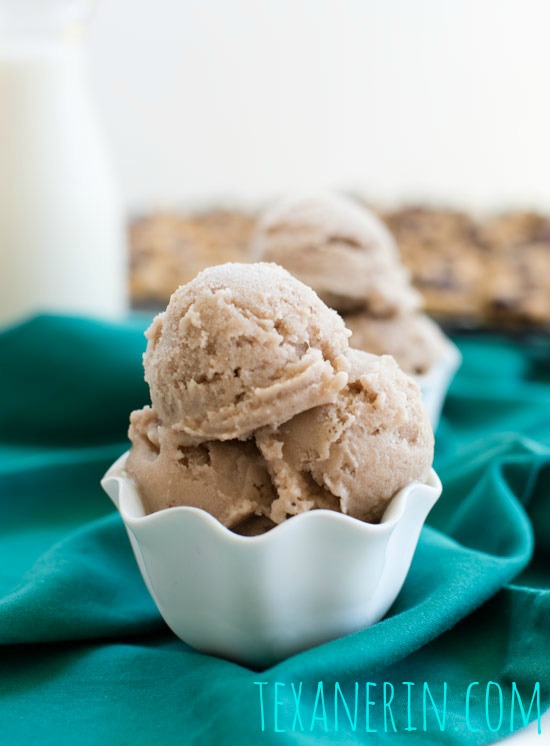 By the way, when I looked in Caroline's freezer for the first time, I was shocked by the amount of bananas in there. She's serious about her nightly peanut butter banana smoothies. I had one on my last night there for dessert and it was so much more filling than a regular smoothie! The ice cream recipe in our sundaes was also based off of this recipe.
If you freeze the ice cream for more than four hours or so, it will become hard. Like rock hard. Just let it sit at room temperature for 10 minutes until it's easy to scoop out what you want and return the rest to the freezer. But my favorite way to eat this is straight from the blender when it's all soft and melty. The only problem that just doesn't make for pretty sundaes. ;)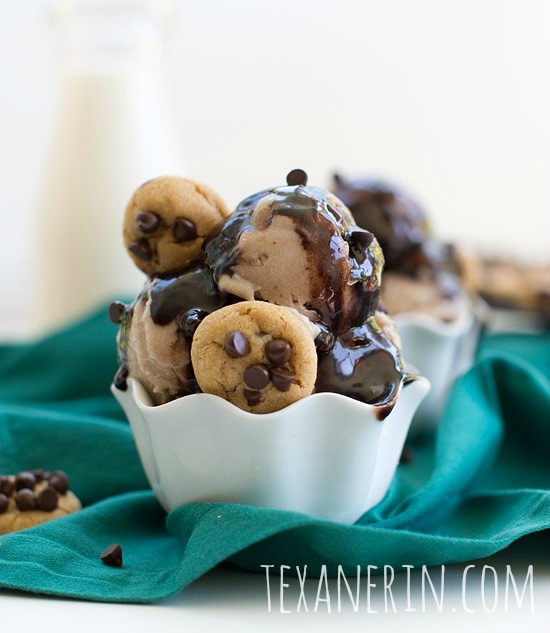 And the cookie yield doesn't match the ice cream yield. That's because you're going to want lots of these as leftovers! They stay good for days. They're soft, chewy, and peanut buttery.
For the chocolate sauce, I used store bought stuff but if we would have had time, we would have made this Greek yogurt chocolate ganache.
Be sure to check out Caroline's site tomorrow for our next pajama party recipe!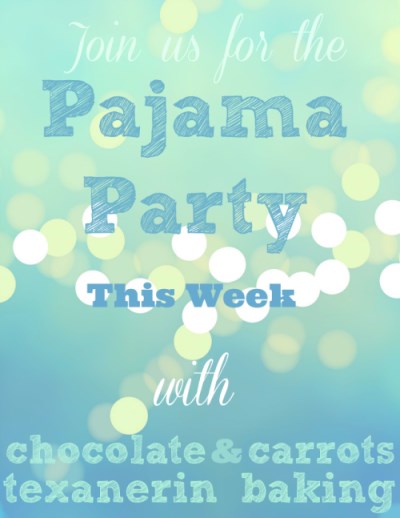 ❀
Healthier Sundaes (Whole Grain Peanut Butter Cookies + Peanut Butter Banana Ice Cream)
Prep Time:
Cook Time:
Ready in:
Yield:

11 large cookies + 2 servings of ice cream
Ingredients
For the cookies:

1/2 cup regular peanut butter (the kind with added fat and sugar - the kind with just peanuts and salt probably won't work here)
1/2 cup butter, room temperature
1/2 cup unrefined sugar
1/2 cup light brown sugar
1 egg
1/2 teaspoon vanilla
1 1/4 cup white whole wheat flour
3/4 teaspoon baking soda
1/4 teaspoon salt
1/2 cup mini chocolate chips

For the ice cream:

2 large bananas, cut into 1" chunks and frozen for at least 4 hours
1/2 cup milk
3 tablespoons peanut butter
chocolate sauce
Directions
For the cookies:

With a hand mixer, beat peanut butter, butter, unrefined sugar and light brown sugar until fluffy.
Add the egg and vanilla and stir.
Add the white whole wheat flour, baking soda and salt and stir until well combined.
Add 1/4 cup of mini chocolate chips and stir.
Roll into 1/2" sized balls (for countless mini cookies) or, for a more practical version, roll into 2" balls.
Sprinkle the remaining 1/4 cup of mini chocolate chips on top.
Bake the 1/2" balls for 4 - 6 minutes or the 2" balls for 12 - 15 minutes.

For the ice cream:

In a Blendtec (or another high powered blender) or food processor, blend all of the ingredients until completely smooth.
Eat immediately for soft serve or freeze for at least two hours for the ice cream to be scoopable.
Cookie recipe adapted from: Peanut Butter Cookies – Simply Fresh Cooking, as seen on Chocolate Dipped Peanut Butter Cookies – Chocolate & Carrots. Ice cream adapted from Peanut butter banana oatmeal smoothie – Chocolate & Carrots