I just realized that the last four out of six recipes I've posted have had chocolate in them. So much for variety. Next week, no chocolate! But for now, I hope you can cope with one more chocolate recipe.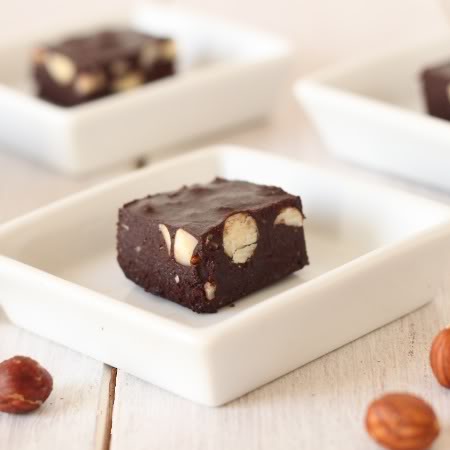 Minutes after making this
chocolate hazelnut spread
, I knew I had to make this fudge. It's just so quick and easy and I don't feel guilty at all when eating it. That resulted in me eating over half the batch in a few hours, but that's okay. I didn't regret it at all.
Did you know that hazelnuts are also called filberts? I just learned this and it kind of makes me laugh. Filbert?! Really? "Hey Erin, let's chop the filberts!" It's just sounds funny. Filbert filbert filbert!
I'll stop the silliness. Here's the recipe!
6 tablespoons (84 grams) coconut oil

1/2 cup (~128 grams) chocolate hazelnut spread
1/2 cup + 2 tablespoons (~50 grams) Dutch-process cocoa powder*

1/4 cup (80 grams) honey

2/3 cups (80 grams) hazelnuts, optional
* In Germany, we only have Dutch-process cocoa so I can't say how this would work with normal Hershey's cocoa powder. Hershey's Special Dark Cocoa would work.
Directions:
Coarsely chop the hazelnuts or leave them whole if you like. Melt the coconut oil, chocolate hazelnut spread and cocoa powder together in a pot or pan over low heat. When it's completely melted and smooth, take it off the heat and add the honey and stir until well combined. Line a small loaf pan with parchment pan and pour in the fudge. Place in the refrigerator until set. Mine took a few hours so if you're in a hurry, stick it in the freezer. Store in the refrigerator because they get pretty messy and gooey at room temperature.
German bakers: refined coconut oil is called Kokosfett and can be found everywhere except the discounters, although I did find it at Netto Marken Discount. It's next to the butter and in my area it costs about .89 per 250 gram block.
Source: adapted from my Healthy Peanut Butter Chocolate Fudge