These homemade healthier marshmallows are completely sweetened with honey! All you do is make a syrup, add it to some gelatin, and then beat it until it's fluffy. That's it!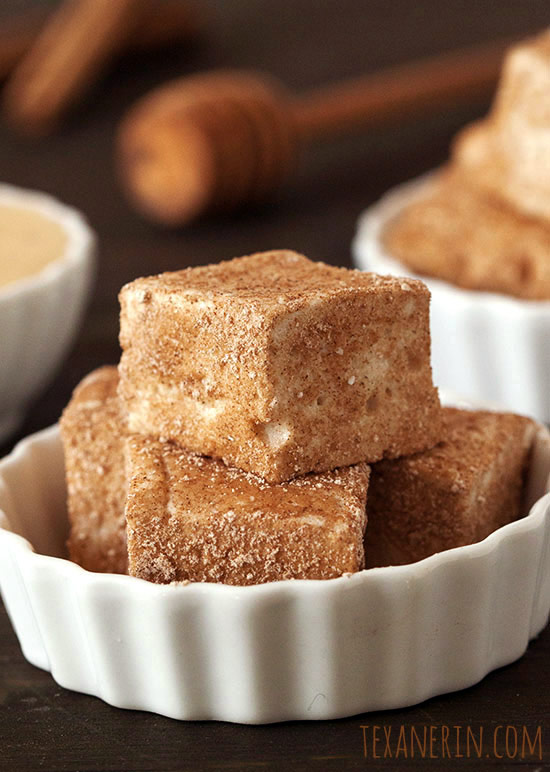 Marshmallows kind of scare me. They're just so… weird. And unnatural. I've seen so many s'mores recipes lately and I wanted to get in on the action but I really didn't want to use store bought marshmallows. So I found a
completely honey sweetened
recipe, with
no funky ingredients
! Besides gelatin. Gelatin kind of creeps me out, too. But I really wanted some s'mores so I went with it. That said… eating these marshmallows plain still isn't for me. It feels odd. They're just so jiggly! But smacked between two graham cookies?! Most amazing cookie sandwich ever. That post is coming up next! I've made a few other goodies with these and homemade is definitely the way to go.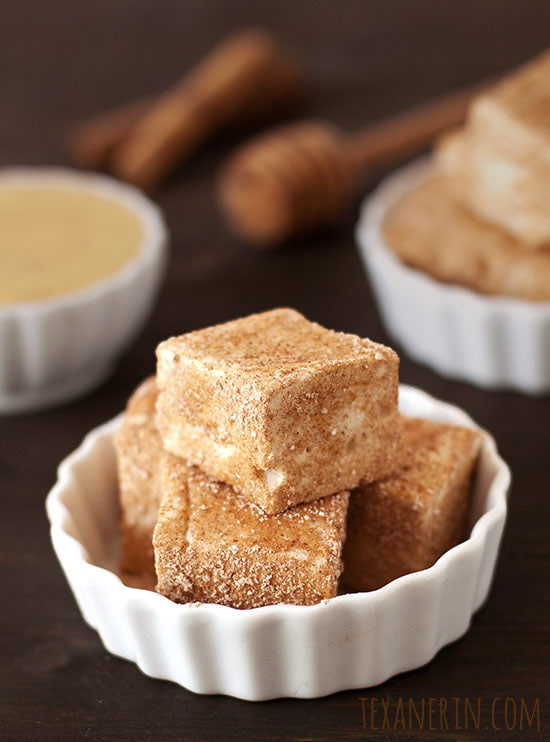 I was really intimidated when I saw this recipe.
"I don't think I can do this… I think I need help. I'm going to ruin them! Waaaah."
But really? They were easy. As long as you use the right mixer attachment. Using the dough hook doesn't work so well when you want to whip something. If you feel a little anxious, the creator of the recipe, The Urban Poser, has even made a
video
walking you through the steps! I might have watched it 3 times. It's really helpful so check it out!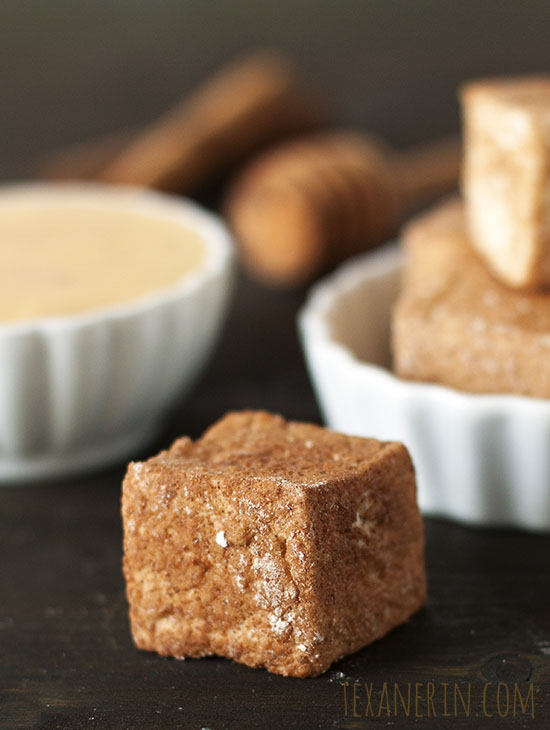 Jenni says that if you want to roast the marshmallows, you should let them dry extra long. I did that but I must have messed up because mine melted within seconds after putting one into the oven. She also has loads of troubleshooting tips so you should really take a look at her post if it's your first time making marshmallows. And look! I made my marshmallows cinnamon flavored. Sweetened with honey and
cinnamon flavored
. How perfect are these for all things s'mores? I know they now have tons of different types of marshmallows but can you get honey sweetened and cinnamon? I think not. So here. Make these! ;)
Looking for something to bring camping? Take a look at this campfire brownies recipe. And if you need a sugar-free version, try these sugar free marshmallows.
❀
Homemade Healthier Marshmallows – Gluten-free and Dairy-free
Prep Time:
Cook Time:
Ready in:
Yield:

32 marshmallows
Ingredients
Coating:

1/4 cup (28 grams) powdered sugar1
1/4 cup (30 grams) cornstarch (non-GF) or potato starch or arrowroot starch
1 tablespoon cinnamon

Marshmallows:

1 cup (236ml) water, divided
2 1/2 tablespoons gelatin
1 cup (320 grams) honey
1 1/2 teaspoons vanilla extract
1 1/2 teaspoons cinnamon
1/4 teaspoon salt
Directions
Line an 8"x8" pan with parchment paper.
Combine the coating ingredients and using a sifter, sift a layer of this mixture over the parchment paper.
In the bowl of your stand mixer, add 1/2 cup water to the gelatin and stir. Attach the whip attachment to the mixer and secure the bowl in place if it isn't already.
Get out a medium saucepan (if your saucepan is too big, the mixture is more likely to burn!) Pour the remaining 1/2 cup water in this saucepan with the honey and salt and bring this to a boil over medium heat.
With a candy thermometer in the saucepan, boil this mixture until the thermometer reads 245 degrees F (118 degrees C). Do not go past 245 degrees F! This took me a good 15 minutes, but could take more or less time depending on the size of your saucepan and burner. If the mixture starts to foam, use a spoon to break up the foam but try to leave the syrup alone. Once the mixture reaches 245 degrees F, remove the pan immediately off of the heat.
Pour this mixture into the bowl of your stand mixer, in a slow stream. Be sure not to pour too fast as this will cause problems later on! The syrup and gelatin should be thoroughly combined before moving on with the recipe.
Start beating this mixture on high and continue until it's thick, kind of like marshmallow creme, and the mixture is completely cool. This took me about 12 minutes but could take as few as 7 minutes. Once it's thick, stir in the vanilla and cinnamon and beat 30 seconds more.
Spread the creme over the parchment paper as evenly as you can. Sift on another coating of the cinnamon sugar and cornstarch mixture.
Let this sit for 4 hours and then cut and roll each marshmallow into more of the coating.
Store, covered, for up to a week.
Notes
You can use more starch instead of powdered sugar, if desired.
Recipe adapted from Rustic Homemade Marshmallows With Honey – The Urban Poser