I wanted to post some chocolate cherry brownies today, but I'm having trouble with the laptop the pictures are on. As in, I can't get it to go on.
I've seen a lot of comments about how insanely hot it is in some parts of the US. So I thought for July 4th, I'd try to think up something that didn't have to be baked. First I made coconut almond tarts to go with some Greek yogurt pastry cream, which is currently sitting in its soupy state in the fridge.
Then I made some of this cashew cream cheesecake stuff which seems to be so poplar. It was disgusting. I actually had to get rid of it it was so bad. And I never do that.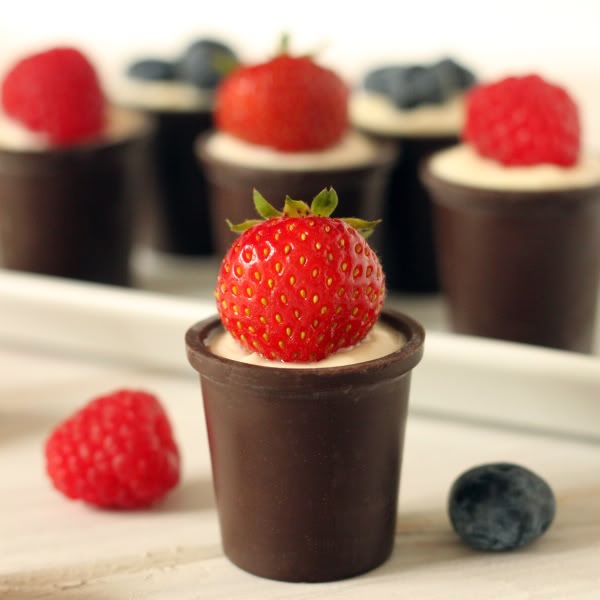 And then I found these chocolate cups a friend gave to us a few years ago (chocolate doesn't expire, okay?) and wanted to find a way to use them up. And I finally succeeded! Yay.
This filling tastes nice and light and not too sweet at all. It tastes lightly of honey and I loved it with the fruit.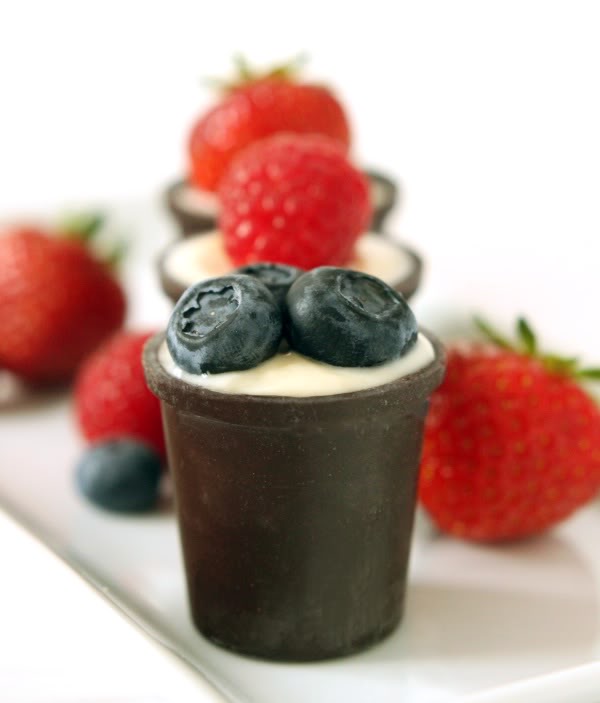 If you don't have chocolate cups, you could just put the filling in a graham cracker crust, sugar cookie crust, or whatever crust you like. You'd probably have to double the recipe, though. And this isn't nearly as sweet as your typical no-bake cheesecake and if you don't like honey, just use some powdered sugar.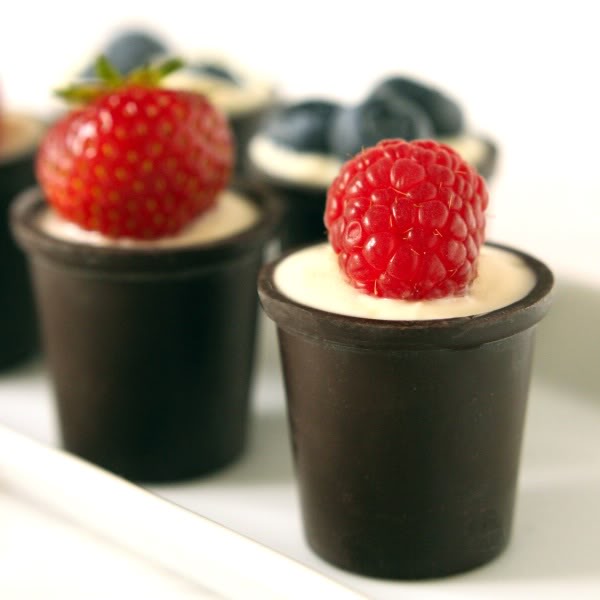 Happy 4th of July to everyone in advance! And if you're not in the US, just have a super week! :)
❀
Honey Sweetened No Bake Cheesecake Filling
Prep Time:
Cook Time:
Ready in:
Yield:

14 mini chocolate cups
Ingredients
8 ounces (225 grams) cream cheese
4 ounces (113 grams) Greek yogurt, mine was 10% but I imagine 2% would work too
3 - 4 tablespoons (60 - 80 grams, depending on how sweet you like things) honey
1 teaspoon vanilla
Directions
Mix everything together with an electric hand mixer until well combined. Spoon or pipe into the cups and store in the fridge until serving and only put the fruit on right before serving. The filling will harden a little as it chills. Yields enough for about 14 little chocolate cups.
Notes
People in Europe (probably the rest of the world too, but I'm not sure): Take 300 grams of cream cheese and with a linen kitchen towel, wring out the whey until it's the consistency of American cream cheese. This will be a runny mess if you don't drain it! After draining, it should be about 225 grams.