These lemon energy bites are easy to put together, full of lemon taste and vegan and gluten-free. This post has been sponsored by Wholesome. All thoughts and opinions are my own.
I hope everyone enjoyed the holidays! I had these great plans to post a ton of cookie recipes in December but after baby Björn was born so late and my parents came for a visit, I couldn't manage to get the recipes posted.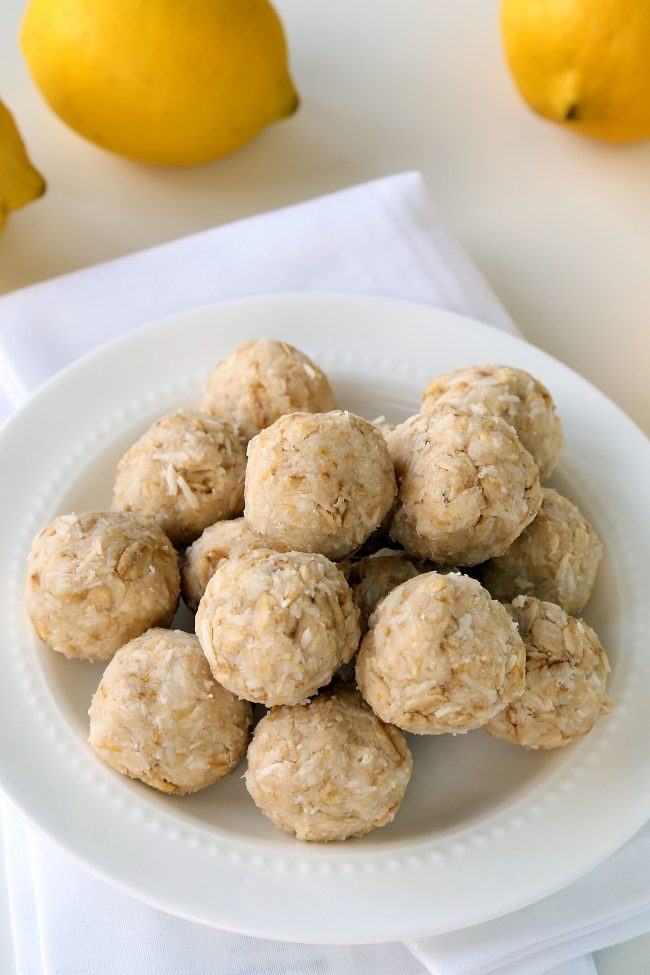 None of the recipes are overly Christmas-y so those recipes will be coming soon!
After the holidays, I'm exhausted from all the baking. And overly indulgent foods. So today we have some super easy lemon energy bites!
This recipe calls for good for you ingredients like coconut butter, cashew butter, oats, coconut and to sweeten them, I used Wholesome Organic Stevia.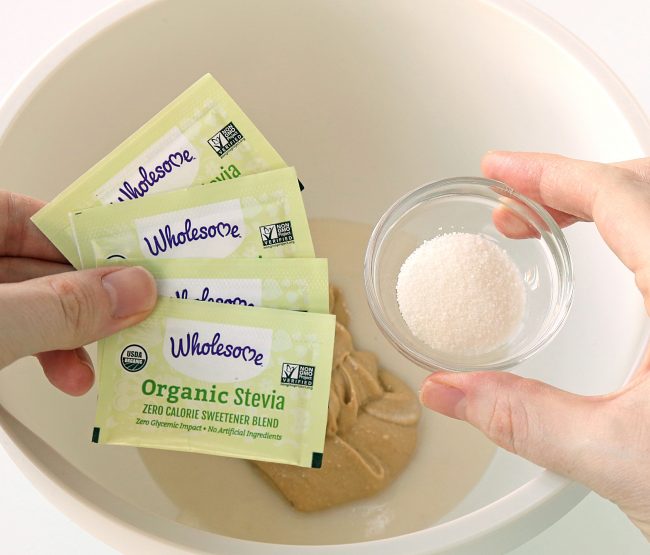 You can find Wholesome Organic Stevia in the baking aisle at your local grocery store and use this handy store locator to find a retailer near you. You can also get a coupon for $1.
Wholesome Organic Stevia brings all the sugar-like sweetness, without any harmful chemicals and USDA Organic – made from organic stevia, erythritol from organic corn, and natural flavor. It's also non-GMO Project Verified and has zero calories and no glycemic impact, which is great for people watching their calories, sugar intake or blood sugar levels. It's gluten-free, vegan and kosher.
I used 4 packets in this recipe. Each packet is equivalent to 2 teaspoons of sugar and the individual packets are super convenient to bring on the go. Wholesome also has jars of Stevia should that work better for you. Just don't forget to take advantage of this coupon offer to really "sweeten" the grocery list.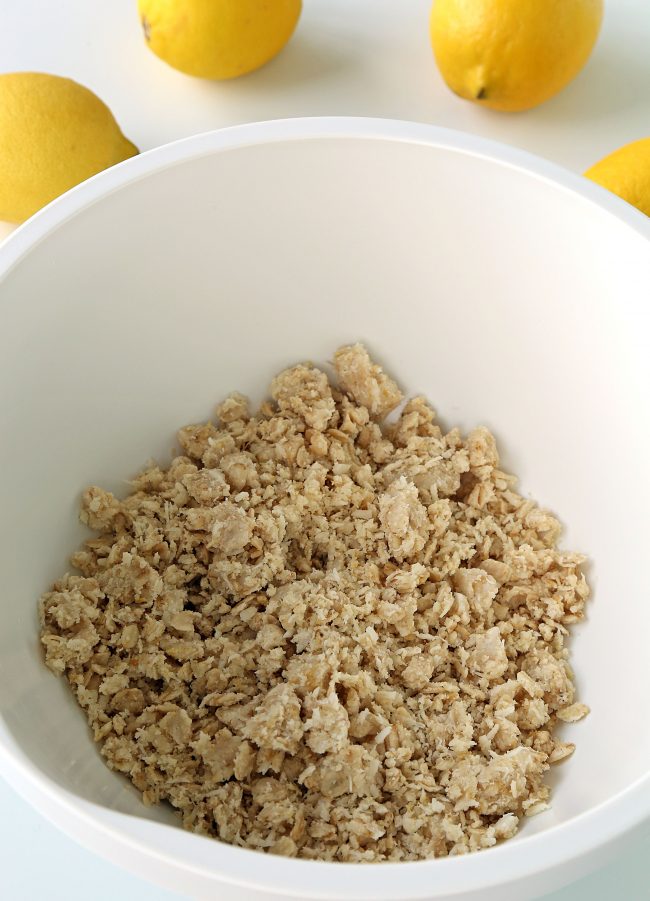 If you need these energy bites to be gluten-free, make sure to use gluten-free oats. These energy bites are also naturally vegan and dairy-free!
If lemon isn't your thing, I'm thinking that lime may be a good alternative to lemon. But I haven't tried it so I can't say for sure!
For the coconut butter, there's unfortunately not a good substitute. If you're wondering where to get it – you can make homemade coconut butter with just shredded coconut, a food processor or a high-speed food processor.
If you use a food processor, it can take quite a while. Maybe 10 minutes? It really depends on your processor. If you use a high-speed blender (it doesn't work in a regular blender), then it takes more like 2 minutes!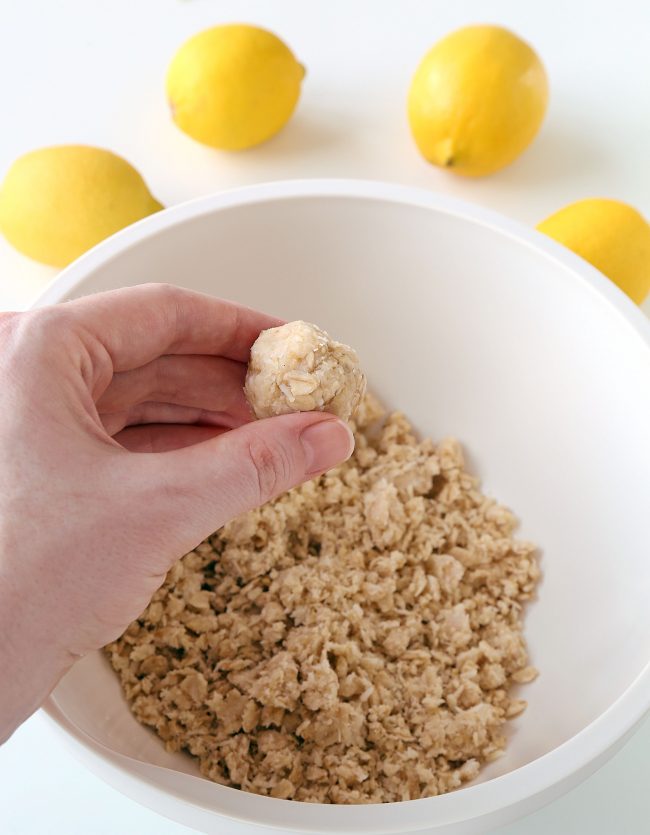 Cashew butter can also be made in the food processor or high-speed processor and goes along with the lemon taste really well. I loved the combination in this vegan paleo lemon fudge and definitely recommend using cashew butter rather than peanut or almond butter.
I'm pretty sure they'd work out texture-wise but it sounds like a weird combination! Same with sunflower seed butter. I think cashew butter just goes better with lemon.
If you're a lemon lover like me, be sure to try out my paleo lemon cookies or lemon pound cake.
And for more great recipes using stevia, check out Wholesome's recipe section. Don't forget to use the store locator to track down where to pick up your Wholesome products!
Hope you all enjoy the energy bites!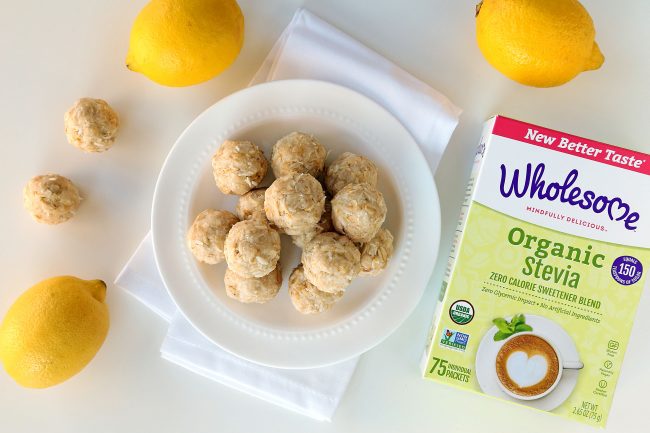 ❀
Lemon Energy Bites (gluten-free, vegan)
Prep Time:
Cook Time:
Ready in:
Yield:

14 balls
Ingredients
6 tablespoons coconut butter
1/4 cup cashew butter
4 packets Wholesome Organic Stevia
2 tablespoons lemon zest
4 teaspoons lemon juice
3/4 cup rolled oats
1/2 cup unsweetened shredded coconut
Directions
In a medium bowl, mix together the coconut butter, stevia, lemon zest and lemon juice.
Stir in the oats and shredded coconut until well combined.
Roll into 14 1" balls.
Keep the coconut balls covered and store in the refrigerator for up to one week. They're also fine at room temperature for up to 3 days.