Quicker and easier than a regular cheesecake, these pumpkin cheesecake bars are nice and light and the perfect way to end a holiday meal!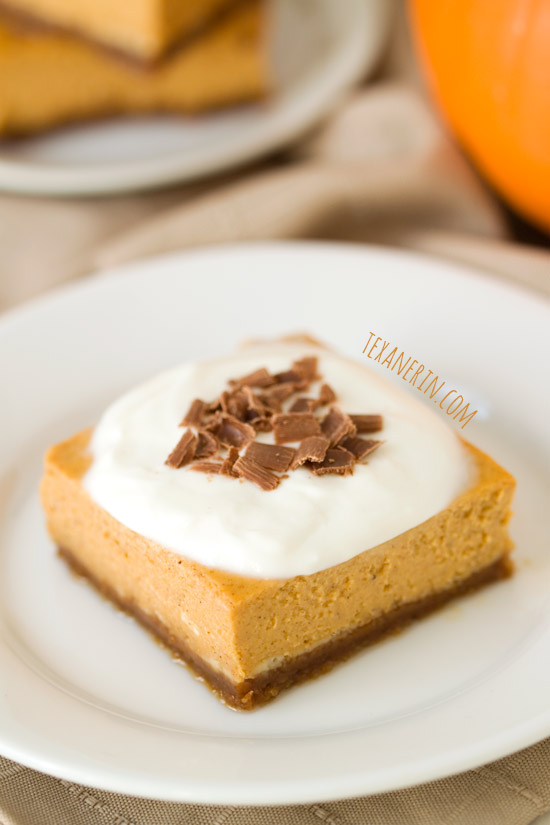 Before we get to the recipe, don't forget to enter the Anolon and Wusthuf giveaway. :) We're giving away $700 worth of goodies but you can only enter for a few more days, so head on over and check it out!
Also, I have a new post up over at Good Life Eats! I made some healthier Greek yogurt mashed potatoes. Why use heavy cream and cream cheese when you could make them with Greek yogurt? They taste just as good! Besides, I'd rather save my calories on Thanksgiving for the desserts!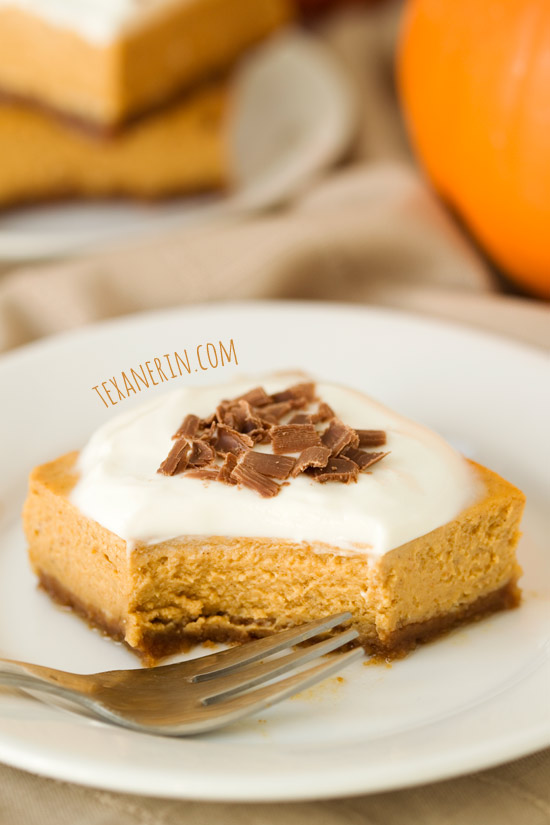 So, now – the pumpkin cheesecake bars! I have to admit that I prefer heavy, really dense cheesecakes but for those of you who don't want to eat something that calorific after a huge Thanksgiving dinner, here you go! These lighter cheesecake bars are the perfect option for when you want just a little something and don't feel like downing 400 calories per piece.
I think these are so light because of the pumpkin to cream cheese ratio. There's even more pumpkin in these bars than cream cheese! So there you go. Make these pumpkin cheesecake bars and get your vitamin A and antioxidant carotenoids. :D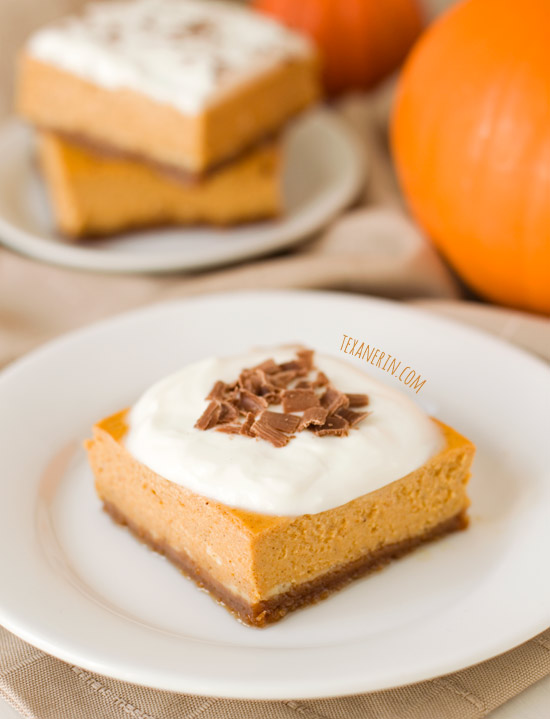 I was in a hurry and used Biscoff cookies mixed with melted butter as my crust, but you could make a chocolate cookie crust, a grain-free graham cracker crust, or gingersnaps! Whatever you fancy.
For the topping I used some Greek yogurt mixed with a little sugar. But to be honest, I preferred these pumpkin bars without the topping! If you want to make it, I just added sugar to plain Greek yogurt until it was sweet enough for me. And then I added some chocolate shavings to the top just to make it look pretty.
So what are y'all making for Thanksgiving? Here are 180 ideas for some healthier Thanksgiving meal options!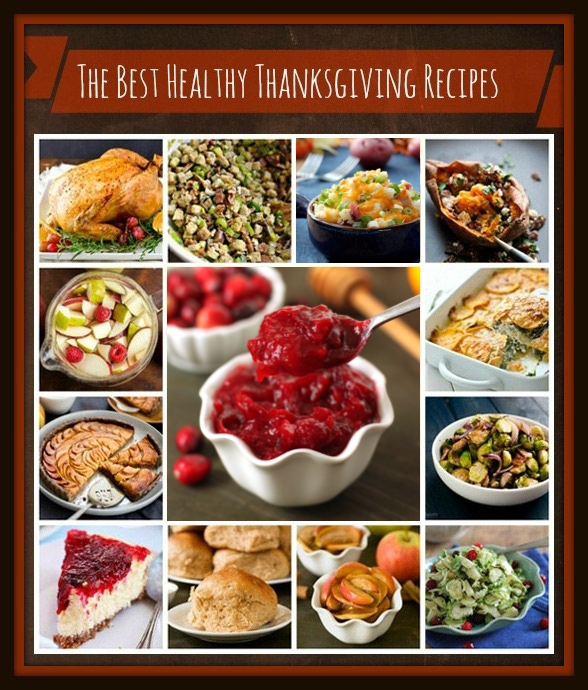 ❀
Lighter Pumpkin Cheesecake Bars
Prep Time:
Cook Time:
Ready in:
Yield:

16 bars
Ingredients
For the crust:

1 1/2 cups (172 grams) Biscoff cookie crumbs (about 20 cookies)
1/4 cup (56 grams) melted butter or refined coconut oil

For the cheesecake:

8 ounces (225 grams) cream cheese, room temperature
1/3 cup (75 grams) unrefined or granulated sugar
3 eggs
2 teaspoons vanilla
1 1/3 cups (310 grams) pumpkin puree
1/4 cup (54 grams) plain full-fat Greek yogurt
1 1/2 teaspoons ground cinnamon
1/4 teaspoon nutmeg
1/2 teaspoon ginger
1/4 teaspoon allspice
Directions
Preheat the oven to 300°F (150°C).

For the crust:

In a medium bowl, mix together the Biscoff cookie crumbs and the butter.
Line an 8" x 8" pan with parchment paper and pat the crust on top of that (just over the bottom of the pan - not up the sides).

For the cheesecake:

With an electric mixer, beat the cream cheese and sugar until fluffy.
Add the eggs and mix until combined.
Add the remaining cheesecake ingredients and mix just until combined.
Pour the filling over the crust and bake for 35 minutes or until the middle of the cheesecake bars appears set and no longer jiggles when you move the pan.
Open the oven door and let the bars cool completely before removing from the oven. This is to prevent the cheesecake from cracking.
Cover and store the bars in the refrigerator for up to 5 days.