Dairy-free and gluten-free, these no-bake peanut butter coconut oat balls are a fun treat and insanely delicious!
I am SO excited to share these! I got the idea last night and ran to the store as soon as I woke up to get some Rice Krispies. Normal Rice Krispies are hard to find here. Most places have 4 or 5 (I'm not kidding) types of chocolate Rice Krispies, but not the plain ones. It's ridiculous.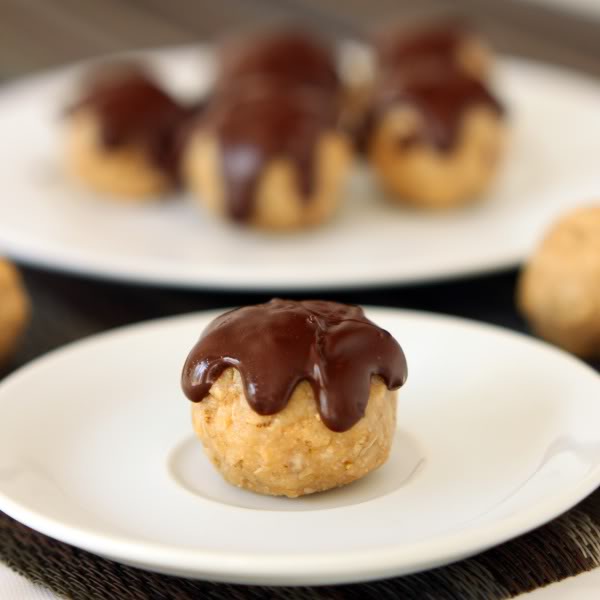 Ever since I made these peanut butter coconut chocolate Rice Krispie treats, I've been wanting to combine peanut butter and coconut butter in some sort of no bake treat. And wow. I just regret that I didn't do it sooner! I didn't add dried coconut to this because I generally don't like coconut (maybe it's a texture thing) but coconut butter? Wow.
They were just so boring and ugly looking. They needed the chocolate. But I actually preferred them without the chocolate.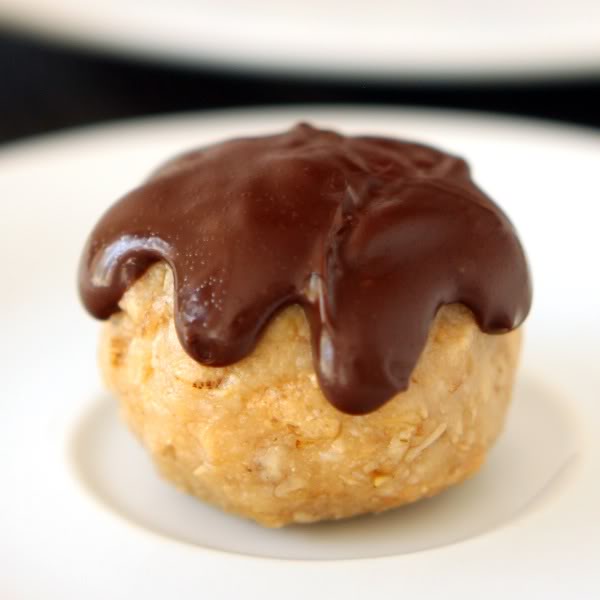 I'll be posting some more no bake recipes in the next few weeks. I don't know what took me so long to get around to it. These are so quick and easy to make! And kids would love them. The only problem with them is that they're addictive. Thank goodness I only made half. :)
❀
No-bake Peanut Butter Coconut Oat Balls
Prep Time:
Cook Time:
Ready in:
Yield:

22 1" balls
Ingredients
1/2 cup (120 grams) room temp coconut butter (not coconut oil!)
1/2 cup + 2 tablespoons (140 grams) room temp natural peanut butter
2 tablespoons (40 grams) honey
2 tablespoons (30ml) maple syrup
3/4 cup (66 grams) rolled or old-fashioned oats (non-contaminated for gluten-free)
1 cup (30 grams) Rice Krispies (brown rice cereal for gluten free)
chocolate, optional
Directions
Mix the coconut butter through maple together and stir until well combined. Add the oats and rice krispies. I used my hands to make sure I didn't crunch the Rice Krispies too much.
Roll into 1" balls and let them firm up in the fridge for about 30 minutes. You'll have to press them together to get them to stick.
Store in the fridge (because of the coconut butter). Yields about 22 1" balls. If you want to use chocolate, just melt some chocolate chips in the microwave at 30 second intervals and spoon it on. I used about 40 grams.