These paleo blueberry scones couldn't be any simpler to put together and can be easily adapted to the season! They're also grain-free, gluten-free, and dairy-free.
Are you here for pumpkin recipes? I hope not. It's still summer, y'all! :D Come September, I'll be posting an insane amount of apple recipes. Until then, I intend on squeezing every bit of joy out of summer. I think things are maybe a little different when you have a wonderful thing called California producing delicious fruit year-round. Over here, it's pretty much apples, oranges and bananas throughout the winter. It gets quite boring.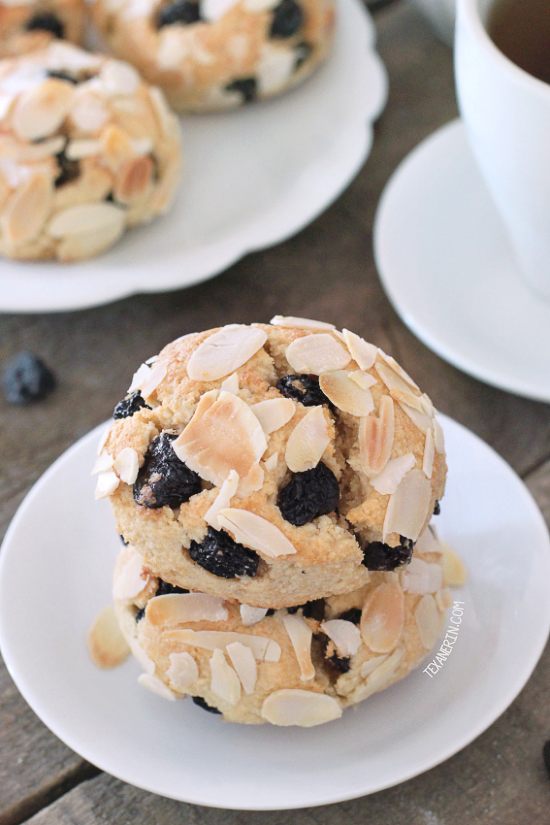 These gluten-free blueberry scones, which I posted over on My Baking Addiction earlier today, don't even use fresh blueberries so really, you could make these at any time during the year but fresh blueberries work just as well. Just be careful when adding them into the dough. I only went with dried blueberries because I enjoyed the crunchy bits!
If blueberries aren't your thing, toss in whatever dryish add-ins you want (so not frozen soggy berries!) Think chocolate chips, dried fruit or nuts.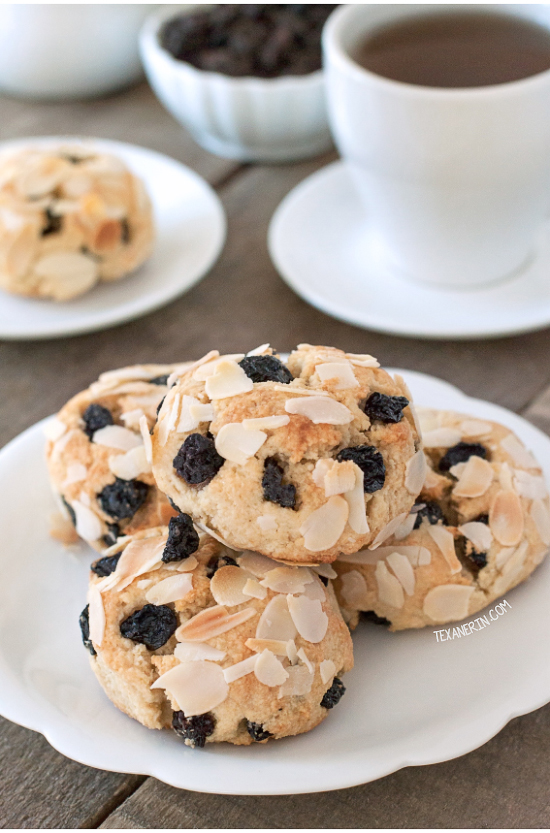 If you've never had grain-free scones before I feel like I should warn you that these aren't the buttery and flaky kind of traditional scone you're probably used to. But they are delightful! I made these for a brunch and there wasn't a single, "What is this?!" comment. Berliners are very direct and believe me – they'd have said something.
But then again, scones aren't really known here by the typical German so I'm kind of wondering why they didn't ask what they were. ;)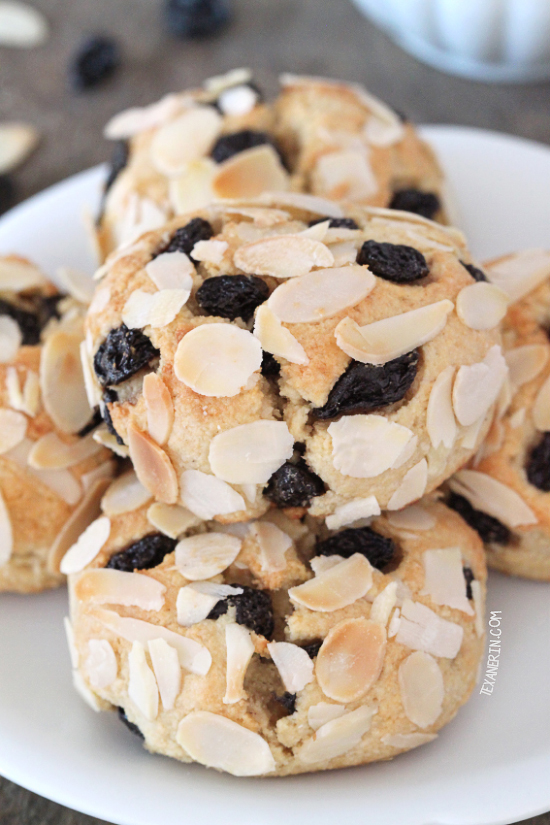 What are you all doing to enjoy the last bit of summer? We were planning a trip to Poland, which is where we went for our last trip in May (we really, really loved the food!) but decided to cancel that and go to the US instead. So in December, we'll be going to Savannah, Charleston, New Orleans (YES!!!) and Dallas. It'll have been 2 1/2 years since my last visit and I'm SO ready for all the amazing food! I've already done tons of research on where to eat but if you have any tips, I'd love to hear them. :)
❀
Paleo Blueberry Scones (grain-free, gluten-free, dairy-free, naturally sweetened)
Prep Time:
Cook Time:
Ready in:
Yield:

10 small scones
Ingredients
2 large eggs, room temperature
3 tablespoons maple syrup
3/4 teaspoon lemon extract
1/2 teaspoon vanilla extract
3 cups (300 grams) blanched almond flour
1 tablespoon coconut flour
1 tablespoon coconut sugar (or other non-liquid sweetener of choice)
1/2 teaspoon baking soda
1/2 teaspoon baking powder (make sure to use grain-free baking powder, if necessary)
1/4 teaspoon salt
1/2 cup dried unsweetened blueberries (sweetened would work, too)
1/3 cup flaked almonds or 2-3 tablespoons coarse sugar, optional (use almonds for paleo)
Directions
Preheat oven to 350 °F (175 °C) and line a baking sheet with a piece of parchment paper.
In a medium mixing bowl, stir together the eggs, maple syrup, lemon extract, and vanilla extract. Set aside.
In another medium mixing bowl, stir together the blanched almond flour, coconut flour, sugar, baking soda, baking powder and salt.
Stir the dry mixture into the wet until well combined but do not over mix.
Fold in the dried blueberries.
Form discs of dough approximately 2" wide and 1" high.
If using, place the flaked almonds on a small plate and roll the tops and sides of the discs in the almonds. Alternatively, sprinkle the tops of the scones with coarse sugar.
Place the scones 2" apart on the prepared baking sheet and bake for 15-17 minutes or until the outside of the scones are firm and lightly browned.
Let cool for 2 minutes on the baking sheet and then remove to a wire rack to cool completely. Store in an airtight container for up to 2 days. They'll become a little moister the longer they sit.
Source: My post on My Baking Addiction – Gluten-free Blueberry Scones