These paleo double chocolate hazelnut cookies are soft, chewy and full of nutty goodness! They're also grain-free, gluten-free, vegan and dairy-free.
I just love these cookies. They're mostly sweetened with dates and have another 3 tablespoons of honey (or agave if you're vegan) and are just sweet enough. I admit that these chocolate hazelnut cookies don't taste like your typical buttery chocolate cookie and they certainly don't taste like Nutella cookies (I had high hopes!) but they're still awesome. Really. If you want something that tastes just like a regular cookie, try my perfect paleo chocolate chip cookies. Be warned, though, that they have a lot more sugar. But I guess that's the trade-off. ;)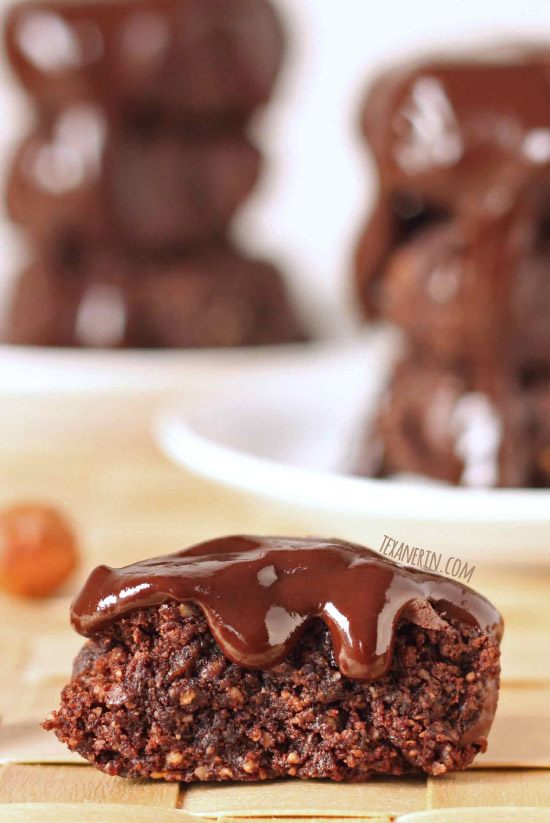 I've been fiddling with grain-free recipes lately. Some recipes have been downright nasty, but a lot of them have been totally worthy of sharing so I'll be posting some every now and then. I found this recipe on The Tasty Alternative. That version uses a mix of hazelnuts and almonds and is more coconutty but since I was going for lots of hazelnut taste, I went with all hazelnuts and I used refined coconut oil so the coconut flavor wouldn't be too strong. You can still taste it from the coconut flour, but it's not strong at all.
The first time I made these paleo chocolate hazelnut cookies, Mr. Texanerin wouldn't eat them, claiming that he now "doesn't like cocoa." Seriously. The second time, I smothered them in melted chocolate and he devoured them. So if you've got picky eaters who maybe aren't used to healthier treats, I highly recommend doing the same! You can also just mix the chocolate chips into the dough, which would be even easier (the ones pictured don't have chips in them). If doing that, I'd probably add closer to 1/3 cup chocolate chips.
❀
Paleo Chocolate Hazelnut Cookies (grain-free, gluten-free, vegan and dairy-free)
Prep Time:
Cook Time:
Ready in:
Yield:

12-15 cookies
Ingredients
1 1/3 cup (180 grams) raw hazelnuts
1/4 cup (28 grams) coconut flour
1/4 cup (20 grams) Dutch-process cocoa powder
1/2 teaspoon baking soda
1/8 teaspoon salt
6 dried medjool dates or 100 grams of regular dates (let them soak in water for about 30 minutes to an hour)
1/4 cup (55 grams) coconut oil, melted (use refined coconut oil if you don't want a coconut taste)
1 vanilla
3 tablespoons (60 grams) honey (use agave for a vegan version)
1/4 cup (67 grams) chocolate chips (use vegan / dairy-free chocolate, if needed), melted
Directions
Preheat your oven to 350ºF / 190ºC and line a cookie sheet with a piece or parchment paper.
Grind the hazelnuts in a food processor with the the S-blade until they're coarsely ground and release just a little bit of oil. Be careful not to process too long or you'll have hazelnut butter.
Add the coconut flour, cocoa powder, baking soda and salt. Pulse a few times until well combined. It should be like a fine flour. Transfer this to a large bowl and add the dates, coconut oil, vanilla and honey to the food processor and process until very well combined.
Add the wet ingredients to the dry and mix and then stir just until combined. Form into balls (mine were about golf ball sized) and flatten a little bit and space about 1" apart on the prepared baking sheet.. They don't expand very much.
Bake for 9 – 12 minutes or until the surface no longer appears wet.
Let cool for 3 minutes on the baking sheet and then remove to a wire rack to cool completely.
Spoon the melted chocolate over the cookies, if desired.
Store in an airtight container for up to 3 days.
Adapted from The Tasty Alternative