These peanut butter chocolate oat bars are so simple to make and are gluten-free and dairy-free!
I put these balls together in 5 minutes. I started off with a mission to make a super healthy protein-packed snack, but then I just had a hankering to add chocolate. So there's chocolate. You can leave it out if you want, but really, why would you do that? The coconut is subtle, but I still wouldn't recommend these for people who don't like coconut.
This is probably the easiest recipe I'll ever post. You just dump everything in a bowl, stir, and form into balls. So simple! And perfect for a late night chocolate or sweets craving.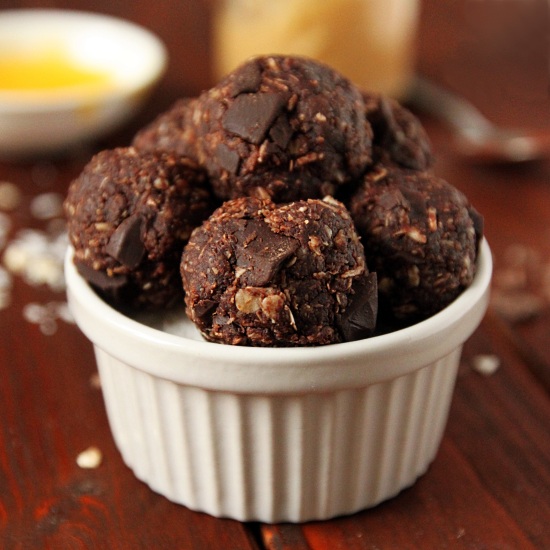 These aren't exactly diet food as I'm sure they're not low in calories, but they consist of healthy, wholesome ingredients. Except the chocolate chips – but you could always use dark chocolate, which is definitely healthier than semi-sweet!
And look! I got a macro lens so that I can take close up pictures. You know how I feel about texture shots. I'm always too afraid to make some kinds of recipes, like cakes and muffins, without seeing what the inside looks like. I need to know if it's truly moist or not! ;)
They're also gluten-free, if you use gluten-free oats, and dairy-free, if you use dairy-free chocolate. I don't have any dietary restrictions but I do love making healthier recipes that almost everyone can enjoy, despite what they can or can't eat.
I wish I had tried a different sweetener other than honey to give you a vegan option, but I imagine agave would work. If you don't want to use that, just make sure to use a liquid sweetener that has a consistency similar to honey.
I haven't really made many of these protein ball or bite recipes before but now that I've made these, I can't wait to try some others! Do you have any favorites? Links are welcome in the comments!
❀
Peanut Butter Chocolate Oat Balls
Prep Time:
Cook Time:
Ready in:
Yield:

30 1" balls
Ingredients
1 cup (88 grams) rolled oats (non contaminated oats for a gluten-free version)
1 cup (75 grams) coconut flakes
1/4 cup (28 grams) Dutch-process cocoa powder
3/4 cup (192 grams) natural peanut butter
1/4 cup (80 grams) honey
1 teaspoon vanilla extract
1/4 - 1/2 cup (43-85 grams) mini chocolate chips (use dairy-free chocolate chips for a dairy-free version)
Directions
Combine all the ingredients in a medium bowl.
Squeeze the mixture into balls. It'll be very crumbly but you should be able to manage. If it's not working, put the mixture in the microwave on half power for 10 - 15 seconds and see if that helps.
Store in the refrigerator or at room temperature.