These grain-free raspberry coconut cupcakes are easy to make, yield a small batch and have a dairy-free option.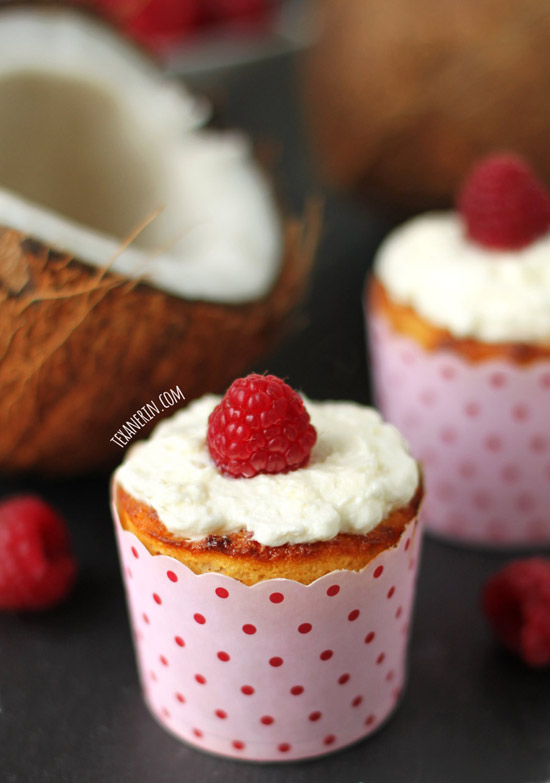 I made these grain-free raspberry coconut cupcakes back in January after Mr. Texanerin had given me a few coconuts to use as props. I then made coconut everything. Raspberries were also on sale and I don't care where they're from – if raspberries are 99 cents a container, they're coming home with me!
So I threw the raspberries in some cupcakes and pretended that it was summer. That's how I roll after Christmas. Winter denial all the way! I'm happy I saved them for later because now I have something potluck appropriate to share. I've been taking copious amounts of baked goods away with me to work for the past few months and cupcakes always travel well. Pies are the worst. The worst! Though maybe they'd be more convenient if I had a car and weren't carrying 15 pounds of sweets on my back and could therefore transport the pies in their heavy ceramic pie pans. Rant over. ;)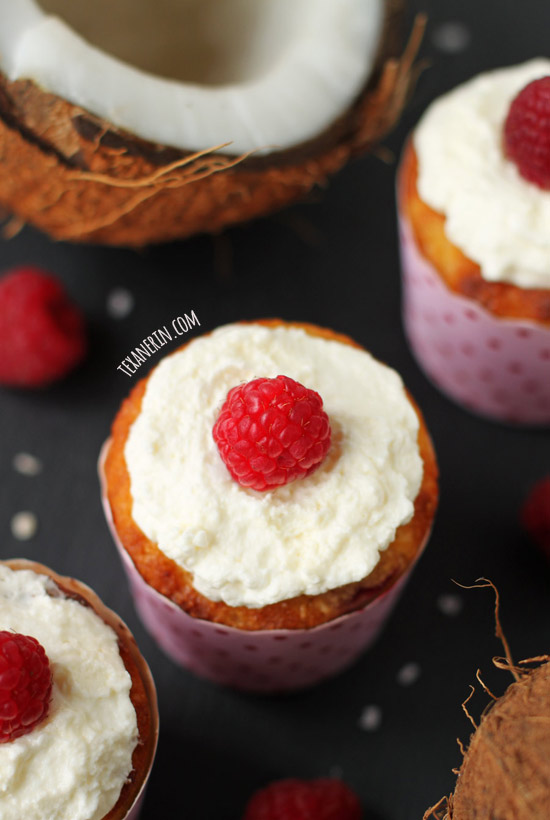 You can't make these with whole wheat flour so I looked around for a whole wheat coconut cupcake recipe to share with you. Only it seems like coconut cupcakes are not all that popular. Muffins, yes, but not cupcakes. These coconut cupcakes look promising! I'd use white whole wheat flour, though.
I used Greek yogurt in these but as always, you can use this dairy-free coconut Greek yogurt for a dairy-free version! Or you could make these grain-free + dairy-free coconut cupcakes and toss in some raspberries. I have no idea why I didn't do that myself!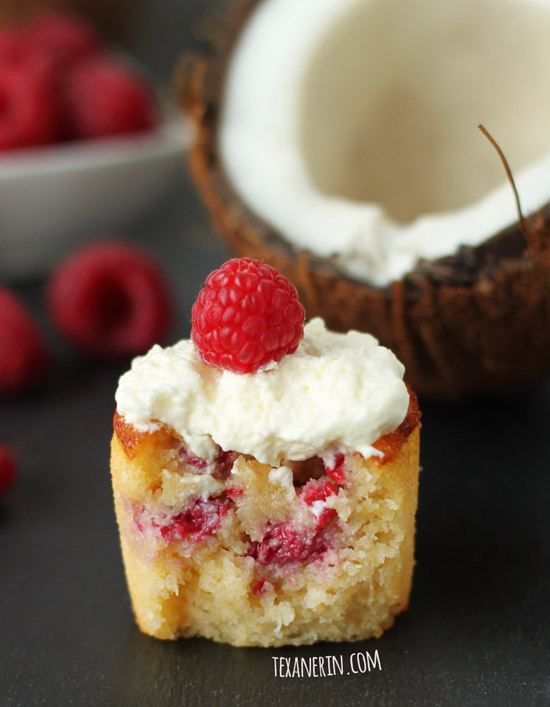 For another awesome gluten-free summery cupcake, try these Gluten Free Double Chocolate Marshmallow Cupcakes from My Gluten-free Miami! These vegan gluten-free cupcakes also look great.
❀
Grain-free Raspberry Coconut Cupcakes
Prep Time:
Cook Time:
Ready in:
Yield:

8 cupcakes
Ingredients
For the cupcakes:

96 grams (~1 cup but please weigh!) blanched almond flour
2 tablespoons (16 grams) coconut flour
1 teaspoon baking powder
1/8 teaspoon salt
1/4 cup (56 grams) coconut oil or unsalted butter, melted
3 large eggs
3 tablespoons (60 grams) honey
1 tablespoon vanilla
2 tablespoons plain Greek yogurt (or vanilla)1
2/3 cup (90 grams) raspberries, rinsed and patted dry with paper towels
1 teaspoon coconut flour

For the coconut whipped cream:

1 13.5 ounce (400ml) can of full-fat coconut milk that has been chilled overnight
1–3 tablespoons powdered sugar, optional
Directions
For the cupcakes:

Preheat the oven to 375°F (175°C). Line a cupcake pan with 8 cupcake liners.
In a medium bowl, mix together the dry ingredients (almond flour through salt) and set this aside.
In another medium bowl, mix together the coconut oil through Greek yogurt.
Add the dry ingredients to the wet and stir just until combined.
Put the chopped raspberries (that have been patted dry!) in the bowl that you had the dry ingredients in.
Add the teaspoon of coconut flour and coat the raspberries in the flour.
Fold the raspberries into the batter. Do not over mix or the resulting cupcakes will have a bad texture.
Bake the cupcakes for 15 - 18 minutes or until a toothpick inserted in the middle comes out clean and the cupcakes are firm to the touch. Let them cool for 5 minutes in the pan and then turn the cupcakes out onto a wire rack to cool completely.

For the coconut whipped cream:

Put a can of coconut milk in the refrigerator, being careful not to shake it. Let it sit overnight. Take the can out of the refrigerator and pour the liquid (it should be watery) into another container to use later (perhaps in a smoothie!).
Place the remaining thick cream in a medium bowl and whip with a hand mixer until it's the consistency of regular whipped cream. Add powdered sugar to your liking, starting off with a tablespoon.
Spread on the cupcakes and serve.
Refrigerate in an airtight container for up to 4 days.
Notes
Use dairy-free coconut Greek yogurt for a dairy-free version.