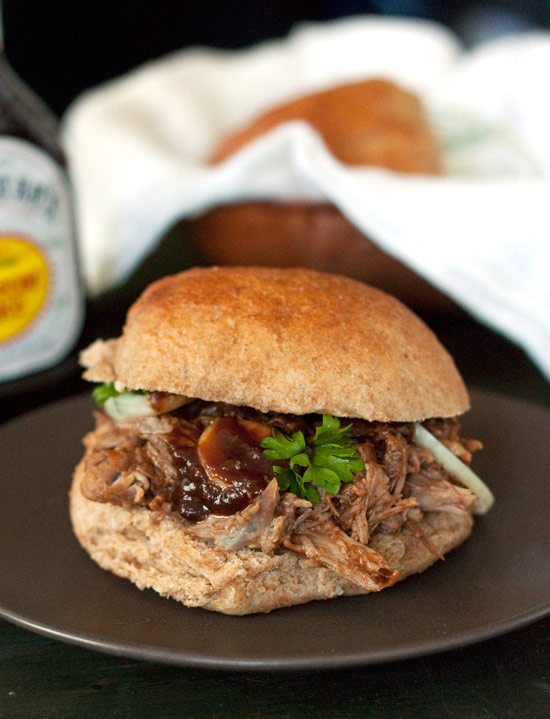 So, I wanted to post this recipe with 100% whole wheat rolls, but my recipe still isn't good enough. I'm thinking a delicious 100% whole wheat dinner roll is just impossible.
2020 update: I was wrong above! These whole wheat rolls are AMAZING. So very fluffy and they stay soft for days!
So here's my Super Bowl post. Meat!
People watching football like meat, right? I thought about posting fried mozzarella or deep-dish pizza, but I went for something a tiny bit healthier.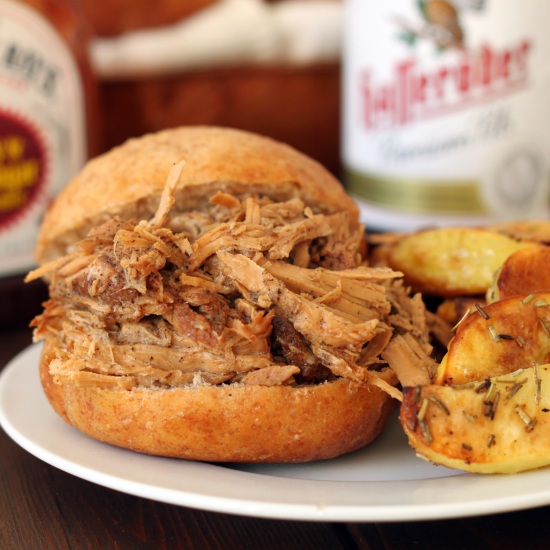 I'm super picky. And this pulled pork is one of the very few ways I enjoy pork. Smoked meat like we have in Texas doesn't really exist in Germany, so I have to fake it.
This recipe uses liquid smoke to help it seem more "authentic" and it's cooked in a slow cooker until it basically falls apart. Although it takes a long time for the meat to be ready, preparation time is minimal. You don't even need to brown the sides of the meat first.
I think everyone else smothers their pulled pork in sauce, which gives the meat flavor. This recipe gives the meat some flavor first and it's amazing on it's own, but if you prefer to use sauce, go ahead and add that at the end.
Wondering what to serve with it? This skinny classic coleslaw from Healthy Seasonal Recipes would be great! So would this summer corn salad. I'm also excited to try this best potato salad recipe.
❀
Slow Cooked Pulled Pork
Prep Time:
Cook Time:
Ready in:
Yield:

6 - 8 servings
Ingredients
2 pounds (900 grams) boneless pork roast
1 1/2 tablespoons Cajun seasoning or enough to cover your meat (I use Tony Chachere's)
5 cloves garlic, chopped finely
1 large onion, chopped finely
1 1/2 tablespoons liquid smoke
water
Directions
Rub the Cajun seasoning on all sides of the meat and place it in the slow cooker or a pot. Place the onion and garlic in the pot around the meat, and then pour in enough water so that the water comes up 2/3 of the way up the sides of the meat (unless your slow cooker says otherwise). Stir in the liquid smoke and cover.
In a slow cooker, cook for six hours on high. In a pot on the stove, let it simmer, covered, for about 6 – 7 hours or until it falls apart easily when you press it with a fork. It should be extremely tender.
Notes
Germans: This just isn't the same without liquid smoke. You can order it here: liquid hickory smoke and mesquite liquid smoke. You can also find it on Ebay. It's expensive but worth it. You should buy Schweinekamm/ruecken, which is on sale almost weekly at one of the bigger chains. Around here, a good sale price is 2.79€/kg with bones. The normal boneless price is 3.99€/kg, but I've weighed the bones after cooking and it's a better deal to buy it with the bone.