So here it is. Quick and simple.
What you need:
some iced cupcakes, cookies, or brownies
a toothpick
melted chocolate of your choice
a piping bag + tip (I believe I used a Wilton Tip 2)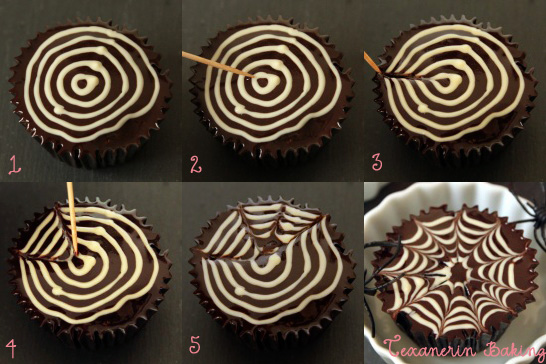 Need I say more? :)
Things to consider:
Ice your goodies just before piping on the spiderweb. The cupcake you see in pictures 1 – 5 was iced only 10 minutes before piping on the white chocolate but that was still too long. The cupcake in the last picture was iced and then I immediately did the spiderweb. Much better!
If your spiderweb chocolate gets too cool, you'll also have problems getting it to look smooth. Reheat the chocolate in the microwave for a few seconds until it's slightly warm.
I recommend practicing on a Silpat or a cutting board with a piece of plastic wrap over it. Practice piping the circles and then you can reuse the chocolate by using a spatula to get it all off.
Don't worry if your circles aren't perfect. Look at mine! Nobody will ever be able to tell that your circles weren't perfect.
I wouldn't bother with anything really domed. It could work but I imagine it'd be tricky. Flat would be best. I filled my cupcake liners only enough so that there was still room between the top of the liner and the cupcake after baking. This meant that the chocolate frosting couldn't escape. It was really liquid so that would have definitely been a problem if they were domed or too big.
I've only made these with the frosting recipe in my grain-free chocolate cupcakes. The consistency was very runny, like ganache right after being made. I'm pretty sure this won't work with buttercream or any other stiff frosting. Cream cheese frosting would probably work wonderfully! And you only need a thin coating.
I'm making brownies for a Halloween party and making these spiderwebs, but this time I'm going to dye my white chocolate purple and orange.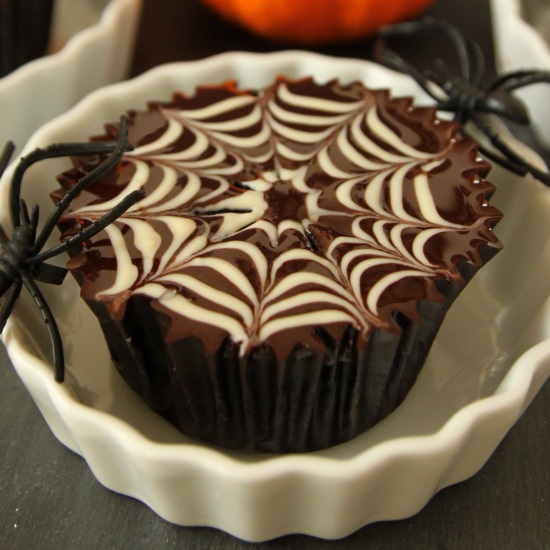 I'm in the kitchen whipping up some more Halloween peanut butter chocolate goodies. I've eaten about two pounds of peanuts in the last few days. All for you, internet pals. :) I hope to be back soon with more Halloweeny goodness!