This sweet potato mac and cheese is incredibly creamy and sneaks in a little added nutrition thanks to the sweet potato! With gluten-free and whole grain options.
This recipe comes from Lauren of Healthy Food For Living. She has a new e-book out called The Kid's Daily Plate: A Week's Worth of Healthy Mix 'N Match Toddler- and Kid-Approved Meals.
Being as I have the palate of a picky five year old, it felt like this book was written just for me. ;) All of the recipes are super simple, fuss-free and especially perfect for little ones.
The recipe in the book is actually for sweet potato mac and cheese cups but with Thanksgiving coming up, I wanted to make it more Thanksgiving-friendly.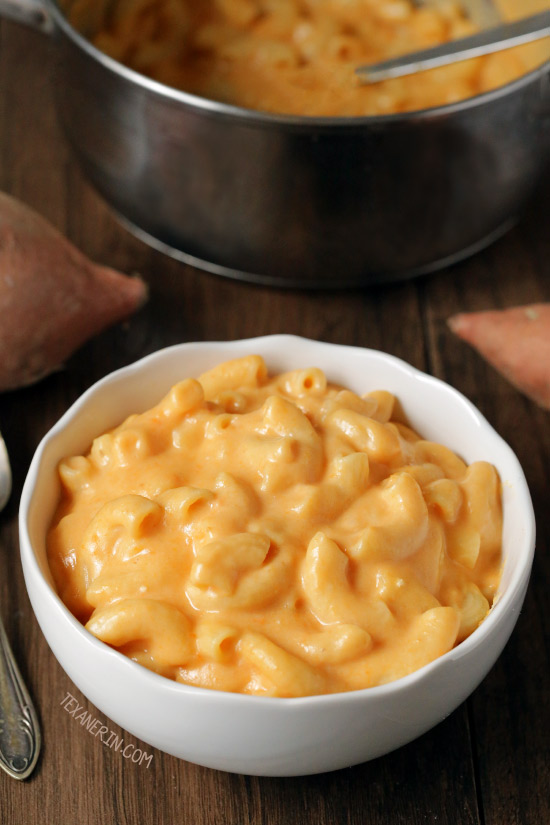 It's really easy to make the mac and cheese cups, but I only have one oven and that's dedicated to turkey and these whole wheat dinner rolls.
Do you have a favorite turkey recipe? I think I'll try this Easy No Fail Brined Turkey this year!
The first time I made this easy sweet potato mac and cheese recipe, I didn't have the full amount of cheese on hand and it had the weirdest effect. I swear… it tasted like Cheetos! It was delicious. :D
The next time, I used the full amount of cheese and it tasted exactly like regular mac and cheese. If you want a more pronounced sweet potato taste, try adding more puree.
I used white cheddar and the mac and cheese still had this lovely orange color to it. I've been using white cheddar because up until writing this post, I thought all orange cheddar was artificially colored.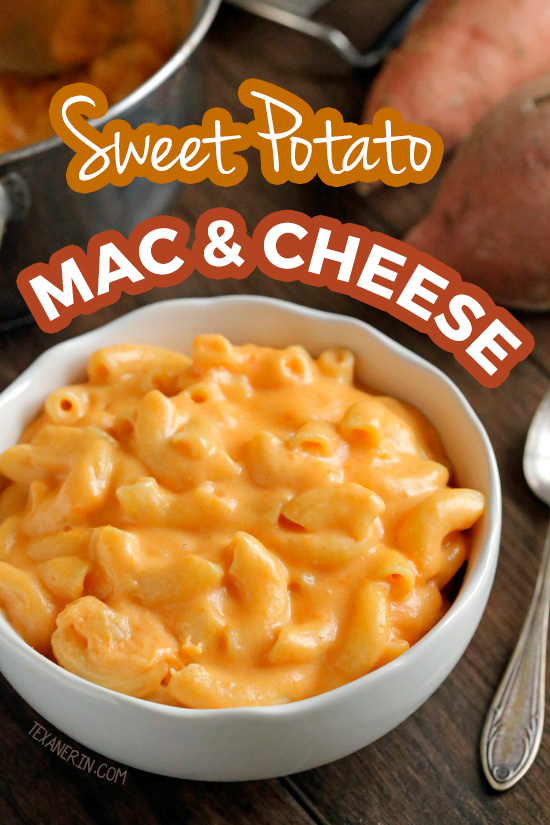 It looks like some cheddar is, but other cheddar is dyed naturally using the seeds of an annatto tree (you can read more about that here, if you like). I think I'll still stick to white cheddar! I don't feel like I'm missing anything flavor-wise.
This sweet potato mac and cheese is perfect as-is but it'd also be easy to personalize! I like to keep things plain with just some added garlic powder, but Mr. Texanerin loved his with bacon.
I think next time I'll add some ham for a little added protein. Whatever you add, it's sure to be delicious! :)
What's better than cheese + carbs? More cheese + carbs! Next time I make this sweet potato mac and cheese, I'm also going to make these Gluten-free Cheddar Herb Muffins from Fearless Dining to go along with it. This gluten-free sweet potato casserole would also be awesome!
❀
Sweet Potato Mac and Cheese (gluten-free, whole grain options)
Prep Time:
Cook Time:
Ready in:
Yield:

6-10 servings as a side
Ingredients
1 medium sweet potato (mine was 370 grams and was a little more than what was needed)
2 cups elbow macaroni (whole wheat or gluten-free)
2 tablespoons olive oil
2 tablespoons flour (whole wheat or a gluten-free 1-to-1 blend for a GF version)
2 cups (480 ml) full-fat milk
1/2 teaspoon Dijon mustard (I left this out and used garlic powder instead)
2 cups grated cheddar or Monterey jack cheese (I used 1 1/2 cups cheddar and 1/2 cup Pecorino Romano)
1/2 teaspoon kosher salt
1/4 teaspoon freshly ground black pepper
Directions
Bring a small pot of water to a boil. Meanwhile, peel and dice the sweet potato into 1/2" pieces. Place in the boiling water and cook until tender, about 10-20 minutes. You can alternatively place the potato on a baking sheet and bake at 400 °F for 1 hour or until soft and then scrape out the flesh.
Mash the cooked sweet potato well and measure out 1 cup (245 grams).
Bring a medium pot of water to a boil and cook the macaroni according to the instructions on the package. Drain and set aside.
While the pasta is cooking, heat the olive oil in a large saucepan over medium-high heat. Add the flour and whisk for 1 minute. Slowly pour in the milk while whisking constantly. Cook until the mixture is thick enough to coat the back of a spoon, about 3-5 minutes. Reduce the heat to low and stir in the mustard, if using, cheese, and 1 cup of mashed sweet potato. Remove the pot from the heat and stir until smooth. I didn't mash my sweet potato well enough and used an immersion blender to make it totally smooth. Add in the salt, pepper and then the macaroni.
Recipe from The Kid's Daily Plate: A Week's Worth of Healthy Mix 'N Match Toddler- and Kid-Approved Meals by Lauren Zembron.
As an Amazon Associate, I earn from qualifying purchases. For more info, see my disclosure.