This post is sponsored by alli®. All thoughts and opinions are my own.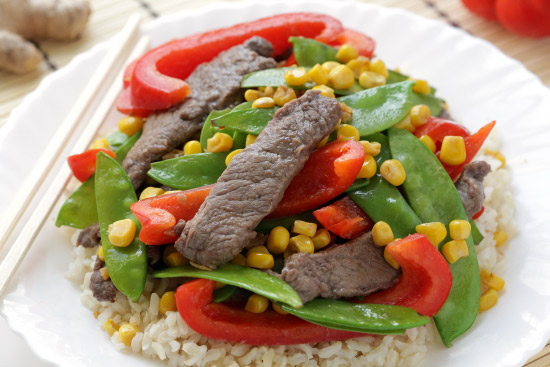 You know what's crazy? Up until about three years ago, I hadn't tried any kind of Asian food other than those donuts you find in a Chinese restaurant buffet. Or at least, the kind that was found in Chinese buffets in the 80s and 90s when I went with my parents. ;)
I can't believe how many amazingly delicious dishes I'd been missing out on all those years! Today I'm sharing a simple stir-fry recipe that uses easy-to-find ingredients that are available at any grocery store.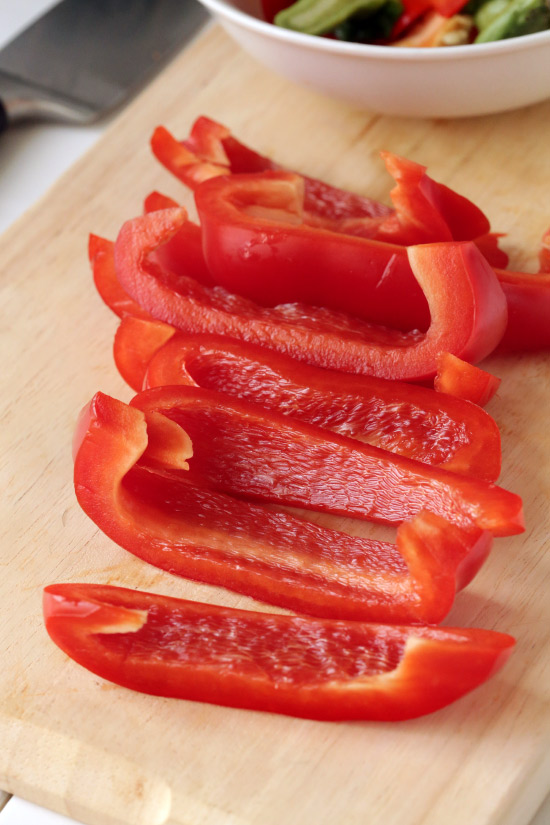 You start off by preparing the rice, veggies, and a simple sauce for the meat. Make sure to have everything ready to go before you even turn on the stove!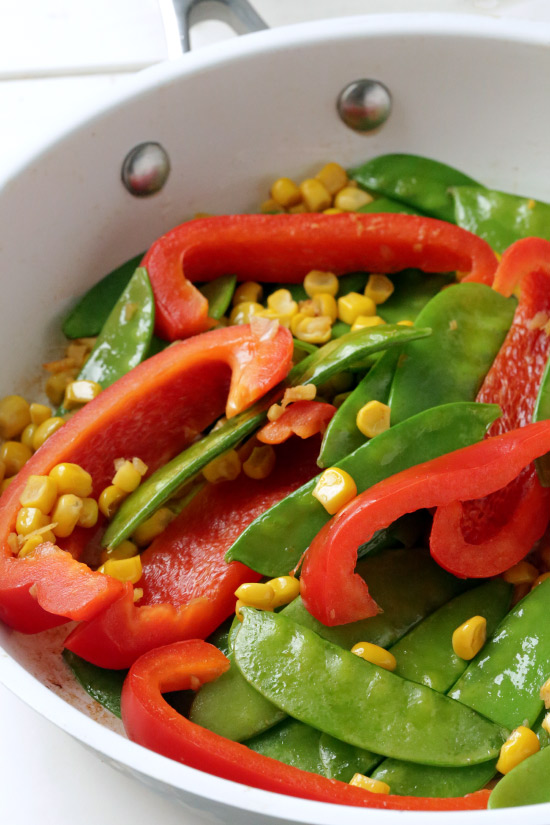 Then you quickly cook the garlic, ginger, and toss in a little cayenne for a little extra kick. They may not be all that visible in the picture but they're in there! Add the veggies and cook for a few more minutes.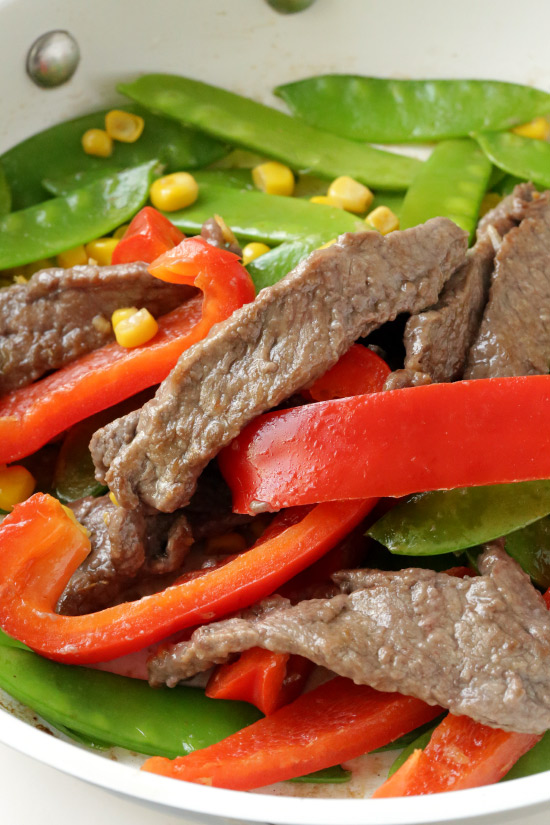 Now add the meat! I'm usually pretty awful when it comes to adding vegetables to our meals so Mr. T was delighted with the ratio of meat to vegetables in this dish. There are a lot of veggies. I have to admit that when I made stir-fries in the past, I didn't add any vegetables. It was just meat. And rice. I was thrilled with them but my vegetable lover wasn't.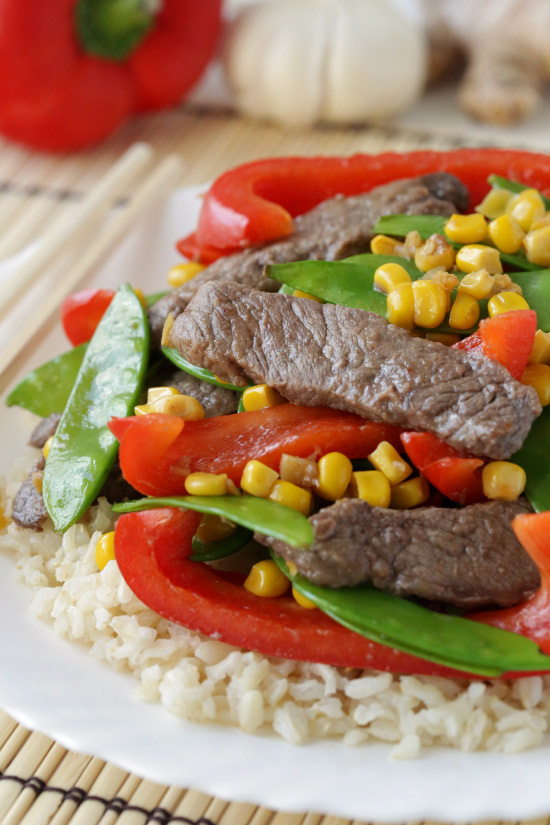 Place the rice on a plate, top with the stir-fry and enjoy. :)
Looking for something a little different? Try this Teriyaki Chicken Stir-Fry!
❀
Szechwan Beef Stir-Fry
Prep Time:
Cook Time:
Ready in:
Ingredients
1/3 cup brown rice, uncooked
1 red bell pepper, medium
4 ounces snow pea pods, fresh or frozen
1 garlic clove
1 teaspoon ginger root, fresh
4 ounces beef, flank steak, London broil, raw, extra lean
1 1/2 teaspoons soy sauce, reduced sodium
1 teaspoon honey
1 teaspoon flour
1 teaspoon sesame oil
1/8 teaspoon ground cayenne pepper
1/3 cup frozen corn, thawed
salt, to taste (not included in nutritional analysis)
Directions
Prepare the rice according to the package directions.
Wash and seed the red pepper and cut into 1-inch slices (thinner is also okay). Rinse and trim pea pods, or thaw if frozen. Peel and mince the garlic and ginger.
Cut the beef across the grain into 1/8 inch thick strips and place in a shallow dish.
Combine soy sauce, honey, and flour in a bowl and pour over meat strips, tossing to coat.
Heat the oil in a wok or a heavy non-stick skillet over high heat. Add cayenne pepper, garlic and ginger and sauté for 30 seconds.
Add the bell pepper, corn and snow peas and stir fry 3 minutes; remove vegetables from the pan.
Stir fry the beef strips for 2-3 minutes, flipping over after about a minute, until cooked throughout. Return the vegetables to the pan, add salt to taste, and heat through before serving over rice.
For more healthy recipes, check out alli®.
Nutrition facts are estimates only. Nutritional analysis (based on the above recipe being 1 serving):
Calories: 610
Protein: 35.7 g
Carbohydrates: 82.7 g
Sugars: 16.8 g
Fat: 15.5 g
Saturated Fat: 4.5 g
Fiber: 8.8 g
Sodium: 344 mg (this is excluding any added salt)