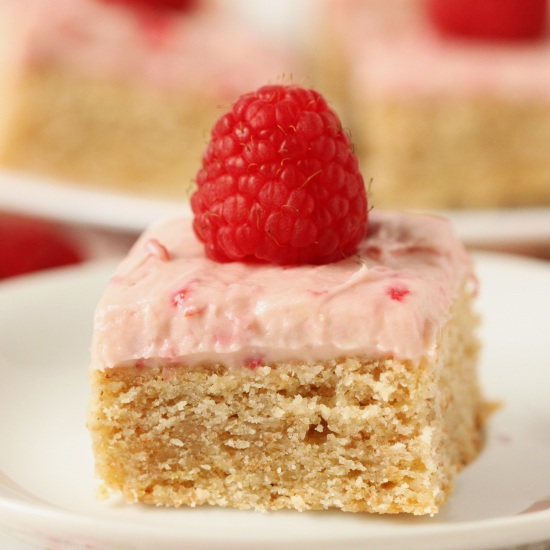 I've had a streak of bad luck lately with creating new recipes. Out of the last dozen I've made, since the start of the year, one has made it to the blog. It's been frustrating. So for today's post, I just turned to these lofthouse sugar cookies from Cookies & Cups.
I've been in the mood for a good sugar cookie for weeks and I've tried a lot of recipes for healthier sugar cookies, but none of them were exactly what I was looking for. Some were crunchy, which I can't deal with, but most of them were just plain bad. So I just took Shelly's recipe and used 1/2 whole spelt, used 1/2 coconut oil, reduced the sugar by a third and called it a day.
Macro lenses are neat. Just look at that! Raspberries are really hairy. You see that fuzziness? Those are also hairs. I've been amusing myself by zooming in and out. I thought you should know raspberries are hairy. So there you are.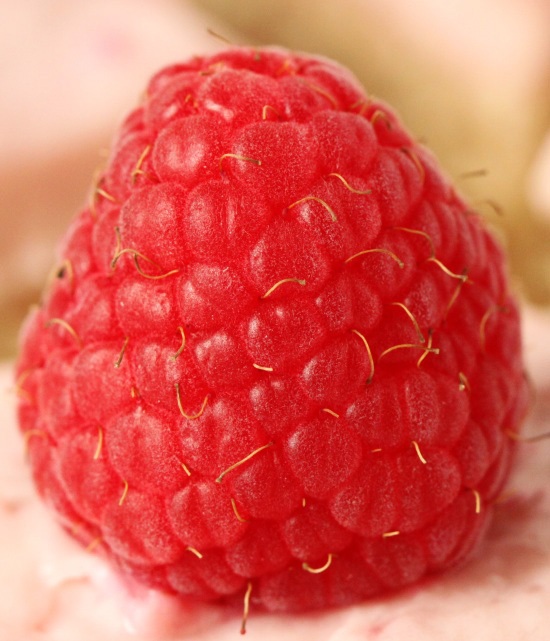 Back to the cookies.
I don't think I've ever had a proper Lofthouse cookie so I don't really know what the texture should be like, but these were like a thick, dense cookie. I'm sure that the texture would have been better had I used the full amount of sugar but I was happy with how these came out.
And Mr. Texanerin loved them. And he's not really a fan of baked goods or of things healthified. These have been his favorite goodie that I've posted lately and he's requested that we have them again soon (that almost never happens).
Mr. T – Do you have to take pictures? Can I have another one? Are you done yet? When are the pictures happening? Can I have one for dessert after dinner? Are these healthy? Really?! What… why'd you put frosting on them?!
But me… I think I just want a 100% normal sugar cookie. I give up on the healthy sugar cookie thing. It's just not for me.
So while Mr. T was eating the plain bars, I was eating the frosting, which he claims tastes like ice cream, with a spoon. It's my favorite icing ever. Not the least bit healthy but oh well. I can live with that. And it does firm up in the fridge. These pictures were taken right after making and frosting the bars. It fits well with anything chocolate, vanilla or lemon.
You know that thing I said about posting more regularly? Yeah, well, I'm trying. ;) It's not exactly easy when all your recipes fail and there's no light. Oh and fun fact! Fun fact! In my city in January, there were a total of:
12.8 hours of sunshine
23 days completely without sunshine
28 days with less than half an hour of sunshine
I can't wait for my US trip in June! There… there I will have my sun.
❀
Whole Grain Lofthouse Bars with Raspberry White Chocolate Cream Cheese Frosting
Prep Time:
Cook Time:
Ready in:
Yield:

24 bars
Ingredients
Lofthouse Cookie Bar Base:

1/2 cup (112 grams) butter, room temperature
1/2 cup (112 grams) coconut oil (or more butter), room temperature
1 cup (220 grams) sugar (or 1 1/2 cups if you don't mind sugar)
8 ounces (225 grams) cream cheese, room temperature
1 egg
zest of 2 lemons
2 teaspoons vanilla extract
1 1/4 cup (150 grams) whole spelt flour
1 1/4 (156 grams) cup all-purpose flour
1 teaspoon baking powder
1/2 teaspoon baking soda

Raspberry White Chocolate Cream Cheese Frosting:

8 ounces (225 grams) cream cheese, room temperature
8 ounces (225 grams) white chocolate, melted
1/4 cup (56 grams) butter, room temperature
1 cup (115 grams) powdered sugar
a pinch of salt
1 teaspoon vanilla extract
1/4 - 3/4 cup (.6 - 1.5dl) frozen or fresh raspberries
fresh raspberries for garnish, optional
Directions
Preheat your oven to 350°F / 175°C. Line a jelly roll pan (15x10x1) with a piece of parchment paper or foil and spray very lightly with cooking spray.
Cream the butter, coconut oil, sugar, and cream cheese in a large bowl. Add the egg, lemon zest, and vanilla and mix until combined.
Then add in the whole spelt, all-purpose flour, baking powder and baking soda and mix just until combined.
Press the dough, which will be very sticky, into the prepared pan. Bake for 20 minutes or until the edges start to brown. Cool completely and then frost.
For the frosting: with an electric mixer, beat together the cream cheese, white chocolate and butter.
Once thoroughly combined, add the powdered sugar, salt, vanilla and mix until thoroughly combined.
Add 1/4 cup of raspberries and if you like how it looks and tastes, stop there. Add up to another 1/2 cup of raspberries.
Spread over the cooled bars and store in the refrigerator.
Notes
My bars came out slightly thicker than the original recipe as I made half the recipe in an 8x8 pan. I baked them for 20 minutes.
Cookie base adapted from Today's Mama, as seen on Cookies & Cups