These cinnamon apple muffins are 100% whole grain and made healthier with whole wheat flour, oil, and less sugar than a typical muffin!
I've made these six times in the last few weeks as cake, cupcakes, and muffins. SIX times. I'm pretty new to this recipe development thing and I'm guessing it just takes some time at the beginning! So now that I finally have the recipe perfect (at least in my opinion ;)) these apple muffins are ready to be shared!
You can leave these cinnamon apple muffins plain, with no topping at all, or sprinkle cinnamon sugar or streusel on top. My favorite way was with cinnamon sugar. It's sweet enough, easier, and I love the crunch. And it's way healthier than with streusel!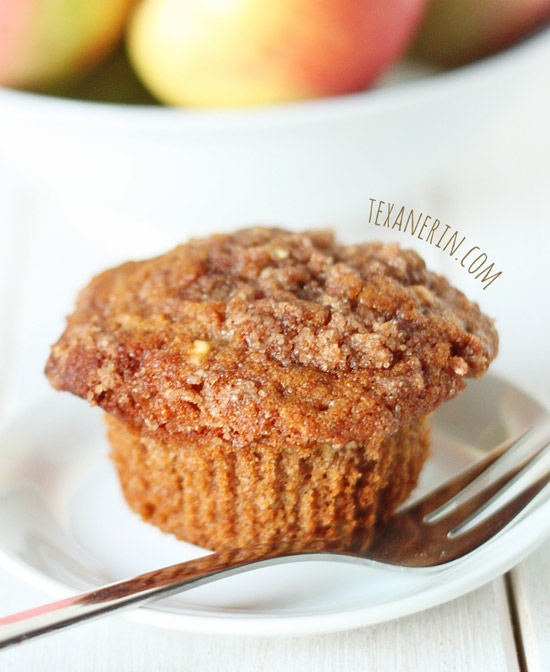 In one variation, I left out the nutmeg and allspice. Do not do that! They tasted olive oily, which isn't exactly what I want to taste when eating apple muffins, so don't forget the spices! And instead of yogurt, I used buttermilk a few times. Vanilla yogurt would work too. The muffins will just be a little sweeter.
Strangely enough, these are moister on the second day, although nothing beats piping hot from the oven. But I love it when things turn out better on the second day! If I'm having people over for breakfast, I make it hard on myself and get up super early because I want the baked goods to be as fresh as possible. That's definitely not necessary with these! Woohoo.
If you're thinking you'd like a more sinful apple muffin, try these apple strudel muffins! I've made them before and they're awesome. :) I have to say, though, I enjoy these healthier apple muffins just as much! They're just a little different.
I'm so ready for pumpkin season! Are there any pumpkin goodies would you like to see healthified?
Cinnamon Apple Muffins (100% whole grain)
Prep Time:
Cook Time:
Ready in:
Yield:

8 muffins
Ingredients
For the muffins:

1 cup (125 grams) whole spelt, whole wheat pastry, or whole wheat flour
½ teaspoon baking powder
1 teaspoon cinnamon
½ teaspoon nutmeg
¼ teaspoon allspice
¾ teaspoon baking soda
¼ teaspoon salt
1 egg
⅓ cup (100 grams) honey
¼ cup + 2 tablespoons (90ml) olive oil or canola oil
1 teaspoon vanilla extract
¼ cup (60ml) plain yogurt or buttermilk
1 cup (180 grams) peeled and chopped apple, preferably from baking apples

For the topping:

⅓ cup (45 grams) whole spelt, whole wheat pastry, or whole wheat flour
½ cup (100 grams) unrefined brown sugar, or normal brown sugar
2 tablespoons (30 grams) melted butter
2 teaspoons cinnamon
Directions
Preheat the oven to 350°F / 175°C. Line a muffin tin with 8 muffin liners.
In a medium bowl, whisk together the dry ingredients.
In another bowl, whisk the egg. Add the honey, olive oil and vanilla. It might look a little weird at first; just keep stirring until it's well combined, and then add the yogurt or buttermilk.
Add the flour mix to the wet mix. It just needs to be combined, so be careful not to overmix. Then fold in the apples. Fill the liners with the batter, filling almost all the way to the top. You could get more out of these if you want to make them smaller. Just take them out a little earlier.
Combine the streusel ingredients. If you don't want to make the streusel, add some cinnamon sugar (1 tablespoon unrefined or brown sugar + 1 teaspoon cinnamon) to the top of the muffins. It adds a wonderful crust and a little extra sweetness.
Bake for about 15 – 17 minutes or until a toothpick comes out clean.
Let the muffins cool for 5 minutes and then turn out onto a wire rack to cool.
When the muffins are completely cooled, place them in an airtight container and store at room temperature for up to 4 days. Anything past that, store in the refrigerator.