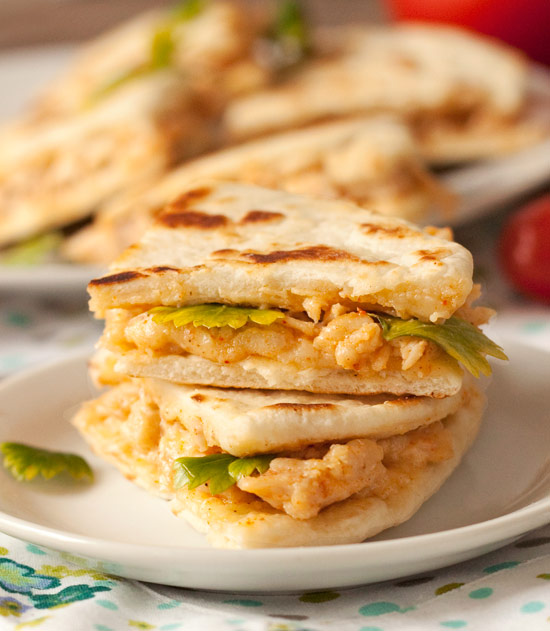 I really did try to think of something sweet to bake for Cinco de Mayo. But my love for cheese and carbs won over! This quesadilla recipe uses the filling from a baked taquito recipe I adore. I posted this on Instagram and loved the quesaditos suggestion. Isn't that cute?!
You take some spicy chicken (not in the mood for spicy? Try this chicken cordon bleu!), shred it, add some more spices and then some cheddar and cream cheese. And of course I left out the salsa and onions called for in the recipe, just because I don't like them. Go check out the original recipe if you want a "fancier" version. ;)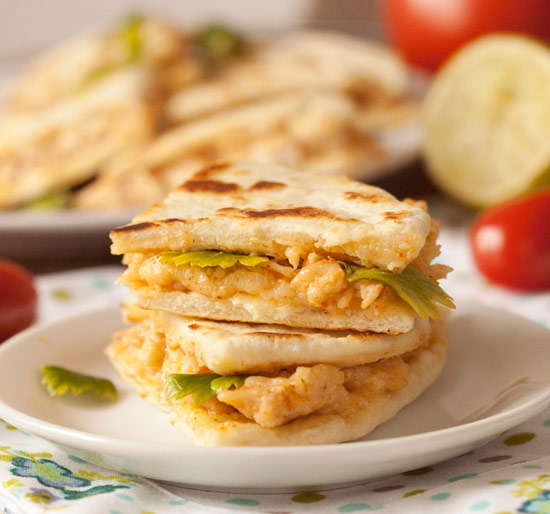 These are more work than your usual slap-some-meat-and-cheese-in-there-quesadillas. But it's still really quick. And you can make the mixture ahead of time and just pull it out of the fridge when you need it.
I used these homemade tortillas. You can make them 100% whole wheat if you like, and I do that sometimes, but to be honest… tortillas are just so much better with all all-purpose flour. So soft and pillowy and perfect.
If you've never made homemade tortillas, then you're in for a treat. They're so much better than what you can find at the store (at least the stores here in Germany!) and aren't that difficult to make. And there's no lard, either. Just two teaspoons of oil.
These quesadillas can also be made on the grill! Cook directly on the grates over high heat for about 2 minutes or until the bottoms start to brown. I don't think I'd fire up the grill just for these, but if it's on anyway, I'd definitely throw these on. That and some tortilla pizzas!
Some other fun looking quesadilla recipes:
❀
Creamy Cheesy Chicken Quesadillas
Prep Time:
Cook Time:
Ready in:
Yield:

4 quesadillas
Ingredients
2 cups shredded chicken1
4 ounces (110 grams) cream cheese, room temperature
1 cup (125 grams) grated extra sharp cheddar cheese
2 teaspoons lime juice
1/2 teaspoon chili powder
1/2 teaspoon onion powder
1/4 teaspoon cumin
1/4 teaspoon garlic powder
8 small tortillas
Directions
Mix everything together except the tortillas in a medium bowl and set aside.
Over medium heat, heat a non-stick frying pan or cast iron pan that's slightly larger than you tortillas.
While the pan is heating up, spread the chicken mixture over four tortillas. Place the remaining four tortillas on top of the filling.
One by one, cook the quesadillas until the bottom or the tortilla is browned in several spots and the filling is halfway melted. Flip over, and brown the other side of the tortilla.
Cut into four pieces and serve hot. If these cool too quickly, you can reheat them in the microwave at half power for 10-15 seconds or until warm.
Notes
If you don't have any shredded chicken on hand, butterfly 13 ounces (380 grams) chicken breasts, rub with 1 teaspoon of Tony Chachere's Original Creole Seasoning (or whatever spices you like!) and pan fry until no longer pink in the middle. Shred the meat by pulling apart with two forks.
Adapted from Our Best Bites - Baked Creamy Chicken Taquitos, as seen on The Comfort of Cooking - Baked Chicken Taquitos