This protein-packed smoothie will wake you up with a flavor explosion of tart cherries, spicy ginger and zesty lime juice.
Peaches and nectarines are still in season – therefore, it's still summer. At least to me. :) I savor every moment of summer as once fall rolls around, I bid farewell to the sun for the next 6 months. So I'm super excited that Liz from The Lemon Bowl is here today to share a cherry ginger lime smoothie! Liz and I are similar in that we both post whole grain and gluten-free recipes like these whole wheat apple cider donuts, whole grain chocolate banana oat muffins, and gluten-free chewy dark chocolate granola bars, but she also posts a lot of savory dishes. Because I know y'all like your sugar, I kindly requested that she make you something sweet. So over to Liz!
Hi Friends! My name is Liz and I'm a healthy food blogger over at The Lemon Bowl where I share easy, flavor-packed recipes that just so happen to be good for you.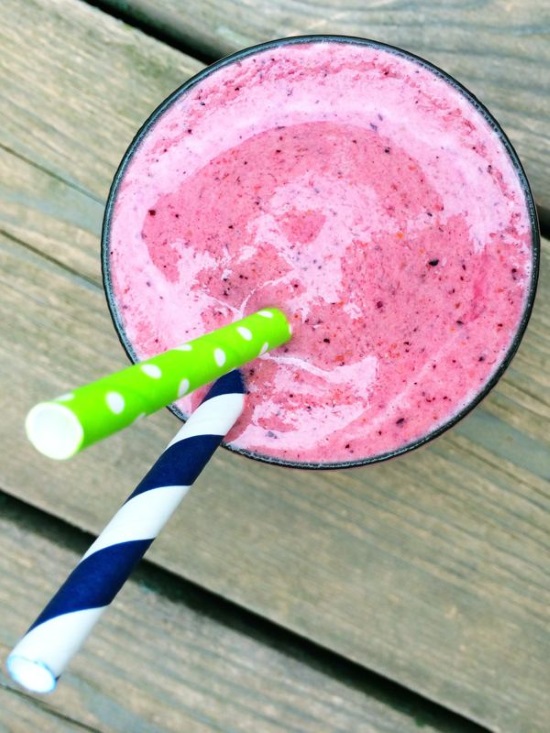 I'm so excited to be guest posting for Erin because she is a huge inspiration to me. Baking is not my forte and if there is one thing I've learned, healthy baked goods that also taste incredible is nothing short of genius.
One thing I am good at? Smoothies! As I've worked to maintain my weight loss, one trick I've learned is to start my day with a breakfast that offers a mix of protein, fiber and healthy carbs.
Tart cherries, spicy ginger and the juice of a whole lime are guaranteed to wake up your taste buds after the first sip. For all-day energy, I add Greek yogurt, protein powder and flax seeds. They also make the smoothie super creamy and rich.
What are your favorite smoothie ingredients? I would love to hear from you! Thank you again for welcoming me into your day and please come say hello to me on Twitter or Instagram!
Your straw is waiting.
❀
Cherry Ginger Lime Smoothie
Prep Time:
Cook Time:
Ready in:
Yield:

4 servings
Ingredients
2 cups cherries - fresh or frozen (I used tart but sweet work too)
1 cup blueberries - fresh or frozen
1 whole lime - peeled
⅔ cup plain Greek yogurt
2 scoops protein powder
½ green apple
2 inch piece ginger root - thinly sliced
2 tablespoons tart cherry juice
2 tablespoons flax seed
1 cup water
ice to taste
Directions
Add all ingredients to a high speed blender and pulse on high until smooth and creamy. Add ice until you've reached desired consistency.
Notes
Nutrition Information: Serving size: 24 ounces Calories: 320 Fat: 2.8 g Saturated fat: .3 g Unsaturated fat: 1.9 g Trans fat: 0 Carbohydrates: 58.8 g Sugar: 39.7 g Sodium: 92 mg Fiber: 7.8 g Protein: 19.8 g Cholesterol: 2 mg