This grain-free Italian lemon cake (also known as torta caprese bianca) is made with almond flour and is full of lemon flavor!
This post is dedicated to a fellow blogger friend who is going through a hard time. She can't have gluten so here we have a grain and gluten free lemon cake. And it's yellow. Not just slightly yellow, but "Did you use food dye in that?" yellow. Is it weird that yellow things make me happy? I hope this makes her happy too! And there's lemon involved. How could anything lemony not cheer you up? I dare you to eat this cake and frown. Or cry. You just won't succeed.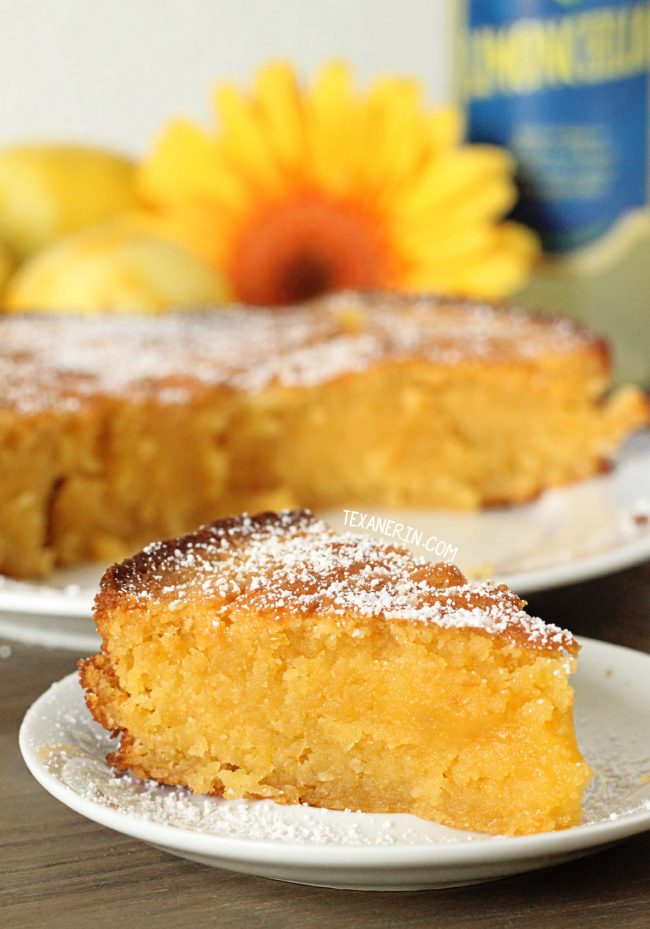 In continuing with my, "It's my birthday (week) and I'm going to post naughty things" theme, I give you this Italian lemon cake. It has butter. I normally use olive oil instead of butter but I just didn't want a cake that tasted like olive oil and lemon. But it seems that butter is not really this evil thing I perceive it as. I just prefer olive oil. Nobody disputes the healthful properties of that!
And then there's white sugar. I originally made this cake with white sugar because again, I thought coconut sugar with it's slightly caramel-like taste might be strange with lemon. But my pal doesn't use white sugar, so I remade it today with coconut sugar (and she's coincidentally the one who told me about coconut sugar), just to make sure it'd work. And the verdict? Tastes the same, but the cake is brown and not yellow. No funky taste. And I just realized that the egg yolks over here are normally pretty orange and not yellow. Maybe that helped with the nice color.
And because almond flour appears to be expensive in the US and I had a feeling people would ask if they had to use almond flour, I made the second cake with blanched almonds ground up in the food processor. The texture isn't as fine as with almond flour, but it's still nice. And you don't get the yummy crunchy crust-like stuff on the side of the cake, but maybe that had more to do with the coconut sugar. I also used lemon juice in place of limoncello and I couldn't really tell a difference.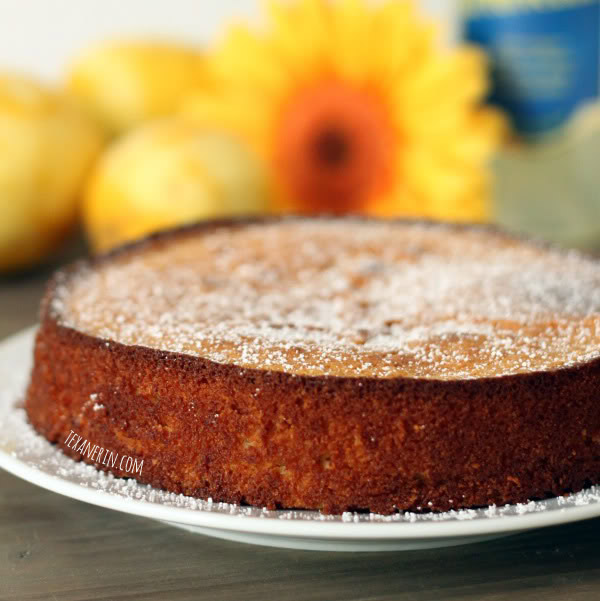 So the traditional torta caprese, which I have yet to make, is made with chocolate. This one uses white chocolate but weirdly enough, the chocolate flavor isn't really apparent. I can't really even tell it's in there. And although I thought this was lemony, it wasn't extremely lemony. Normally I don't do subtle. If I want something lemony, I want the lemon flavor to punch me in the face and not just be hanging around in the background. But it worked here.
Both my version and the original version look a bit underdone in the middle, but I liked it that way. It was great. :) You could leave it in there a little longer if you like. And you don't have to refrigerate the cake, but it tastes much better that way. People LOVED this cake and didn't even realize it was grain-free (although I'm pretty sure it'd be clear to anyone who bakes). Just saying. :)
This recipe halves wonderfully! What you see above is only half the cake. And the edge of the cake is SO yummy. Kind of crispy / chewy. Since this recipe was converted from an Italian one, the cup measurements are a bit unusual. If you have a scale, I recommend using it!
If you're in more of a cupcake mood, try these gluten-free lemon cupcakes from What the Fork Blog!
❀
Italian Lemon Almond Cake (Torta Caprese Bianca - grain-free, gluten-free)
Prep Time:
Cook Time:
Ready in:
Yield:

One 10" cake
Ingredients
320 grams (this is about 3 cups + 3 tablespoons) almond flour (not almond meal) or blanched almonds, ground into almond flour
200 grams (1 cup + 3 tablespoons) white chocolate, chopped
2 tablespoons whipping cream or milk (I used 1.5% milk)
180 grams (3/4 cup + 1 tablespoon) unsalted butter, softened
130 grams (about 2/3 cup) granulated sugar or coconut sugar1
zest of 4 lemons, about 2 tablespoons
4 large eggs, separated
1 teaspoon lemon extract
40 grams (about 2 tablespoons) of limoncello or lemon juice
powdered sugar as garnish, optional
Directions
Preheat your oven to 350°F / 176°C and grease a 10" / 26cm pan or line it with parchment paper. If using blanched almonds instead of almond flour, process them in the food processor until they're pretty finely ground. If you grind them too much, they'll release oil and become almond butter.
Combine the white chocolate and milk / cream in a microwave safe bowl.
Heat in 30 second increments and stir after every 30 seconds. Set aside to cool while you prepare the rest. Beat the butter with 100 grams of sugar and beat until fluffy.
Add the lemon zest, egg yolks and lemon extract and beat until well combined. Then add the almond flour / ground almonds and the melted chocolate. Add the limoncello / lemon juice and beat until combined.
In a separate bowl with spotlessly clean beaters, beat the egg whites until soft peaks form. Gradually add the remaining 30 grams of sugar to the egg white mixture. Fold the egg whites into the almond batter until well combined. Spoon the batter into the greased pan and bake for 40 - 45 minutes. If making half the cake, use a 7" / 18cm pan and bake for 30 minutes. The cake will puff up in the oven, but when cooling, it'll fall back down.
Let it cool completely in the pan and then invert the cake onto a plate, and then flip that back into the pan or onto another plate (so that it's not upside down). Sprinkle on some powdered sugar if desired, but only before serving.
Notes
If using coconut sugar, blend in a coffee grinder first so that it's basically like powdered coconut sugar. I'd be worried about how well non-grinded coconut sugar would do with the egg whites. I'm guessing not well. And please note the above comment about how using coconut sugar turns the cake the brown! It's just not possible to make a bright yellow cake with this dark sugar. Also, this recipe originally used 200 grams of sugar. I used 200 grams in the first cake and only 130 in the second and didn't notice much of a difference, but I'm used to not using so much sugar. Feel free to use up to 200 grams.
Adapted from Dolce Mania - Torta Caprese Bianca