This vegan cheesecake is also paleo and super rich, creamy and decadent! Made with coconut milk, dates and coconut sugar, this no-bake cheesecake is a little healthier than a traditional one.
You all doing anything special for Valentine's Day? We never do (although I don't have anything against the holiday) but I do take it as the perfect excuse to make something rich and chocolaty like this vegan chocolate cheesecake!
These gluten-free chocolate lava cakes and raspberry molten lava cakes (which are also gluten-free) are our favorite Valentine's Day treats. I love that they yield just two! Perfect for portion control.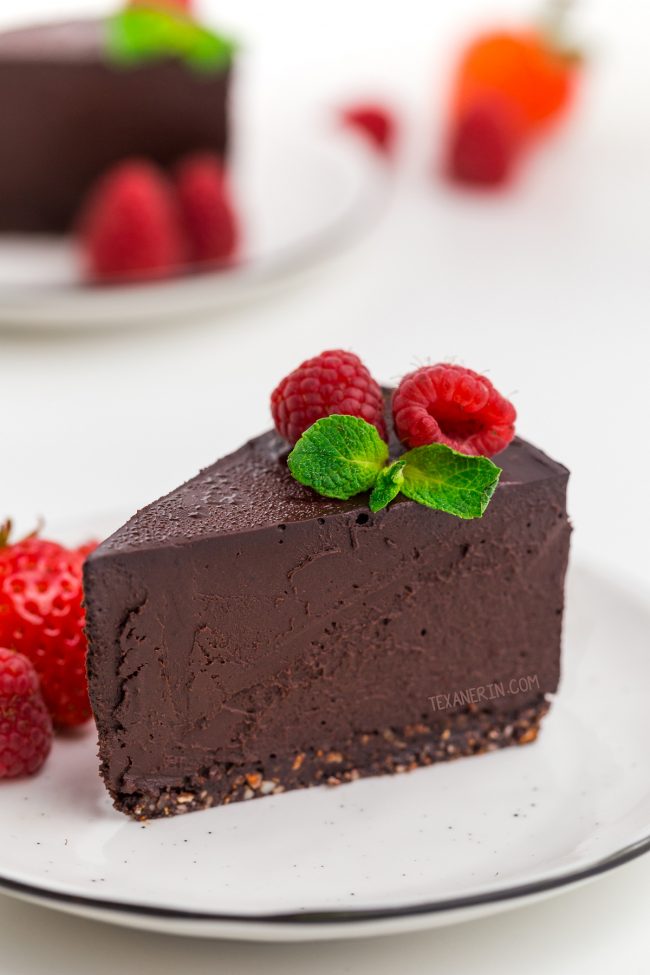 But back to today's recipe! So many paleo cheesecake recipes use a 6″ or 7″ springform pan and I've always thought that this was so silly. How many people have a 7″ springform pan? Every traditional cheesecake recipe I've ever made calls for a 9″.
So I tried making this paleo cheesecake recipe in a 9″ pan. And the layer of cheesecake was like 1″ thick. It didn't look impressive enough to get anyone's attention.
I thought about doubling the filling but the recipe already calls for 3 cans of coconut milk and I couldn't see anyone making a recipe that called for 6 cans of coconut milk. So here it is in a 7″ springform!
It's super rich. We served it in 1″ slices and that was enough. So while the cheesecake looks quite small, it will provide much enjoyment. :) It freezes great so you can enjoy it a little at a time!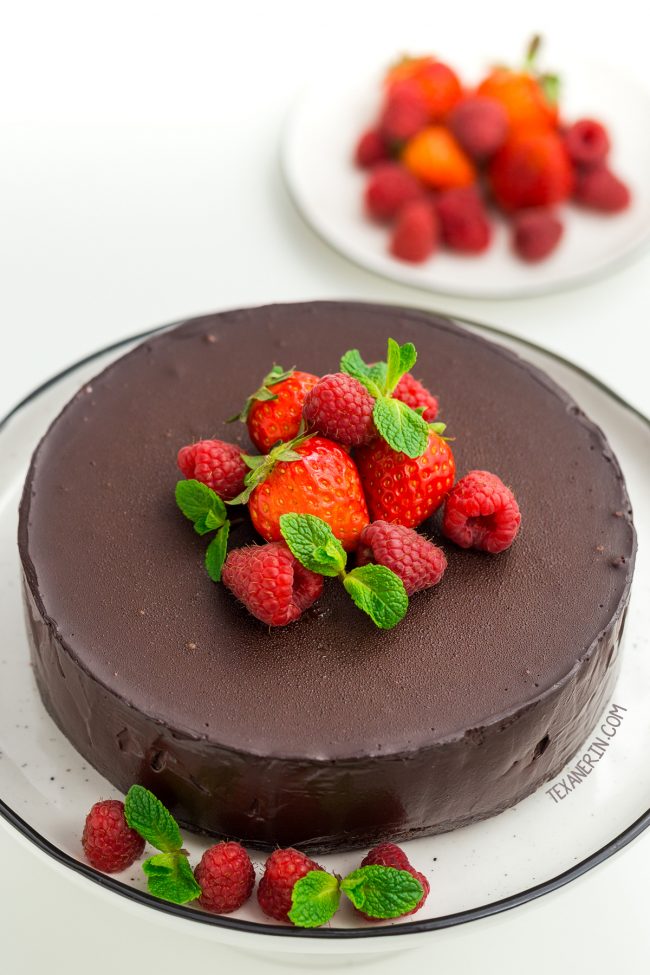 Cashew-based vegan desserts like these paleo lemon bars, raspberry cream pies and paleo key lime pie really taste like the real thing.
But I've had SO many bad vegan cheesecakes that use cashews or tofu in place of cream cheese. I'm not saying that they're bad in general – perhaps I've just not had the right recipes! I just usually really miss the cream cheese in dairy-free cheesecakes.
This vegan chocolate cheesecake, though, won't leave you disappointed. The filling is nut-free and uses coconut cream and dates, which results in a texture that's creamier than regular cheesecake.
And does it taste like coconut? Not at all! This paleo cheesecake is all chocolaty goodness. I used unrefined coconut oil and even with that and the 3 cans of coconut milk, there's not a bit of coconut taste (at least with the coconut milk I used!).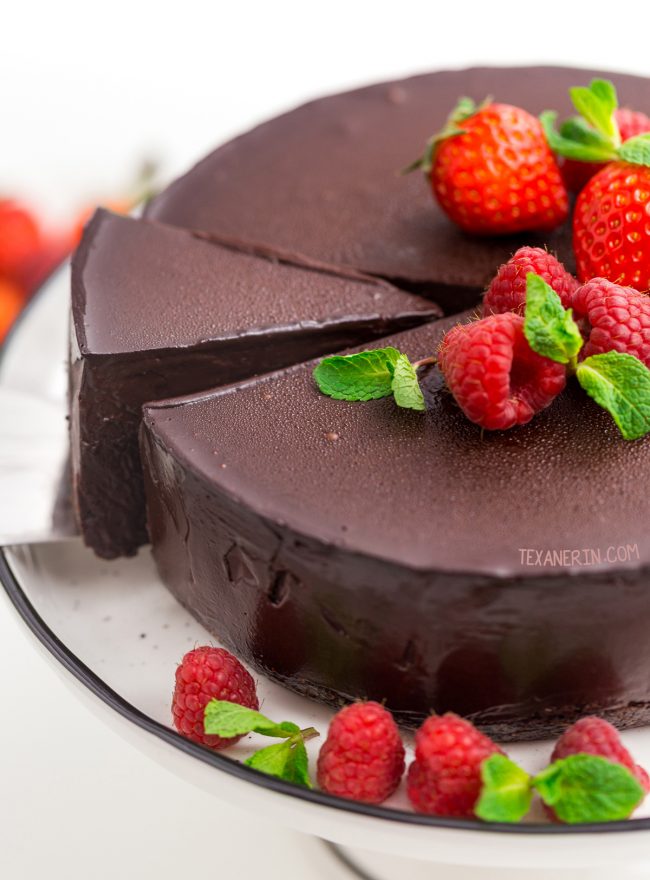 I tried out a load of crust recipes. I keep trying to recreate a paleo Oreo-like crust (like this classic Oreo crust from Crazy for Crust) and it just seems impossible.
I've tried other vegan chocolate cookie crust recipes I've found online and none of them are even remotely like an Oreo crust. I desperately want it to taste like the real thing!
So I went a different route and ended up with something super simple and no-bake. Which also means this vegan cheesecake is no-bake and raw! For more no-bake treats, check out this post on 85 no-bake paleo desserts (most of which are also vegan!).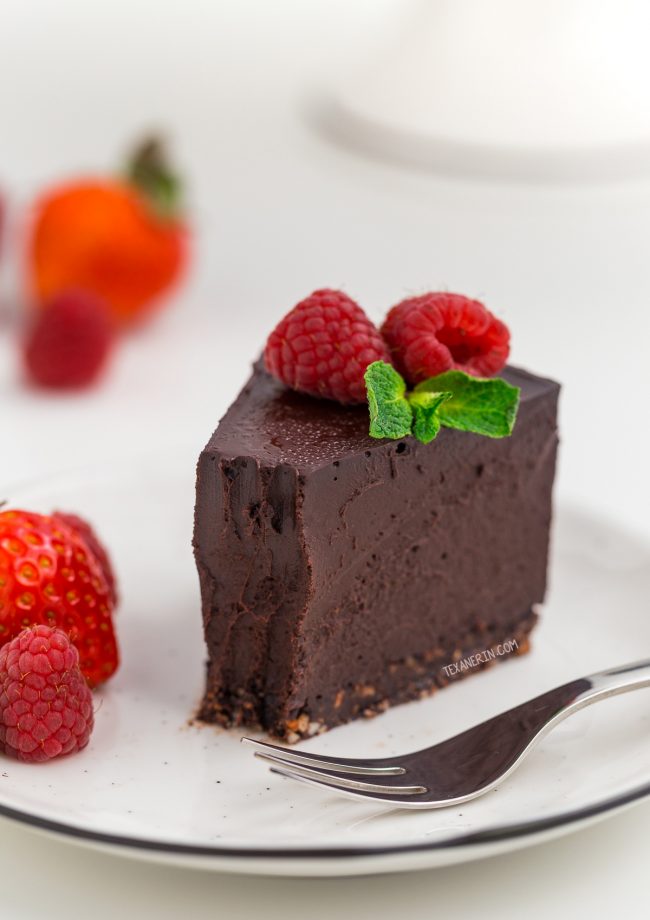 If you try it out, I'd love to hear what you think! Happy Valentine's Day. :)
Substitution questions for this vegan chocolate cheesecake:
What can I use in place of the coconut cream?

Nothing unfortunately. There's no sub for it.

Can I use something instead of coconut sugar?

Granulated sugar would work if you don't care about it being paleo. A liquid sweetener would make the cheesecake too runny. You could probably add a bunch of coconut oil to firm it up but I think that'd require a lot of experimenting to find the right amount.

And as always, I have no idea how to make this vegan chocolate cheesecake low-carb (I say this in every post because someone asks this in every recipe).

Can I reduce it?

I already give a range of 1 cup to 1 1/3 cups. If you want, you could try 2/3 cup and add a bit more sweetener at a time until it's your desired level of sweetness.

Can I use something instead of dates?

I haven't tried it but perhaps prunes would work. I'm not sure how different they taste but I think with all that cocoa powder, it'd cover up any unusual taste.

Can I use a different sized pan?

Definitely! Your cheesecake will just be thinner. Think about the crust, though. If you want an 8″x8″, you'll probably want to double the crust. If you use a 6″ springform, you'll have a little too much for the pan and will need to put the leftover filling in something else. I recommend just eating it straight from the blender with a spoon. :D

I don't have a food processor or high-speed blender. What else can I use?

Sorry to say you need one of those. You can't chop up the dates finely enough. And I really, really recommend a high-speed blender (not a regular blender!) over the food processor. They'll get the filling perfectly smooth and creamy. I can't say that all food processors will do the same (though I'm sure some would!).

Can I use X type of cocoa powder?

I first tried this vegan chocolate cheesecake with Dutch-process cocoa powder (it's my favorite!) and it made the cheesecake have a very odd bitter taste to me. My husband didn't taste the bitterness.

I tried the next day and it still tasted very bitter. The third day, though? Totally normal. I wasn't sick and nothing else tasted off to me so I have no idea what that was about.

I'm pretty sure it had to be the cocoa powder. So because of this, I'm recommending that you not use Dutch-process cocoa powder and use the regular natural kind (like Hershey's unsweetened) instead.
I hope you'll enjoy this vegan chocolate cheesecake! Here are some resources in case you're new to vegan baking: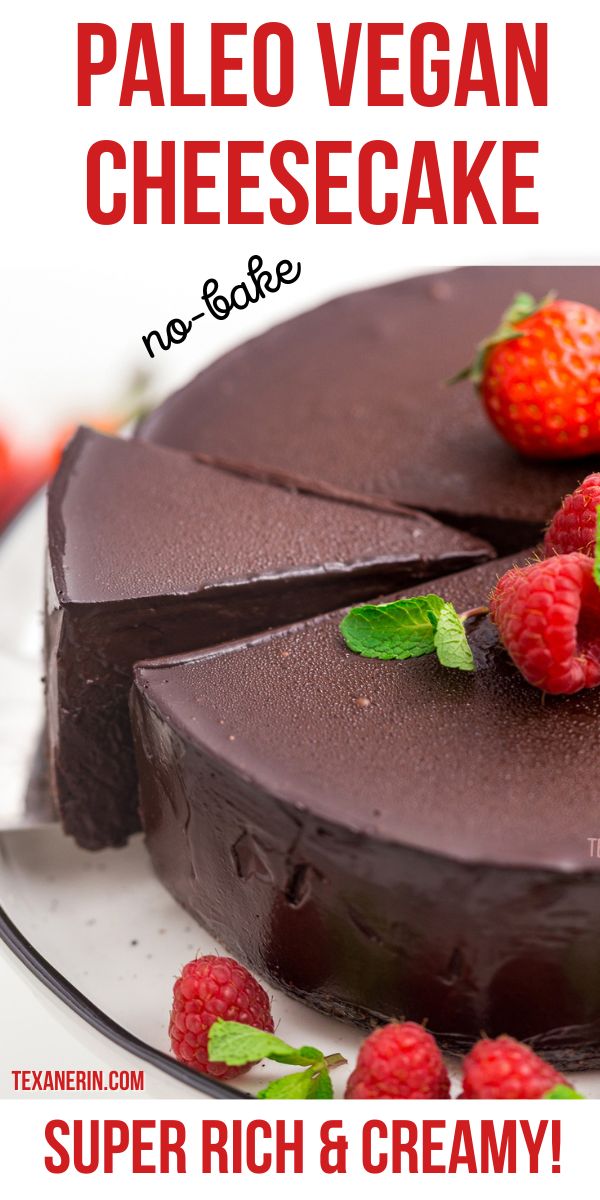 ❀
Vegan Chocolate Cheesecake (paleo, no-bake)
Prep Time:
Cook Time:
Ready in:
Yield:

12-16 slices
Ingredients
For the crust:

2/3 cup (93 grams) almonds
2/3 cup (140 grams) pitted dates, firmly packed
2 tablespoons + 2 teaspoons (19 grams) cocoa powder
little less than 1/4 teaspoon salt

For the filling:

3 cups (720 grams) warmed coconut cream1
1 cup (210 grams) pitted dates, firmly packed
1 2/3 cups (183 grams) cocoa powder (I don't recommend Dutch-process - it made my cheesecake bitter)
1 to 1 1/3 cups (200-266 grams) coconut sugar, very firmly packed (it's best to weigh this)
1/4 cup + 1 1/2 teaspoons (64 grams) coconut oil (I used unrefined)
1 tablespoon vanilla extract
1 teaspoon salt

For the top:

raspberries and strawberries
Directions
Prepare the crust:

Line the bottom and sides (all the way to the top) of a circular 7"x3" springform pan (if a little smaller, you can pour the leftover filling in a small dessert glass / bowl) with a piece of foil.
In the bowl of your food processor using an S-blade, pulse all the crust ingredients until it starts to come together. Depending on your food processor, this will take 1-3 minutes. Pinch a bit of it together - it should stick together easily. You can also use a high-speed blender to make the crust but you have to scape the sides of the container often. I thought it was much easier with a food processor.
Press firmly onto the bottom of the lined pan.

Prepare the filling:

Get out a high-speed blender and make sure it's large enough to fit all the ingredients. The filling yields about 5-6 cups. If your blender isn't big enough, a food processor will do - but it'll likely (it depends on your food processor) be creamier with a high-speed blender. Add all the filling ingredients, in the order listed (starting off with 1 cup (200 grams) of coconut sugar), and blend for about 30-60 seconds, or even longer, depending on your blender, or until totally smooth and no lumps of dates remain. Taste and add up to another 1/3 cup (66 grams) of coconut sugar, if desired.
Pour the filling over the crust and place the cheesecake in the freezer for 6-8 hours or until the filling is frozen. Remove the cheesecake from the freezer and remove the foil from around the sides. If it's difficult to do now, wait until it thaws a bit more.
Let thaw for about 1 hour at room temperature (it'll depend on the room temperature and how long the cheesecake was frozen) and top with berries. Can be stored in the fridge for a softer consistency.
Notes
You can use 3 cups of canned coconut cream or get three 14-ounce (400-gram) cans of full-fat canned coconut milk, chill them overnight, then scoop out the coconut cream that has formed at the top. You should get 3 cups (720 grams) of coconut cream. Warm it up slightly so that the mixture will be easier to blend.