The best gluten-free brownies! So fudgy, gooey, and incredibly easy to make. If you're looking for truly delicious gluten-free brownies, look no further. They can also be made with whole wheat for a non-GF version and are dairy-free, too.
There are some bloggers who pretty much label every recipe of theirs as the best (The Best Cheesecake! The Best Chocolate Cake! The Best Everything!) which gets a mega eye roll from me, but here I am doing it.
I apologize for being a hypocrite but… yeah. I'm not changing my title. :D These really are the best brownies ever!
Like the strawberry rhubarb crumble that I shared earlier in the week, this is also adapted from my book, which is coming out in only a few days (and which is already available on Amazon!)
The brownies in the book are with hazelnut and espresso and this is the stripped-down version. Simple, quick, no-fuss, super fudgy gluten-free brownies. They're also 100% whole grain!
You've got several flour options for these brownies. One that's not listed below is coconut flour. If you want to use that, you're in luck because I have a version of these gluten-free brownies that uses just coconut flour! Check out these coconut flour brownies for that. Their texture is just as amazing as the :)
I also have a version with all almond flour. These almond flour brownies are also super gooey and hard to resist.
I used gluten-free and whole grain teff flour in these brownies. Teff comes in different varieties like white / ivory or dark and it's said that the dark kind is earthier tasting (read: it tastes like dirt, like buckwheat).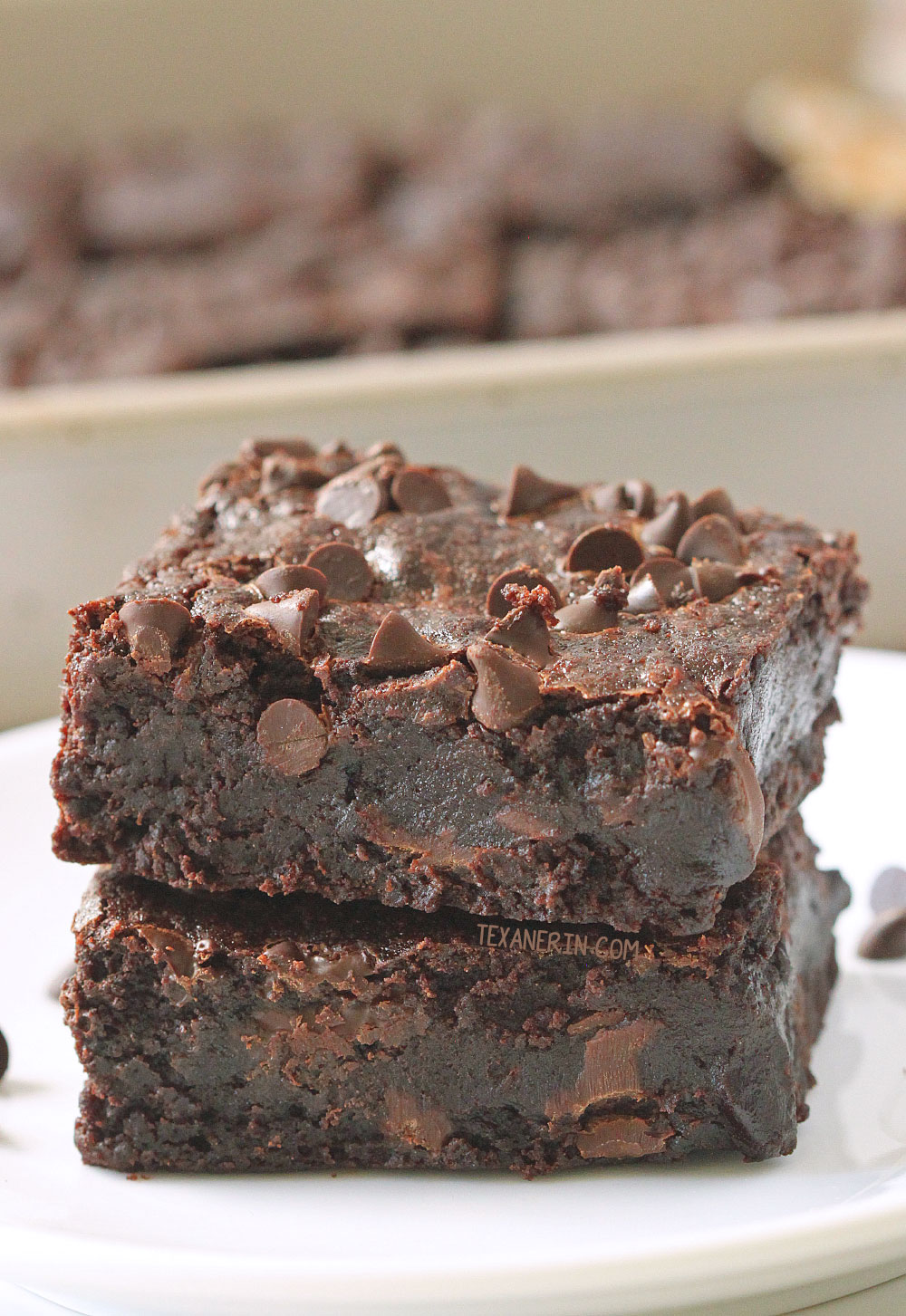 I've used both white and dark teff flour in these gluten and dairy-free brownies and you really can't detect any difference – all that Dutch-process cocoa powder does a great job of covering up any earthy / healthy flavors!
I think teff isn't the easiest flour to find but the dark kind is available on Amazon from Bob's Red Mill. Many commenters have also used Bob's Red Mill Gluten-Free 1-to-1 Baking Flour with success. That's the one in the blue bag.
I've also made these brownies with buckwheat! You can use buckwheat in this recipe or check out my mint chocolate brownies for a minty, yet totally out of season version.
And because I know some people don't need these to be gluten-free, I've also tried them with whole wheat and I'm assuming white whole wheat would work just as well.
The cool thing is that all of the different versions taste the same. They're all just as gooey and there's no grittiness!
If you try these gluten-free brownies while warm, the buckwheat and teff versions do have something a little texturally weird going on but once they cool, it's a thing of the past!
It's a really flexible recipe. Just don't go halving the sugar and then complain that they came out cakey. ;)
I've made these brownies (seriously the best gluten-free brownie recipe ever!) so many times to bring to picnics and other get-togethers. Nobody ever even knows they're gluten-free! Seriously. You can't go wrong with this recipe. :)
Need convincing? Check out the reviews below!
❀
The Best Gluten-free Fudgy Brownies (dairy-free, whole grain)
Prep Time:
Cook Time:
Ready in:
Yield:

12 brownies
Ingredients
1 cup (158 grams) teff flour or 1 cup (125 grams) buckwheat flour1 or1 cup (138 grams) Bob's Red Mill Gluten-Free 1-to-1 Baking Flour or 1 cup (125 grams) whole wheat flour for a non-GF version
3/4 cup (86 grams) Dutch-process cocoa powder, sifted if lumpy (you could also use Hershey's Special Dark cocoa powder)
1/4 teaspoon salt
3/4 cup + 2 tablespoons (196 grams) unsalted butter or coconut oil, melted and cooled slightly (use coconut oil for a dairy-free version)
1 1/2 cups (300 grams) granulated sugar, raw sugar, or coconut sugar
1 tablespoon vanilla extract
3 large eggs, room temperature
3/4 cup (128 grams) semi-sweet chocolate chips (use dairy-free chocolate chips for a dairy-free version) + an additional 1/4 cup (43 grams) to sprinkle on top, if desired (I used mini chocolate chips on top)
Directions
Preheat the oven to 350 °F (175 °C) and line an 8"×8" (20cmx20cm) pan with parchment paper.
In a medium mixing bowl, stir together the flour, cocoa powder, and salt. Set aside.
In a large mixing bowl, stir together the melted butter or coconut oil, sugar, and vanilla extract. Once combined, add the eggs one at a time, and stir just until combined.
Add the dry mixture to the wet and stir just until almost no streaks of flour remain. Do not overmix! Fold in 3/4 cup (128 grams) chocolate chips.
Pour the batter into the prepared pan and sprinkle the remaining 1/4 cup (43 grams) chocolate chips on top, if desired.
If using teff or the GF flour blend, bake for 20-22 (some commenters need more) minutes or until the brownies have formed a thin crust and appear set in the middle. If using buckwheat or whole wheat, you may only need 15-20 minutes. A toothpick inserted into the center will come out wet. A toothpick inserted into the sides will come out with some moist crumbs on it, but not totally raw batter. The brownies will continue to bake as they sit in the pan and will firm up as they cool. Note that a lot of commenters have said they needed to bake them longer than what I have listed. I've made these brownies at least 20x since posting and the baking times I have listed are what works for my oven (which is running correctly :))
Let cool completely and then cover and store at room temperature for up to 4 days. You can also refrigerate them to give them a fudgier texture.
Notes
Buckwheat flour is naturally gluten-free but not all buckwheat flour is processed in a gluten-free facility. If you need these brownies to be gluten-free, make sure to use certified gluten-free buckwheat flour!
As an Amazon Associate, I earn from qualifying purchases. For more info, see my disclosure.