Is cocoa powder gluten-free? Yes, it is!
I'm talking about unsweetened cocoa powder here. Hot chocolate or hot cocoa powder is a totally different game.
The only ingredient in cocoa powder should be cocoa powder, and that is naturally gluten-free. The only issue could be cross-contamination.
Cross-contamination
For products to legally be labeled as gluten-free in the United States, they must first meet the requirements put forth by the FDA of being less than 20ppm gluten. When products are less than 20ppm gluten, they may then be labeled as such.
So why don't all cocoa powder brands just test their products so they can be labeled gluten-free? It likely comes down to cross-contamination.
Although cocoa powder naturally doesn't contain any gluten ingredients, it can be manufactured and packed in a facility that produces gluten products. Or it could even be processed using the same equipment as gluten products.
The equipment may or may not be cleaned when they switch from product to product. And if they don't clean it, this could lead to cross-contamination.
Some manufacturers are very careful when switching from gluten products to gluten-free products, but some, unfortunately, aren't.
Food processing equipment is extremely difficult to properly clean unless the manufacturer dismantles absolutely everything. I think we'd better assume that most companies don't do that.
If you're highly sensitive to gluten, you'll definitely want to check labels carefully before buying anything without a certification.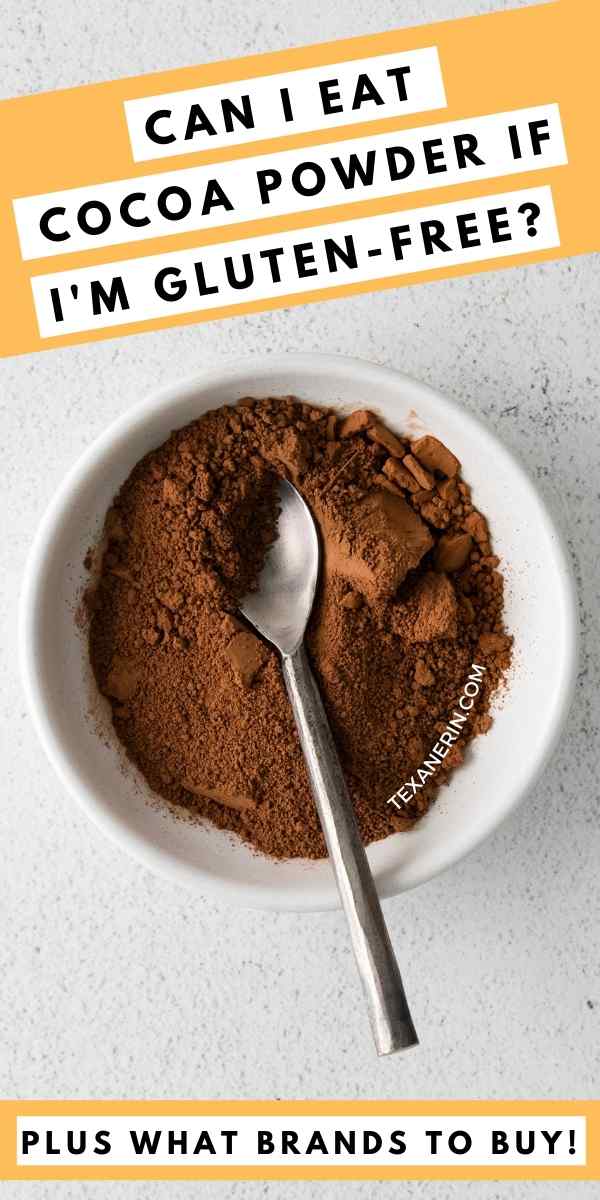 Check the packaging
In the US and many other countries around the world, common allergens used in a food must be clearly labeled on product packaging. So if a gluten product is being used, it should say so right on the label.
Labels are a wealth of information. Most of them will list "may contain wheat", "processed on machinery that has processed wheat", or "contains wheat" on them to help you identify the ingredients without having to wade through a long ingredient list.
If you're highly sensitive to gluten and worried about cross-contamination, it's always better to find some cocoa powder that's labeled gluten-free.
Gluten-free cocoa powder brands
These products are all labeled as gluten-free and easy to get on Amazon. They're also organic and non-GMO.
I was surprised to see that 365 by Whole Foods Market doesn't list their product as gluten-free.
Is Hershey's cocoa powder gluten-free?
Hershey's cocoa powder is gluten-free according to their website. Hershey's Cocoa, Hershey's Special Dark Cocoa, and Hershey's Dutch Cocoa are all on the gluten-free list.
This article is about unsweetened cocoa powder but just as a note, Cacao Reserve by Hershey's is not gluten-free!
Hershey's website is very clear on what does and doesn't have gluten, and you can refer to their website before shopping trips to check products for gluten.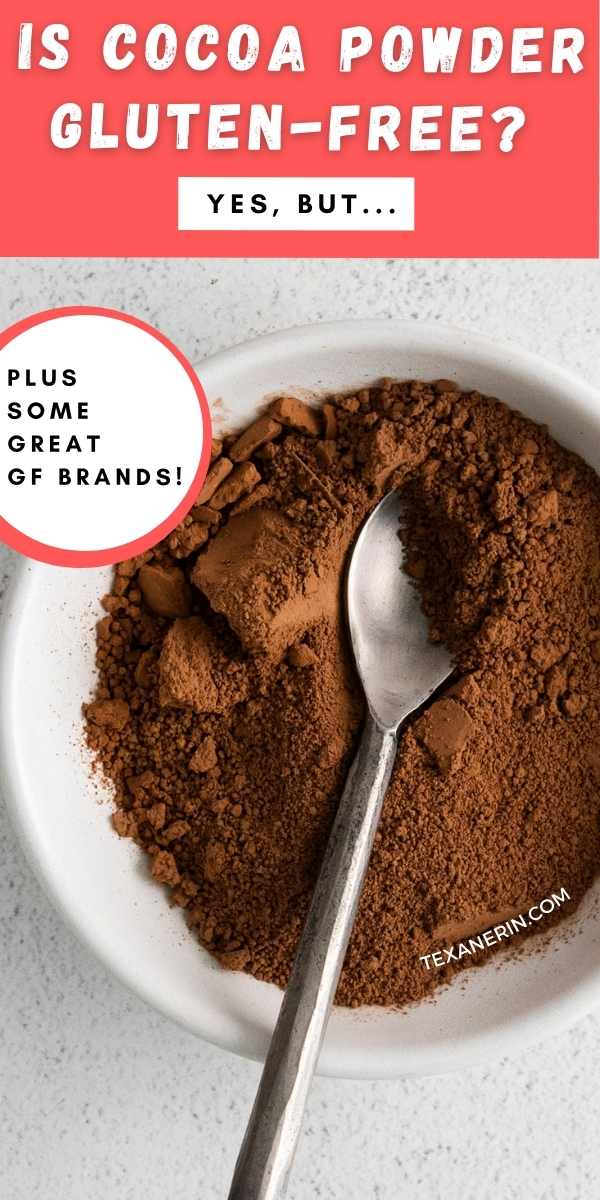 About about Nestle?
This one is a bit puzzling! I don't see the package labeled as gluten-free and on their webpage for their Tollhouse cocoa powder, they don't say anything about gluten-free. They just write, "Please refer to the product label for the most accurate nutrition, ingredient, and allergen information."
I would avoid this one if you have celiac unless your packaging actually says gluten-free!
A final note
Typically, cocoa powder is gluten-free and you should have no problem finding gluten-free cocoa powder if you're on a gluten-free diet.
Unfortunately, it's not as simple as grabbing a product off of the shelf and expecting the product to be gluten-free. For this reason, it's important to read the label carefully and ensure that the product you're choosing is truly a gluten-free product.
I hope I've answered whether cocoa powder is gluten-free or not! If you have any other questions, feel free to leave it below and I'll be happy to answer them. :)