These peanut butter cup brownies are dairy-free, 100% whole grain and are super gooey and rich!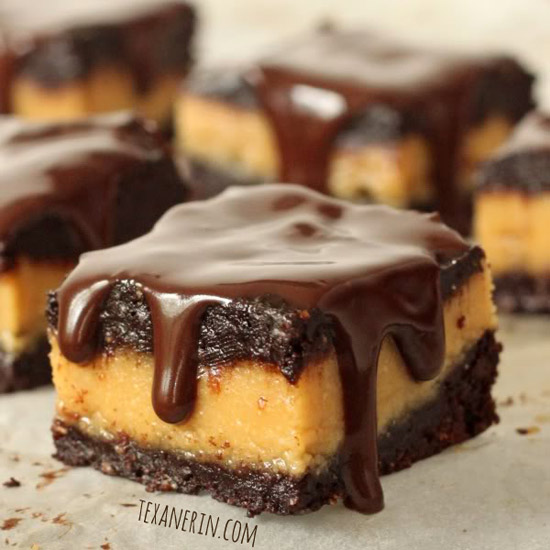 Everyone's stuffing things these days and I wanted to get in on the action. I took my brownie recipe and my peanut butter cup recipe and put 'em together. It was a really, really good idea! Fantastic even. I don't remember ever being this excited to post something!
So. These peanut butter cup brownies look kind of boring without the chocolate on top. And they have a weird shiny (not but greasy!) surface. They definitely don't need more chocolate on top, but I like things to be pretty. And they're just more fun when they're oozing chocolate.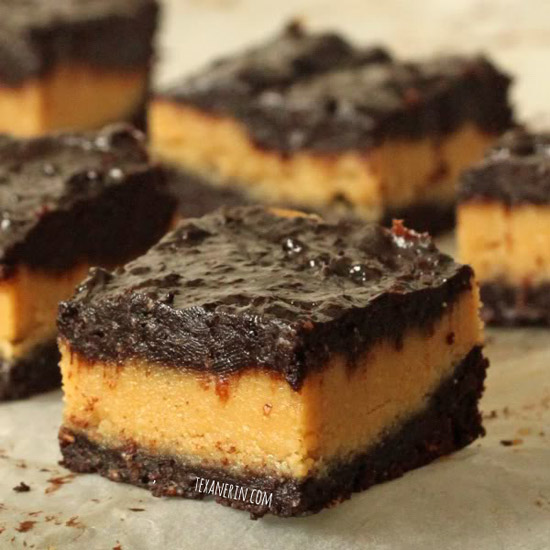 They're nice and gooey but if you decide to leave out the peanut butter filling, I don't know how they'd be. I imagine that they rely on the sweetness and gooiness of the filling, but that's just my feeling. So don't do it, okay?! We need the peanut butter!
If you want, you could use another type of nut butter. Natural nut butter, though and nothing with added oil or sugar! That means no Nutella. ;) This homemade chocolate hazelnut butter would probably be amazing, though.
I tried making these peanut butter cup brownies with honey in the batter but they weren't as good. And if you're tempted to reduce the sugar – I wouldn't. The texture needs the sugar for the gooiness. Less sugar = more cakey. And that's not what we're going for here!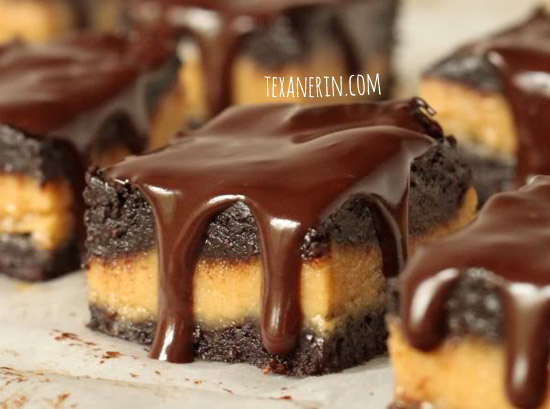 I haven't tried it but I'm pretty sure coconut oil would be fine instead of the olive and canola oil in the brownies. Just remember that refined coconut oil doesn't have any coconut flavor and unrefined might result in a slight coconut-y taste.
So what other types of brownies do I need to healthify? I'm taking suggestions! I'm up for anything without nuts. Except peanuts. Those are okay. :)
If you love peanut butter and chocolate like I do, try this Reese's fudge from Dinners, Dishes, Dessert! It sounds amazing.
❀
100% Whole Grain Peanut Butter Cup Filling Filled Chocolate Brownies
Prep Time:
Cook Time:
Ready in:
Yield:

16 brownies
Ingredients
Filling:

1 cup (~256 grams) salted natural peanut butter
1/3 cup (106 grams) honey
1/4 (56 grams) cup coconut oil, room temperature (normal butter works for a non-dairy-free version)

Brownies:

1/2 cup (113 grams) coconut oil or olive oil (or canola)
1 cup (200 grams) granulated sugar or coconut sugar
3 large eggs, room temperature
2 teaspoons vanilla extract
3/4 cup (85 grams) Dutch-process cocoa powder
3/4 cup (90 grams) whole spelt, whole wheat pastry, or whole wheat flour
1/4 teaspoon salt
Directions
Line an 8" x 8" pan with parchment paper or spray the pan with baking spray. Preheat your oven to 350°F / 175°C. Combine filling ingredients and place in fridge while you prepare the brownie batter. In a medium bowl, stir together the olive oil, canola oil, and sugar. Add the eggs and vanilla and beat just until combined. In a small bowl, mix together the cocoa powder, flour and salt. Add the flour mixture to the wet mixture. It will be really thick, but that's okay. Only stir until combined!
Spread half of the batter into the prepared pan. To get the peanut butter filling somewhat evenly into the pan, I rolled the filling into balls and smushed them to make them flat, and then used those to cover the first half of the brownie batter. Cover the peanut butter filling with the rest of the brownie batter. Bake for 20 - 25 minutes.
Take them out when they are set in the middle. The top will be shiny and look strange but it has nothing to do with how done they are. They should not be the least bit cakey, but really really fudgy. Both the brownie part and peanut butter part won't appear to be done when you take it out of the oven, but it is. Let it cool and then put them in the fridge. They will firm up and get fudgy in there.
For the chocolate topping, I just melted some chocolate and added some milk (you're supposed to use cream but I didn't want to open cream just for a tablespoon or so) until it was pourable. If you do that, you should probably keep the brownies in the fridge. I prefer them at room temperature, though!