Are chocolate chips vegan? It depends on the type of chocolate chips and the brand. It varies from brand to brand and package to package.
It can be a struggle to give up some of your favorites if you are living a vegan lifestyle. The great thing is that all of the treats you love do not automatically have to be added to your "do not eat" list. Chocolate is one of the things that many people adore, but there is a question that may have plagued you a bit.
Vegan or Not
Depending on the brand you purchase, there is a possibility that they may be vegan. While some brands are perfect for those who do not consume animal products, many others are not as safe as one would think.
The majority of the widely-available, well-known brands contain some sort of milk product, so they are a definite no-no. Here are ingredients to be on the lookout for when trying to figure out if your chocolate chips are vegan:
Milkfat
Butterfat
Cream
Butter
Casein
Whey protein
Whole milk powder
Sugar – more on this below!
With that said, vegan chocolate typically has three ingredients; sugar, chocolate, and cocoa butter. If those are the only ingredients on the label, and you're good with sugar, then you are good to go.
What about the sugar?
Almost all brands of chocolate chips contain sugar. Some vegans choose not to eat processed sugar because it's often processed with what's called a bone char filtration process. Yikes.
To remove impurities from sugar and to make it bright white, animal bones are used. There aren't any bone particles in the actual sugar, but some people think that the contact with bones means that the sugar isn't vegan.
If that's you, you'll want to buy some chocolate chips that are specifically labeled as vegan or use carob chips.
Or you can buy organic chocolate chips! If sugar is organic, it's not allowed to be filtered through bone char. So if you find a brand of organic chocolate chips that uses sugar, then those are safe.
Chocolate Type
Dark chocolate – in general, dark chocolate is less likely to contain animal products than other types. With that said, some of these options will not have the creamy, smooth texture that is typically expected of chocolate.

Generally, they are a bit bitter and they are brittle. This is because cocoa butter has a different texture from milkfat.


Semi-sweet chocolate– this is usually pretty safe, but make sure that it does not contain any of the animal-based ingredients that were mentioned above.


White chocolate – keep in mind that white chocolate is nearly always non-vegan since it is composed of milkfat or milk solids the majority of the time. There are some options available if this is your preferred type (more on that later).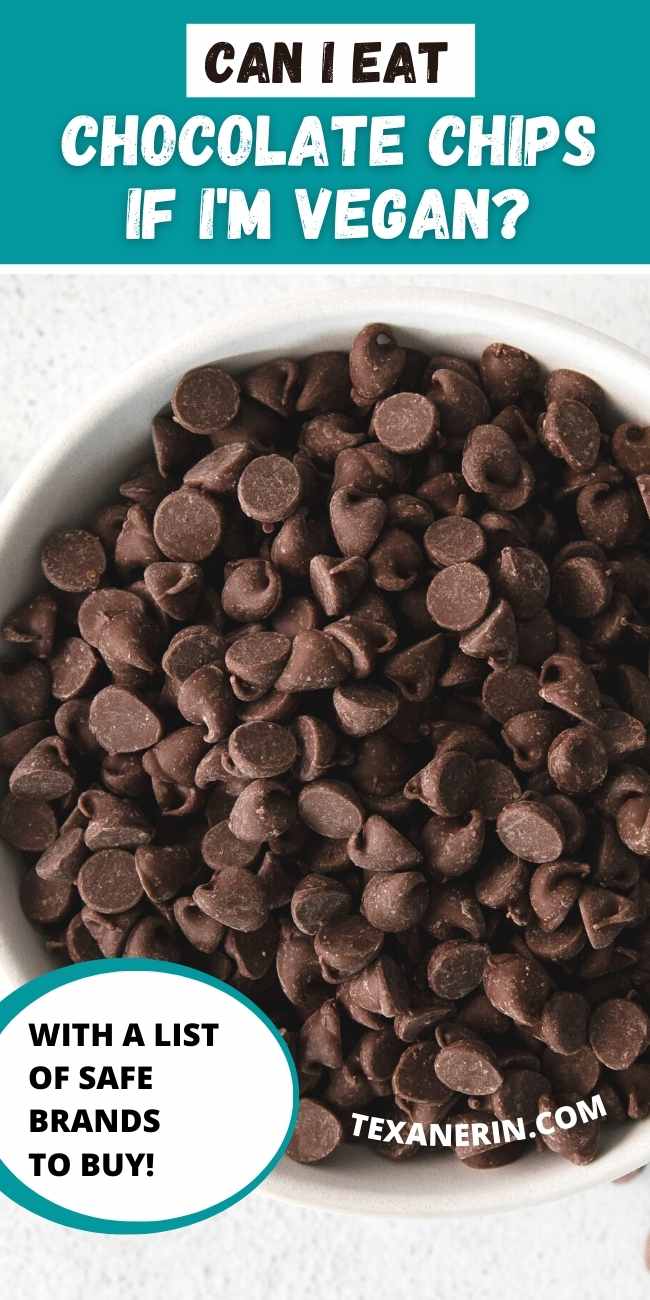 Vegan chocolate brands
If you are all ready to head out and get some chocolate, here are the brands and products you should be on the lookout for:
Enjoy Life
This brand has semi-sweet chocolate chips that only contain three basic ingredients; unsweetened chocolate, cane sugar, and cocoa butter. They also offer a white chocolate option that is ideal for vegans.
In addition to the chocolate chips, other chocolate options are available from the brand as well. You can find this brand at national retailers, like Whole Foods and Target. If you cannot locate them anyplace near you, there is an option to buy them on the company website.
Nestle Allergen-free Morsels
These were once called Simply Delicious until 2020. It's the same product – just a new name and packaging!
It may be surprising to see this brand here since nearly all of their products contain dairy. With that said, Nestle has a product called Allergen-free Morsels and they are vegan.
They're even certified organic, meaning that bone char isn't used during the production of their sugar. And they're also certified vegan (which is another way of knowing bone char isn't used). So these are great, readily available options.
Dark Chocolate Morsels
Semi-Sweet Chocolate Morsels
White Chocolate Morsels
You can get your hands on these if you head to many grocery chains and retailers, including Meijer, Walmart, Target, and Albertsons. In addition, they are available on Amazon for those who prefer to shop online, though they seem quite expensive there.
Evolved
This brand offers many varieties and they are all dairy-free. These products are organic and sweetened with coconut sugar.
They say that "Our chocolates are made with gluten-free, dairy-free, and soy-free ingredients on equipment that is GF, DF, and SF. Furthermore, we do test for gluten during the production process."
By the way, if you need your chips to be gluten-free, check out my post on Are Chocolate Chips Gluten-free?
Their chips would also be great if you happen to be paleo! They'd be awesome in my Paleo Vegan Brownies or Cocoa Balls.
Semi-Sweet Chocolate Chips
Dark Chocolate Chips
Extra Dark Chocolate Chips
Baking Chocolate Chips – this one is made with organic cacao and organic cacao butter. No sweetener at all!
They have a store locator, and using that, I can see that they're available in my Texas hometown at Sprouts, Market Street, Whole Foods and Natural Grocers.
Artisan Kettle Organic Chocolate
The best thing about this chocolate is that it ranges from 44-72% cocoa, which gives consumers a pretty great level of variety. Their many options include a no-sugar-added variety for those who are trying to keep their sugar consumption to a minimum.
According to their website, the following Artisan Kettle chocolate chips are vegan:
Organic No Sugar Added Dark Chocolate Chips
Organic Dark Chocolate Chips
Organic Bittersweet Chocolate Chips
Organic Semisweet Chocolate Chips
Organic Semisweet Chocolate MINI Chips
They also have three baking bars that are vegan.
They're super allergy-friendly. They have eight varieties that are free from all major allergens, which include peanuts, tree nuts, dairy, eggs, wheat, soy, fish and shellfish.
But note that their milk chocolate, white chocolate and peppermint chips contain dairy. So they're not vegan.
And again, because they're organic, you don't have to worry about bone char.
You can find these chocolate chips at many retailers, including Kroger, Walmart, and Amazon.
Trader Joe's
This is a store that is a haven for people who follow a vegan lifestyle. These are their vegan chocolate chips:
Trader's Joe's Dark Chocolate Chips
Trader's Joe's Semi-sweet Chocolate Chips
But! If you have a dairy allergy and are worried about cross-contamination, I would avoid these.
There really shouldn't be any chance of cross-contamination with the above brands, but that's not true of Trader Joe's.
Also, five years ago, they said, "The sugar used in our products will vary as we do not source ingredients directly. Some products, like those you mention, are made with regular sugar that is sourced as a commodity and may be filtered through bone char."
So bone char could be used in the production of their chocolate chips. TJ's is clearly not the best brand option, but I know it's extremely popular and beloved. So I've included it, should you be wondering.
Non-US
I've been living in Europe for 14 years and have never seen US-sized chocolate chips here. I'm sure they exist in specialty stores, but they don't seem commonplace like they are in the US.
In Germany, they sell something that looks like mini chocolate chips, but they're sold in tiny packages, and they're quite expensive. I can't imagine people dumping two cups of those into their cookies.
So, since chocolate chips are difficult to find, finding vegan chocolate chips is even more difficult.
There are only a couple of UK brands that offer dark chocolate chips. One of the most popular is Dr. Oetker Jumbo Chips, which can be found at many grocers. These are typically a bit pricey, but there simply aren't many other options.
They say they're twice as large as normal chocolate chips, but if you look at them, they're the size of US chocolate chips.
If you are in Australia and you have a hankering for vegan chocolate chips, your best bet would be to purchase some vegan chocolate bars and chop them up. It's what I have to do in Germany. It's annoying, but the best option.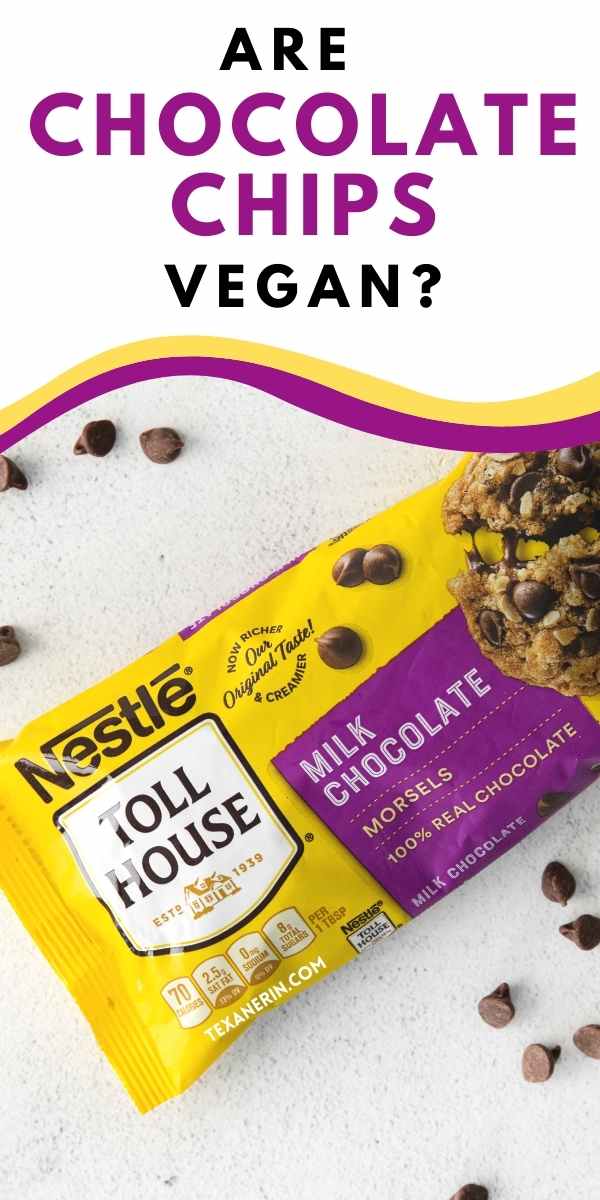 Cross-contamination
Here's yet another issue. Many chocolate chips are manufactured in facilities that may use milk in a variety of other products that are manufactured on the premises.
A fast-moving production line, even if subject to the highest levels of quality control, is fertile ground for cross-contamination with non-vegan ingredients that you're trying to avoid.
All it takes is for one person working with non-vegan ingredients to neglect their hygienic practices (for example, not replacing gloves regularly).
So let's turn to PETA for some guidance. According to the organization, your vegan credentials would not suffer if you were to inadvertently consume a product that has been contaminated with a non-vegan ingredient.
It's a sad simple fact of life that sometimes cross-contamination is close to impossible to avoid – go to your favorite restaurant and order a vegan meal, chances are the cookware being used to prepare it has been exposed to non-vegan products.
How do I know what brands are vegan?
So, how do you ensure that the chocolate chips that you are purchasing meet all the criteria to be classed as truly vegan?
Your first step is to review the ingredients on the packaging. If you have any doubts, ask the manufacturer. Most are more than willing to go on record about the status of their products.
But for added peace of mind, keep a lookout for the Vegan Action certification on the packaging. They have a database of over 10,000 vegan-friendly products, so it might be a good idea to have a look at which brands of chocolate chips are on that list.
In order for a product to be approved for Vegan Certification, "Sweeteners may not be filtered or processed with bone char." And, of course, they can't contain any animal products or by-products.
I hope I've answered your question on whether chocolate chips are vegan or not! If you have any other questions, feel free to leave them below and I'll be happy to answer. :)