These cocoa balls use basic ingredients you probably already have in your pantry! They have a perfectly fudgy texture with a strong chocolate taste. As a bonus, they're naturally paleo and vegan.
I didn't know what to call these things. Raw chocolate balls, raw brownie balls, paleo chocolate balls… all would fit. But I went with cocoa balls because… why not?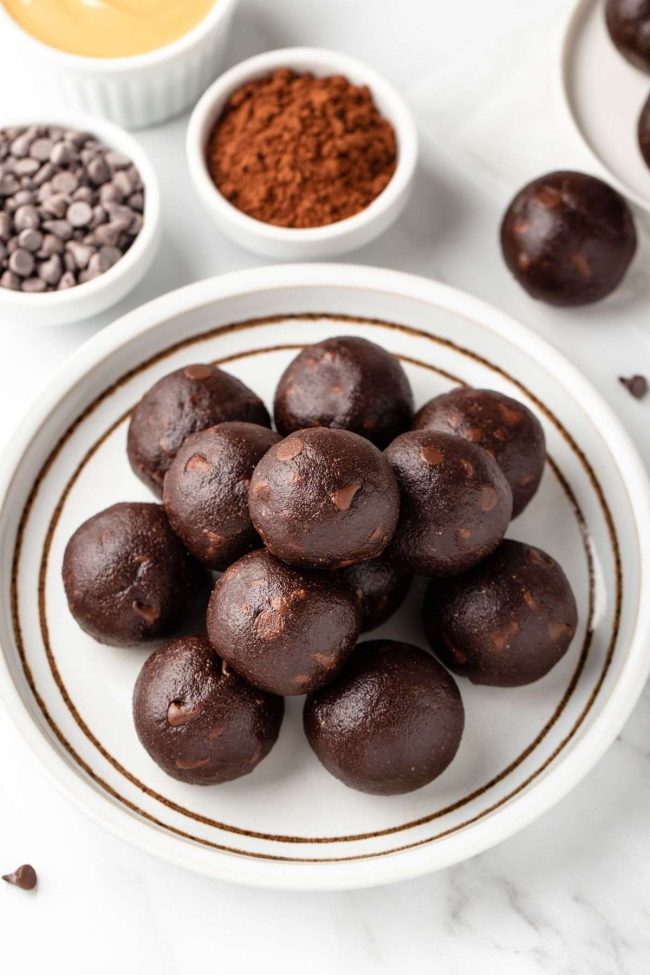 I had to get in one final chocolate recipe before Valentine's Day! This time, a paleo one.
And this recipe is the easiest + quickest, although this keto chocolate pudding is also incredibly quick. But it's easier to clean the bowl you need for these cocoa balls than the high-speed blender container needed for the pudding, so this recipe wins on easiness. :D
The texture
I already have 15 other ball recipes but not one like this. This one is more fudgy and gooey than the others, which is, believe me, a good thing!
I wanted to make a paleo option, so I had to remove the oats that you find in most other energy balls. Omitting the oats results in a smoother texture.
People often ask me about the differences between similar recipes, so here you go.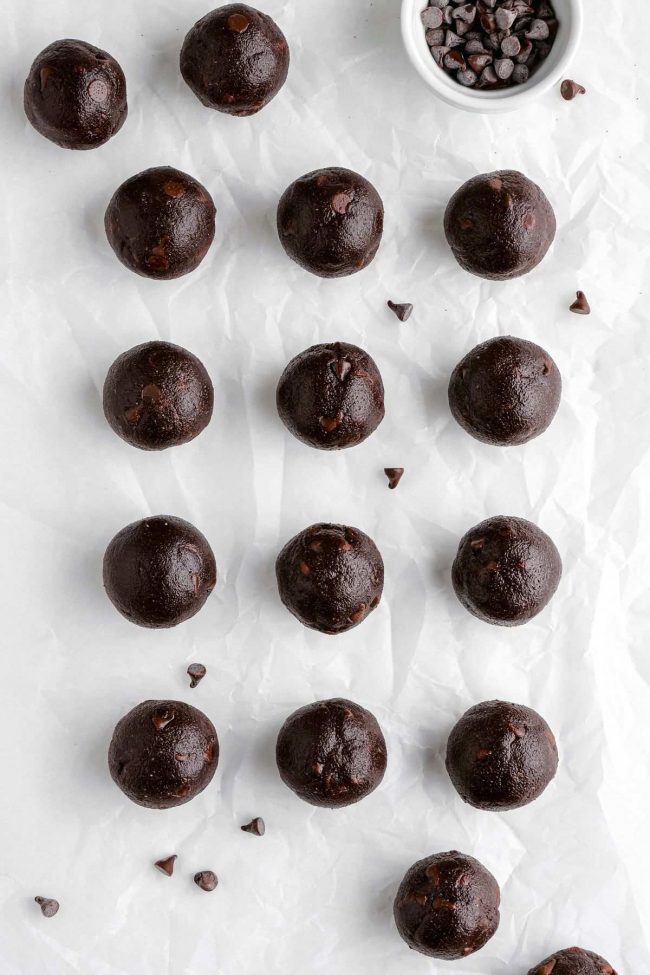 5-minutes + 5 ingredients (plus salt!)
This is one of those recipes you can put together in a few minutes when you couldn't be bothered to bake something and/or it's too hot to turn on the oven.
Just throw everything into a bowl, roll into balls, and you're done. No chilling time is needed. You can enjoy them straight away.
The ingredients
They're about as minimal as it gets! If you're into paleo baking, you probably have all of this stuff in your pantry right now. And if you don't, it's time to stock (or restock) your pantry with these essential ingredients. ;)
Almond butter
Cocoa powder
Maple syrup
Coconut flour or oat flour (= ground up oats)
Vanilla
Chocolate chips, optional – I actually don't recommend them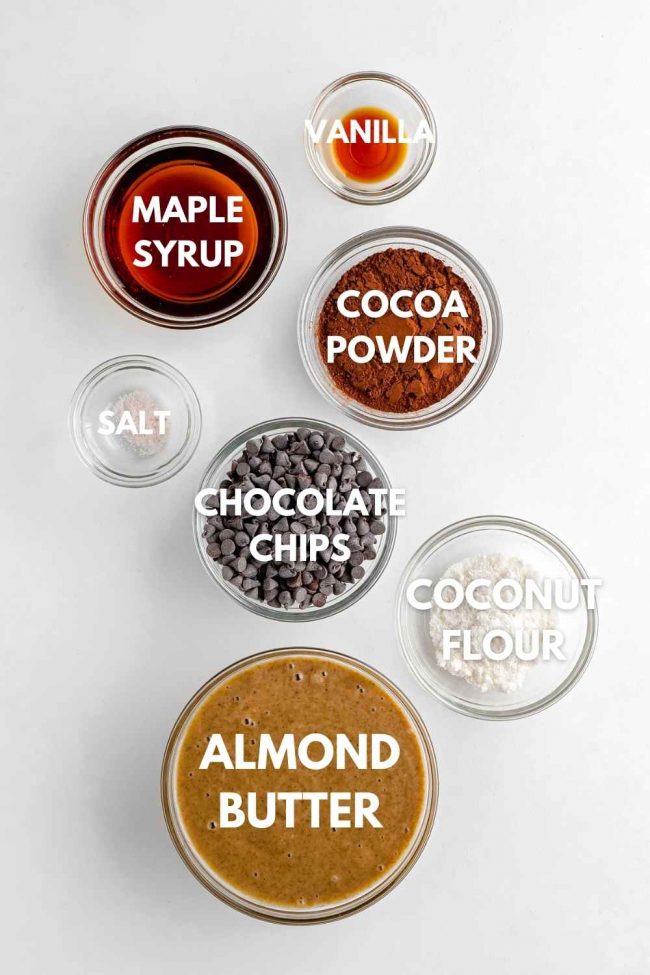 If you like what's in these cocoa balls, check out my chocolate almond butter and paleo fudge. They use the same ingredients as today's recipe, except in the fudge, you also need coconut oil.
The nut butter
I usually make these with almond butter, but peanut butter works for a non-paleo option.
Want to use homemade nut butters?
Walnut Butter – I actually haven't tried this option but am pretty sure it'd work. You might need a little extra coconut flour. Also note that the walnut taste will be quite strong!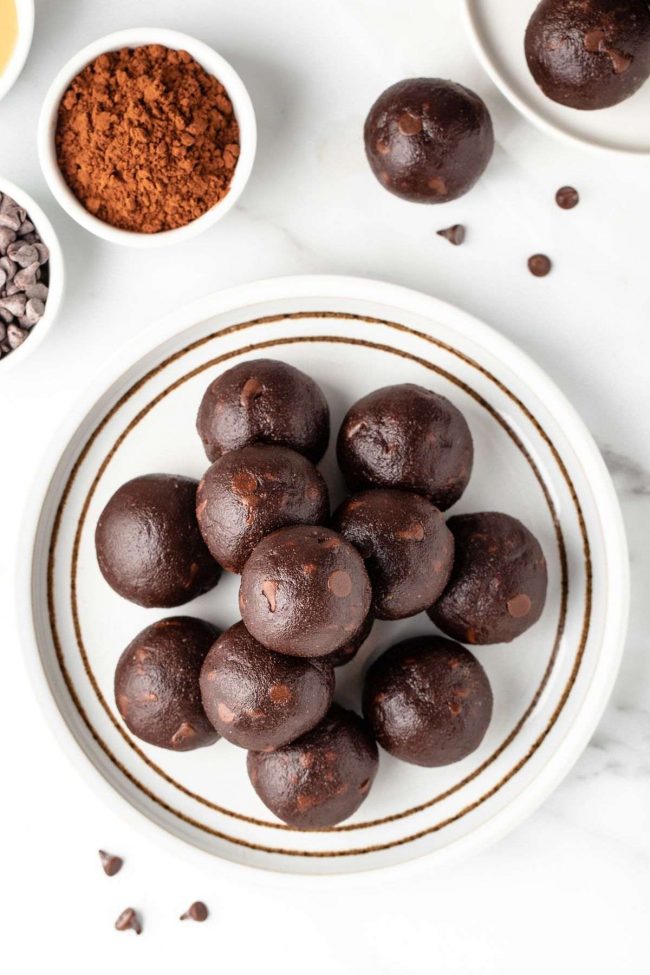 I tried with sunflower seed butter but even with adding twice the amount of coconut flour, the mixture was still very runny. And bitter.
It was also in need of quite a bit more sweetener. I decided that the result would turn out to be a totally different recipe, so I gave up on making that work.
Hazelnut butter would probably work. I'm not sure about cashew butter as it's so much thicker than almond butter.
I really recommend sticking to almond butter, but if you want to experiment – you need to make sure that you use a natural nut butter that doesn't have added ingredients like fat and sugar. I used unsalted, so if you use salted, omit the salt in the recipe, and then add salt to taste.
You could probably use regular, non-natural nut/seed butter, but then the coconut flour amount would need to be adjusted. And maybe the amount of maple syrup. So you'd need to experiment a bit. Or a lot!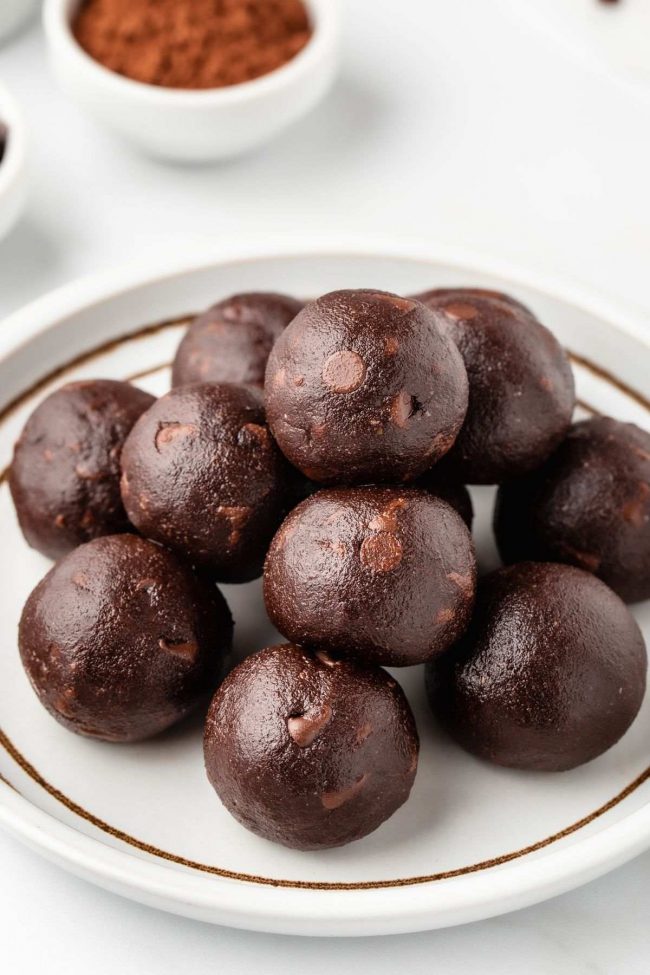 Cocoa powder
I used Dutch-process because I like the deep chocolaty taste. I've also used the regular stuff and loved them that way.
I don't recommend using cacao powder! Read more here for more info: → Cacao vs Cocoa.
Maple syrup
Another liquid sweetener might work. Honey would probably be fine if you don't mind a bit of a honey taste. Maple syrup is more neutral and blends in with the chocolate perfectly.
I tried a granulated keto sweetener in these (more on that below), and the texture was actually runnier than with maple syrup. That's because liquid causes nut butter to seize a bit.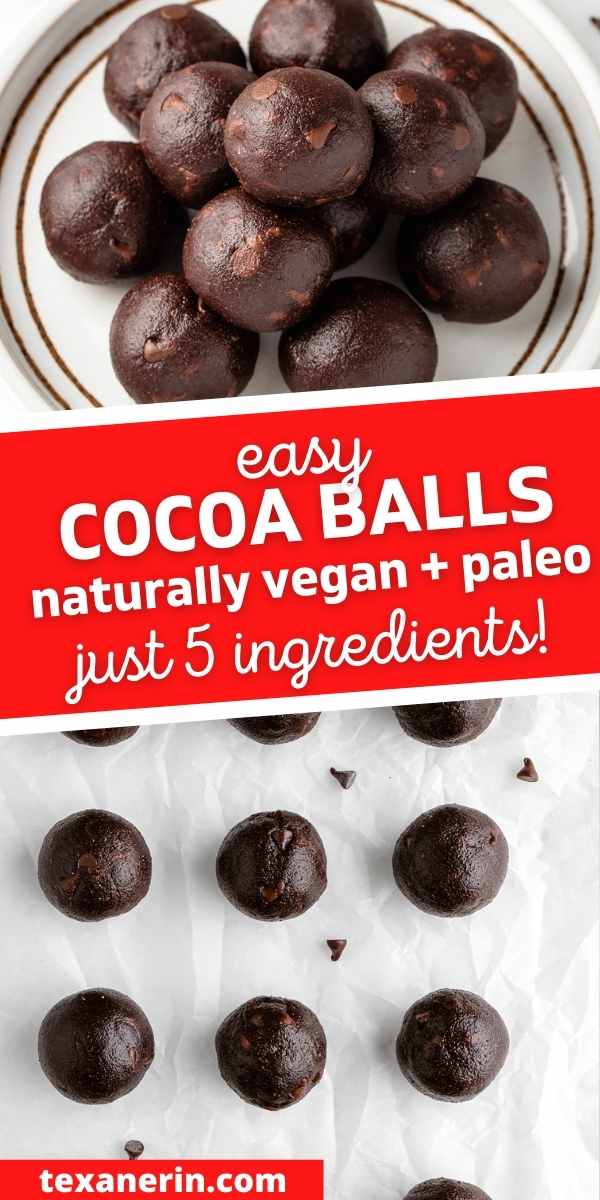 Although I'm not sure if seize is the correct word here because it doesn't get clumpy. It just firms it up enough so you can roll it into balls.
So my point is – if you try using a granulated sweetener, you're going to need to experiment. Whether you'll need to add more flour or a bit of water, I don't know. I really recommend sticking to maple!
Chocolate chips
I've been making these lately without chocolate chips out of laziness, and I realized that they're actually better without them.
I prefer the smooth texture without the chips, and you can't even taste the chocolate chips because they blend totally in with the chocolate flavor of the balls. I always add chocolate chips to my brownies and thought it made sense here but… nah. Just save the calories for something else!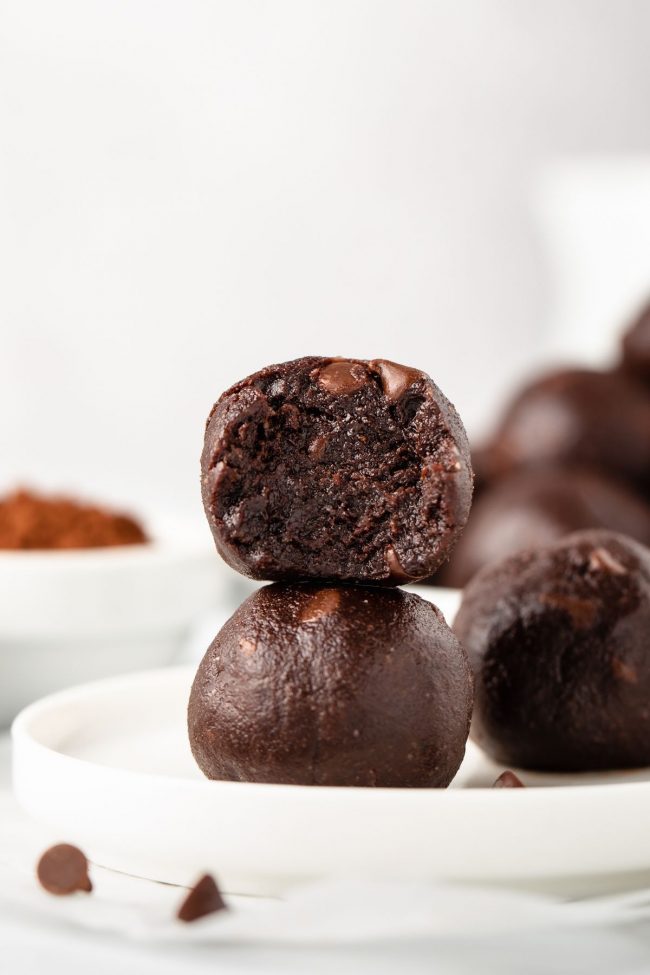 Coconut flour sub?
You can use oat flour for a non-paleo version.
No other flour would work as coconut flour is so much more absorbent than other types of flour. Oat flour is also pretty absorbent but not usually a 1:1 sub for coconut flour.
There's so little coconut flour in this recipe, and it's not a very finicky recipe, so oat flour works here. I used 4 teaspoons, which is the same amount of coconut flour called for, but the exact amount will depend on your type and brand of almond butter and oat flour, as they all have different consistencies and varying levels of fineness.
Using almond butter, I use 4 teaspoons of oat/coconut flour. For cashew butter, you may just need 3.
But like I said, the exact amount depends on your exact brands. They can vary a lot.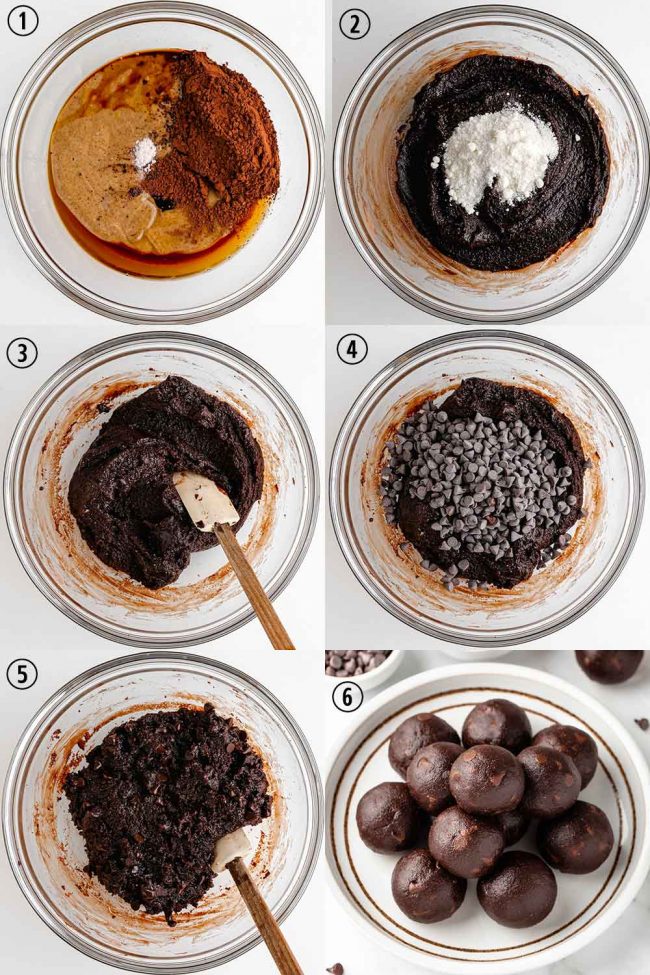 No keto option?
I tried. I used the same keto sweetener blend I've used in all my sweet keto recipes so far.
It's the most normal tasting keto sweetener blend I've tried. And it was awful in this recipe.
As I mentioned above, the liquid from the maple syrup was missing, and so the mixture didn't "seize" as it should have to make the dough thick enough to roll into balls. With keto granulated sweetener, it was runny and gooey.
I think there are just too few ingredients to make this recipe palatable for me with keto sweetener. And perhaps that it's not baked plays a role. I've had this same issue with all the other no-bake keto treats I've tried.
Any tips for me? I know some of you have been using keto sweeteners in my recipes for years and know a lot more about this than I do!
Let me know what you think about these cocoa balls if you give them a try!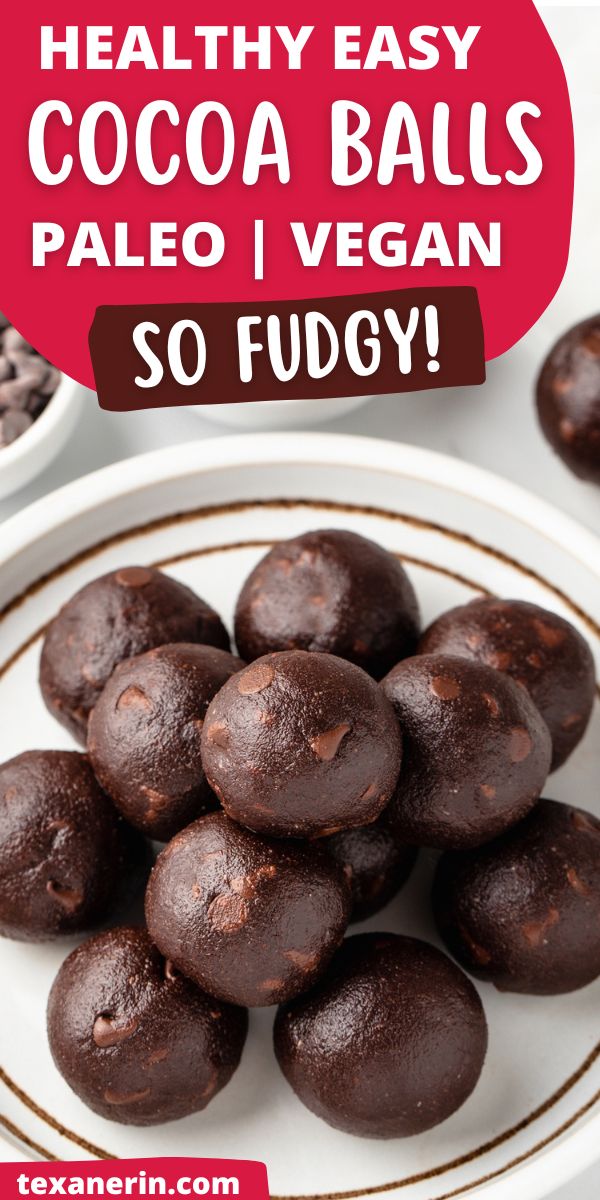 Resources if you're new to gluten-free/vegan eating!
❀
Cocoa Balls (vegan, paleo)
Prep Time:
Cook Time:
Ready in:
Yield:

16 balls
Ingredients
1 cup (256 grams) unsalted natural almond butter or for non-paleo, natural peanut butter (the only ingredients should be nuts)
1/4 cup (29 grams) cocoa powder
1/3 cup (80 milliliters) maple syrup
1/2 teaspoon vanilla extract
1/8 teaspoon salt
3 to 5 teaspoons coconut flour
1/2 cup mini chocolate chips, optional, I prefer them without! (use paleo/vegan chocolate, if needed)
Directions
Mix everything but the coconut flour and chocolate chips.
Add 3 teaspoons coconut flour.
Stir for about a minute or until it's firmed up and you can roll the mixture into balls. If it still doesn't seem firm enough to roll into balls, let the mix sit about 5 minutes so the coconut flour has time to absorb the moisture. Then add more coconut flour, if needed.
Add in the chocolate chips, if using. That might be easiest with your hands.
Roll into sixteen 23-gram (about 1") balls.
Store in an airtight container for up to 1 week, refrigerate for 2 weeks or freeze for 3 months.