Are chocolate chips gluten-free? The short answer is yes! But read on for more if you're very sensitive to gluten. I gathered information directly from product packages and websites at the time of writing in January 2022. But things can always change, so it's extremely important to check your labels.
It can be challenging, at best, to lead a gluten-free lifestyle. There are a variety of different products on the market today that are easy to grab off of the shelf but may not be gluten-free.
While some labels are very clear on the ingredient list and tell you that they contain wheat, barley, or rye – others are more obscure and simply list "flavorings" or other sneaky ingredients that are not clearly labeled as to whether or not they contain gluten.
Many products make it very simple and list that they're gluten-free. These products make it very easy to choose your chocolate chips.
By the way, if you're in the mood for some brownies, check out my post on Is Cocoa Powder Gluten-free?
Are Chocolate Chips Gluten-Free?
The short answer to "are chocolate chips gluten-free?" is yes. However, there are a large variety of chocolate chips on the market today, and it'd be impossible to cover each one.
Most chocolate chips are gluten-free, especially if they are the name brands. Chocolate, in and of itself, does not contain any gluten. It's when additives are included in the ingredient list that you must begin to be mindful.
So let's look at a few brands that are certified gluten-free and a few of the most popular!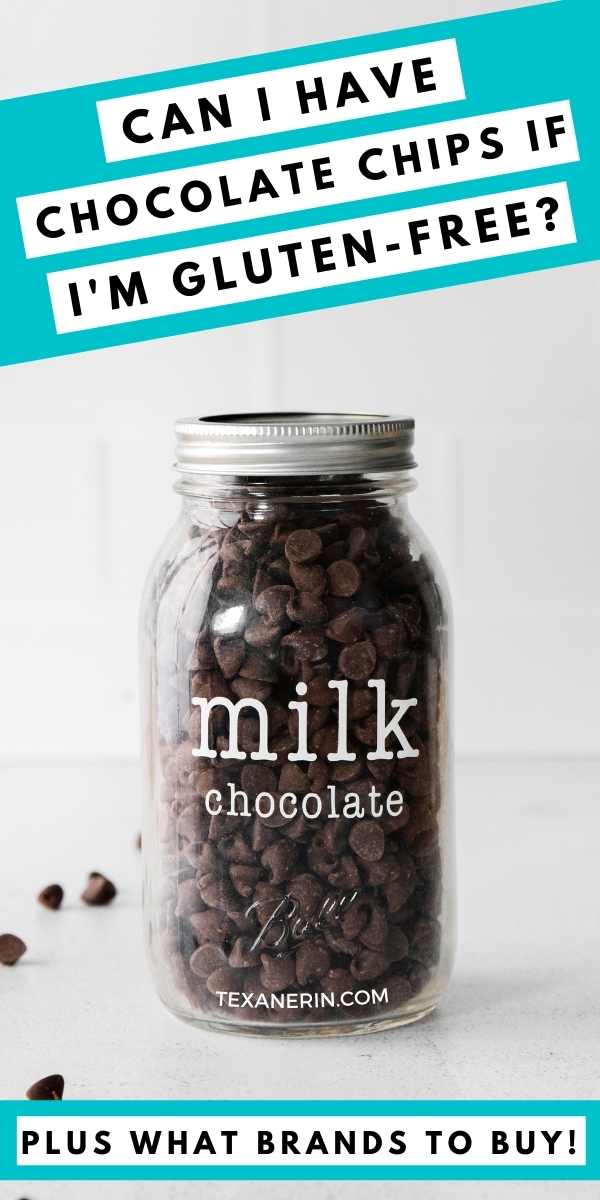 Certified gluten-free chocolate chips
So what does certified gluten-free even mean? According to Beyond Celiac, ", Gluten-free certification is a process designed to protect consumers with celiac disease and other gluten-related disorders by confirming that a food, drink or supplement meets strict standards for gluten-free safety. It assures consumers that there is third-party oversight confirming the legitimacy of the manufacturer's gluten-free processes and claims."
There are only a few brands that are certified gluten-free, though. Here they are:
Enjoy Life Chocolate Chips
If you have celiac disease and need certified gluten-free chocolate chips, Enjoy Life will be your best bet!
All of their products are free from the top 14 allergens. That includes wheat, peanuts, tree nuts, dairy, casein, soy, egg, sesame, sulfites, lupin, mustard, fish, shellfish and crustaceans. They're also vegan! And if you need vegan chocolate chips, check out my post on Are Chocolate Chips Vegan?
Enjoy Life has a handy store locator. In my Texas hometown, they have them at Kroger, Tom Thumb, Target, Sprouts, Market Street, Trader Joe's, and Wal-mart.
If you can't find them locally, you get them from Amazon and iHerb.
Other certified gluten-free chocolate chips
Unless you're keto, diabetic, sugar-free, etc. – I can't recommend getting the brands listed below. They contain sugar alcohols, which are a type of sweetener suitable for people who can't have sugar.
If that's you, then I can highly recommend these. But if not, I don't recommend them because if you're not used to the taste of sugar alcohols, you're likely to be disappointed. And they are extremely expensive!
Pascha
ChocZero
Lily's
Hu No Added Sugar Keto Baking Chocolate Chips
There's another sugar-free chocolate chip brand that's labeled as gluten-free and that's Lakanto. A few blogs seem to have mistakenly called them certified gluten-free. They're not.
A certified gluten-free label is neither on their package nor mentioned in product descriptions. And it says this on their website: "We do not put the Gluten-Free Certified seal on all of our products because they are inherently gluten-free (i.e. monk fruit, syrup, chocolate)."
That's a bit of an odd statement considering that's not what the seal is about.
Labeled as gluten-free but not certified
For products to legally be labeled gluten-free in the United States, they must first meet the requirements of the FDA of being less than 20ppm gluten. When products are tested to be less than 20ppm gluten, they may be labeled as such.
Just like getting organic certification, it costs a lot of money to become gluten-free certified. And companies have to pay that fee yearly. So perhaps that's why some companies don't go the extra mile.
Guittard
Guittard's Allergen Policy PDF from 2021 is the most specific and helpful info I've seen from a company regarding allergies! It specifically tells you what's not safe for people with any of the top 9 allergens and even gives reasons, such as "Made on equipment also used to make milk chocolate."
I also found a press release from 2017 that states that Guittard chocolate chips for baking and eating are non-GMO, peanut-free, gluten-free, and soy-free. But note that this is in regards to their chips.
They have loads of other products and which ones aren't suitable for celiacs are detailed in that allergen policy I linked to above.
They also have a store locator. In my hometown, they can be found at Kroger, Tom Thumb, Target, and Sprouts.
I remember seeing them at Wal-mart in the past, but when I checked their website, they seem to be insanely expensive and sold through a third party. So I'm not sure what's going on there!
And they're, of course, on Amazon!
Not labeled as gluten-free but should be super safe
Artisan Kettle Organic Chocolate
The best thing about this chocolate is that it ranges from 44-72% cocoa, which gives consumers a pretty great level of variety. Their options even include a no-sugar-added variety for those who are trying to keep their sugar consumption to a minimum.
According to their website, they have eight varieties that are free from all major allergens, which include peanuts, tree nuts, dairy, eggs, wheat, soy, fish and shellfish.
And ALL of their products are gluten-free. Woohoo! Break out the Gluten-free Brownies. 🥳
You can find these chocolate chips at many retailers, including Kroger, Walmart, and Amazon.
Nestle Allergen-free Morsels
These were called Simply Delicious until 2020. It's still the same product – just a new name and packaging!
Dark Chocolate Morsels
Semi-Sweet Chocolate Morsels
White Chocolate Morsels
These specifically say that they're free from wheat, but that's not the same thing as being labeled gluten-free. I've read that they're produced in a dedicated facility, so I feel that they're super safe.
You can get your hands on these if you head to many grocery chains and retailers, including Meijer, Walmart, Target, and Albertsons. They're also available on Amazon for those who prefer to shop online, though they seem quite expensive there.
Evolved
This brand offers many varieties and they are all dairy-free. These products are organic and sweetened with coconut sugar.
They say that "Our chocolates are made with gluten-free, dairy-free, and soy-free ingredients on equipment that is GF, DF, and SF. Furthermore, we do test for gluten during the production process."
So, like the Nestle option above, I believe that these are extremely safe. They're even labeled as paleo, but that's not a regular term like gluten-free is.
Their chips would also be especially great if they happen to be paleo! They'd be awesome in my Air Fryer Paleo Brownies or Coconut Chocolate Balls.
Semi-Sweet Chocolate Chips
Dark Chocolate Chips
Extra Dark Chocolate Chips
Baking Chocolate Chips – this one is made with organic cacao and organic cacao butter. No sweetener at all!
They have a handy store locator, and using that, I can see that they're available in my Texas hometown at Sprouts, Market Street, Whole Foods and Natural Grocers.
Non-certified and not labeled but don't contain gluten ingredients
If you don't need your chocolate chips to be certified or tested (in order to be labeled) gluten-free, then you have more options. Hershey's and Nestle are the most popular, so let's take a look at those.
So why don't companies just test their products so they can be labeled gluten-free? It likely comes down to cross-contamination.
Although most brands of chocolate chips don't contain any gluten ingredients, they could be manufactured and packed in a facility that produces gluten-containing products. Or it could even be processed using the same equipment as gluten products.
The problem is that equipment may or may not be cleaned when they switch from product to product. This could possibly lead to cross-contamination.
Are Hershey's Chocolate Chips Gluten-free?
According to Hershey's website, the following list of chocolate and other flavored chips are gluten-free:
Butterscotch Chips
Cinnamon Chips
Mini Semi-Sweet Chocolate Chips
Milk Chocolate Chips
Premier White Chips
Regular-Sized Semi-Sweet Chocolate Chips
Special Dark Chips
Sugar-Free Chocolate Chips
Peanut Butter Chips
Always take the time to read the label as formulas can change from time to time according to the availability of ingredients. Something that was always gluten-free may suddenly be full of gluten if an ingredient was out of stock and substituted by another.
Are Nestle Chocolate Chips Gluten-free?
Semi-Sweet Morsels
Premier White Morsels
Milk Chocolate Chips
Chocolate Chunks
Semi-Sweet Mini Morsels
Milk Chocolate Morsels
Chocolate And Peanut Butter Swirl Morsels
Peanut Butter And Milk Morsels
Semi-Sweet And Premier White Swirl Morsels
NOTE: Nestle Butterscotch Chips ARE NOT gluten-free!
Ghiradelli
According to their website:
"We are pleased to let you know that many of our products are made without gluten-containing ingredients, such as our 60%, 72%, 86%, and 92% Cacao bars and squares. In addition, you can feel confident that our milk chocolate baking chips, semisweet baking chips, and 60% baking chips and baking bars are also made without gluten-containing ingredients."
Again, always take the time to read the label as formulas can change depending on ingredient availability.
They don't have a store locator, but on their website, they basically just list every grocery store chain in the US and say they're available there.
They're on Amazon and cheaper if you buy in bulk. Still quite expensive, though.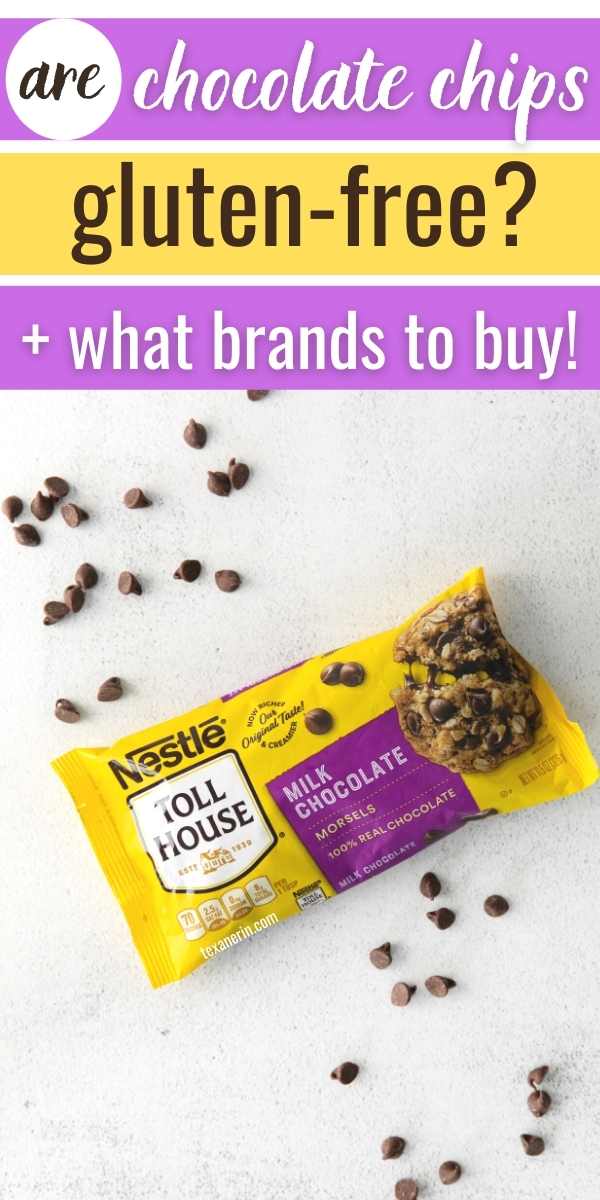 Sneaky Tricks
Store brands of chocolate chips are typically gluten-free as well; however, if they do contain gluten, they may not be as readily identifiable as name brands.
Avoid mysterious ingredients that you're unsure of. Avoid caramel flavorings unless the product specifically states that it's gluten-free.
Sneaky ingredients are such things as caramels (many of which contain gluten as a thickener), flavorings, and occasionally, a spice that has gluten as a filler. When in doubt, don't buy it.
Always look for the words "gluten-free, certified gluten-free, or GF" on products. When you see these notations, you can rest assured that the product is truly gluten-free.
Where To Purchase Gluten-Free Chocolate Chips
Most supermarkets today carry gluten-free products. You can purchase gluten-free chocolate chips at any major supermarket. If you're going to a smaller localized grocery store or a convenience store, you're less likely to find gluten-free products.
All gluten-free products can also be purchased online either from manufacturers or from major suppliers such as Amazon or major grocery stores that allow you to buy online and either ship products or pick them up.
So!
The short answer is yes. Chocolate chips are usually gluten-free; however, keep in mind that if you are highly sensitive to gluten, you'll want to read labels and make double sure that your question is fully answered. When in doubt, don't buy it, it's not worth the risk of having a gluten reaction.
I hope I've answered your question on whether chocolate chips are gluten-free or not! If you have any other questions, feel free to leave them below and I'll be happy to answer. :)