I know that this blog is supposed to be about whole grain baking but I'm sorry. I just have to do this. This is for all the people out there who can't get Chick-fil-a. Whether you live abroad or just too far from the closest location.
I was supposed to post whole grain cinnamon raisin bagels today, but… I'm in more of a fried chicken mood. Sorry again. These couldn't be any more unhealthy. You could make them for a party and then that way you can't eat them all! That's what I do. I've even been trying to lure people over for breakfast so that I can make donuts. Real donuts. I love the whole grain baked donuts I make, but I want to try making fried donuts.
Anyway, here's some chicken.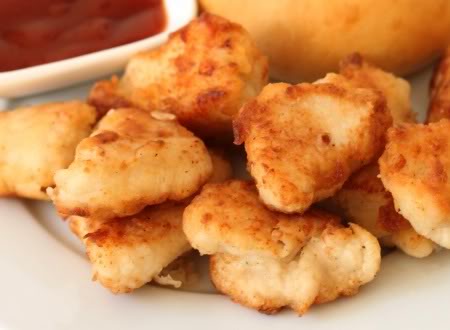 Ingredients:
1 1/2 cups (355ml) milk
2 eggs, lightly beaten
3 pounds (1360 grams) skinless boneless chicken breasts, cut into bite-sized pieces (about 6 breasts)
2 1/2 cups (250 grams) flour
1/4 cup (32 grams) powdered sugar
4 teaspoons salt
3 teaspoons black pepper
Canola or peanut oil for frying
Directions:
1. In a medium bowl, combine the eggs and milk. Add the chicken pieces and stir to make sure all the pieces are covered. Cover and marinate in the fridge for 2 – 4 hours. Or you can leave it overnight.
2. Combine the flour, powdered sugar, salt and pepper in a gallon sized Ziploc and shake it until combined.
3. In a deep fryer or frying pan, heat the oil until it reaches

375°F / 190°C

.
You can deep fry the chicken, but I like to add just enough oil so that the chicken is halfway covered. It's less wasteful and the chicken gets done.
4. Put half of the marinated chicken in the flour mixture. Coat the chicken and carefully place the chicken in the oil. Don't overcrowd the pan! If you do, it just won't end well. It only took a few minutes for my nuggets (about 3 minutes total), but it depends on the size. Turn halfway (so for me, that was 1 1/2 minutes). Drain on a plate or baking sheet lined with paper towels. Cover the rest of the chicken in the flour mix and fry. I think they're best if eaten immediately. These were so yummy I served mine with nothing. Not with the roll or red stuff or cabbage stuff you see. That was all for show. :)