This homemade dulce de leche couldn't be any easier to make! You just empty two cans into a pie plate and bake in the oven. That's it!
Okay… this dulce de leche isn't healthy. In any shape or form. But you know what? Being as I can't just drive on over to Wal-mart and pick up a can of dulce de leche, I have to make it myself. And so do the other folks living abroad. What's ridiculous is that I didn't know I could make my own until I had been here for a while and had already used my precious luggage allowance to transport dulce de leche.
There are already plenty recipes out there for dulce de leche but the question I had was if you could double the recipe without affecting the cook time.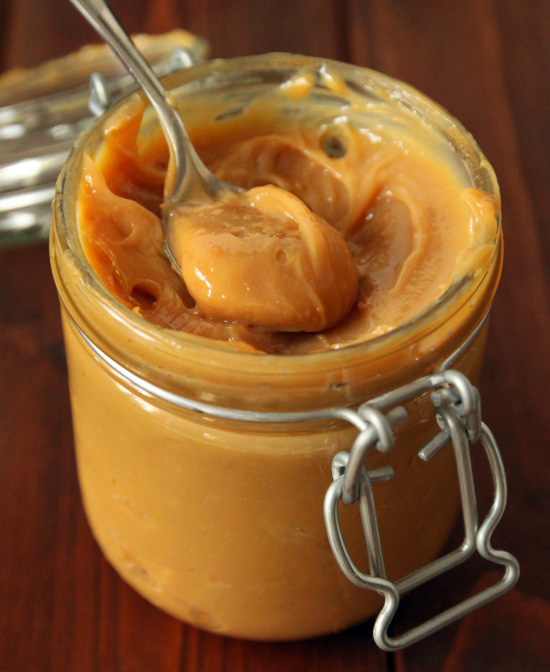 All you do is pour a can of sweetened condensed milk into a pie pan, which has been placed in a pan of water, and then cook it in the oven for an hour and a half. But I didn't want to mess around with just one can so I used two. Supposedly this would double the cooking time, but it didn't. It was exactly the same! Double the amount of dulce de leche for the additional 30 seconds it takes to open and empty the can. If two cans are too much for you, you can freeze any leftovers.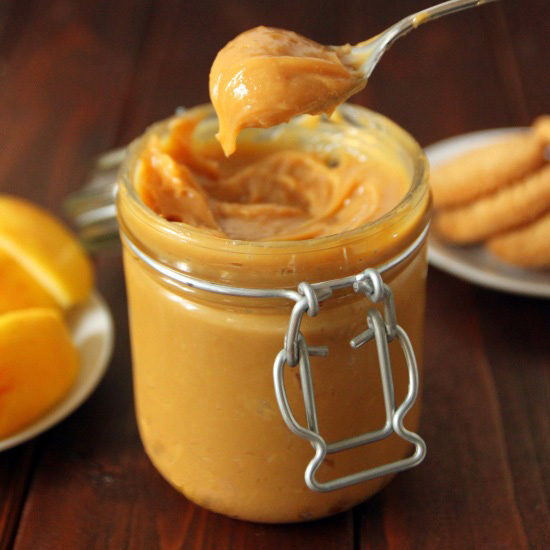 This tastes exactly like the stuff from the store. And if you live abroad, and I don't mean Central or South America, this is a lifesaver! Or more of a baked goods saver. Sorry it's not healthified but nothing compares to real dulce de leche. You need sugar. Real sugar. And by the way, I have some healthified Thanksgiving recipes coming up that use a little dulce de leche in them.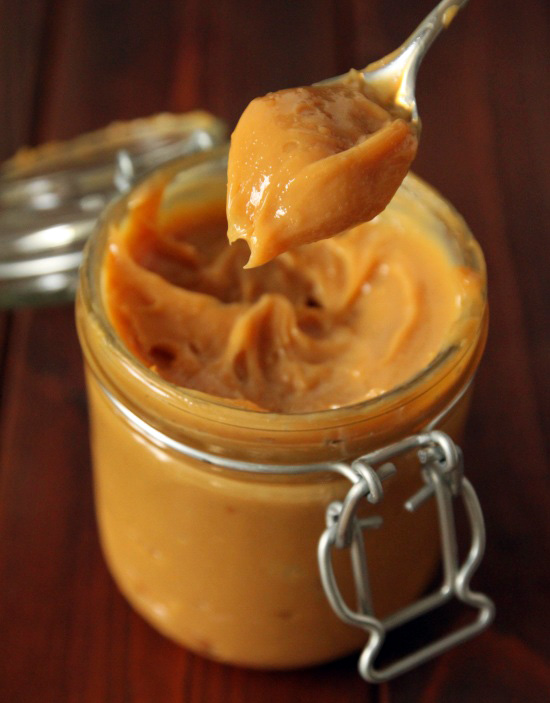 There's another method for homemade dulce de leche where you boil an unopened can of sweetened condensed milk in a pot of boiling water for a few hours. I've done this before, but the can could explode, which I don't exactly like, and it's more high maintenance as you have to make sure the cans are covered by water at all times. So I highly recommend going with the oven version!
❀
Homemade Dulce de Leche
Prep Time:
Cook Time:
Ready in:
Yield:

2 1/2 cups
Ingredients
2 14-ounce (396 grams) cans of sweetened condensed milk1
Directions
Preheat your oven to 425°F (220°C). Get out a pie pan and a roasting pan, or some other kind of pan that will hold the pie pan. At first, I tried using a tin pie pan, but this didn't work so well as it was too light and thus floated in the roasting pan. Make sure the pie pan is heavy enough! I poured some water in the roasting pan and then placed the pie pan in there to see if worked.
Pour the contents of the sweetened condensed milk cans into the pie pan and cover the pan tightly with foil. The last thing you want is water in your dulce de leche. Fill the roasting pan with enough water so that it goes halfway up the sides of the pan.
Bake for 1 1/2-2 hours, or until the a deep caramel color. Check to make sure that the water is still halfway up the side of the pie pan after the first 45 minutes.
Take the pans out of the oven and uncover the pie pan. The dulce de leche will look a little strange and not smooth like above. Stir it until smooth. It'll thicken a bit while cooling. Cover and store in the fridge.
This will keep good for a few weeks in the fridge.
Notes
In some languages, condensed milk (or what translates as condensed milk) is what we call evaporated milk. Make sure you get *sweetened* condensed milk!