These apple bars have a layer of dulce de leche sandwiched between streusel and apples! Can be made with whole wheat or all-purpose flour.
I don't normally get this decadent but sometimes I just feel like drowning stuff in homemade dulce de leche. It seriously only takes 3 minutes of preparation – you empty two cans of sweetened condensed milk into a pan and let it go for 1 1/2 hours in the oven. Stir until smooth. That's it!
Since these are for a Thanksgiving potluck, I made them in a 9″ x 13″ pan instead of my usual 8″ x 8″ or even a loaf pan! But be warned – these are terribly addictive. Even Mr. T., who prefers his veggies to sweets, couldn't keep his hands off these. We eventually just had to give them away. It was an act of preservation. ;)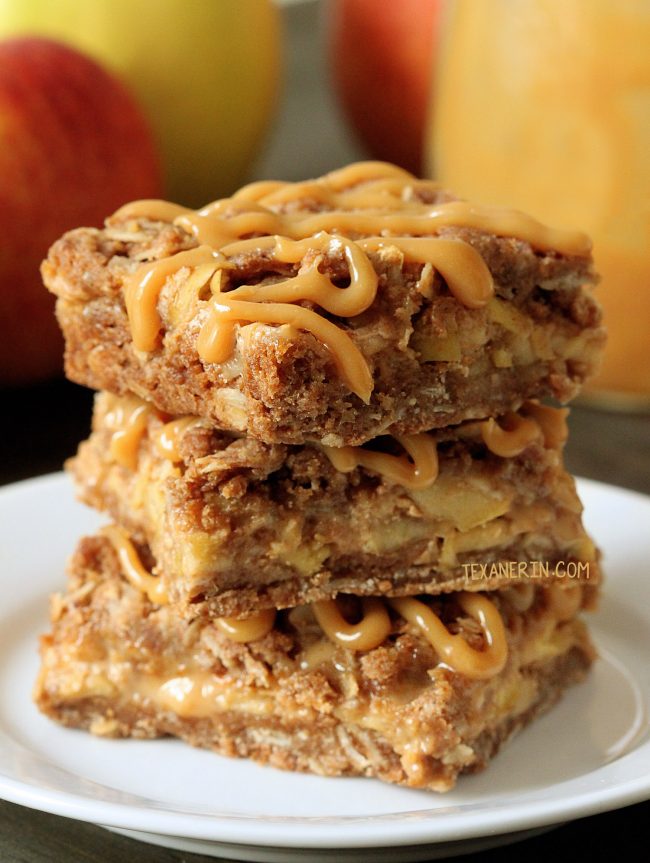 Although these apple streusel bars are super sinful, I did do what I could to make them slightly healthier! They're 100% whole wheat (you can't taste it though!) and I used coconut sugar, coconut oil and honey. If you're looking for a more traditional version, you can use all-purpose flour, brown sugar and butter. These apple bars definitely aren't a low-calorie or low-sugar treat but trust me – it's worth it!
These are pretty simple to make, too. You make the streusel, which is the base and the topping of the bars, and then between that, you have apples, and on top of those, you pour the dulce de leche.
If you want to be extra naughty, you can pipe on even more on top, but really, you don't need it. They're decadent enough!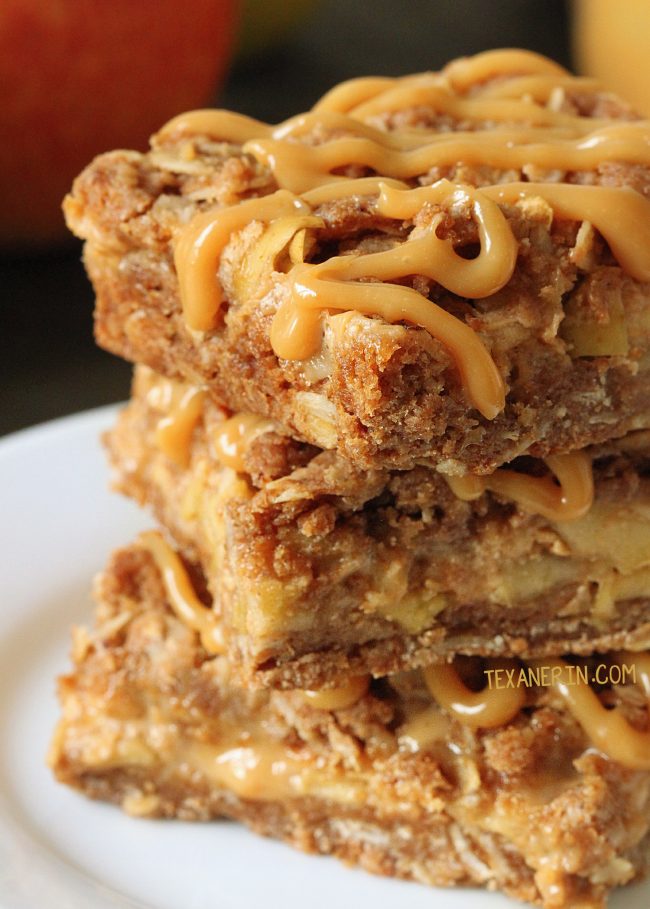 Looking for more Thanksgiving desserts?
❀
Dulce de Leche Apple Streusel Bars
Prep Time:
Cook Time:
Ready in:
Yield:

24 bars
Ingredients
For the streusel:

3/4 cup (88 grams) coconut sugar, brown sugar or raw sugar
2 tablespoons (40 grams) honey
3/4 cup + 3 tablespoons (210 grams) refined coconut oil or 1 cup (225 grams) unsalted butter, room temperature
1 2/3 cups (208 grams) whole wheat flour or all-purpose flour
1 1/2 cups (140 grams) old fashioned oats
2 teaspoons cinnamon
1/2 teaspoon salt
1/2 teaspoon baking soda

For the apples:

5 cups apples, cored and diced
1 tablespoon vanilla
1 teaspoon cinnamon
4 teaspoons cornstarch
1 1/4 cups (370 grams) dulce de leche, slightly warmed in the microwave
Directions
Preheat the oven to 350 degrees F (176 degrees C) and line a 9" x 13" pan with a piece of parchment paper (for easy removal of the bars). If you don't have parchment paper, spray the pan with baking spray.
In a large bowl with an electric mixer, blend together the sugar, honey, and coconut oil until well combined.
Add the flour, oats, cinnamon, salt, and baking soda and continue blending until thoroughly combined.
Pat about half of the mixture onto the bottom of the prepared pan.
Set the remaining mixture aside while you prepare the filling.
In another large bowl, mix the apples, vanilla, cinnamon and cornstarch until well combined.
Pour the apple mixture over the crust that you just pat onto the bottom of the pan.
Drizzle on the dulce de leche.
Sprinkle the remaining topping mixture over the top of the dulce de leche and lightly pat it down.
Bake the bars for 25 minutes or until the top is lightly browned.
The bars might appear runny around the edges when you take them out of the oven, but don't worry, they will firm up in the fridge.
Let the bars cool completely and then place in the refrigerator for at least 3 hours to firm up.
Cut the bars into squares and place in an airtight container.
Store the bars in the refrigerator for up to 5 days.