When I ask Mr. Texanerin what he would like me to make, I only ever get two answers.
1. chocolate orange scones
2. sour cream coffee cake
We're going to brunch on Sunday and we're supposed to bring something. His input? Sour cream coffee cake.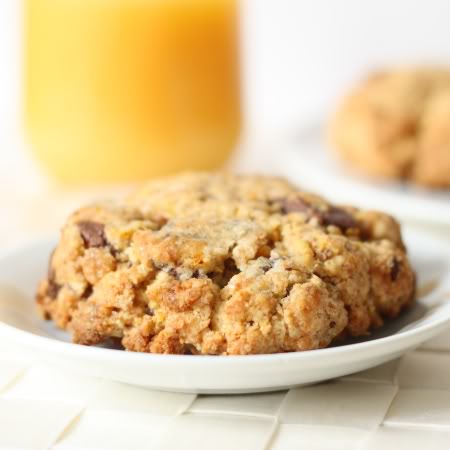 "I'd like to make something more Christmas like. How about ginger scones?!" To which he responded that people (yes, people in general, and he was very serious about this) don't like ginger and that nobody would eat them. So of course he said I needed to make chocolate orange scones. Will there be chocolate orange scones? No! There will be ginger scones. My point is just that he's obsessed with these things.
These aren't really Christmas-y, but you could throw in some dried cranberries instead of chocolate chips. Or replace the chocolate chips with white chocolate chips AND add cranberries. Orange cranberry white chocolate scones sound good to me. Whatever you do, don't get rid of the orange flavor. You need it to drown out the whole grain flavor. :)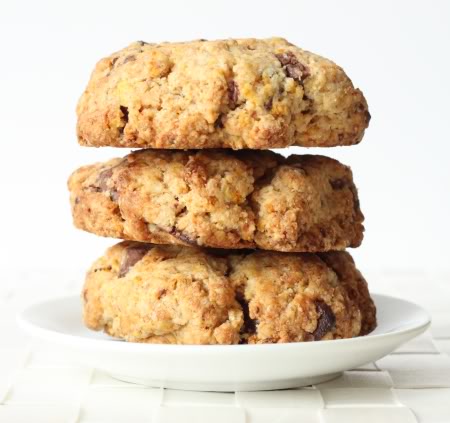 These scones are not muffin like. They're like scones should be or at least how I imagine scones should be, which is kind of dry.
These pictures were taken in the summer. I've been holiday baking since July, knowing that come November, the sun would be gone for the next five months (four if we're lucky!). And not only is the sun gone, but it's so insanely overcast here that it's really impossible to get any decent photos.
Enjoy the scones and let me know if you try any of the variations! :)
❀
100% Whole Wheat Chocolate Orange Scones
Prep Time:
Cook Time:
Ready in:
Yield:

8 scones
Ingredients
1 3/4 cups (210 grams) whole wheat flour
1/4 cup (50 grams) unrefined sugar
2 teaspoons baking powder
1/4 teaspoon salt
zest of 4 oranges
6 tablespoons (85 grams) cold butter
1/2 cup (90 grams) chocolate chips or chunks
3 – 6 tablespoons (60ml – 90ml) orange juice
Optional – sugar for sprinkling on top
Directions
Preheat your oven to 400°F / 205°C. Mix together the flour, sugar, baking powder, salt and orange zest. Cut in the butter with two knives or a pastry cutter or however you like until it resembles coarse crumbs.
Add the chocolate chips and then tablespoon by tablespoon, mix in the orange juice. Some days I need as little as three tablespoons, but some days I need six. Don't over mix! You want to add just enough so that the dough holds together, but if you add too much, the dough will be muffin like and that's not what we want. And there's no need to knead it.
You can either transfer the dough to your Silpat or parchment paper and form a circle and then cut 8 triangles, or from the bowl, form 8 circular scones with your hands (again careful not to over mix!), but press them down a little bit. I mine to be about 3/4 inch thick. Sprinkle on some unrefined or granulated sugar if you like.
Transfer the scones to a Silpat or parchment lined baking sheet. Bake until slightly brown, about 12 – 15 minutes (it'll depend on how big they are).
Like most scones, these are much better on the first day!