If you're wanting to learn how to make peanut butter at home, it couldn't be any easier to make! You only need one ingredient and a food processor or high-powered blender to make peanut butter. Once you try it, you'll never want to buy store-bought again.
Making your own peanut butter is so much cheaper and tastier than store-bought brands. It's super easy and takes about 5 minutes! Just dump peanuts into a food processor and let it go. If you don't believe me, try it and see!
I first posted this peanut butter recipe because when I first moved to Germany, I had a student who was excited about her peanut butter recipe. She said, "I put a stick of butter in the food processor and add some peanuts!"
I loved her enthusiasm, but… nope. That's not peanut butter.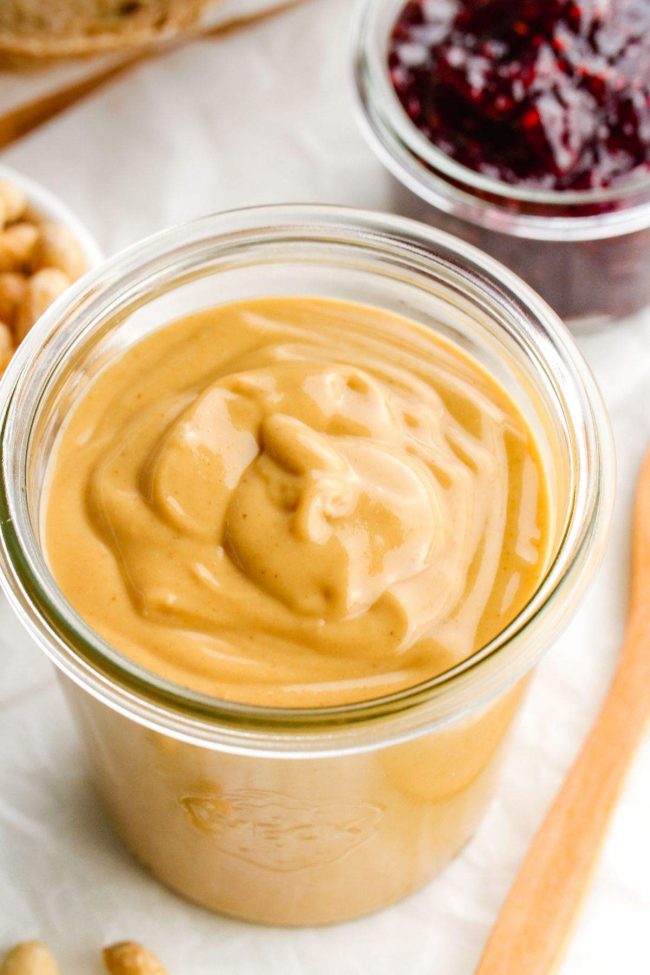 So this fresh ground peanut butter recipe is for her and anyone else wanting to make their own creamy peanut butter.
Some of the natural peanut butter I find here in Germany just isn't the same as in the States. Some of it is so bad that I can't eat it.
I thought peanut butter was peanut butter, but – apparently not! I should say that I've been here for 13 years and haven't bought store-bought for about 7 years, so it could be that things have improved.
By making my own, all I'm buying are peanuts and letting the food processor do all the work. Super easy!
How to make peanut butter at home
You need a food processor or a high-speed blender like a Blendtec or a Vitamix. A normal mixer will not work!
Add enough peanuts that the blade of your food processor bowl is well covered. I'd say by an inch or two. If you don't add enough, then it won't blend properly.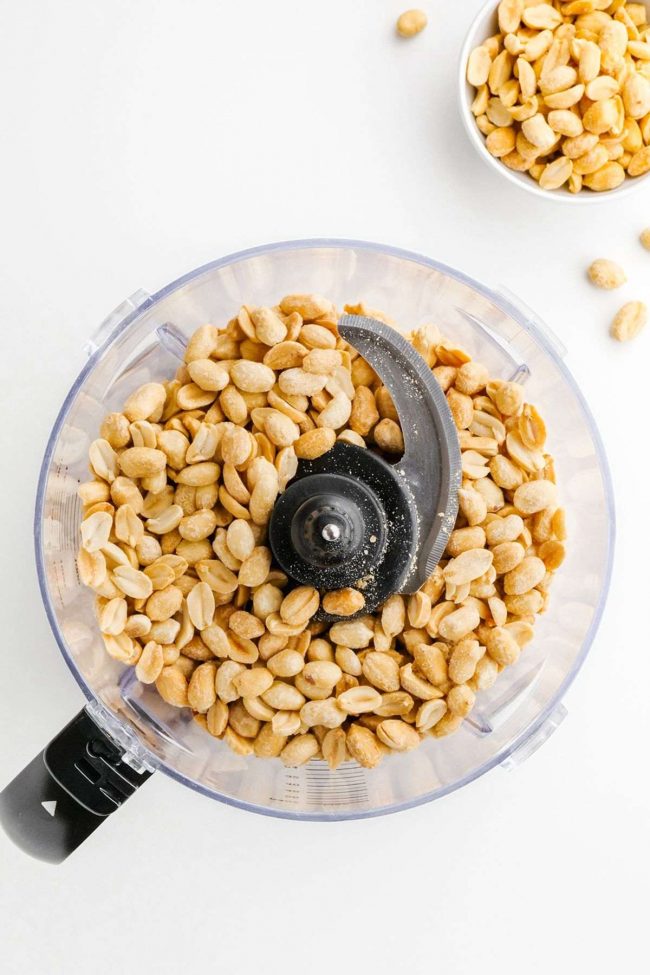 The exact minimum amount will depend on the size of your food processor. I always use at least 2 cups of peanuts.
If you don't need that much peanut butter, then see the questions in the storage section below. Surely within 6 months, you'll use it up. You could start by making these Gluten-free No-bake Cookies. They're definitely a favorite of ours!
If you use a high-speed processor, then I highly recommend using the smaller jar that's intended for making nut butter. Using the large one is a pain when making nut butter because you often need to stop and stir.
Now start processing. At first, you'll get something like this that looks like chopped peanuts.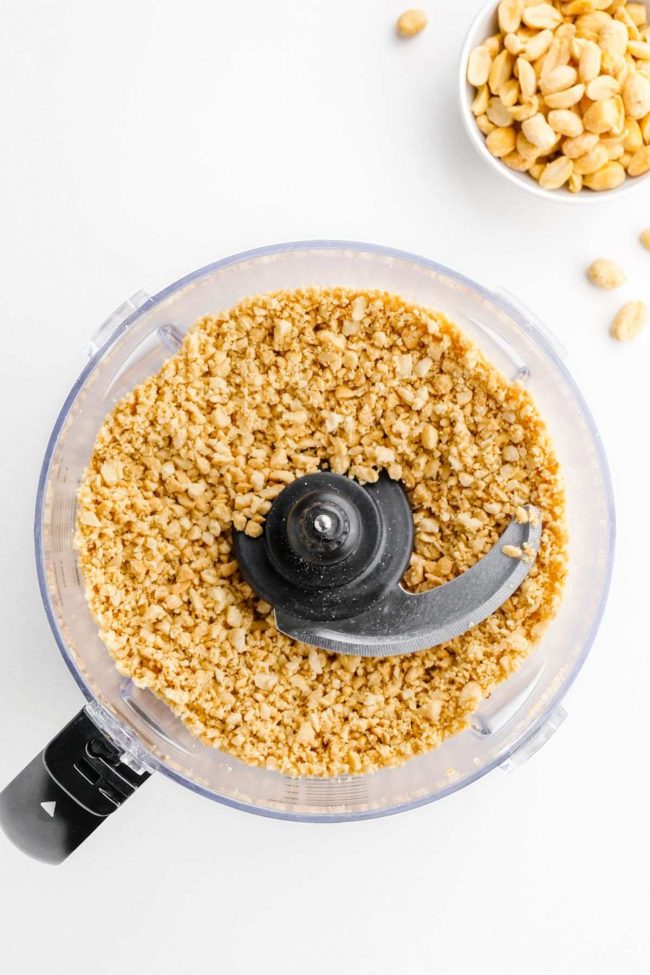 After a few more seconds, you'll have this. Perhaps some people like their peanut butter this thick. I can see how it'd be practical for spreading on bread.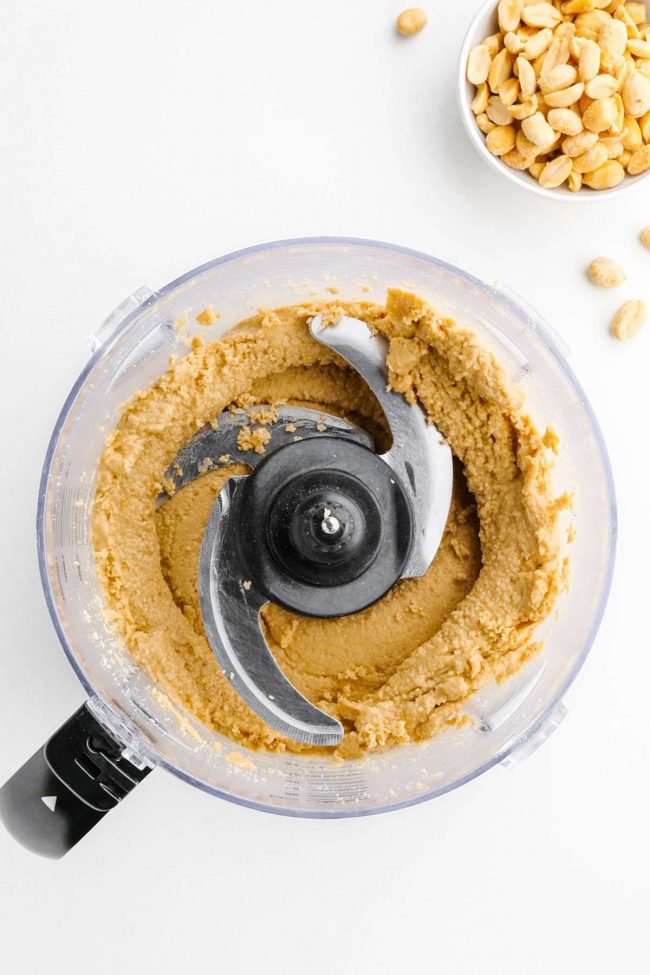 But keep going because once you chill it, it'll be crumbly and not spreadable.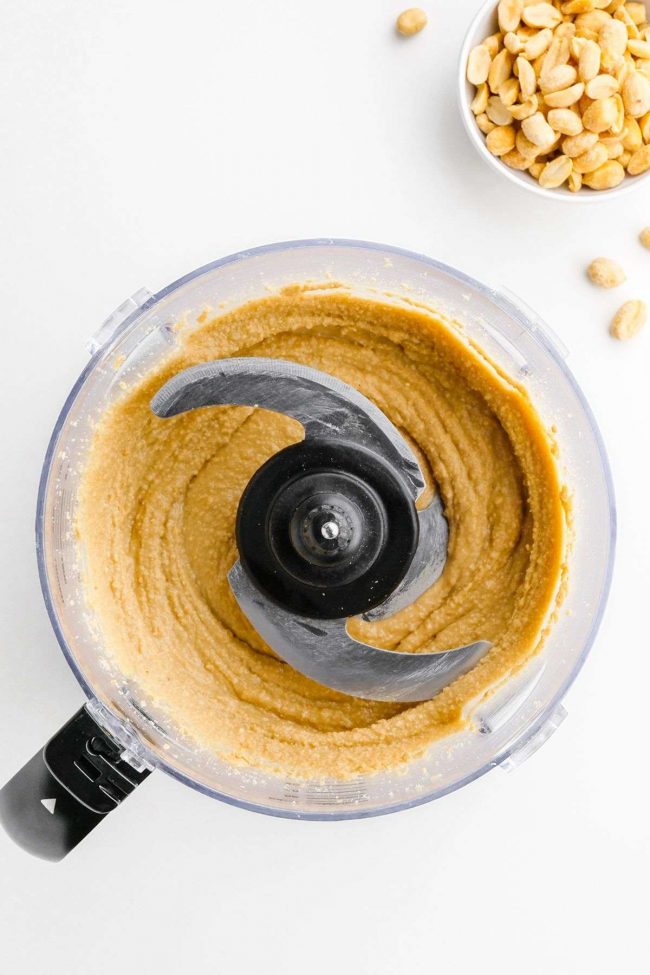 I continue processing until it's 100% runny. Although it's super runny at room temperature, once you refrigerate it, it'll thicken quite a bit.
Note that if you process your peanut butter so that it's not so runny, your recipes using peanut butter might not come out as intended.
I've had a few commenters on my peanut butter cookie recipes tell me that their cookies didn't flatten like mine. And only now that I write this out, I'm now realizing that it's because they must be using thicker, less processed peanut butter.
Store-bought natural peanut butter, at least the ones I've bought, have always been runny at room temperature, so I think you should process until runny if you want to bake with your peanut butter.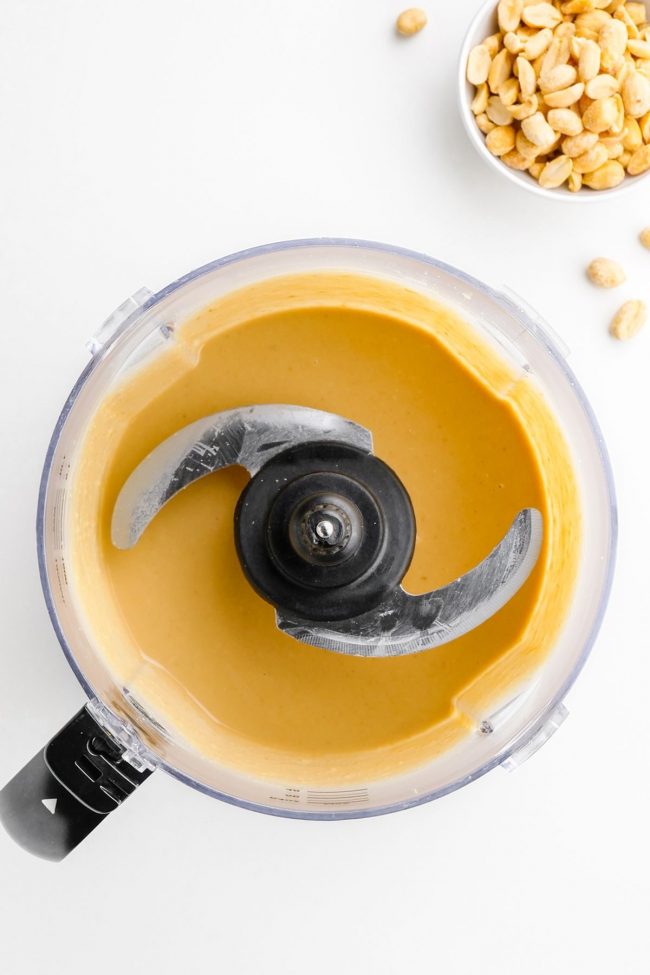 Is this natural peanut butter?
Yes, it is! The most natural way to have peanut butter is to make it yourself. You know exactly what is going into it and it's super simple.
Some peanut butter says "natural" – but they have added fat and sugar. I guess those ingredients are "natural", so they went with it, but I don't consider that natural.
Plus, if you're using the peanut butter in baked goods or in healthy energy treats like these Bliss Balls or these Chocolate Peanut Butter Protein Balls, you don't really want added sugar and fat!
What kind of peanuts should I use?
Make sure to use roasted peanuts to get the most flavorful peanut butter.
I always use roasted and salted peanuts, but if yours are unsalted, just add a tad of salt during the processing.
If you have raw peanuts, I strongly suggest roasting them before making peanut butter with them. I personally don't think raw peanut butter is very tasty, but if you do, then you can certainly give it a try. But it will take much, much longer to process.
If you want to roast your own:
If you have raw, shelled peanuts, this is what to do:
Preheat your oven to 350 °F (175 °C).
Spread the peanuts in an even layer on a rimmed baking tray.
Toast for 15-25 minutes, stirring them after every 8 minutes, or until golden brown.
Let cool for 10 minutes before pouring into the food processor bowl. It's best to process them now while still warm, as processing will be quicker and easier.
You can use unblanched raw peanuts if that's all you've got. But when you make your peanut butter, those little bits of papery skin might be noticeable (I haven't tried it, so I'm not totally sure).
But there's a way to avoid that! Once the peanuts have cooled for a few minutes, place them in the center of a clean tea towel, and bring together the sides of the towel together to form a bag. Rub and rub until the skins have come off.
That'll get rid of most of the skin! Now you have to pick out the peanuts from the skin bits.
Roasting and then getting rid of the skin and then making peanut butter sounds like quite a hassle. I'd definitely just buy it rather than go to all that trouble. But to each their own!
How long does peanut butter last?
According to this, homemade peanut butter should last for 3–6 months in the refrigerator. You can tell if it's gone bad by a rancid smell.
I've been making peanut butter for years and have never had that happen nor have I ever had the oil separate like in the store-bought kind!
Equipment:
Can I use a regular blender?
Unfortunately not. Please don't try! You need something like a Blendtec or Vitamix.
What kind of food processor do I need?
My food processor is 1,000 watts and does a great job, but one with at least 700 watts should work.
It might work in one with even fewer watts. But before you buy one, I recommend reading the reviews and searching to see what people have said about making nut butter.
I've read a few different guides and it seems like most people recommend this Ninja.
That being said, you don't need a fancy new food processor to make peanut butter. I used to use one from former East Germany (meaning it was really old).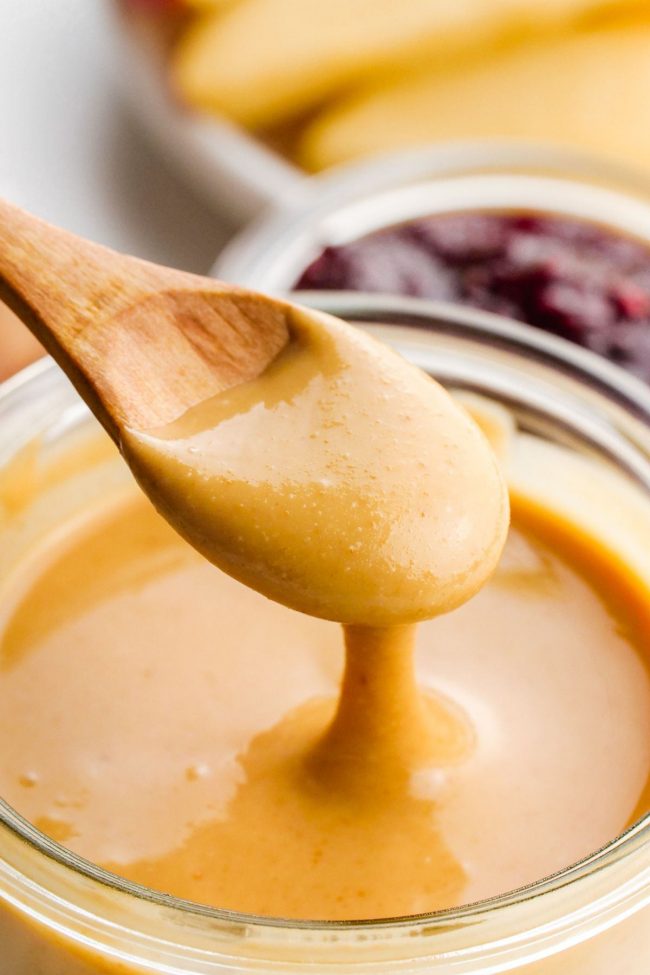 How much does X cups of peanuts yield?
1 cup of peanuts = about 150 grams.
1 cup of homemade peanut butter = 256 grams.
So you need about 1 3/4 cups of peanuts for 1 cup of peanut butter.
Which is easier than counting out 540 peanuts to make a 12-ounce jar of peanut butter!
Adding things to the peanut butter:
Can I add liquid stuff like honey, vanilla, etc.?
If you add anything liquid other than oil (which you do not need), then the peanut butter will seize. It'll be clumpy and pretty much ruined. So please don't try that!
I've seen lots of people say you can add honey to the peanut butter once it's been blended. You can indeed do that, but it will really thicken your peanut butter. I don't like it, but maybe others do.
I think 1.5-3 tablespoons of honey would be a good amount to add, but it's just a guess. Add a tablespoon, taste and add more, if desired. And definitely be sure to use runny honey and not creamed honey or honey that has crystallized.
I think using honey-roasted peanuts is a much better idea. Then your peanut butter will have the right texture, and I think the result would be tastier.
If you insist on adding something, try this Homemade Chocolate Peanut Butter. It's smooth and chocolaty, and the kids should love it.
​​
Can I add spices?
You can! If you want vanilla, use the seeds of a vanilla bean. A little cinnamon is also nice.
My recommendation is to make your peanut butter, and once it's your desired runniness, pour some peanut butter in a little bowl, add a little of whatever you want to add, and see if it works.
This is a much better way than adding something to your peanut butter than ruining your whole batch!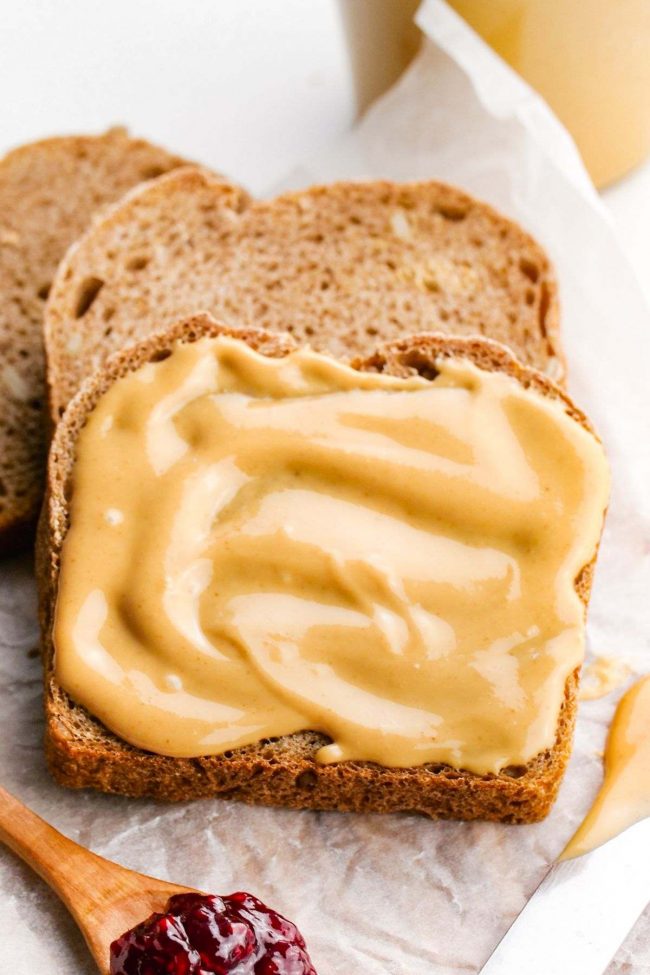 Don't I need to add oil?
Lots of other peanut butter recipes say to add oil! But…
I have no idea why some recipes call for oil. Just keep processing, take breaks if necessary, and don't give up!
Do you see how runny my peanut butter is? I've never needed oil to get to this consistency!
If you want to add oil, you certainly can.
How will I know if it's gone bad?
You'll definitely be able to smell it. It'll smell like oil paint, paint thinner, or something along those lines. You'll know! Throw it away immediately.
And if you didn't notice a smell but it tastes bitter, that also means it's rancid and it's time to throw it out.
My peanut butter isn't coming together! What can I do and what did I do wrong?
Are you sure your food processor can handle making nut butters? If you are, you just need to be patient. Some food processors take longer than others.
If your processor is hot, take a break. Remove the bowl from the base, open the lid, and let it chill for 10-20 minutes or until it's cooled quite a bit.
We certainly don't want you to kill your food processor!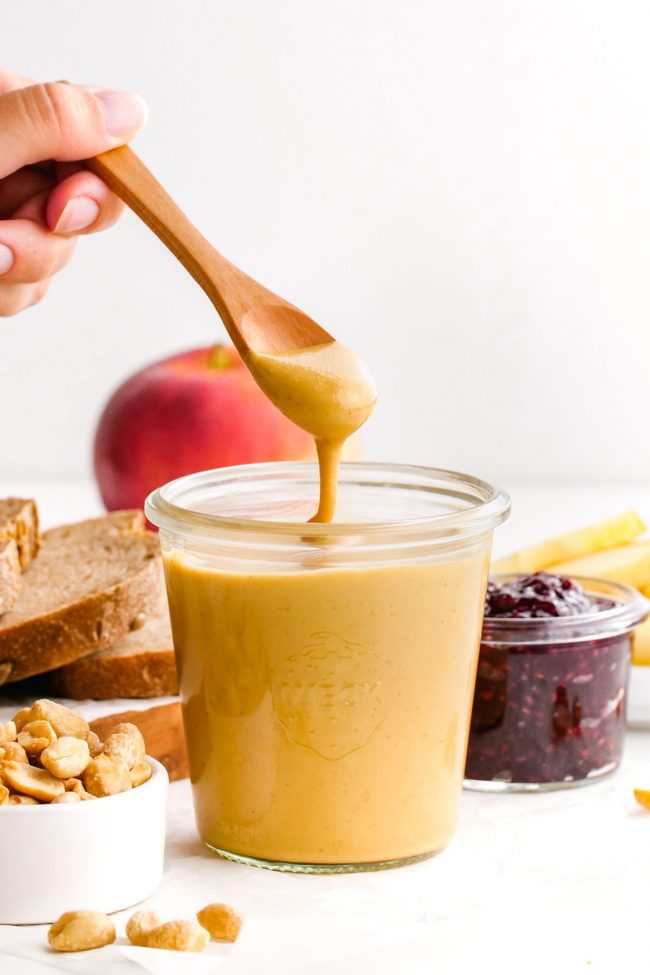 Is it cheaper to make your own peanut butter?
It is! According to this, using organic roasted peanuts, you're saving 30 cents for every 100 grams. It's not much, but it isn't peanuts either. ;)
A little known fact about peanuts is you can actually make them into diamonds under the right pressure!
You are what you eat, so let's get to it! ;)
Is peanut butter healthy?
Making your own peanut butter ensures there aren't any weird fillers or too much salt or other ingredients that are hard to pronounce, so we're already off to a good start.
Peanut butter is high in protein, full of fiber and fats which help stabilize insulin levels and gives you a constant supply of energy for hours. It's perfect at breakfast, giving you a boost of energy throughout your day.
Peanut butter is also loaded with antioxidants. It has a high concentration of folate, niacin, riboflavin and thiamin. This helps control cancers, heart and chronic diseases and fungal infections.
Plus, it has so much protein it's great for repairing and building muscle mass.
It's high in vitamin E and B6, manganese and magnesium and a good source of copper, too.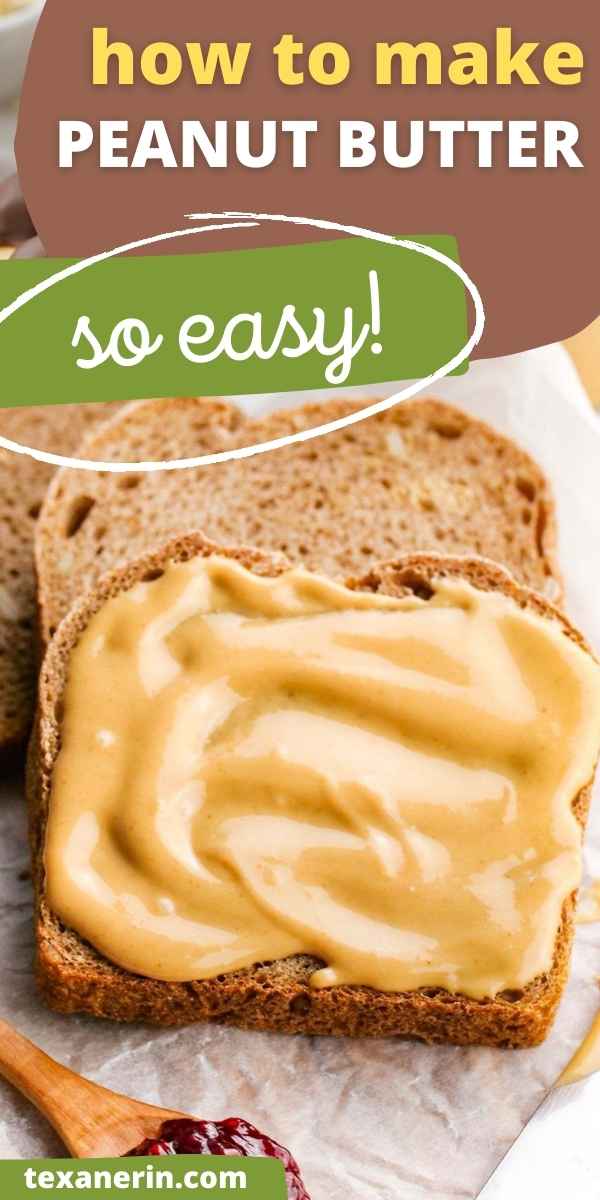 It's super easy to add to your diet. Peanut butter is versatile and can be added to coffee, smoothies, noodles, as a peanut spread or added in baked goods or using it as a base for those healthy energy balls, and the list goes on.
Whatever you use it in, just know that by making your own, you're making healthier decisions, saving some money and adding nutrition into your diet!
What to do with peanut butter
This might seem like a silly question for a lot of you, but peanut butter isn't a common ingredient everywhere in the world.
I feel like it's becoming more common in Europe, but it still remains a somewhat mysterious ingredient to some people (especially the older generation).
It's fantastic in savory recipes, like Asian recipes such as Thai or Vietnamese peanut sauce or peanut noodles. But I use it mostly in sweets.
I have tons of recipes that use peanut butter, like these flourless Gluten-free Peanut Butter Cookies or these Healthy Peanut Butter Balls or these Vegan Peanut Butter Chocolate Chip Cookies.
I've got this wonderful easy 4 Ingredient Maple Peanut Butter Fudge or maybe you'd like a Healthy Peanut Butter Chocolate Fudge.
There's just so much you can make using peanut butter! I use homemade peanut butter in all my peanut butter recipes. I just can't justify spending $5 to $15 for a jar of natural peanut butter when I can make it cheaper myself!
And, of course, it's great on toasted bread or my favorite – toasted English muffins!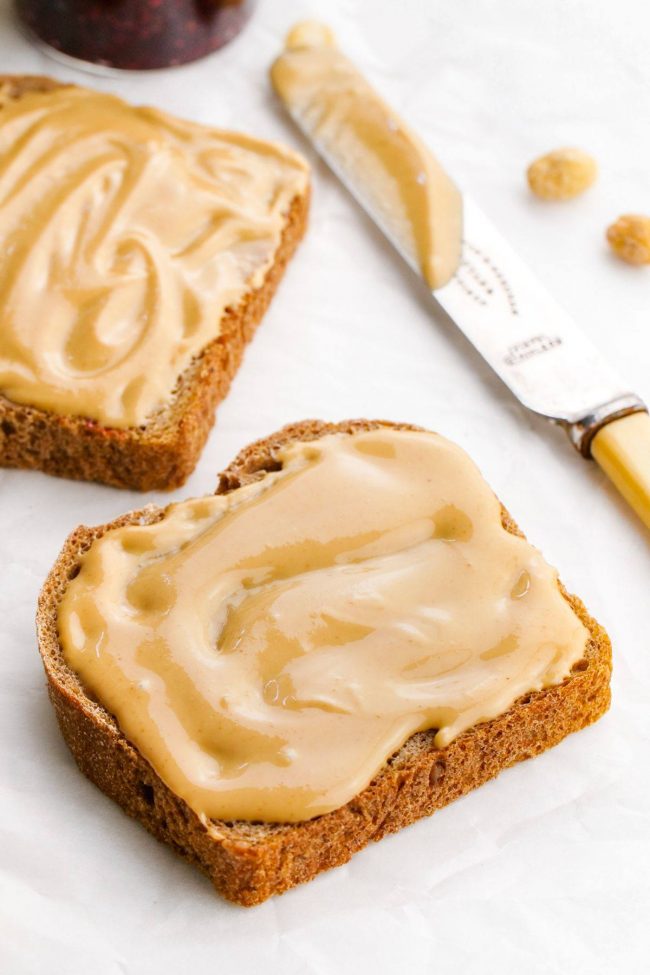 Other Nut Butters:
That's it! I hope you enjoy making your own. If you try it, drop a comment below and let me know how it turned out!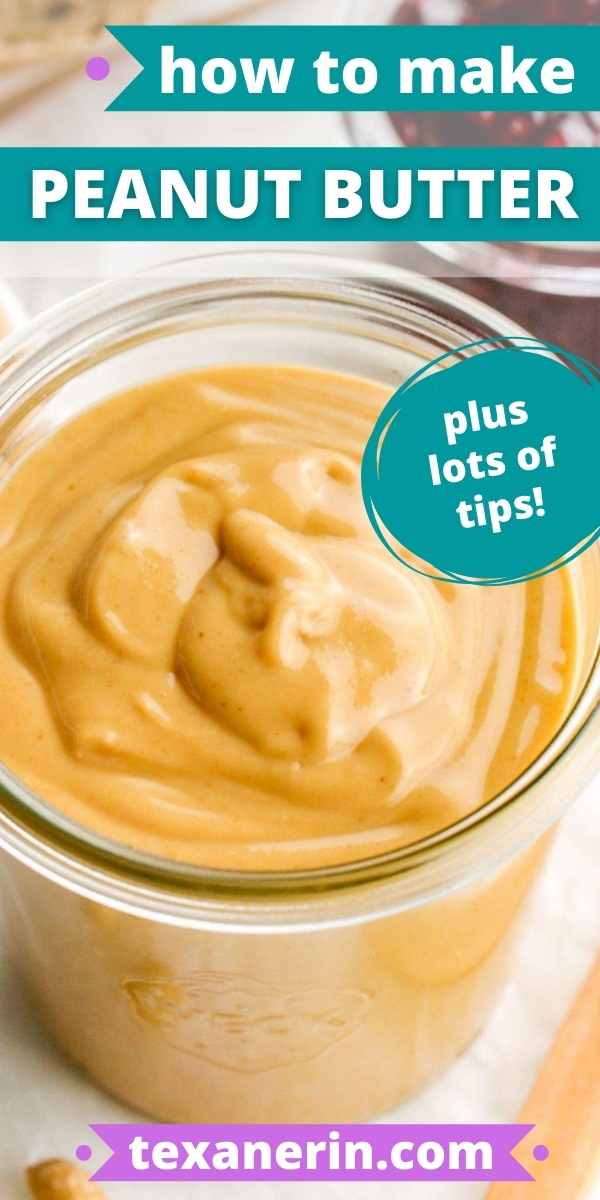 ❀
How to Make Peanut Butter
Prep Time:
Cook Time:
Ready in:
Yield:

1 3/4 cups peanut butter
Ingredients
3 cups (450 grams) roasted or dry-roasted peanuts
salt to taste if using unsalted peanuts
Directions
Using a food processor:

Dump peanuts in the food processor fitted with an S-blade and process on high until creamy. For me, it takes about 4 minutes. In my old food processor, it took about 8. First, there'll be ground peanuts, then it'll start to clump together, and then the clump will break down. Then process it a little more until you're sure it's nice and creamy.

Using a Blendtec:

Add 1 1/2 cups peanuts to the Twister Jar, and process on high, while turning the blade counterclockwise. This usually takes about 40 seconds. Take breaks if your blender starts to get too warm.

For either version:

If you used unsalted peanuts, taste and add salt if desired. You might need more than expected! Store-bought peanuts are very, very salty.
Store in the fridge for up to three months.
Notes
You need to use enough peanuts to go over your food processor blade by about an inch or two.