Wondering how to make peanut butter? You only need one ingredient and a food processor or a high-powered blender for this peanut butter recipe! You'll never want to buy store-bought again. This homemade peanut butter is so much cheaper and tastier! With a video.
Peanut butter couldn't be any easier to make. Seriously. You dump peanuts in a food processor and let it go. And I'm sure some of you are shaking your heads at me. She's posting a recipe for peanut butter? Yup, I am. Because of this conversation:
Student: I make my own peanut butter! I put a stick of butter in the food processor and add some peanuts!

Me: Nooooooo!
So here's a peanut butter recipe. :) I use this homemade peanut butter in all my recipes, like these peanut butter balls and this healthy chocolate peanut butter fudge.
I really don't understand how people can pay $5 or even more for a jar of natural peanut butter. Maybe I'm just too cheap.
And maybe this is just an issue in Germany, but I've tried a lot of natural peanut butters that tastes just awful. Even after adding 1/2 teaspoon of salt to a small jar, I wouldn't even call it edible. I thought peanuts were peanuts. Apparently not!
Some peanut butters marketed as "natural" even have added fat and sugar. I have no idea what sets them apart from regular peanut butter and why they're considered natural. They're delicious, sure, but natural? Hmm.
Be sure to use roasted peanuts. Peanuts get most of their flavor from the roasting process. I always use roasted and salted peanuts but if yours are unsalted, you can just add salt during the processing.
If you want to get really fancy, you could use some honey roasted peanuts. That would be mind-blowingly awesome.
But being as I go through cups of this every week as it is, I'll have to pass on the honey roasted variety. I can guarantee you I'd sit there with a spoon and eat it all until it was gone.
And then cry a little. Because I'd have just eaten 43,000 calories worth of peanut butter.
According to this site, homemade peanut butter lasts for 3–6 months in the refrigerator. You can tell if it's gone bad by a rancid smell.
I've been making this peanut butter for years and have never had that happen and have never had my oil separate like in the store-bought kinds!
If you run out of ideas on what to do with your homemade peanut butter, try these no-bake peanut butter cookies. They're definitely a favorite of ours!
These chickpea cookies have also been a huge hit. I hate chickpeas, but the cookies are awesome!
Everything you need to know about how to make homemade peanut butter:
Equipment:
Can I use a regular blender?

Unfortunately not. Please don't try! You need something like a Blendtec or Vitamix.

What kind of food processor do I need?

My food processor is 1,000 watts and does a great job but one with at least 700 watts should work. It might work in one with fewer watts. Before you buy one, I recommend reading the reviews and searching to see what people have said about making nut butter.

I've read a few different guides and it seems like most people recommend this Cuisinart.
Nuts:
How full should I fill the food processor? What if I only want a small amount?

If you don't fill the processor enough, you won't get anywhere. You need enough nuts so that the blade is fully covered, and then add some more. If you don't need much, then see the questions in the storage section above.

How much does X cups of peanuts yield?

1 cup of peanuts = about 120 grams. 1 cup of peanut butter = 256. So you need about 2 cups + 2 tablespoons of peanuts for 1 cup of peanut butter.
Adding things to the peanut butter:
Can I add liquid stuff like honey, vanilla, etc.?

If you add anything liquid other than oil (which you do not need!), then the peanut butter will seize. It'll be clumpy and pretty much ruined. So please don't try that!

Can I add spices and salt?

You can! If you want vanilla, use the seeds of a vanilla bean. A little cinnamon is also nice.

My recommendation is to make your peanut butter and once it's your desired runniness, pour some peanut butter in a little bowl, add a little of whatever you want to add, and see if it works. This is a much better way than adding something to your peanut butter and ruining your whole batch!

Don't I need to add oil? Lots of other peanut butter recipes say to add oil!

You don't need a fancy new food processor to make peanut butter. I used to use one from the former East Germany [meaning it was really old]. I have no idea why some recipes call for oil. Just keep processing, take breaks if necessary, and don't give up!

Do you see how runny my peanut butter is? I've never needed oil to get to this consistency!

If you want to add oil, you certainly can.
Storage:
Does homemade peanut butter have to be refrigerated?

Definitely refrigerate it! The oil can go rancid. I read that you can store opened peanut butter on the shelf for up to 3 months but I don't think I'd recommend that, especially since homemade peanut butter doesn't have any preservatives.

I don't leave mine at room temperature for longer than 1 week. It's just safer to keep refrigerated.

How long does it stay good?

I've left my peanut butter in the refrigerator for embarrassingly long periods without anything funky happening to it. But I'm going to say 3 months to be on the safe side.

Also be sure to always use a clean spoon. If you use something that was previously in jam, your mouth, whatever – your peanut butter will mold in no time. Also make sure to not use peanuts that were about to expire if you want your peanuts butter to last for a while.

Can I freeze peanut butter?

Yes! For up to 4-6 months. Make sure to use an air-tight container.

Does it separate like some natural peanut butters?

I've had that happen a few times. When the jar gets lost at the back of the refrigerator for half a year. But even if it doesn't visibly separate, you should stir it before every use to make sure the oil is evenly distributed.

How will I know if it's gone bad?

You'll be able to smell it. It'll smell like oil paint, paint thinner, or something along those lines. You'll know! Throw it out immediately. And if you didn't notice a smell but it tastes bitter, that also means it's rancid and time to throw it away.
Troubleshooting:
My peanut butter isn't coming together! What can I do and what did I do wrong?

Are you sure your food processor can handle making nut butters? If you are, you just need to be patient. Some food processors take longer than others.

If your processor is getting hot, take a break. Remove the bowl from the base, open the lid, and let sit for 10-20 minutes or until it's cooled quite a bit. We don't want you to kill your food processor!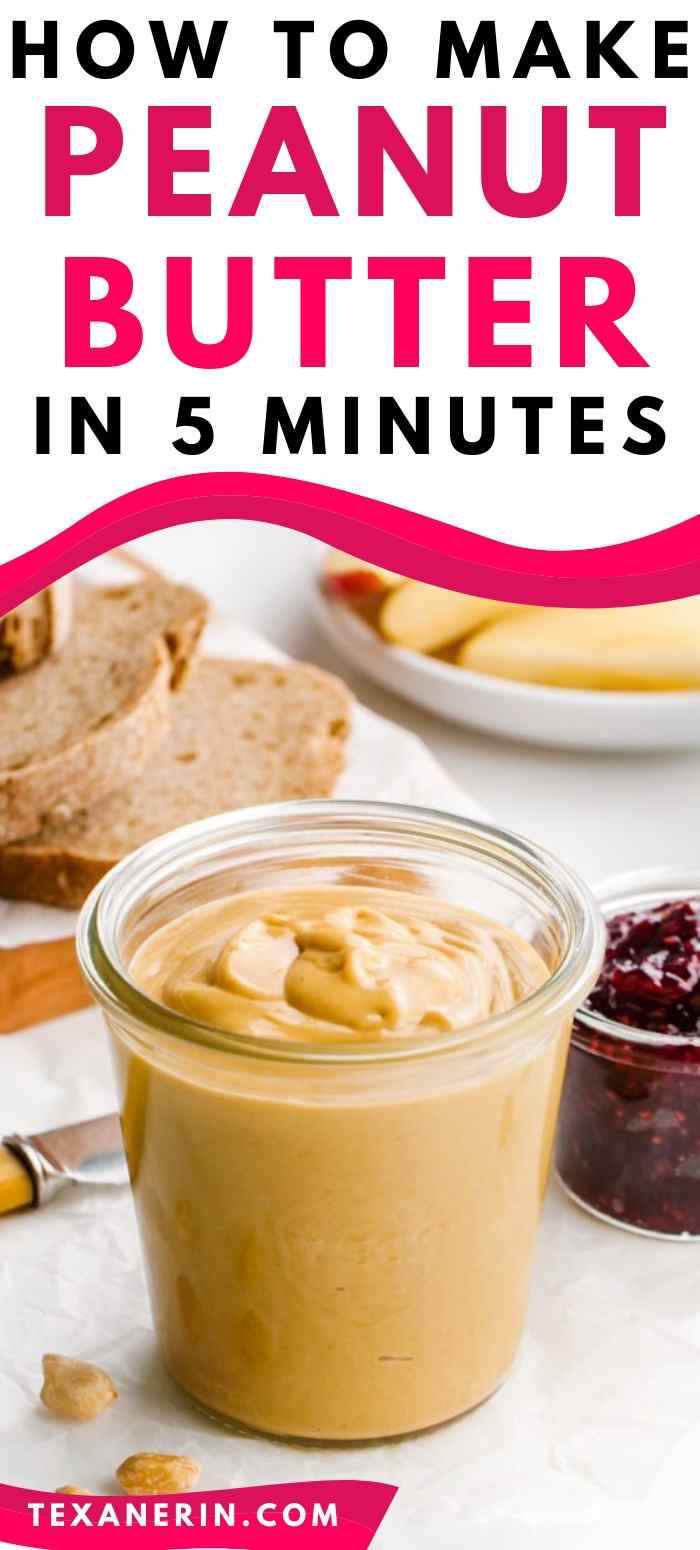 ❀
How to Make Peanut Butter
Prep Time:
Cook Time:
Ready in:
Yield:

1 cup peanut butter
Ingredients
enough roasted salted peanuts to go over your food processor blade - I like to use at least 2 cups (which yields a little less than 1 cup of peanut butter)
salt to taste
Directions
Using a food processor: Dump peanuts in the food processor fitted with an S-blade and process on high until creamy. For me it took about 4 minutes. In my old food processor it took about 8. First there'll be ground peanuts, then it'll start to clump together, and then the clump will break down. Then process it a little more until you're sure it's nice and creamy.
Using a Blendtec: Add 1 1/2 cups of roasted and salted peanuts to the Twister Jar, and process on high, while turning the blade counterclockwise. This usually takes about 40 seconds. Take breaks if your blender starts to get too warm.
Add salt to taste, if you used unsalted peanuts.
Store in the fridge for up to three months. I've forgotten jars of peanut butter that have lasted much longer.
As an Amazon Associate, I earn from qualifying purchases. For more info, see my disclosure.