These apple cake bars are super moist and full of cinnamon apple goodness!
I didn't expect much of these, so it was a big surprise when these turned out to be the best result of my baking weekend. I cut them up as bars but what these reallyare is questionable. Apple blondies? Apple cake? Apple squares? I don't know what to call them. I just know that they're ridiculously tasty!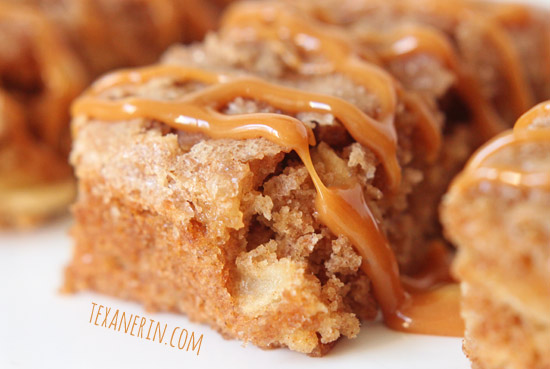 These apple cake bars were like cake. Not a light and super fluffy cake, but delicious cake. And on the second day, these are like super moist cake. I'm not sure what's up with that.
These apple bars are sweet, but not too sweet. And to be honest, you really don't need the caramel. I just added it because these looked so boring without it. Plus… apple cake and caramel? Who's gonna complain?! ;)
These would also be fantastic with some dulce de leche on top. I didn't feel like using an entire can, so I used melted caramels mixed with a little milk. But like I said, it's really unnecessary.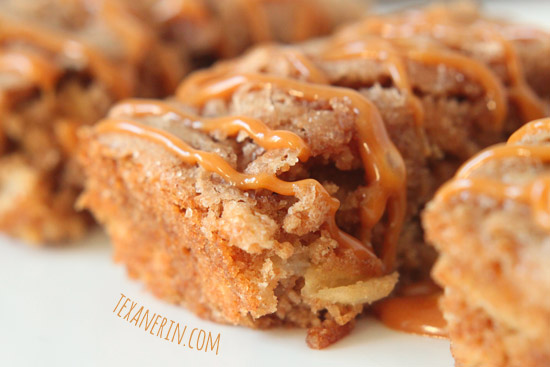 The little cinnamon sugar topping is also optional, but I love the crust it forms on top. I've made these apple cake bars with and without the optional topping and the verdict? I really liked the little crunchy topping and will be doing that from now on. :)
They're also pretty quick and easy to make. I used olive oil (canola oil would be okay, too) and so there's no butter or anything that needs creaming. Just mix it all together with a big spoon. Simple stuff!
I'm going on a little vacation until Tuesday morning. Are there any musts that I need to pick up at French or Swiss grocery stores? I only have Speculoospasta (Biscoff spread) on my list. Any ideas would be greatly appreciated. :)
❀
Cinnamon Apple Cake Bars (100% whole grain)
Prep Time:
Cook Time:
Ready in:
Yield:

12 – 16 servings
Ingredients
Squares:

1 cup (130 grams) whole spelt, whole wheat pastry, or whole wheat flour
1 1/4 teaspoon ground cinnamon
1 teaspoon baking powder
1/4 teaspoon salt
1/4 cup (85 grams) honey*
1/4 cup (60ml) olive or canola oil
1/4 cup (50 grams) unrefined sugar* (brown sugar would work too)
1 egg
1 1/2 teaspoon vanilla extract
1 1/2 cups (170 grams) peeled and chopped apple, I recommend Granny Smith or any other apple that's usually good for baking

Topping:

4 teaspoons unrefined (or granulated) sugar
1 teaspoon cinnamon
1/3 – 1/2 cup caramel, optional
Directions
Preheat your oven to 350°F (175°C). Grease an 8″ x 8″ pan or line it with parchment paper.
In a small bowl, mix together the flour, cinnamon, baking powder and salt.
In a large bowl, mix together the honey, olive oil, and sugar.
Add the egg and vanilla and mix until well combined.
Add the dry mix to the wet mix, stirring just until combined. It will be very thick!
Add the apples and stir, just until combined.
Spread the mixture evenly in the pan.
Mix together the sugar and cinnamon for the topping and sprinkle over the batter.
Bake for 15 – 20 minutes or until a toothpick inserted in the middle comes out clean.
Then smother it with caramel and do a little dance.
Notes
The first time I made this, I made it with 2/3 cup unrefined sugar and no honey. This was also excellent, so make it however you prefer.