This homemade apple butter only takes 1 1/2 hours and is free of added sweetener!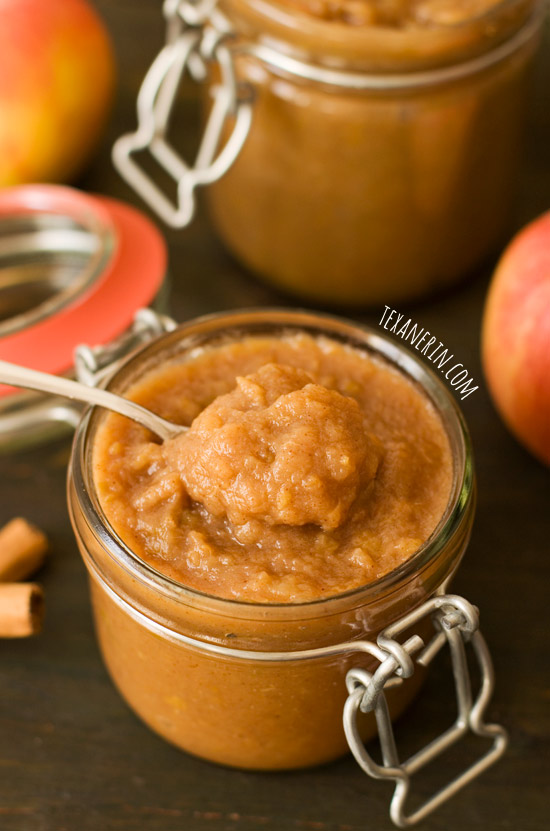 When I was looking for apple butter recipes, I found recipes that took 8 hours… even 15 hours. I don't do anything for 15 hours, except perhaps sleep, so simmering something for 15 hours was out of the question.
With this recipe, you core and then cut the apples (something like this apple slicer makes this a breeze). Then you put them in a large pot, together with spices and a little apple and lemon juice, and let it go for 1 1/2 hours. You do have to stir it occasionally but I'd rather do that than let anything simmer for 15 hours. Then puree it.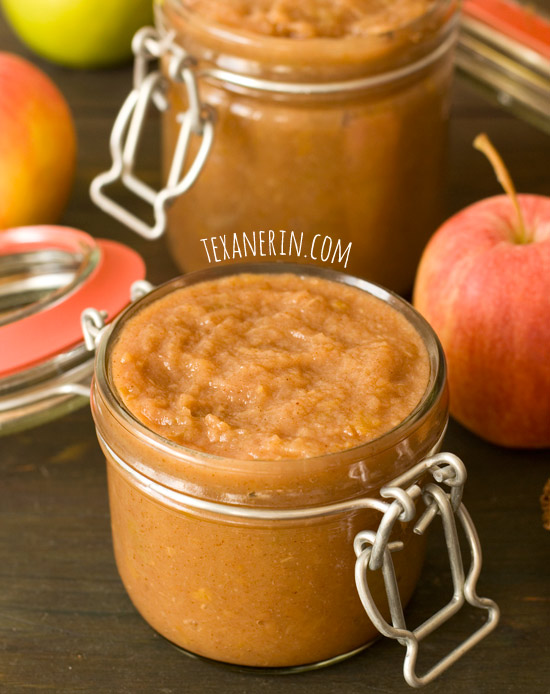 When I was looking for recipes, I also found that people usually use a load of sugar in apple butter. 1 cup of granulated sugar, or even more, per pound of apples. Why?! It could be that apple butter is supposed to be more like a dessert–item and I've just never had "proper" apple butter but I was super happy with this version.
I used it in some apple butter donuts (the recipe is coming this week!) and they were absolutely incredible. So I'm sure this sweetener free apple butter will do just fine in other baked goodies!
Back when I had a crockpot, I made apple butter in it and I honestly think that my two versions taste the same. The color came out darker with a crockpot, but taste and texture is spot on!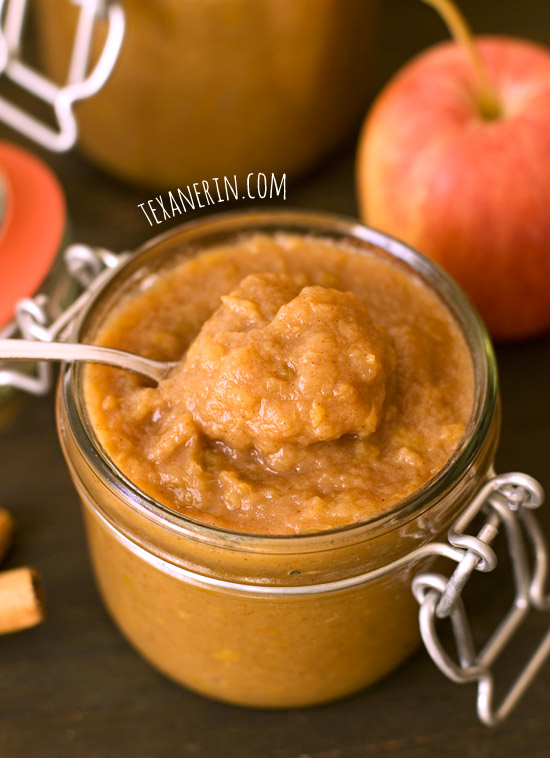 If you wanted to do a cheater version of apple butter, you could buy some sugar free apple sauce, add spices to taste, and let it go at medium until it's thick enough for your liking. I thought about doing this myself but figured you'd appreciate a totally homemade version. ;)
As far as canning goes – I have no idea how this would do. The lack of sugar has me paranoid about canning, so I wouldn't recommend it.
I used a mix of Granny Smith and Gala apples but I would think that any apple would do well here. Except Red Delicious. I swear… those are the most worthless apples ever. ;)
❀
Homemade Apple Butter – Quick and Sugar-free!
Prep Time:
Cook Time:
Ready in:
Yield:

3 1/2 cups (875 grams)
Ingredients
3 3/4 lbs unpeeled apples (1.7kg, about 12 medium)
1 tablespoon ground cinnamon
1/2 teaspoon allspice
1/4 teaspoon cloves
1/3 cup apple juice
1 tablespoon lemon juice
Directions
Core and cut the apples into eights.
Place the apples, spices, apple and lemon juice in a large pot and stir to get the spices evenly distributed.
Cover and cook on medium heat for 30 minutes.
Using a wooden spoon or something similar, smush the apples as much as possible.
Remove the lid and continue cooking for another hour, stirring every 15 minutes. The closer to the end you get, the more important this step is or the apples will stick to the bottom of the pan and potentially even burn if you forget about them for too long!
Turn off the heat and if it's thick enough for you, remove from the heat.
If you want it a little thicker, let it sit on the burner for another 30 minutes or even longer.
Using an immersion blender, puree the apple butter. You could also use a blender or food processor, but the immersion blender is the least messy option.
When cool, pour into containers and refrigerate for up for 5 days. Freeze any apple butter left after 5 days.