These moist and delicious baked apple butter donuts are made healthier with whole grains and are also dairy-free! Can also be made as muffins.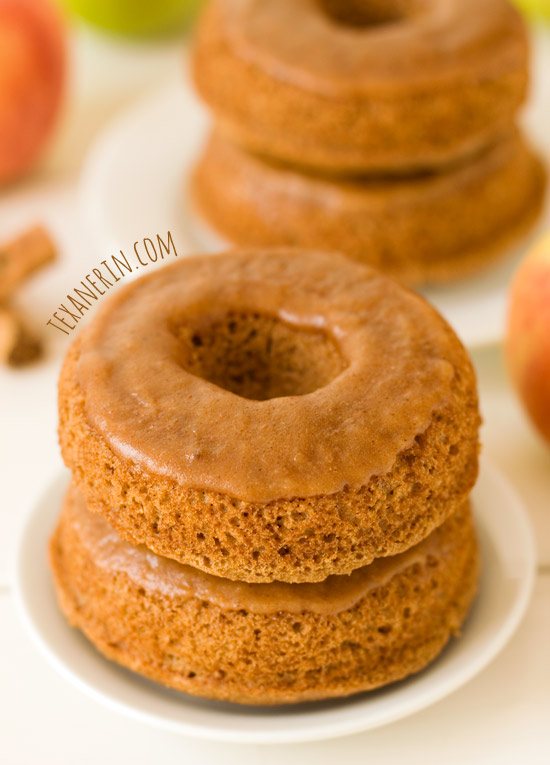 So, I made these apple butter donuts on Saturday and after eating 4 of them as soon as the picture-taking was done, I haven't had sugar since. Not even fruit! I've been fine so far – just incredibly hungry and sad that I can't have sweets until Saturday. But come Saturday morning, I'm going right to the freezer and pulling out the remaining donuts! These are so incredibly good.
This would be a great recipe for people trying to get their kids to like whole grains or who are just starting whole grain baking themselves. All you taste is fall-y goodness. No "yucky" whole grain taste here!
And don't worry if you don't have a donut pan – you can use a mini muffin pan or a regular muffin pan. Just bake until a toothpick inserted in the middle comes out clean. I'm guessing about 12 – 16 minutes for regular sized muffins.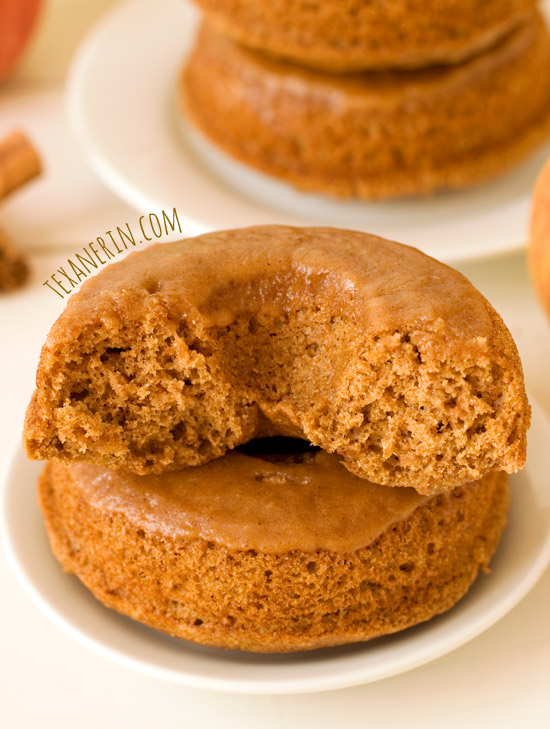 The ingredient list is a little long, but honestly, these donuts are worth it! If you have apple pie spice, feel free to sub that in for the four spices. That cuts down on the list. A little. :) And there's only 1 1/2 tablespoons of oil for 6 donuts, making these pretty low fat!
This recipe only makes 6 donuts but doubles easily. Since I only had a few hours to eat up these truly glorious apple butter donuts, I just didn't need 12.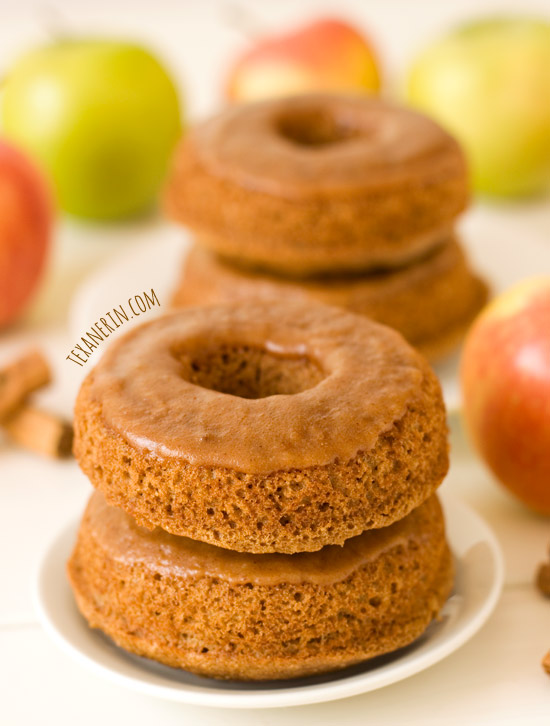 A few people asked in my last post about apple butter what apple butter was exactly. It's like apple sauce, but spiced and cooked longer, so that it's thicker. You can eat it on bread or bake with it.
You probably don't need that lovely little glaze but it makes these donuts so much more fun and donut-y! I rarely use butter but it was SO good here. And one tablespoon for 6 donuts, that's not so bad, is it? ;)
If you haven't had any fall-like weather yet, at least you can pretend. Make these apple butter donuts. If you need a gluten-free version, try these Gluten Free Baked Apple Cider Donuts! And for another fruity donut, try these Banana Donuts!
❀
Baked Apple Butter Donuts (100% whole grain, dairy-free)
Prep Time:
Cook Time:
Ready in:
Yield:

6 donuts
Ingredients
Donuts:

1 cup whole wheat or whole spelt flour
3/4 teaspoon baking powder
3/4 teaspoon baking soda
1/4 teaspoon salt
1 1/2 teaspoons cinnamon1
1/4 teaspoon allspice
1/4 teaspoon nutmeg
1/4 teaspoon ginger
1 egg
1/4 cup apple butter
3 tablespoons unrefined sugar
3 tablespoons maple syrup
2 tablespoons apple cider or apple juice
2 tablespoons buttermilk, milk or almond milk
2 teaspoons vanilla
1 1/2 tablespoons canola oil or melted coconut oil (refined for no coconut taste)

Glaze:

1 tablespoon butter or coconut oil for dairy-free (refined for no coconut taste)
1/4 cup + 2 tablespoons powdered sugar
1/2 tsp cinnamon
1/4 tsp nutmeg
2-4 teaspoons apple juice
Directions
For the donuts:

Preheat the oven to 350°F (175°C). Spray a 6 mold donut pan very well with cooking spray.
In a small bowl, mix together the dry ingredients (flour through ginger).
In a medium bowl, mix together the remaining donut ingredients.
Add the dry mix to the wet mix and stir just until combined. Do not over mix!
Pour the batter into the prepared pan and bake for 9 – 12 minutes or until the donuts are firm to the touch.
Immediately remove the donuts from the pan and onto a wire rack to cool.
While the donuts are cooling, prepare the glaze.

For the glaze:

In a small saucepan over low heat, melt the butter and gradually whisk in the powdered sugar.
Add the cinnamon and nutmeg and stir.
Add enough apple juice so that the glaze is the desired consistency.
Dip the mostly cooled donuts in the glaze or drizzle the glaze over the donuts.
Store the donuts in an airtight container for up to 2 days and refrigerate after that.
Notes
Instead of using cinnamon, allspice, nutmeg, and ginger, you can use 2 1/4 teaspoons of apple pie spice.
Adapted from Apple Cider Doughnuts
As an Amazon Associate, I earn from qualifying purchases. For more info, see my disclosure.