These almond flour oatmeal cookies are just like your favorite chewy traditional oatmeal cookies but made without any wheat. They're naturally gluten-free and have vegan and dairy-free options. Air fryer instructions are also included.
I have a ton of almond flour recipes, but this one is one of my favorites.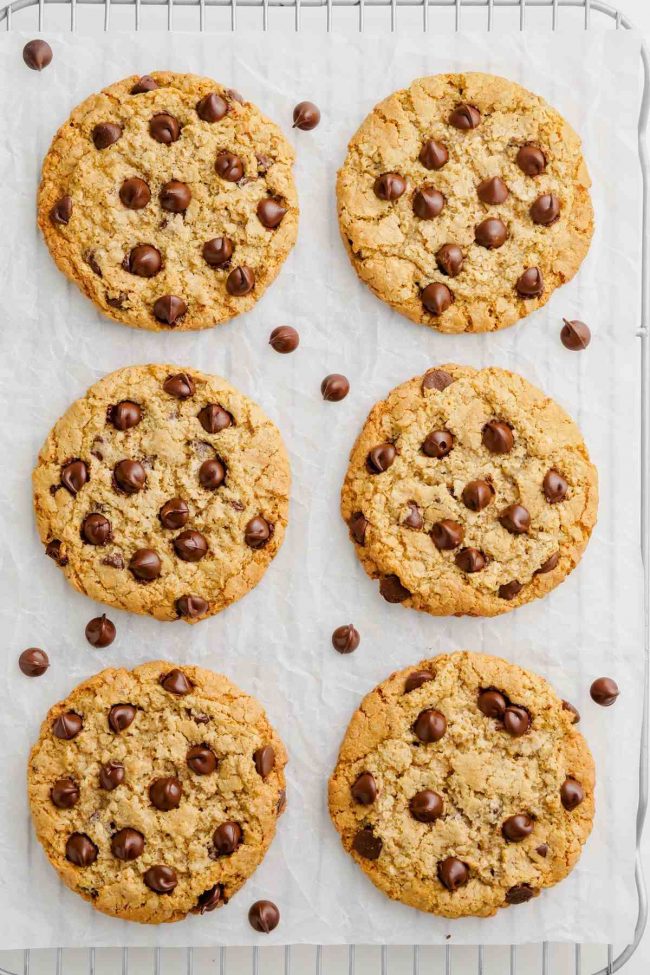 I almost always reserve almond flour for paleo treats, so I thought the idea of making oatmeal cookies with almond flour seemed kind of silly (as oats aren't paleo).
But then I realized that this thought of mine was kind of nonsensical because there are plenty of gluten-free eaters who use almond flour. It's not just for the paleo folks!
Today's recipe is based on my Gluten-free Oatmeal Cookies. And since these cookies just use almond flour in place of 3 different flours + xanthan gum, they're even easier and definitely healthier.
And of course, they're just as delicious! I wouldn't be posting them otherwise. :)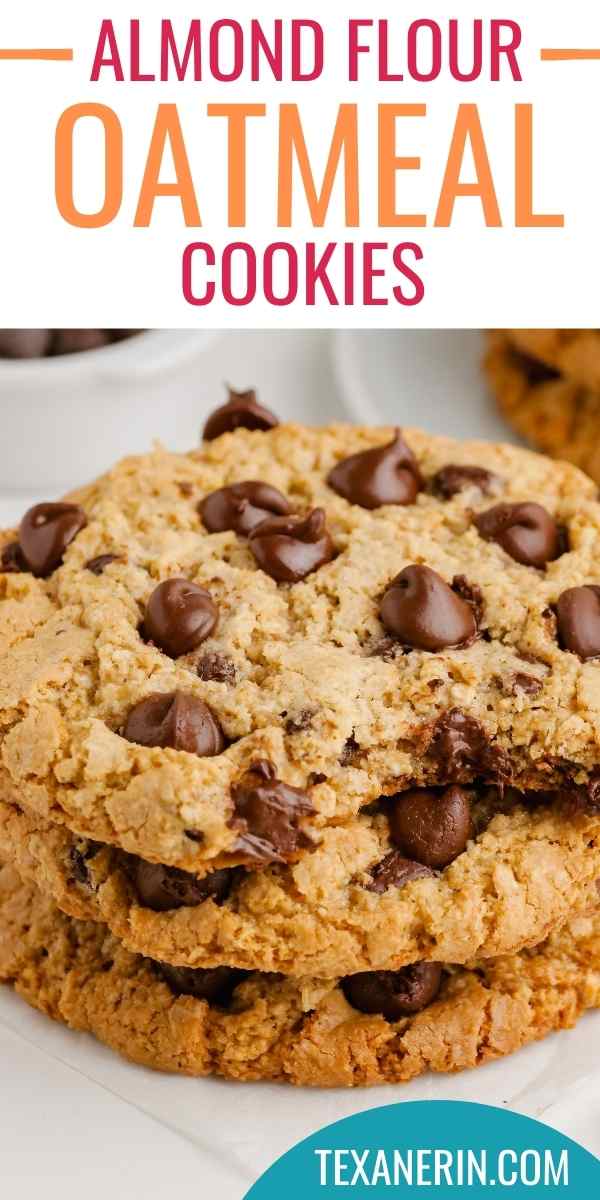 Ingredients
Perhaps other than the almond flour, you likely already have what you need for these oatmeal almond flour cookies.
Almond flour – almond meal would likely also work, but I haven't tried.

Note that I did not use finely ground almond flour in the pictures here. If you use Bob's Red Mill, which is finely ground, your cookies will be thicker and not spread as much.

I used store-brand German almond flour (which is called ground almonds here). I would classify every almond flour brand here (as I've tried them all) as non-finely ground.

If you live outside of the US, make sure not to buy defatted/deoiled almond flour, which is very finely ground and powdery. That doesn't work the same as ground almonds.

If you live outside of the US or Canada, what you likely need to buy is called ground almonds and not "almond flour" (which is the deoiled powdery stuff).

If you use homemade almond flour, then your cookies will likely spread and be flatter than the ones in the photos.



Coconut oil or butter – I used refined coconut oil because I prefer my cookies without any coconut taste. If you don't mind it, feel free to use unrefined.

Butter or vegan butter also works great. I've also made these Oatmeal Cookies Without Butter that use oil in place of the butter. So I'm guessing you could also use oil (light olive oil, canola, vegetable, anything neutral) in these cookies.



Brown sugar or coconut sugar – both are great. I prefer the taste that coconut sugar adds.



Oats – I prefer using quick oats in all my cookies, but regular rolled oats likely work.



Chocolate chips or raisins – I actually prefer making these as almond flour oatmeal raisin cookies, but I think most people prefer chocolate so that's what I went with for the photos.



Eggs (or chia eggs), baking soda, baking powder, salt and vanilla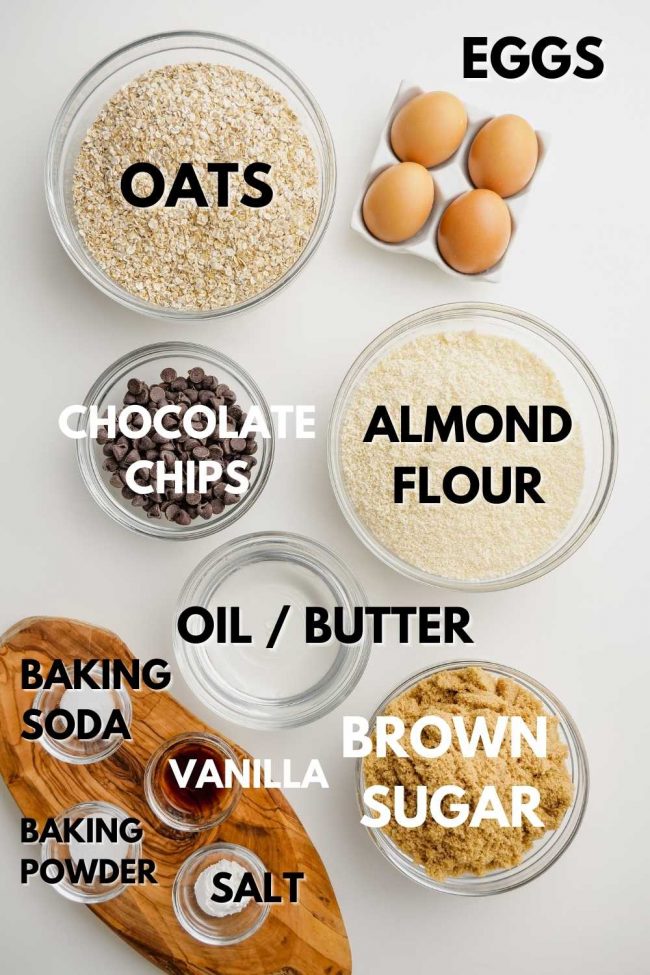 Healthier version
For those of you wanting a healthier treat, I've tried these cookies with coconut oil instead of butter and coconut sugar instead of granulated sugar.
If you use unrefined coconut oil, there is some coconut taste to the cookies, but it's not that strong. I prefer using refined coconut oil so that there's no coconut flavor.
I usually decrease the coconut oil when using it in place of butter. That's because butter is 80-82% fat and coconut oil is 100%.
If you add a bunch of extra fat to a recipe, then the result is most often greasy, and in the case of pie crusts, it just won't work at all. In this recipe, no reduction was necessary!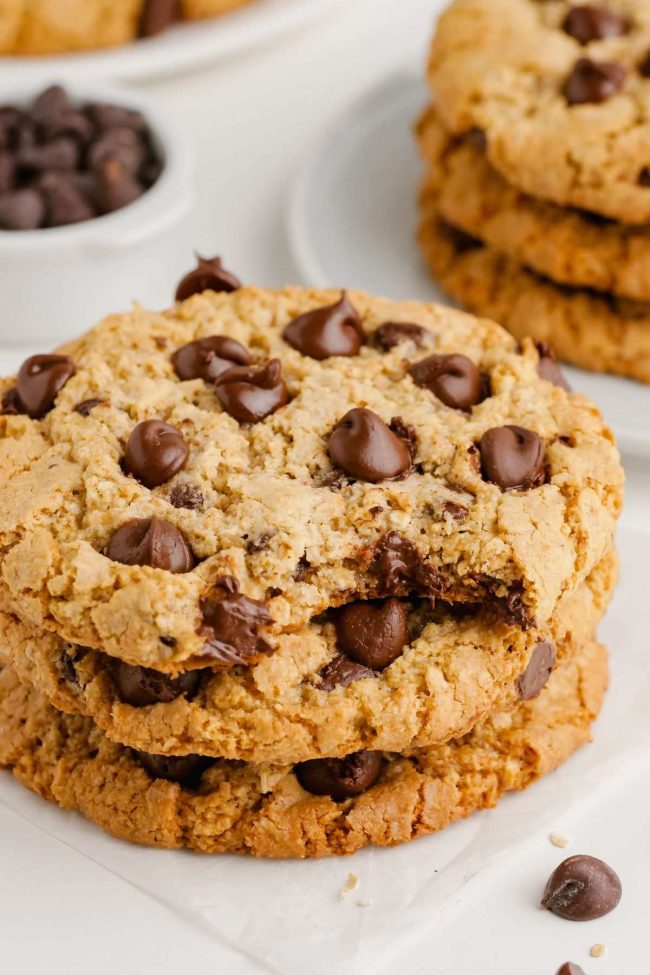 Allergy-friendly options
Unfortunately, there's no keto or paleo option because there's no sub for the oats. If you're paleo, try my Paleo Oatmeal Cookies, which don't use oats but sure taste like they do!
If you want to make today's recipe and you're gluten-free, vegan or dairy-free – that's super easy.
Gluten-free
Use gluten-free oats. I find that most full-sized grocery stores carry them.
If you're wondering why you need to buy specifically gluten-free oats, check this out → Are Oats Gluten-free?
Vegan
I used a chia egg and coconut oil to make these cookies vegan. Vegan butter would also work.
Other egg subs would likely work, but I can't say for sure as I haven't tried them.
Also be sure to use vegan chocolate.
Dairy-free
Use vegan butter or coconut oil in place of the butter and dairy-free chocolate.
Air fryer directions
As I went on and on about in my Air Fryer Chocolate Chip Cookies post, I love making cookies in my air fryer. It's how I always bake my cookies unless I'm baking for a crowd.
I just love how the air fryer crisps the outer parts of the cookies up. And you can freeze dough balls and put a few in your air fryer after your dinner is done cooking. Super practical!
And if you don't have air conditioning, I don't need to explain how amazing it is to have cookies without heating up your kitchen in the summer. ;)
So if you want to try these oatmeal almond flour cookies in the air fryer, check out the bottom of the recipe for those directions.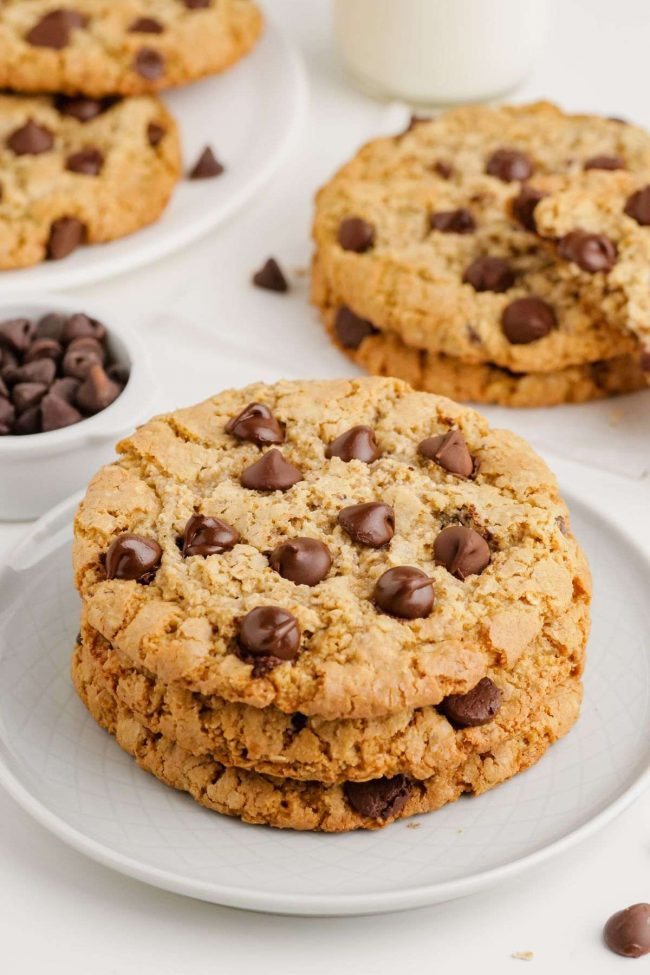 Other oatmeal cookie recipes
Should you not have any almond flour on hand at the moment, in addition to the gluten-free and paleo oatmeal cookies listed above, I've got loads of other oatmeal cookie recipes you could try.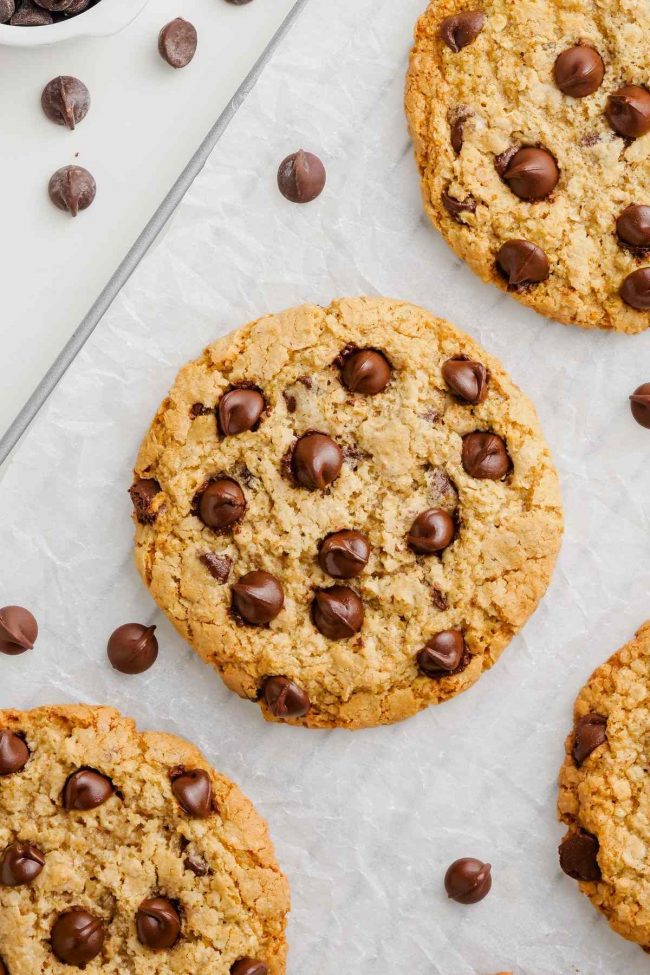 Substitution questions about these almond flour oatmeal cookies?
Can I use something other than almond flour? Nope. If you want to use a blend of gluten-free flours, all-purpose flour or whole wheat, please look at the links above.


Can I use something instead of butter or coconut oil?

Vegan butter would work. I'm also pretty sure that neutral-tasting liquid oils like canola oil, light olive oil and grapesseed oil would also work.

Note that the cookies are chewier with coconut oil (and other types of oil), as oil is 100% fat and butter only 80%.

Can I use something other than the listed sugars? You could probably use another granulated sugar that you've used in place of regular white granulated sugar.

Liquid sweeteners, like honey or maple syrup, wouldn't work as they'd make the dough too wet, and there's no milk or anything to reduce to make up for the added liquid for the sweetener.



I've seen the recommendations on how to sub liquid sweeteners for granulated, but I've never found them to be accurate. So I recommend sticking to a granulated one!
Can I reduce the sweetener and/or oil? I used the least amount that I thought was enough so I don't recommend it. The less sugar and oil you add, the more cakey and crumbly the cookies will be.


Can I use different add-ins or add more of them? You can use nuts, dried fruit or candy. But don't add much more or the dough won't hold together! I know because I've tried. ;) I find M&Ms especially difficult to get to stick to the dough.


If you decide to try these oatmeal cookies with almond flour or any other recipe you see here, I would love to see pictures 📸! Just tag #texanerin on Instagram, Facebook, and Twitter and Pinterest.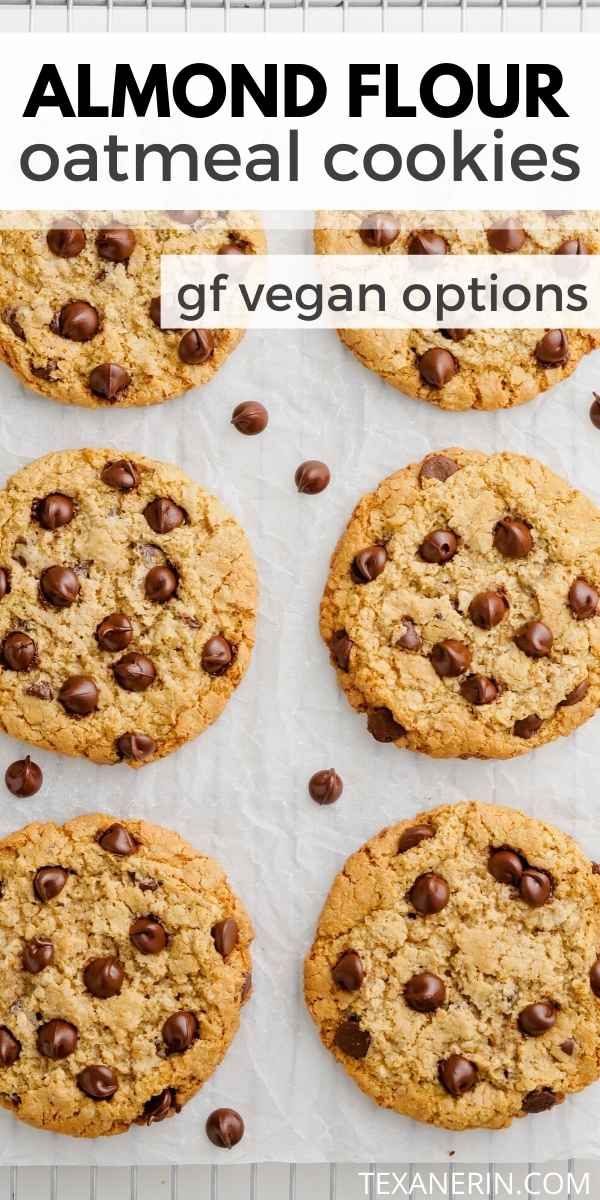 ❀
Almond Flour Oatmeal Cookies
Prep Time:
Cook Time:
Ready in:
Yield:

18 large cookies
Ingredients
2 1/2 cups (250 grams) almond flour (called ground almonds in many countries)
1 teaspoon baking soda
1 teaspoon baking powder
1/2 teaspoon salt
3/4 cup (168 grams) melted coconut oil or unsalted butter
1 1/3 cups (266 grams) brown sugar or coconut sugar
2 large (50 grams each, out of shell) eggs or chia eggs1
1 tablespoon vanilla extract
2 3/4 cups (260 grams) quick oats (use GF oats, if you're GF)
1 1/4 cups (213 grams) chocolate chips, divided or 1 1/4 cups (190 grams) raisins
Directions
Stir together the dry ingredients in a medium mixing bowl and set aside.
In a large mixing bowl, stir together the melted coconut oil, sugar, eggs, and vanilla and stir.
Add the dry mix to the wet mix and stir just until combined. Stir in the oats and 3/4 cup chocolate chips OR the full amount of raisins , again stirring just until combined.
If your dough is too soft to roll into balls, refrigerate for about 30 minutes or until scoopable. It should be firm enough if you used finely ground almond flour.

Oven directions:

Preheat the oven to 350°F (175°C) and line a cookie sheet with a piece of parchment paper.
Form the dough into 75-gram balls, about two inches or slightly over 1/4 cup in size, and place 4" apart on the prepared baking sheet. Press them down slightly with your palm.
Top with remaining chocolate chips (if using chocolate).
Bake for 13-17 minutes or until the middle appears to be set and the cookies have evenly browned.
Let cool completely on the baking sheet.

Air fryer directions:

Use the air fryer function and set it to 320°F (160°C). Line the basket with parchment paper (if parchment paper can be used in your air fryer).
Form the dough into 75-gram balls, about two inches or slightly over 1/4 cup in size, and place about 4" apart on the parchment paper. Press them down slightly with your palm.
Top with remaining chocolate chips (if using chocolate).
Bake for 10-13 minutes or until the middle appears to be set and the cookies have evenly browned.
Remove the basket and let them cool a few minutes in there or until they're firm enough to remove to a wire rack to cool completely.

How to store:

Store leftovers in an airtight container for up to 1 week. They can also be frozen for 3 months.
Notes
To make the chia eggs for this recipe, mix together 2 tablespoons of ground chia seed with 6 tablespoons of water until well combined. Let sit for about 1-2 minutes or until goopy like regular eggs.
For vegan: use coconut oil, chia eggs and vegan chocolate.
For dairy-free: use coconut oil and dairy-free chocolate.
For gluten-free: make sure your oats are gluten-free.