These easy no-bake oatmeal cookies are naturally vegan, gluten-free, dairy-free and 100% whole grain. Can be made as oatmeal raisin cookies or with chocolate chips. Thank you to Bob's Red Mill for sponsoring today's post! Check out more delicious healthy recipes, snag coupons and find stores near you at BobsRedMill.com.
This recipe is adapted from my peanut no-bake butter cookies. I've gotten a few requests for no-bake cookies without peanut butter so here we go. I think these oatmeal cookies are even better! But I know it's a personal preference. I just love oatmeal cookies so much.
I first posted these whole wheat oatmeal cookies, then came up with a gluten-free oatmeal cookie recipe based on the whole wheat one, and finally – my paleo "oatmeal" cookies (with a vegan option)! They've all gotten rave reviews so if you prefer baked cookies over no-bake cookies, go check them out.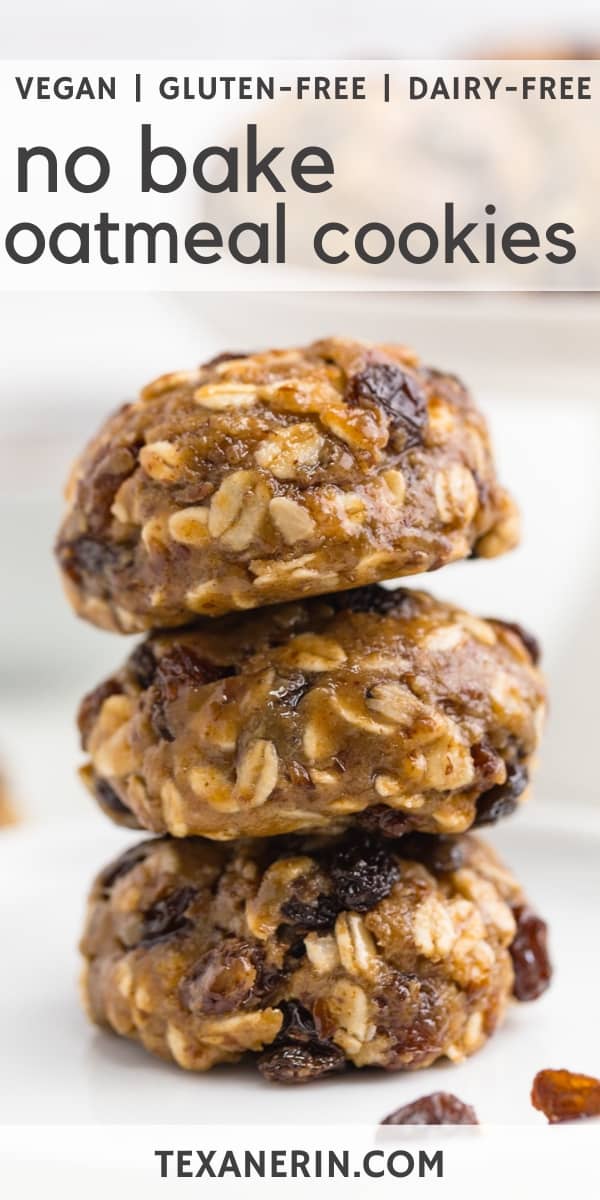 Summer isn't the easiest time of the year to keep your nutrition game strong. People are busy, it's hot and I don't know about you… but I really don't feel like standing in front of a hot oven. I've actually been ovenless for the last month and these oatmeal no-bake cookies have been such a great treat to have on-hand!
These no-bake oatmeal cookies are loaded with oats and almond butter, which add a nice nutritional boost. Compared to regular cookies, I think these are relatively healthy. And they're great to pack in your bag for those busy summer days!
If no-bake cookies aren't your thing, here are some other great gluten-free cookies recipes you could try out!
I use raisins, cinnamon and sometimes a little nutmeg in them for a no-bake oatmeal raisin cookie version, but if that's not your thing, chocolate chips work, too! If you want to use those, let the mixture cool almost to room temperature so that the heat doesn't melt all the chocolate chips. You could also scoop into cookies and then sprinkle the chocolate chips on top once the cookies have mostly cooled.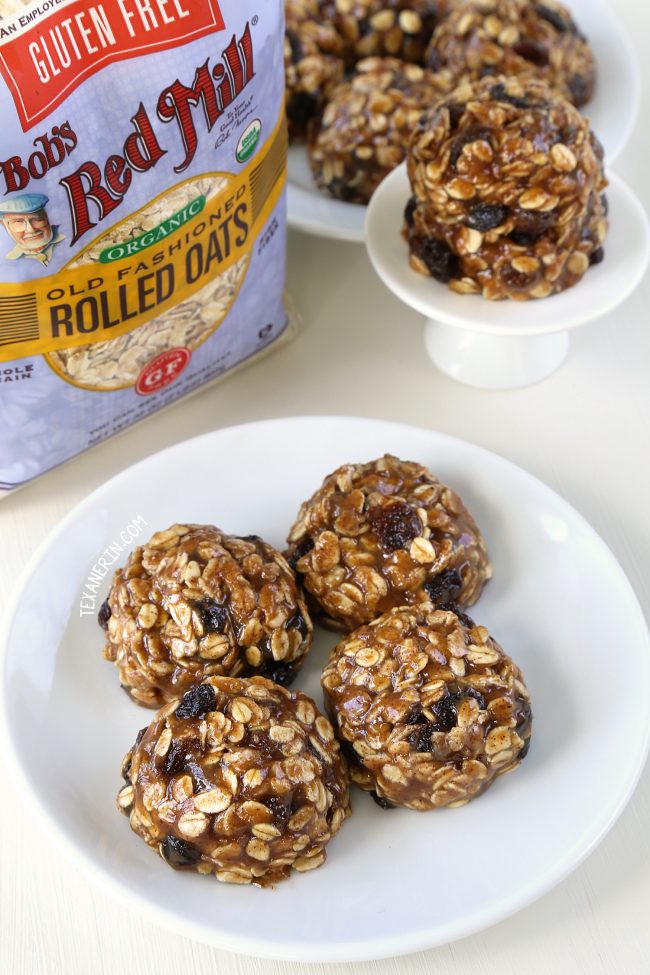 These gluten-free no-bake cookies are maple sweetened but I'm sure some of you are wondering if you can use honey. Unfortunately, it's a most definite no.
I even put a warning in the video saying not to use it. :) First of all, it takes a lot longer to boil and the result is some not very tasty cookies with a totally different texture.
Even after boiling for 10 (instead of 2 minutes), I didn't get the slightly caramel-like mixture that you see in the picture. And then the cookies tasted overwhelmingly of honey! We didn't enjoy those at all.
I get so many comments on my Pinterest pins that say, "Oats aren't gluten-free!!!" But they are. They're naturally gluten-free but the problem is that they can get contaminated in the field or during production.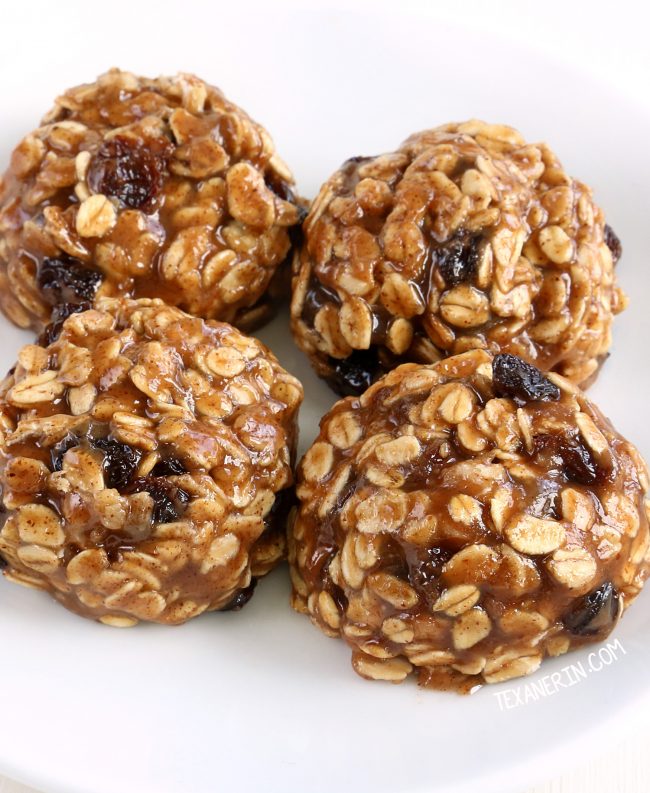 So if you're making these vegan no-bake cookies for someone who needs to eat gluten-free, make sure to buy gluten-free oats! I used Bob's Red Mill Gluten-Free Organic Old-Fashioned Rolled Oats.
If you only have quick oats, they work here, but the result is pretty different. They had more of a protein ball or no-bake soft granola bar texture. I actually made a batch with quick oats to take pictures to show you how different they look… but I ate them all before it was light enough to take pictures. Whoops. They were still delicious! Just different.
Do note, though, that a small percentage of people who can't eat gluten also can't eat non-contaminated oats due to a protein in oats called avenin, which is similar to gluten. If making something with oats for a gluten-free friend, it's probably a good idea to ask if they're okay with oats (and actually, I'd probably run the entire ingredient list by them! Gluten is lurking in all kinds of things you wouldn't suspect).
Thanks again to Bob's Red Mill for sponsoring today's recipe! Be sure to check out their recipe section for more goodies made with their gluten-free oats, like this gluten-free cherry crumb pie. It sounds SO good!
❀
No-bake Oatmeal Cookies (gluten-free, vegan, whole wheat, dairy-free)
Prep Time:
Cook Time:
Ready in:
Yield:

10 cookies
See the notes below for the chocolate chip version!
Ingredients
3 1/2 tablespoons (49 grams) coconut oil
1/2 cup (128 grams) natural almond butter (the kind with just almonds and no added fat or sugar)
1/2 cup (120 milliliters) maple syrup1
1/4 teaspoon salt (if your almond butter is salted, you may want to reduce or omit the salt)
1 1/2 teaspoons vanilla extract
1/2 teaspoon cinnamon
pinch of nutmeg
1 1/2 cups (138 grams) Bob's Red Mill Gluten-Free Organic Old-Fashioned Rolled Oats (regular rolled oats also work)
3/4 cup (113 grams) raisins or (128 grams) mini chocolate chips (make sure to use vegan chocolate, if necessary)
Directions
In a medium pot, stir together the coconut oil, almond butter, maple syrup and salt. Turn the heat to low and stir occasionally until the coconut oil is melted. If your coconut oil has been chilled or is very hard, melt the coconut oil in the pot before adding the other ingredients.
Turn the heat up to medium, and while stirring constantly, bring the mixture to a full boil.
Boil for 2 minutes, stirring constantly and adjusting the heat as necessary (you might want to turn it down a little). The mixture should become glossy. Don't boil it longer or it may separate.
Remove from the heat and stir in the vanilla, cinnamon and nutmeg and stir.
Stir in the oats and raisins until well combined.
Use a medium cookie scoop to scoop out balls of the mixture onto a piece of parchment paper. They'll firm up after a few hours at room temperature (provided your home isn't super warm) or you can chill them to firm them up quicker.
Store in an airtight container for up to 3 days. They can also be refrigerated for up to about a week. For firmer cookies, refrigerate them. If you want to take these out as an on-the-go snack and it's especially warm, you'll probably want to refrigerate them first.
Notes
I've tried these several times with honey and the texture comes out totally different and not in a good way. The cookies also taste overwhelmingly of honey. Whether brown rice syrup, agave or other liquid sweeteners works, I don't know as I haven't tried them. Granulated sweeteners will not work.
For a chocolate chip version, omit the cinnamon, nutmeg and raisins. Once everything is mixed together, let it cool almost to room temperature so that the heat won't melt the chocolate chips. Stir in the chocolate chips. You could also form them into cookie shape and then sprinkle the chocolate chips on top once the cookies have mostly cooled.
As an Amazon Associate, I earn from qualifying purchases. For more info, see my disclosure.