These vegan no-bake cookies have a great texture, that's a bit caramel-like, and are super easy to make. I've included directions for chocolate chip and cinnamon raisin versions. They're also gluten-free if you use gluten-free oats.
These no-bake oatmeal cookies are loaded with oats and almond butter, which add a nice nutritional boost. Compared to regular cookies, I think these are relatively healthy.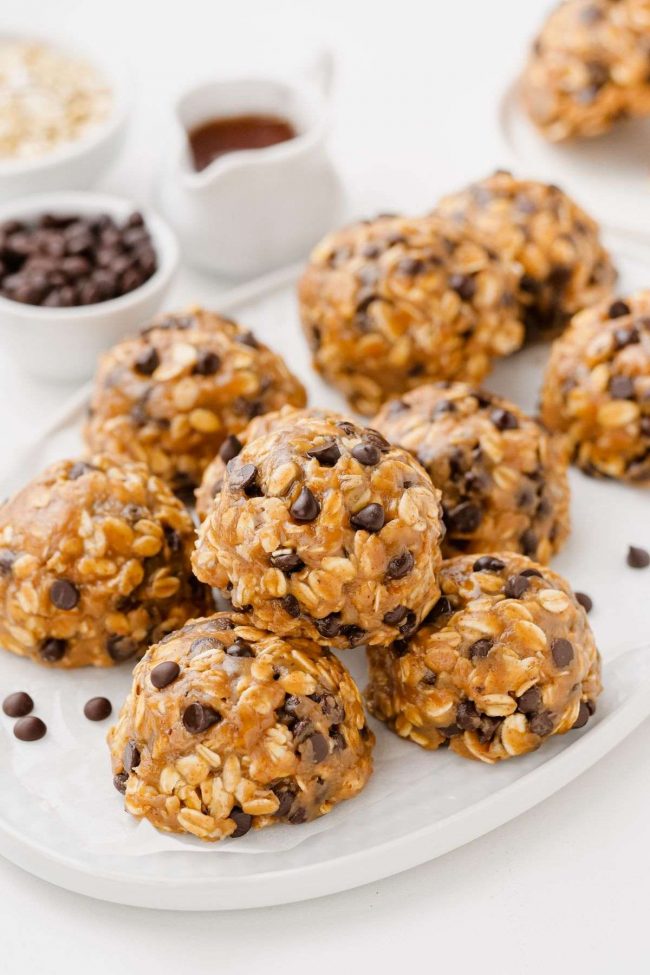 If no-bake cookies aren't your thing, here are some other great gluten-free cookies recipes you could try out!
Ingredients
Nothing fancy here. Just normal stuff you almost definitely already have in your pantry!
Refined coconut oil – I highly recommend refined unless you want to have some coconut taste in these cookies.


Almond butter – if you want to use another type of nut butter, read the section below!


Vanilla extract – if you're allergic to vanilla and must omit it, then use the same amount of water.


Oats – I used rolled oats in the picture, but quick oats work great. You can not use instant oats nor steel-cut oats.


Vegan mini chocolate chips OR cinnamon + raisins – I usually use raisins because I just love cinnamon raisin oatmeal cookies. But the chocolate version is also great!
Can I use honey instead of maple syrup?
These no-bake cookies are maple-sweetened, but I'm sure some of you are wondering if you can use honey. Unfortunately, it's a most definite no.
First of all, it takes a lot longer to boil and the result is some not so very tasty cookies with a totally different texture.
Even after boiling for 10 (instead of 2 minutes), I didn't get the slightly caramel-like mixture that you see in the picture. And then the cookies tasted overwhelmingly of honey! We didn't really like those cookies at all, although we love honey.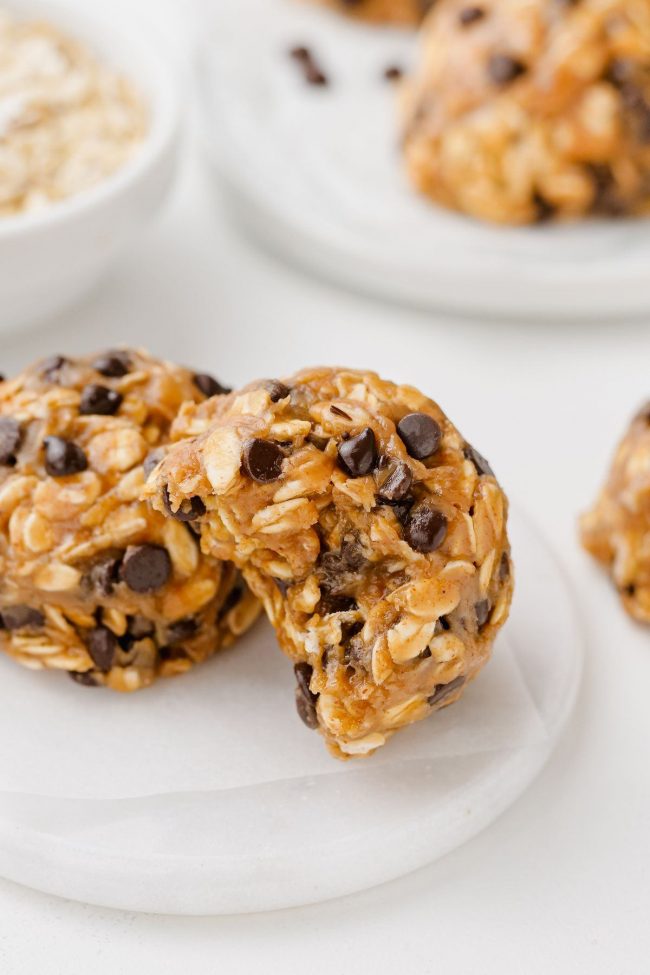 Can I use a different type of nut/seed butter?
You can definitely experiment, but the trick is boiling the mixture just long enough so that it thickens properly. If you don't, the cookies won't set up properly.
That's because the mixture won't become caramel-like, and it'll just be too wet.
I've had this happen several times with sunflower seed butter. If you boil it a bit longer, it thickens up properly like the almond butter and peanut butter versions.
But! If you boil it too long, it separates. So there's a fine line there. I recommend trying first with almond butter to see what the mixture is supposed to be like, and then start experimenting.
How to make them
The first step is to mix everything, except for the oats, together in a saucepan. Then you're going to stir occasionally until it comes to a boil.
Let it boil for 2 minutes, stirring frequently until it's thickened and becomes caramel-like and looks glossy. The glossiness is probably the best indicator that it's ready!
This is what it should look like!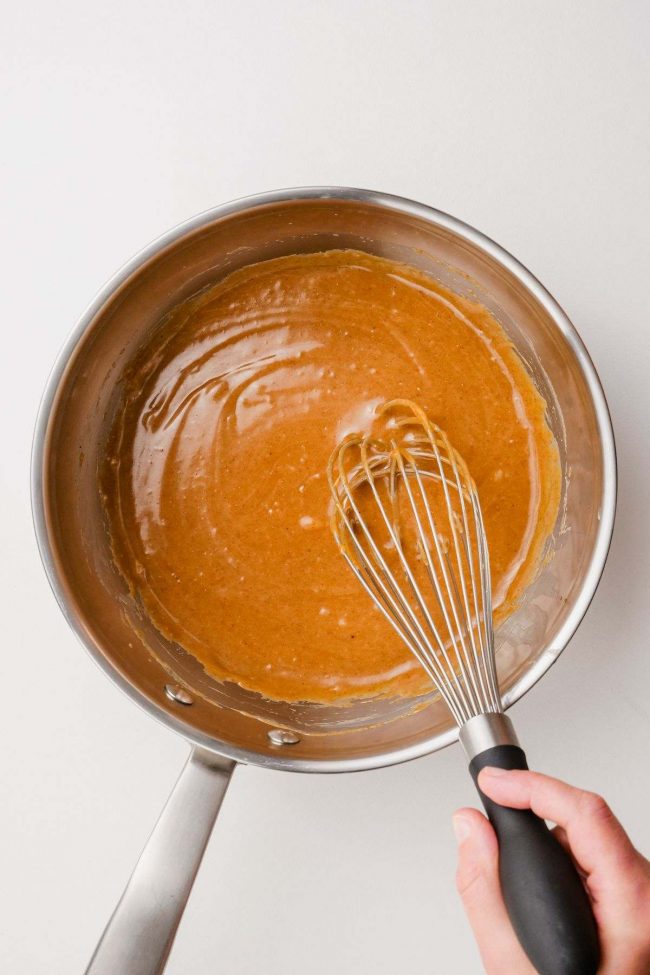 If it's super runny, then the cookies won't set properly.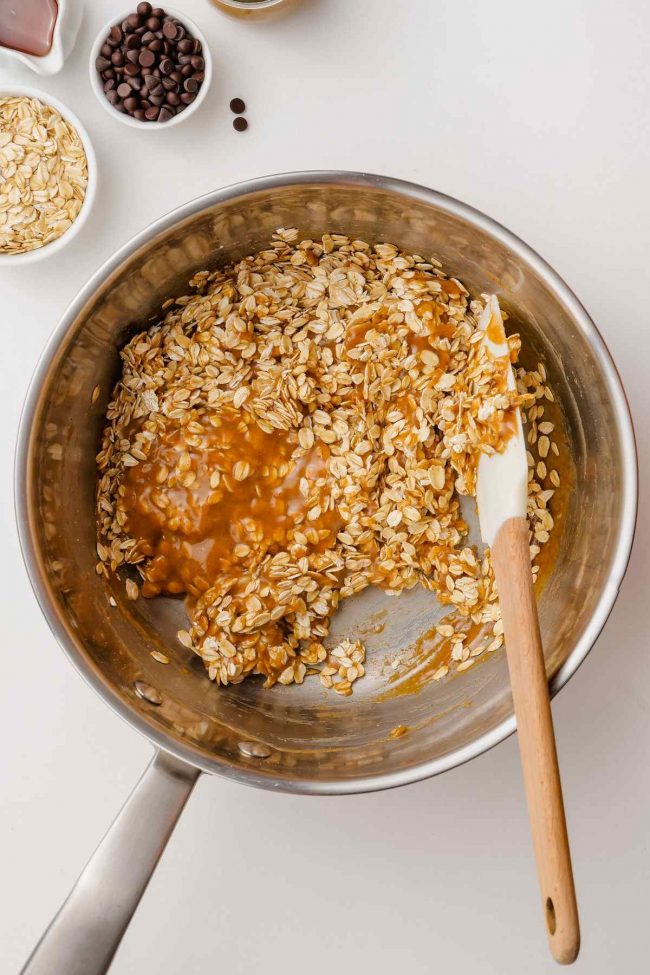 Add your oats. If you want to use raisins or some other add-in that's not chocolate – add that now.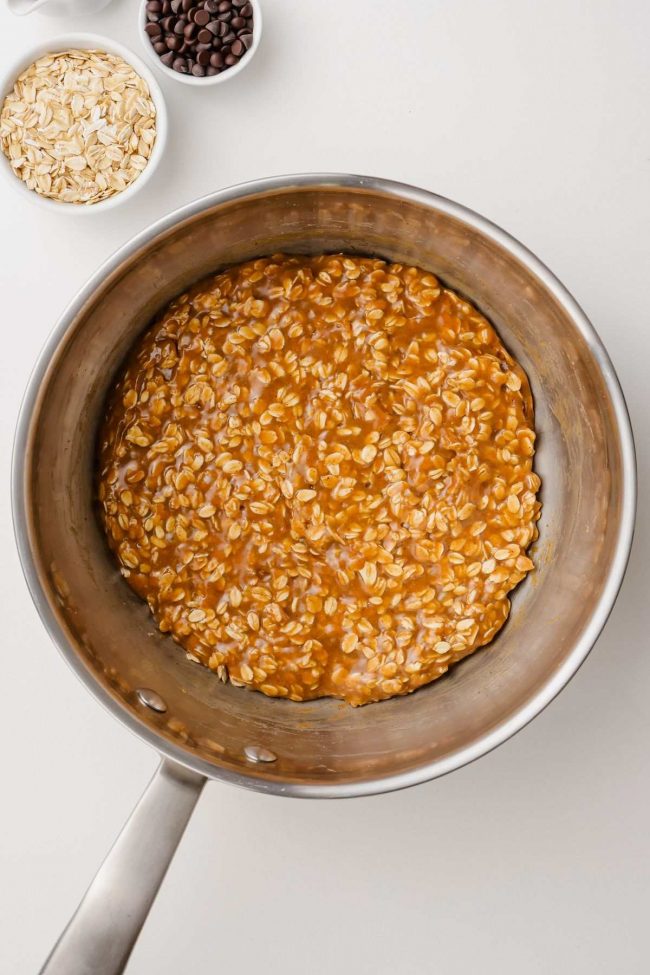 If you want to use chocolate, wait about 10-20 minutes and stir in the chocolate chips. That way, they don't melt.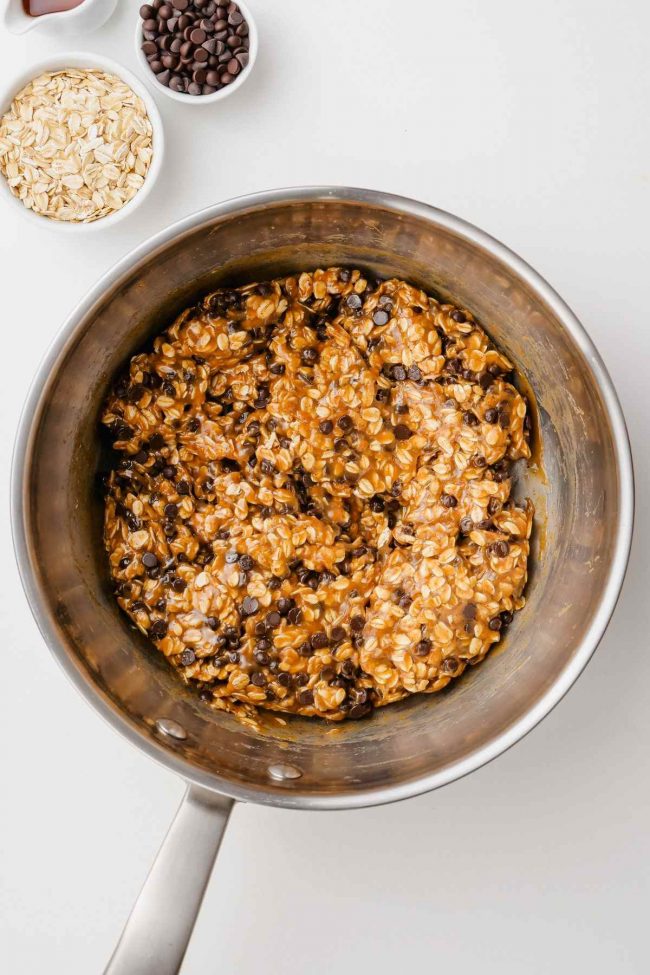 I use a medium cookie scoop to get them equally-sized and place them on a parchment-lined baking sheet or cutting board and chill them until firm.
Important!
These no-bake cookies are super simple, but you have to follow the directions. If you make subs, then they may not work.
If you don't follow the directions and just try to mix them together without boiling for two minutes first… that's not going to work. You'll have a runny mess on your hands!
You must boil the mixture for 2 minutes or until it's glossy like you see in the pictures, and it looks like caramel sauce. Depending on your nut/seed butter and how processed and oily it is, it may take a little more or less time.
If you only make half the recipe, you'll need less time (about 80 seconds). And if you double it, you'll need more time.
But again – don't boil too long! If you do that, the mixture will separate.
I've had that happen several times when I got distracted and ignored a timer or when I walked away from the stove. You really shouldn't do that.
When that happens, I just stir very vigorously for a minute or so until everything comes back together. But it's kind of a pain, so set that timer.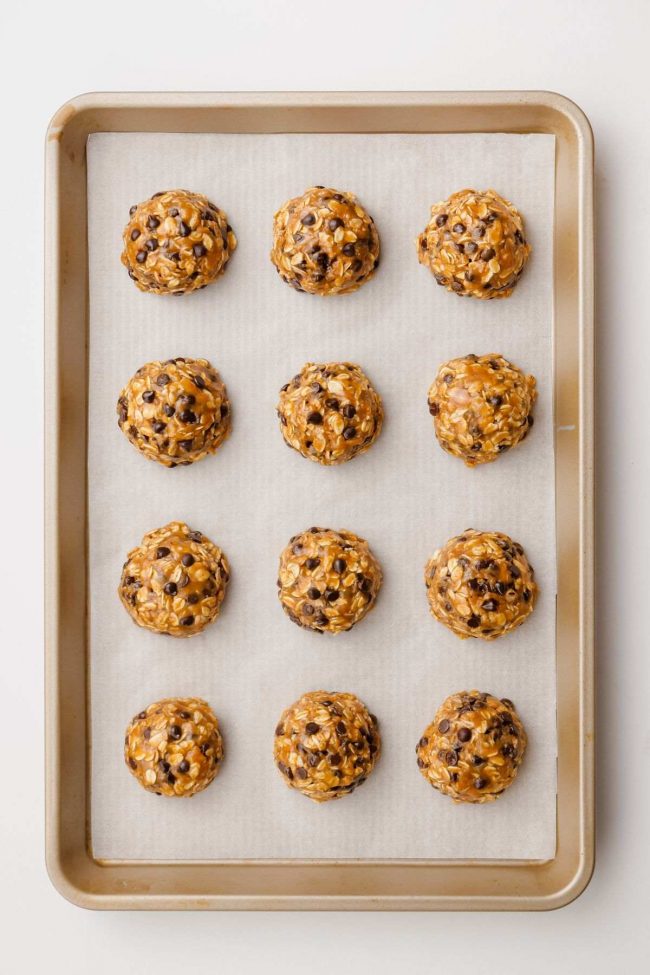 Are these gluten-free?
I get so many comments on my Pinterest pins that say, "Oats aren't gluten-free!!!" But – they are. They're naturally gluten-free, but the problem is that they can get contaminated in the field or during production.
So if you're making these vegan no-bake cookies for someone who needs to eat gluten-free, make sure to buy gluten-free oats!
Do note, though, that a small percentage of people who can't eat gluten also can't eat non-contaminated oats due to a protein in oats called avenin, which is similar to gluten. For more info, check out this post → Are Oats Gluten-free?
If making something with oats for a gluten-free friend, it's probably a good idea to ask if they're okay with oats.
That's it for today! I hope you'll enjoy these cookies. If you make them or any of my recipes, I'd love to see pictures of your creations on Instagram, Facebook and Twitter! Please hashtag them #texanerin so I can find them.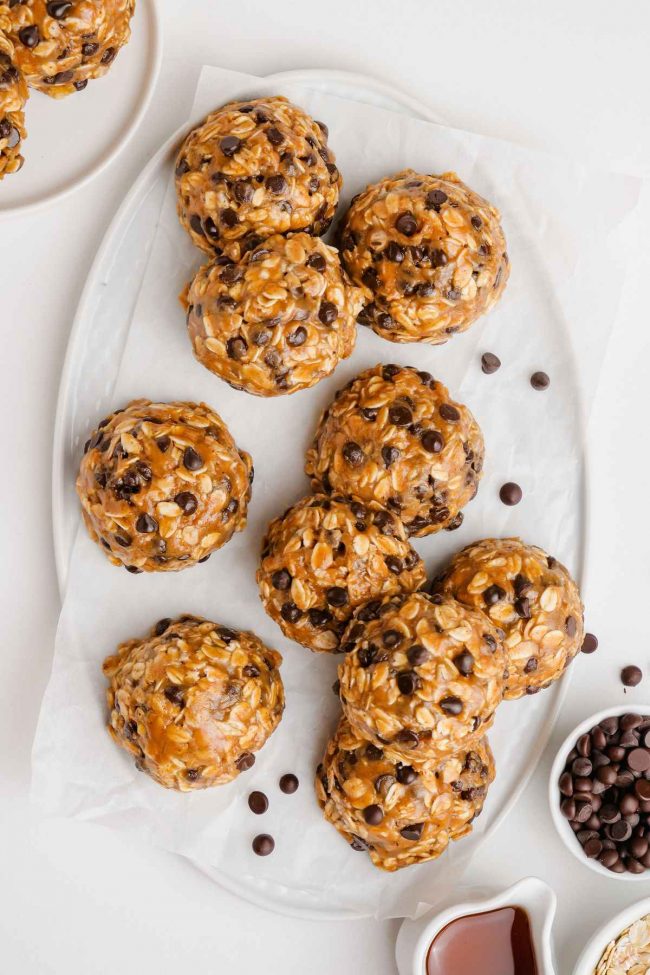 ❀
No-bake Oatmeal Cookies (gluten-free option)
Prep Time:
Cook Time:
Ready in:
Yield:

10 cookies
Ingredients
3 1/2 tablespoons (49 grams) refined coconut oil
1/2 cup (128 grams) natural almond butter1
1/2 cup (120 milliliters) maple syrup2
1/4 teaspoon salt3
1 1/2 teaspoons vanilla extract
1 1/2 cups (138 grams) rolled oats4

For a cinnamon raisin version:

1/2 teaspoon cinnamon
pinch of nutmeg
3/4 cup (113 grams) raisins

For a chocolate version:

1/2 cup (85 grams) mini vegan chocolate chips
Directions
In a medium pot over low heat, stir together the coconut oil, almond butter, maple syrup and salt.
Stir occasionally until the coconut oil is melted.
Turn the heat up to medium, and while stirring constantly, bring the mixture to a full boil.
Boil for 2 minutes, stirring constantly and adjusting the heat as necessary. Turn it down as low as you can with it still remaining at a full boil.
The mixture will thicken and become caramel-like. It should also be glossy. Don't boil it longer or it may separate.
Remove from the heat and stir in the vanilla.

If making the cinnamon raisin version:

Stir in the cinnamon and nutmeg.
Stir in the oats and raisins until well combined.

If making the chocolate chip version:

After adding the vanilla, stir in the oats and let the mixture sit for about 10-20 minutes so that it's not so hot that it melts the chocolate chips. Then stir in the chocolate.

For either version:

Use a medium cookie scoop to scoop out balls of the mixture onto a piece of parchment paper. They'll firm up after a few hours at room temperature (provided your home isn't super warm) or you can chill them to firm them up quicker.
Refrigerate in an airtight container for up to about a week. If you want to take these out as an on-the-go snack and it's especially warm, you'll probably want to freeze them first.
Notes
Use the kind of almond butter with just almonds and no added fat or sugar.
I've tried these several times with honey and the texture comes out totally different and not in a good way. The cookies also taste overwhelmingly of honey. Whether brown rice syrup, agave or other liquid sweeteners works, I don't know as I haven't tried them. Granulated sweeteners will not work.
If your almond butter is salted, you may want to reduce or omit the salt.
Make sure to use gluten-free oats if you're gluten-free.
As an Amazon Associate, I earn from qualifying purchases. For more info, see my disclosure.