These fudgy chocolate cherry brownies are have an amazing texture and can easily be made gluten-free or whole wheat. They're also dairy-free.
I needed to come up with something last minute for a picnic recently and turned to my best gluten-free brownies recipe. They're always a hit and nobody ever has a clue that they're gluten-free and whole grain.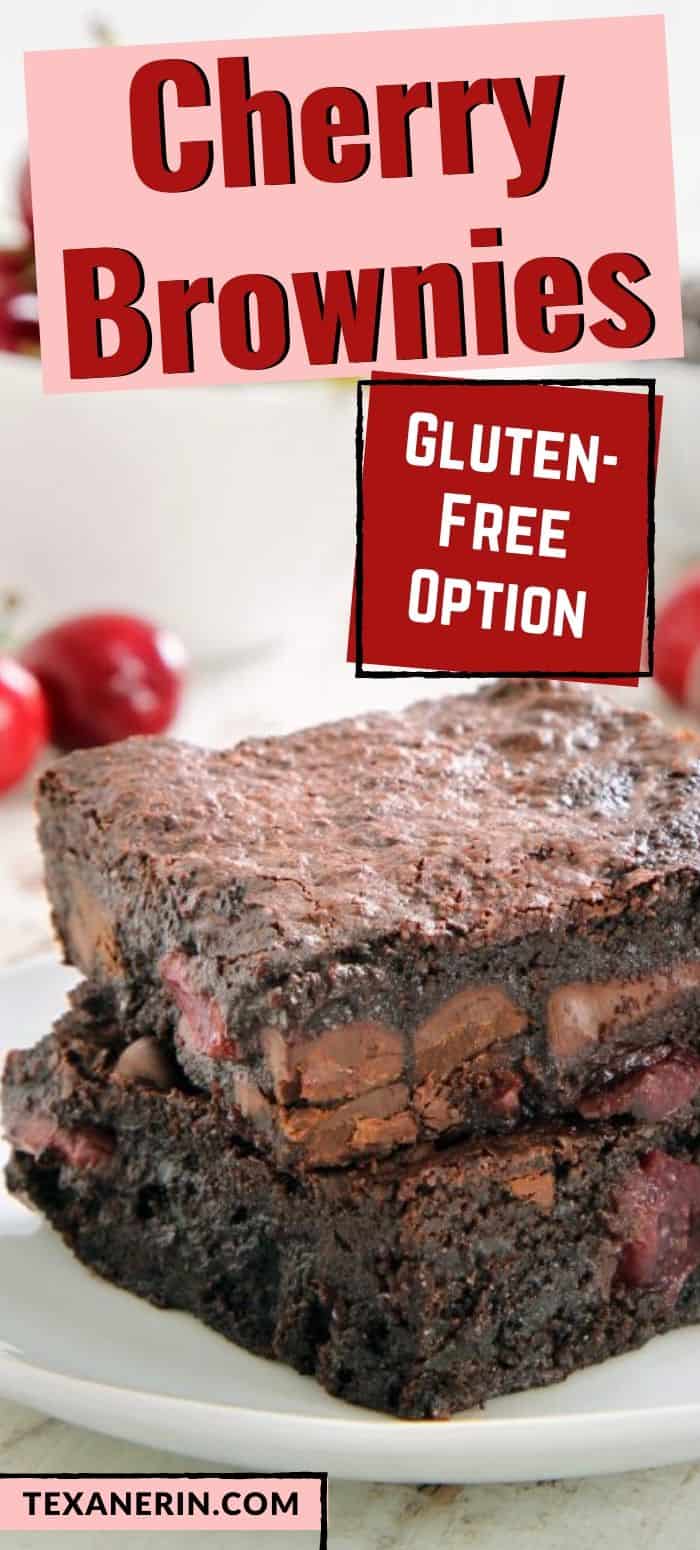 I had a bunch of cherries begging to be used so here we have some chocolate cherry brownies! I originally wanted to cover them in a dark chocolate ganache loaded with kirsch but once I had a bite from the corner, it was clear that even more sugar and chocolate was not needed.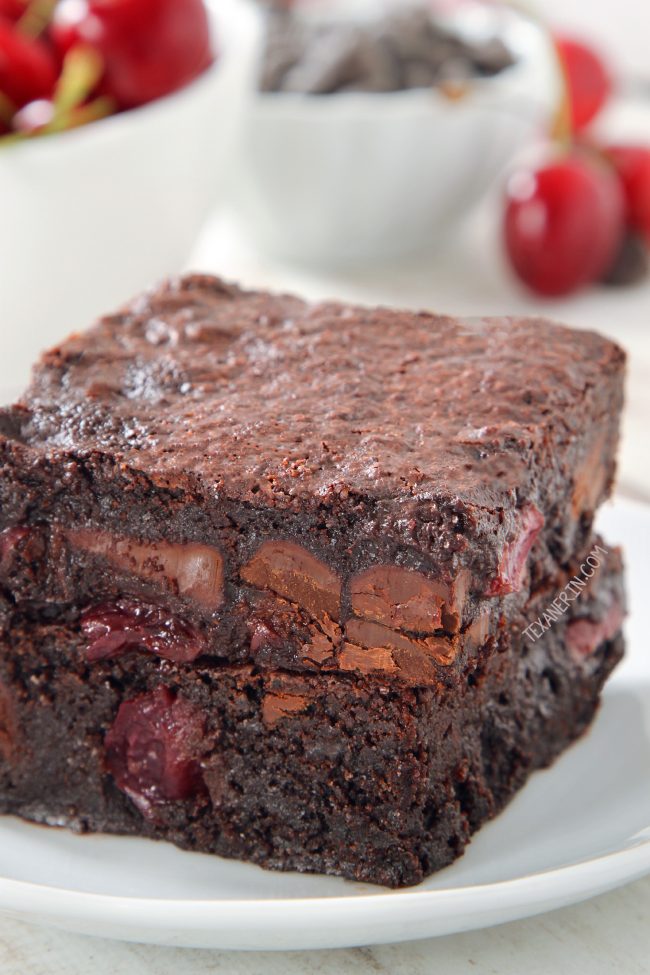 They're perfectly rich on their own! Those brownie pieces in the pictures are probably way too big unless you have a crazy sweet tooth.
Are sour cherries hard to find in your area? It seems like they're pretty standard in cherry pie recipes but I can never find them. Or okay – I've seen them once. I figure if I have a hard time finding then, then you may, too. So I used sweet cherries in these brownies.
I don't know if I've ever eaten a sour cherry other than dried tart cherries. Would they give these brownies a kind of sweet tart taste? Or are they no good unless they're cooked down to cherry pie filling with loads of sugar? My sour cherry knowledge is just sad.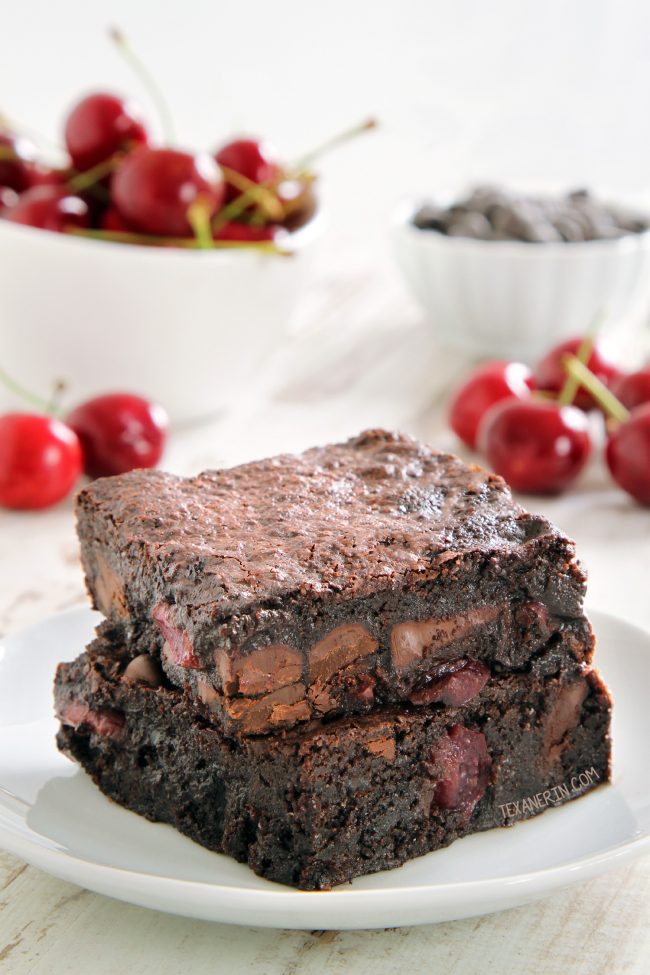 But back to the recipe! You can omit the almond extract if you'd like but it really goes so well with the cherries. Making something with stone fruit and not adding almond extract just doesn't make sense to me. I may have a slight almond extract addiction. ;)
If you want to pretty the brownies up a bit, you could try tossing some sliced almonds on top of the batter before baking. I don't think they'd get too brown while baking but if they do, just cover the pan with some foil.
I hope everyone has a happy July 4th (or happy Monday if you're outside of the US! :))
Should you find yourself cmaping this summer, why not try these campfire brownies from Vegetarian Mamma? They look so fun!
❀
Chocolate Cherry Brownies (gluten-free, dairy-free, whole grain options)
Prep Time:
Cook Time:
Ready in:
Yield:

12-16 brownies
Ingredients
1 cup (158 grams) teff flour or 1 cup (125 grams) buckwheat flour1 or 1 cup (125 grams) whole wheat flour or all-purpose flour for a non-GF version
3/4 cup (86 grams) Dutch-process cocoa powder, sifted if lumpy (you could also use Hershey's Special Dark cocoa powder)
1/4 teaspoon salt
3/4 cup + 2 tablespoons (196 grams) unsalted butter or coconut oil, melted and cooled slightly (use coconut oil for a dairy-free version)
1 1/2 cups (300 grams) granulated sugar, raw sugar, or coconut sugar
1 1/2 teaspoons almond extract
1 1/2 teaspoons vanilla extract
3 large eggs, room temperature
1 1/4 cups (170 grams) pitted sweet cherries, quartered
1/2 cup (85 grams) semi-sweet chocolate chips (use dairy-free chocolate chips, if necessary)
Directions
Preheat the oven to 350 °F (175 °C) and line an 8"×8" (20cmx20cm) pan with parchment paper.
In a medium mixing bowl, stir together the flour, cocoa powder, and salt. Set aside.
In a large mixing bowl, stir together the melted butter or coconut oil, sugar, almond extract and vanilla extract. Once combined, add the eggs one at a time, and stir just until combined.
Add the dry mixture to the wet and stir just until almost no streaks of flour remain. Do not overmix! Fold in the cherries and then the chocolate chips.
Pour the batter into the prepared pan. If using teff flour, bake for 23-30 minutes or until the brownies have formed a thin crust and appear set in the middle. If using buckwheat or whole wheat, you may only need 21-26 minutes. A toothpick inserted into the center will come out wet. A toothpick inserted into the sides will come out with some moist crumbs on it, but not totally raw batter. The brownies will continue to bake as they sit in the pan and will firm up as they cool.
Let cool completely and then cover and refrigerate.
Notes
Buckwheat flour is naturally gluten-free but not all buckwheat flour is processed in a gluten-free facility. If you need these brownies to be gluten-free, make sure to use certified gluten-free buckwheat flour!