These keto macaroons are perfectly chewy on the inside and amazingly crisp on the outside! They're way easier (and more delicious) than egg-based macaroons and they're vegan, too. Only 4.4 grams net carbs per big cookie.
This is really more of an Easter recipe but these cookies are so delicious that I couldn't wait until next year to post them. Plus they'd make great Christmas gifts!
These low-carb macaroons hold up really well. I normally pig out on them then force myself to hide the box. Then I forget about the box until weeks later.
So wrapping them up in a gift bag for Christmas? Totally fine!
These macaroons have been my go-to homemade gift since I first made them. My other favorite cookie to give is this chocolate dipped brown sugar shortbread. Unfortunately, it's not keto or healthy in any way!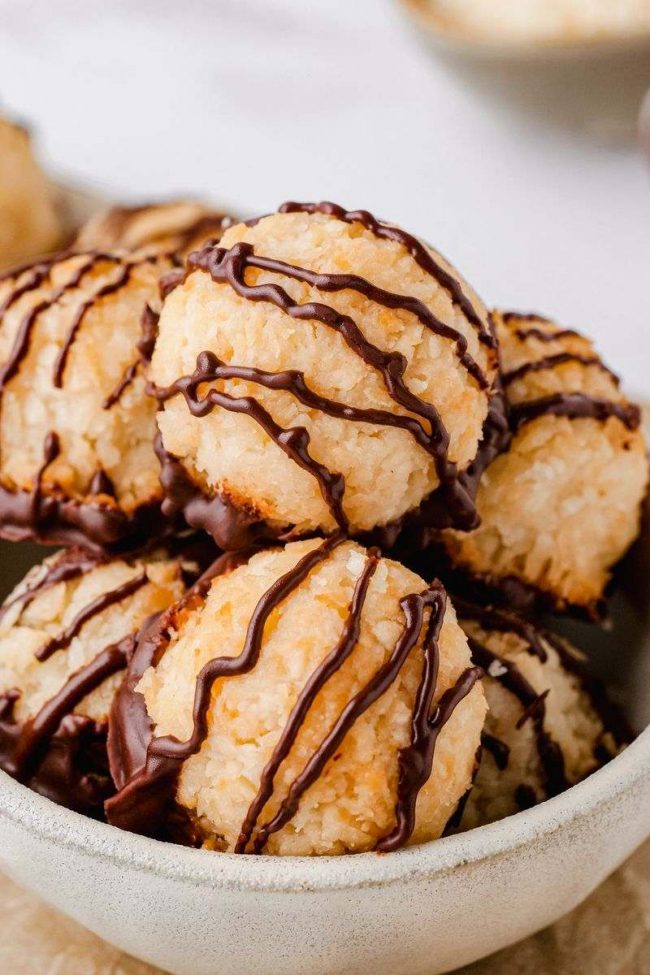 Today's recipe is the keto version of my vegan coconut macaroons.
These keto macaroons are also vegan. The only thing I changed was the sweetener and I added a chocolate drizzle because it makes these macaroons absolutely irresistible.
If you make the original version with maple syrup, they taste 100% like traditional, but really delicious, macaroons. I'd say that they're even more delicious than regular macaroons because they're not sickeningly sweet, as macaroons sometimes are.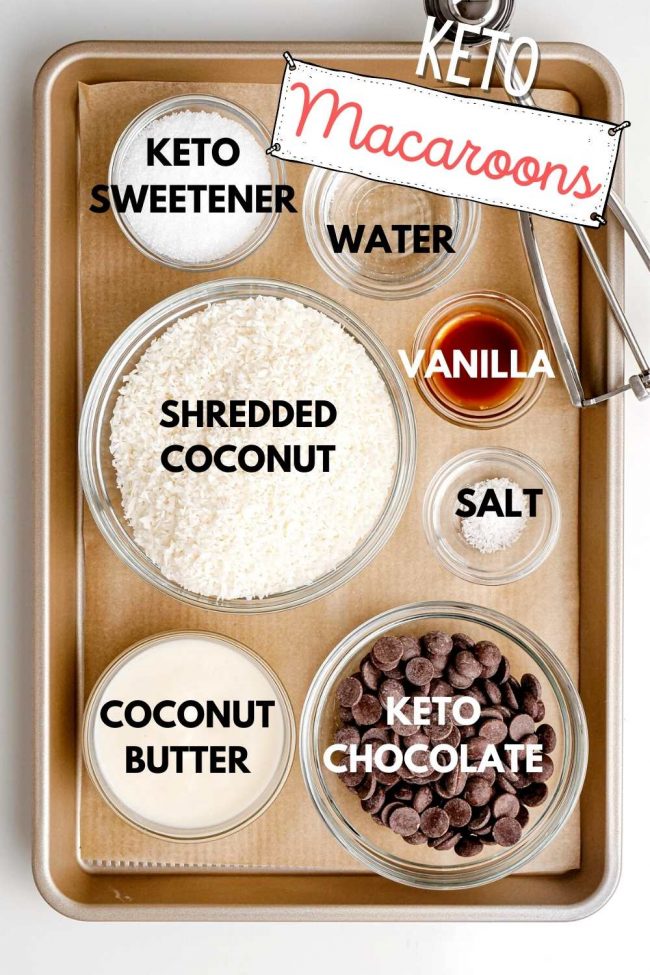 Because of the switch to keto sweetener, they don't taste 100% like regular macaroons, but I've never had a keto dessert that tastes like it was made with regular granulated sugar. Even the recipes where reviewers all say the recipe tasted just like a traditional cookie or whatever… I always disagree.
But I have to say, I generally hate keto cookies and I loved these. Keto sweeteners and I just don't get along.
My stomach doesn't like them and I don't like the taste (of most of them!).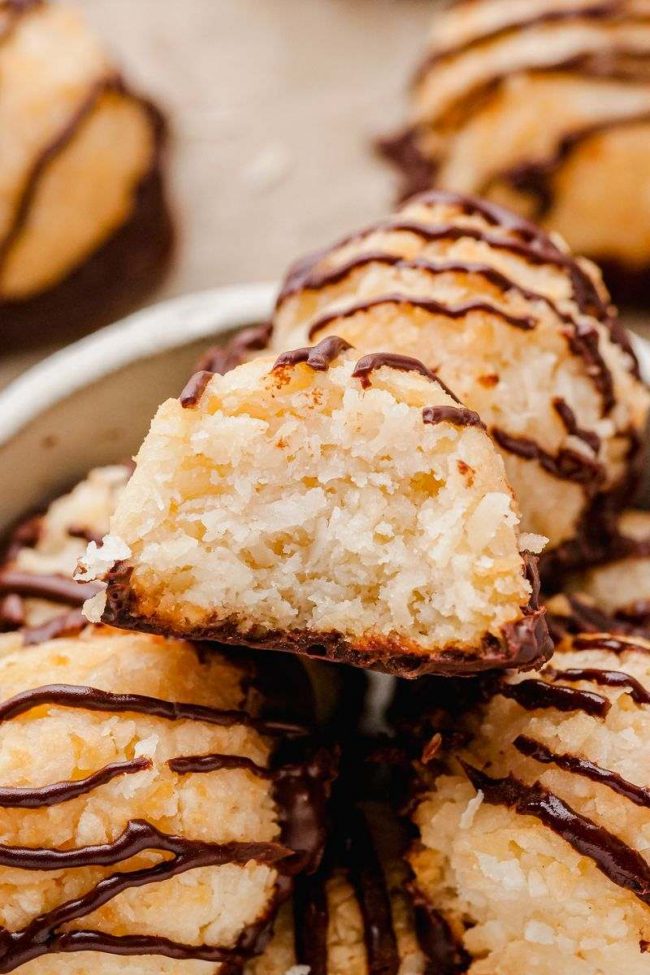 I first tried subbing the maple syrup with Lakanto Maple Flavored Syrup. I don't recall how the texture was, but the real issue was that we couldn't stand the flavor.
They were nasty. So I played around with some different mixes of sweetener and settled on the same one I used in my almond flour cookies.
Please not that these keto macaroons call for coconut butter. Please don't try using coconut oil or regular butter! It won't work.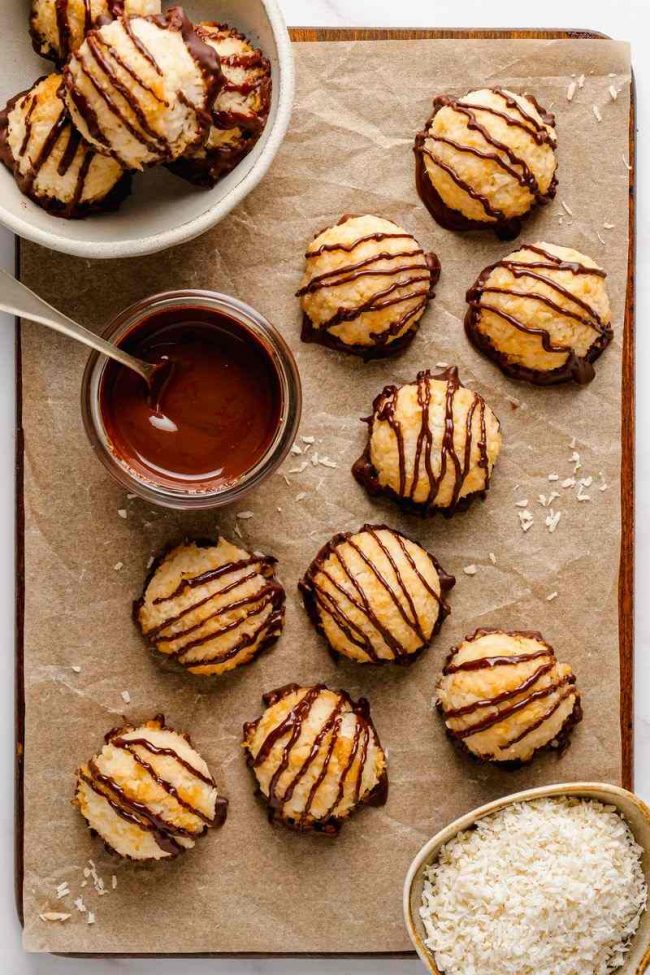 If you don't want to buy store-bought, it's super easy to make homemade coconut butter. You just need shredded coconut and a food processor!
I hope you'll give them a try! You just mix the few ingredients together in a pot and use a cookie scoop to plop them onto the cookie sheet. Such a quick and easy recipe!
For another keto dessert recipe, try my keto peanut butter cups. This keto sugar cookies recipe also looks fantastic!
Questions about these cookies?
Can I use something other than coconut butter? Unfortunately not. There's no sub for coconut butter and coconut oil will absolutely not work.

Can I use a different sweetener? I tried Lakanto Maple Flavored Syrup and thought it was terrible in these cookies. You could try another granulated keto sweetener but I really have no idea if it'd work as well.

Can I use something other than shredded coconut? These won't come out properly if you don't use shredded coconut. I don't think flaked coconut (those are the longer strands) would work and coconut flakes / chips definitely wouldn't work. Desiccated coconut would probably work.

Can I reduce the sweetener? I used the least amount that I thought was enough. You could try reducing it by a little, but the macaroons will be drier and more crumbly. They might not even hold together. So I really don't recommend reducing it!

Do I have to let the dough sit? When I didn't let them sit, they didn't hold their shape as nicely. The edges were overbaked and the cookies were overall kind of greasy. I also tried chilling them to speed things up but letting them sit at room temperature for 30-60 minutes was better.
Nutritional info below the recipe!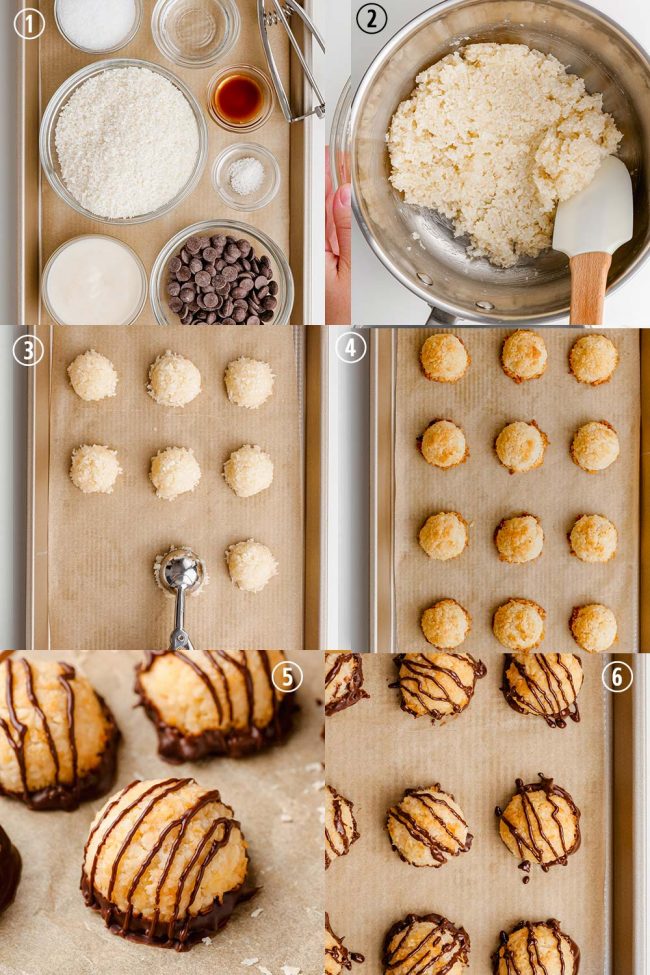 ❀
Keto Macaroons (vegan)
Prep Time:
Cook Time:
Ready in:
Yield:

24 cookies
Ingredients
1/2 cup + 2 tablespoons (160 grams) coconut butter – not coconut oil! (please weigh this as it's hard to measure correctly and different brands vary quite a bit)
2 ounces (57 grams) xylitol1
1 1/2 ounces (43 grams) erythritol
1/4 teaspoon powdered stevia
6 tablespoons water
4 teaspoons vanilla extract
1/2 teaspoon salt
3 cups (240 grams) shredded unsweetened coconut
about 1 1/3 cups (226 grams) sugar-free chocolate, chips or chopped
Directions
In a medium saucepan over medium heat, mix together everything except the coconut and chocolate. Stir frequently until everything is melted and well combined. Remove from the heat.
Stir in the coconut. Let the mixture sit for 30-60 minutes at room temperature.
Preheat the oven to 325 °F (163 °C) and line a cookie sheet with a piece of parchment paper.
Use a 1 1/2 tablespoon cookie scoop (the scoop is important so they have the right shape – if you don't care about the shape, you can roll them into balls and flatten slightly with your palm) to form 12 25-gram balls. Place at least 2" apart of the cookie sheet. If any bigger bits of coconut are sticking out, pat them down so that they don't burn.
Bake for 21-23 minutes or until the cookies are lightly browned. Let cool on the cookie sheet and let cool completely, then dip and drizzle in chocolate.
Store in an airtight container for up to 1 week. These can actually be kept for several weeks but are best when fresh. They freeze great.
Notes
The sweeteners I used were 100% xylitol, 100% erythritol and 100% stevia. If you don't have a scale, then this is about 1/4 cup + 3/4 teaspoon xylitol, 3 tablespoons + 3/4 teaspoon erythritol + 1/4 teaspoon stevia.
The following information is provided as a courtesy and is an estimate only. I'm not a nutritionist nor a dietician. This information comes from online calculators. Although I do everything to attempt to provide accurate nutritional information, these figures are only estimates. Be aware that varying factors such as product types or brands used can change nutritional information in any recipe.
Assuming most of you want me to calculate net carbs, this is the label, without the xylitol and erythritol (as described here, to calculate net carbs, you do: Net carbs = total carbs – fiber – sugar alcohols). So that's only 4.4 net carbs per big cookie!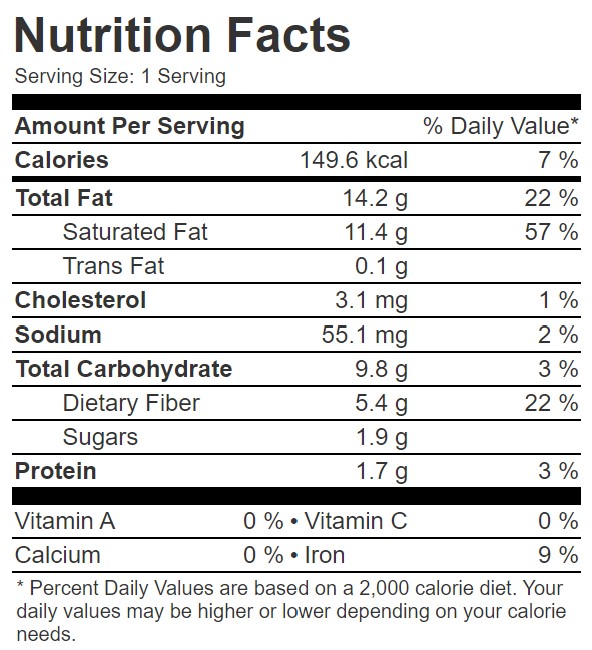 If you want the total with the xylitol and erythritol, here you go: