This post is sponsored by alli®. All thoughts and opinions are my own.
Salmon is the only type of seafood that I like. And if it weren't so expensive, I'd be eating a ridiculous amount of it every week. I normally just pan-fry it and add a little (or, okay, a lot of) salt and am totally content with that. But every now and then, I like to switch things up and make a marinade or add a little spice like in this cracked pepper salmon.
This maple teriyaki marinade from Healthy Seasonal Recipes also looks great! I can't wait to try it with salmon.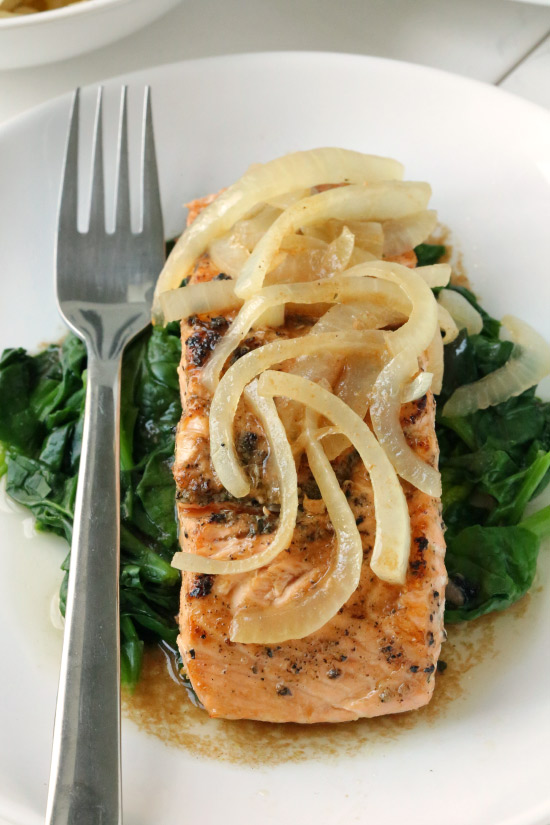 First you chop the spinach. The recipe calls for 1 cup of spinach per person but once it's cooked, one cup yields such a small amount. I recommend doubling or even tripling the spinach if you want more than just a few bites!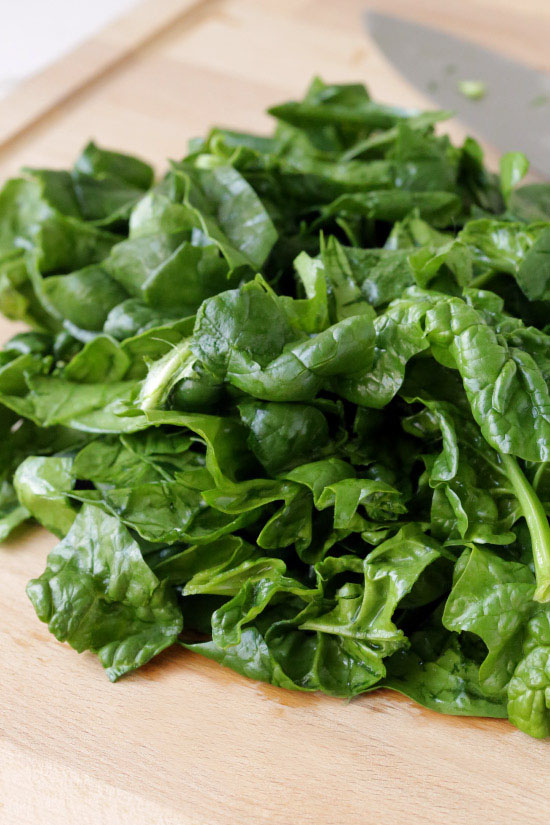 Then you prepare a simple marinade, place the fish and cut up onions in the marinade and put in the refrigerator for 30 minutes.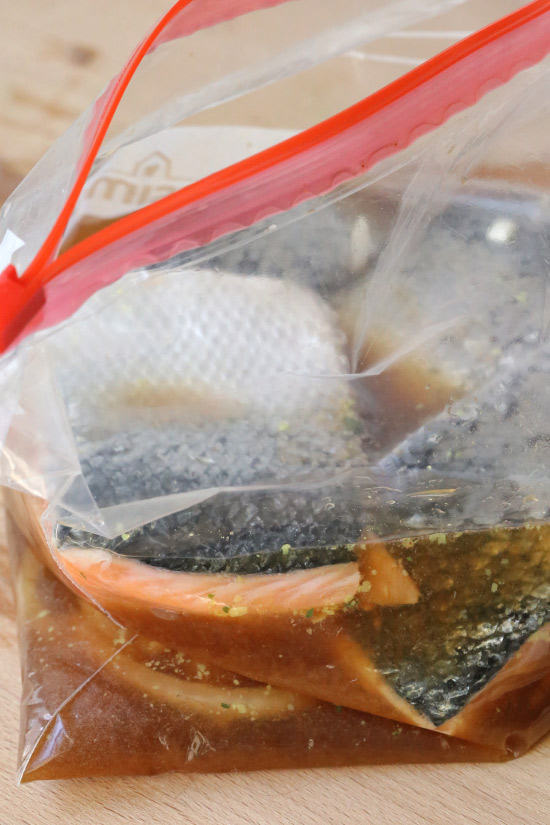 Place the black pepper on a plate and press both sides of the salmon in the pepper. My salmon had skin on it so next time I would only press the flesh side in the pepper. Before I made this recipe, I looked at some other peppered salmon recipes and saw some recipes calling for up to 2 tablespoons of pepper per person! For me, that's way too much. This recipe calls for 1 ½ teaspoons per salmon piece and even that was almost too spicy for me. For Mr. T., it was perfect. So use your judgment when it comes to peppering the salmon!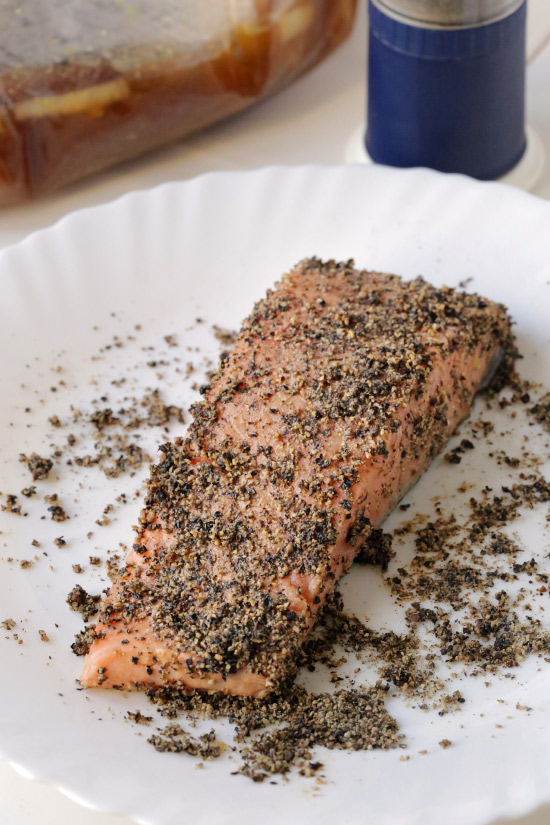 Then you cook the onions from the marinade. I think next time I make this, I'll actually cook the onions in the marinade and see how that turns out!
Cook the fish, spinach and finally the marinade. The sauce is quite thin and runs off the salmon. If you want it thicker, add a little cornstarch to the sauce. We loved it that way!
Wondering what to serve with it? I think this Instant Pot Rice would be great! So would this Air Fryer broccoli. And if this salmon recipe isn't for you, try these paleo salmon cakes!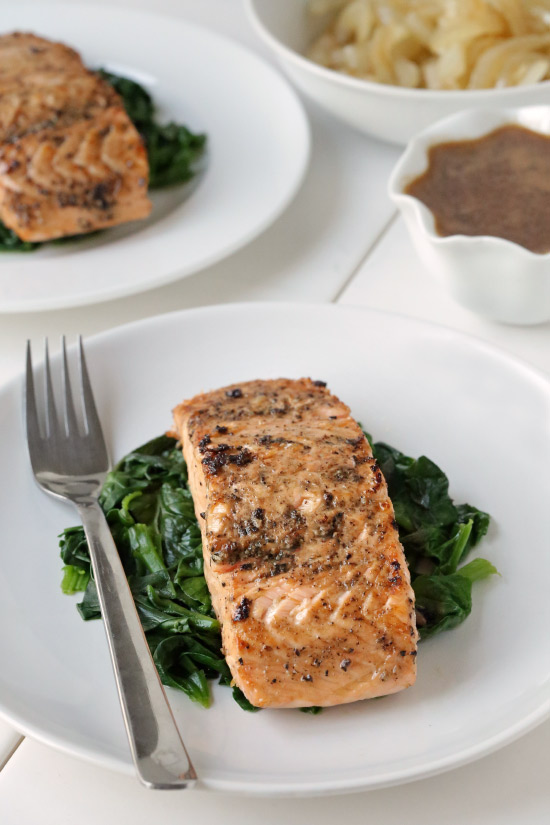 ❀
Cracked Pepper Salmon
Prep Time:
Cook Time:
Ready in:
Yield:

4 servings
Ingredients
1 1/2 pounds fresh salmon
1/2 cup white wine
1/4 cup Worcestershire sauce
1 cup low-sodium chicken broth
1/4 teaspoon salt
1 yellow onion
2 tablespoons freshly ground black pepper
2 tablespoons extra virgin olive oil
4 cups fresh spinach
Directions
Rinse the fish and pat dry with paper towels. Cut into four 6-ounce pieces.
In a resealable plastic food-storage bag, combine the wine, Worcestershire sauce, chicken stock and salt. Peel the onion, then slice thinly and add to bag, along with the salmon.
Refrigerate for 30 minutes, flipping the bag halfway through.
Spread the black pepper on a large plate. Remove the salmon from the bag, reserving the marinade and onion. Press both sides of salmon into pepper to coat and set aside.
In a large skillet, heat 1 tablespoon olive oil over medium heat. Add the onion to the skillet. Cook until the onion is soft, stirring occasionally, for about 5 minutes. Remove with a slotted spoon and set aside.
Increase the heat to medium-high. Add the remaining tablespoon of olive oil to the pan and place the salmon, flesh side down, in the skillet and cook until crisp and browned, about 4 minutes per side. When salmon is just cooked through, about 6 to 10 minutes, remove from skillet. Note that you may need more than 10 minutes if your salmon pieces are quite thick. You can also cover the pan with a lid to speed things up. Remove the salmon to a plate and add salt to taste. Cover to keep it warm while you prepare the rest of the recipe.
Add the spinach to the skillet, and cook until limp. Note that the spinach will have a fishy taste. If you don't want that, cook it separately. Divide spinach equally among the serving plates. Place the salmon on top.
Cook the marinade until reduced by half and then spoon over salmon. If you'd like the sauce to be a little thicker, stir in a little cornstarch (I mixed 1 teaspoon cold water with 1 teaspoon cornstarch and then stirred it into the sauce). Serve with the cooked onions.
For more healthy recipes, check out alli®.
Nutrition facts are estimates only. Nutritional analysis (based on the above recipe being four servings):
Calories: 332
Protein: 36.7 g
Carbohydrates: 10.1 g
Sugars: 4.3 g
Fat: 13.4 g
Saturated Fat: 2.6 g
Fiber: 2 g
Sodium: 473 mg