These cranberry almond bars have a dense, almost gooey-like cake base and are topped with a hefty amount of streusel! With gluten-free and 100% whole grain options.
It's time for another recipe that I posted over on My Baking Addiction, which means it's time for a whole bunch of butter and sugar. :D
I wasn't really expecting to love these cranberry bars that much just because cranberries and almonds don't sound all that exciting together. But I was SO wrong. They're amazing together.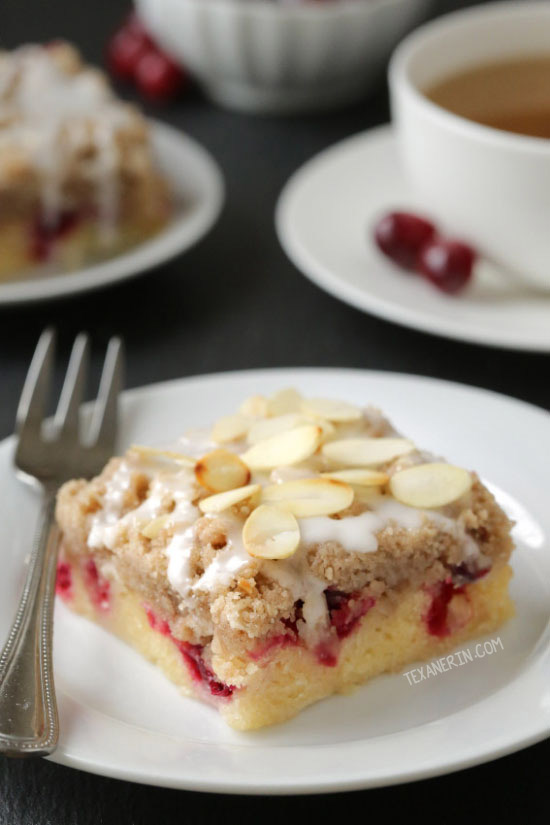 And then there's the texture. On the first day, these bars are kind of cakey. But after that first day, they get gooey and even denser. I enjoyed these for about 3-4 days after I first made them. A great make-ahead dessert for sure!
I was actually trying to make a crustless cranberry pie, which sounds and looks pretty similar to a cake in a pie pan. But I wanted to add streusel because that's what I do. I tried a few different streusel recipes but they were all too heavy and weighed the batter down, which makes sense considering the fact that there's no leavener in the recipe. I didn't feel like cutting back on the amount of topping so I decided to just roll with it and make them into bars.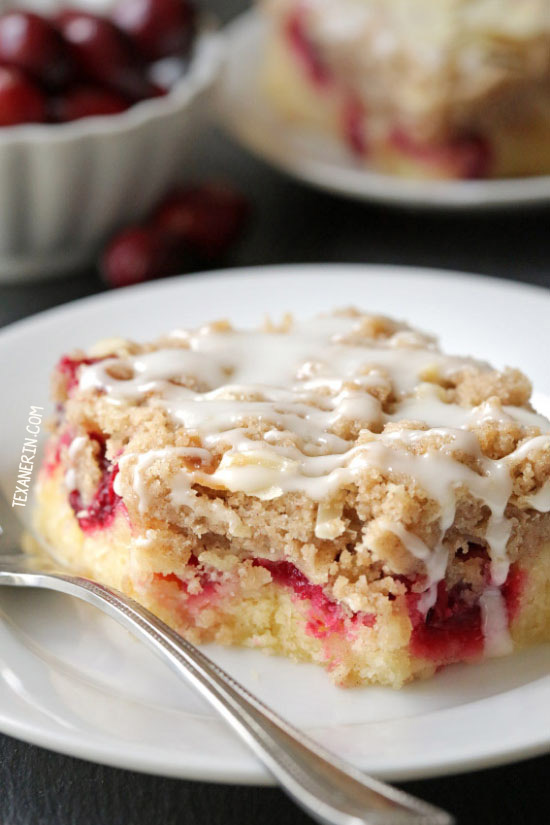 I thought that they weren't fancy enough looking so I added a glaze and roasted sliced almonds. I'm crazy about that glaze. I just can't resist anything with almond extract! If you don't like almond extract, don't bother with the glaze. The bars are plenty sweet without it so there's no need to add more sugar, unless it's almond extract flavored sugar. ;)
You can make these with white whole wheat flour, this gluten-free 1-to-1 baking flour or even all-purpose flour. As far as making them dairy-free and vegan – I don't recommend using coconut oil unless you want to do some experimenting and reduce the amount of fat in there.
If you don't want to use cranberries, I'm thinking blueberries would be great here! I know I'll be trying a healthier version of these in the summer with lemon extract, zest and berries. Or maybe sooner because I really miss berry season!
And for another great cranberry treat, check out this great gluten-free cranberry cake!
Enjoy and happy holidays. :)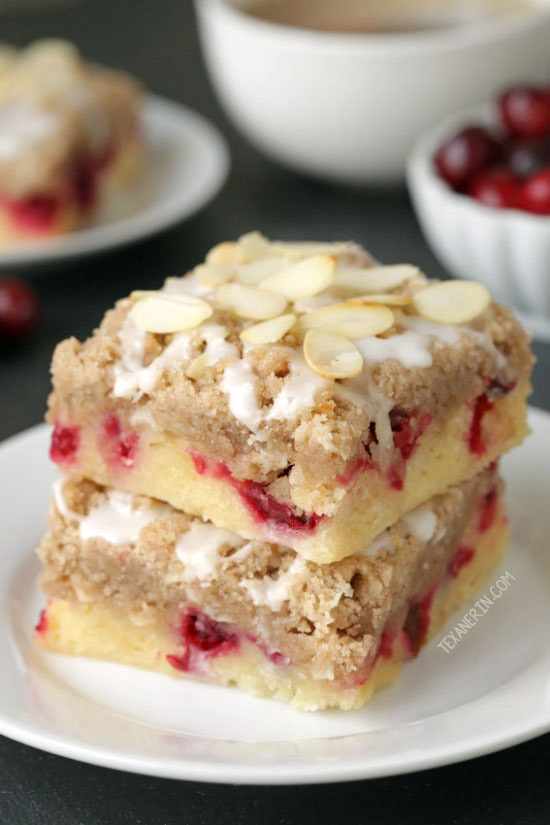 ❀
Cranberry Almond Bars (gluten-free, 100% whole grain options)
Prep Time:
Cook Time:
Ready in:
Yield:

12 bars
Ingredients
For the streusel:

1 cup (125 grams) white whole wheat flour, all-purpose flour or gluten-free 1-to-1 baking flour
1/2 cup (100 grams) granulated sugar
1 teaspoon ground cinnamon
1/8 teaspoon salt
1/2 cup (113 grams) unsalted butter, cold

For the base:

1/2 cup (113 grams) butter, melted
1 cup (200 grams) granulated or raw sugar
2 large eggs, room temperature
3/4 teaspoon almond extract
1/4 teaspoon vanilla extract
1/4 teaspoon salt
1 cup (125 grams) white whole wheat flour, all-purpose flour or gluten-free 1-to-1 baking flour
2 cups (200 grams) fresh cranberries

For the glaze:

1 cup (115 grams) powdered sugar
1/4-1/2 teaspoon almond extract
1/2 teaspoon vanilla extract
4-10 teaspoons milk
1/2 cup (55 grams) toasted sliced almonds, optional
Directions
Preheat the oven to 350 °F (175 °C) and line an 8"x8" pan with a piece of parchment paper.
Prepare the streusel. In a medium mixing bowl, stir together the flour, sugar, cinnamon and salt. Using a pastry blender or your hands, incorporate the butter until the mixture resembles coarse crumbs. Place in the refrigerator until ready to use.
In a large mixing bowl, mix together the melted butter, sugar, eggs, almond extract, vanilla extract and salt until well combined.
Stir in the flour and then the cranberries until thoroughly combined.
Spoon into the prepared pan and top with the streusel.
Bake for 30-35 minutes or until the topping no longer appears wet and a toothpick inserted in the middle of the bars comes out clean. Let cool completely.
If serving the bars today, prepare the glaze. Otherwise, wait to ice the bars until the day of serving.
In a small bowl, mix together the powdered sugar, almond extract (use 1/4 teaspoon if you don't want a strong almond flavor), vanilla extract and 4 teaspoons of milk. Add more milk, if needed, so that the glaze is just pourable but not too thin. Drizzle over the bars. Top with toasted sliced almonds, if using.
Cover and store at room temperature for up to 3 days.
Source: My post on My Baking Addiction – Cranberry Bars (the base was adapted from Crustless Cranberry Pie on Allrecipes)
As an Amazon Associate, I earn from qualifying purchases. For more info, see my disclosure.