These double chocolate cherry cookies are incredibly dark and soft, with bursts of tartness thanks to dried tart cherries!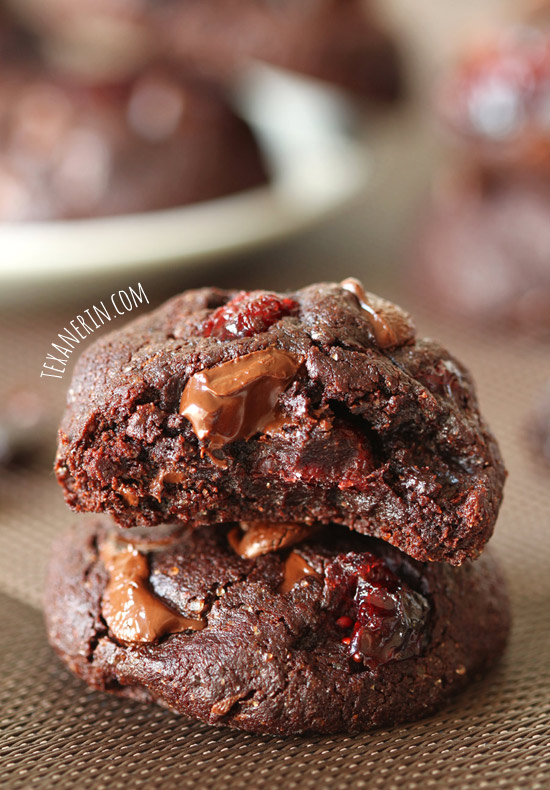 I was asked to participate in the National Cherry Month #GoTart Campaign as a member of the Healthy Aperture Blogger Network. I was compensated for my time but the opinions expressed are, as always, my own!
As someone who doesn't like vegetables, I try to eat a ton of fruit and at this point of the year, I'm ridiculously tired of apples, oranges and bananas. Enter dried tart cherries! I've been snacking on them for the past few weeks and thought I'd throw them into some cookies to see how they did. And, well… look. I think it worked out. ;)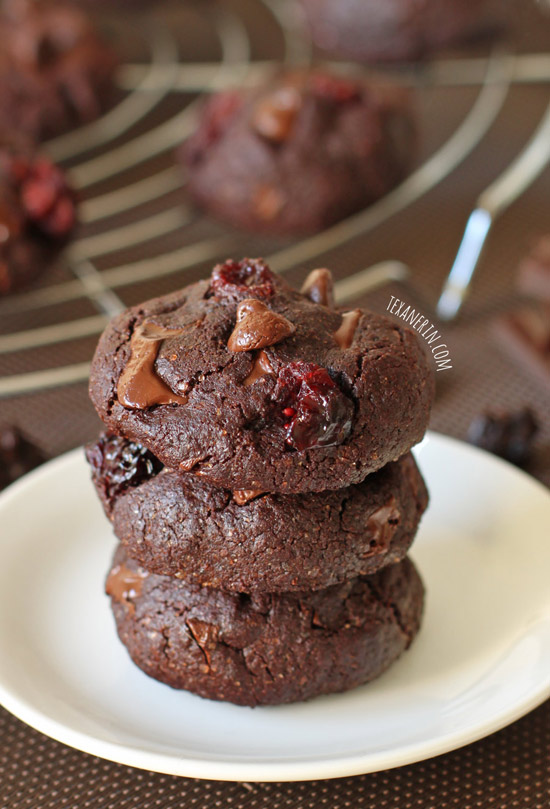 The dried tart cherries add the nicest little bursts of tartness! And as a bonus, they make these 100% whole wheat (and dairy-free!) double chocolate cookies rich in Vitamin A. I used semi-sweet chocolate but you can use dark chocolate if you like.
By the way, if you love tart cherries, try this great Moon Milk!
I prefer eating these straight from the oven when they're warm and gooey but if you have any leftovers the day after baking, I really recommend popping them in the microwave for 10 seconds. Weirdly enough, my husband prefers them at room temperature and liked how they hardened up a little on the second and third days.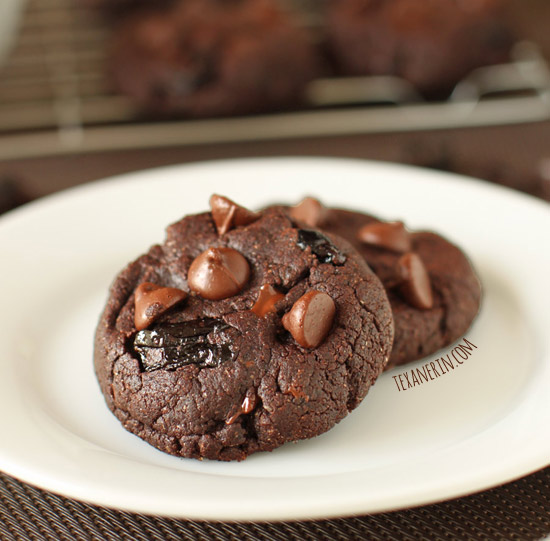 These cookies have a lot more sugar than I usually use but after trial after trial of not-so-nicely-texture double chocolate cookies, I just went with the sugar. If you want non-cakey cookies, you just have to go with it!
I think these are perfect year-round cookies. Wishing for the summer in the winter? Tart cherry cookies. Like the red theme for Valentine's Day but don't want to use food coloring? Make these! Have fresh tart cherries in the summer? I haven't actually tried it but it at least sounds interesting!
❀
Double Chocolate Cherry Cookies (100% whole grain, dairy-free)
Prep Time:
Cook Time:
Ready in:
Yield:

24 cookies
Ingredients
1 1/2 cups (187 grams) whole wheat flour, whole spelt flour or white whole wheat flour
1 cup (124 grams) Dutch-process cocoa powder
1 1/2 teaspoons baking powder
3/4 cup (168 grams) refined coconut oil1
1 1/4 cups (250 grams) unrefined sugar
1/4 cup (80 grams) honey
1 tablespoon vanilla
2 eggs
2/3 cup (120 grams) chocolate chips (use Enjoy Life chocolate chips for a dairy-free version)
1 cup (120 grams) dried tart cherries
Directions
Preheat the oven 350°F (176°C) and line a baking sheet with a piece of parchment paper.
In a medium bowl, mix together the flour, cocoa powder and baking powder.
In a large microwave safe bowl, melt the coconut oil.
To the melted coconut oil, add the sugar, honey, vanilla and eggs and stir until well combined. Let it sit for 5 minutes to let the sugar dissolve.
Add the dry mix to the wet and stir until well combined.
Stir in the chocolate chips and dried tart cherries.
Roll into 24 1-1/4" balls and place them 2" apart on the prepared baking sheet.
Press the balls down with the palm of your hand.
Bake for 6-8 minutes or until the cookies appear set in the middle. Do not over bake!
Let the cookies cool for two minutes on the baking sheet and then remove to a wire rack to cool completely.
Store in an airtight container for up to 1 week.
Notes
You can use unrefined coconut oil if you don't mind the coconut taste.