These strawberry white chocolate cheesecake bars have a rich and dense white chocolate cheesecake filling and a homemade chocolate cookie-like crust! Can be made with all-purpose, gluten-free, or whole wheat flour.
I think white chocolate and berries is probably my favorite flavor combination ever. And in these strawberry white chocolate cheesecake bars? Oh, man. So, so delicious, especially with that nice layer of strawberry jam on top!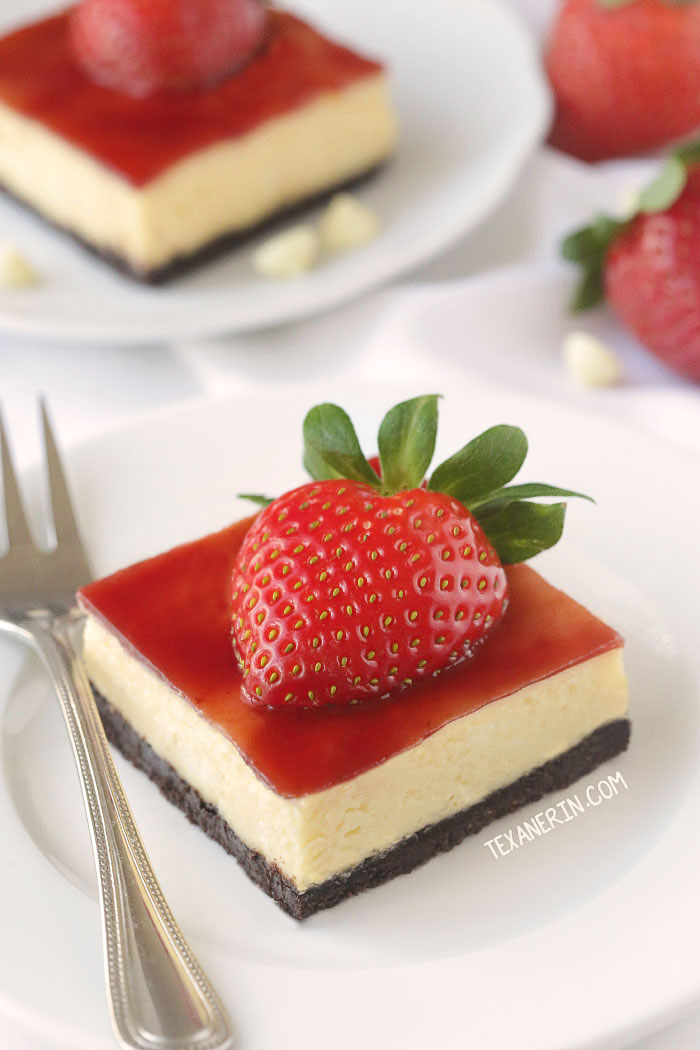 I used seedless store-bought jam in these but if I hadn't wanted to take pictures, I would have used this homemade honey sweetened strawberry jam. I definitely prefer the flavor but the lumps in homemade jam just aren't all that appealing. I've used that recipe in cheesecake bars before and it works perfectly!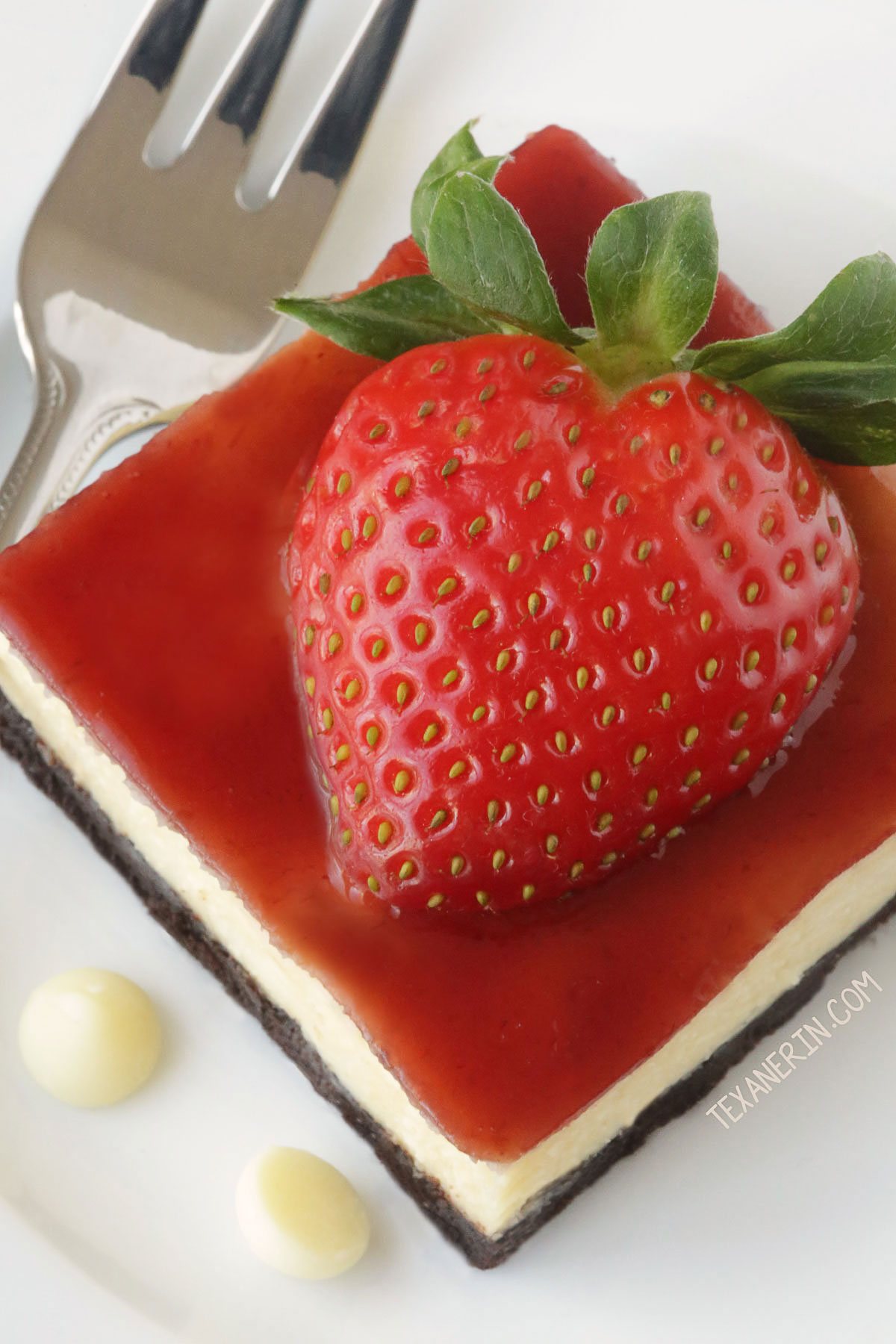 The first time I made these, I swirled the jam into the cheesecake layer. The first problem with that is that I'm not a good swirler. It looked pretty bad before I even put the bars in the oven. But when they came out, the white cheesecake had mixed with the red jam to not create a pretty pink color as one would expect, but an unpleasant brownish red.
Nope! Wasn't going to post that. Especially since I came up with these strawberry white chocolate cheesecake bars as something to post over on My Baking Addiction! I always want those pictures to look especially nice. ;) So next time I just spread on an even layer of seedless strawberry jam and not only do they look a ton better, but there's more strawberry flavor. Score!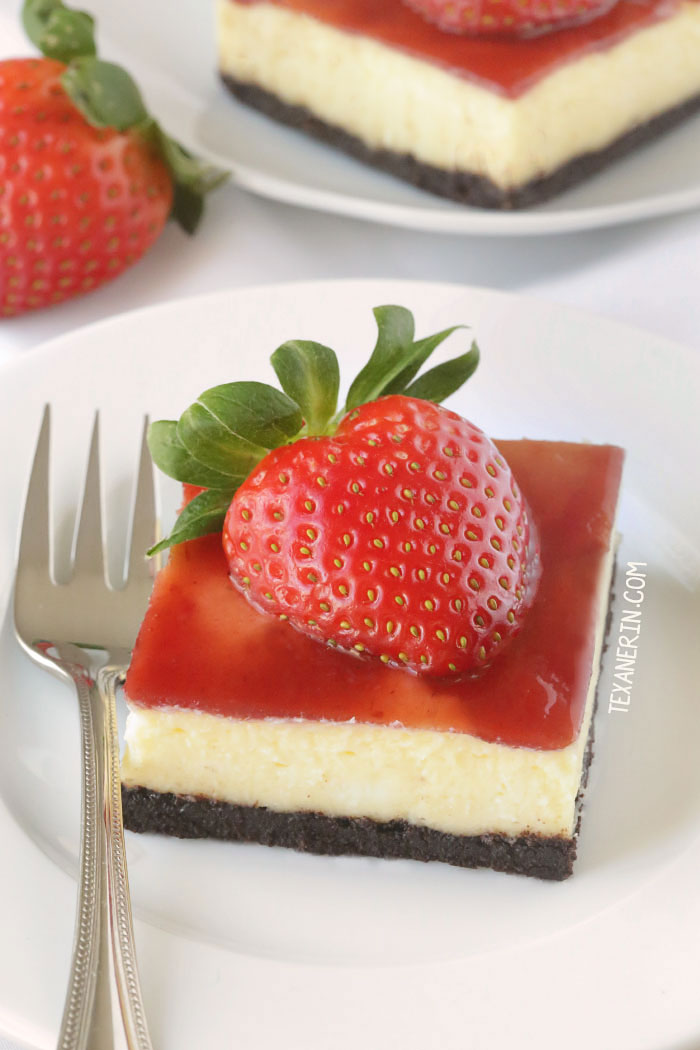 If you don't have strawberry jam on hand, these cheesecake bars are just as amazing with raspberry jam! I'm thinking blueberry jam would also be a thing of magic.
So what are y'all doing for Valentine's Day? I use it as an excuse to bake something extra decadent like these cheesecake bars and spend a little more time with Mr. Texanerin. We both work from home but usually only stop working and get together for some TV time around 10:30 pm. Including weekends! So, yeah. I'll take any excuse I can get for more together-time. ;) Whether or not you celebrate Valentine's Day, I hope you have a great weekend!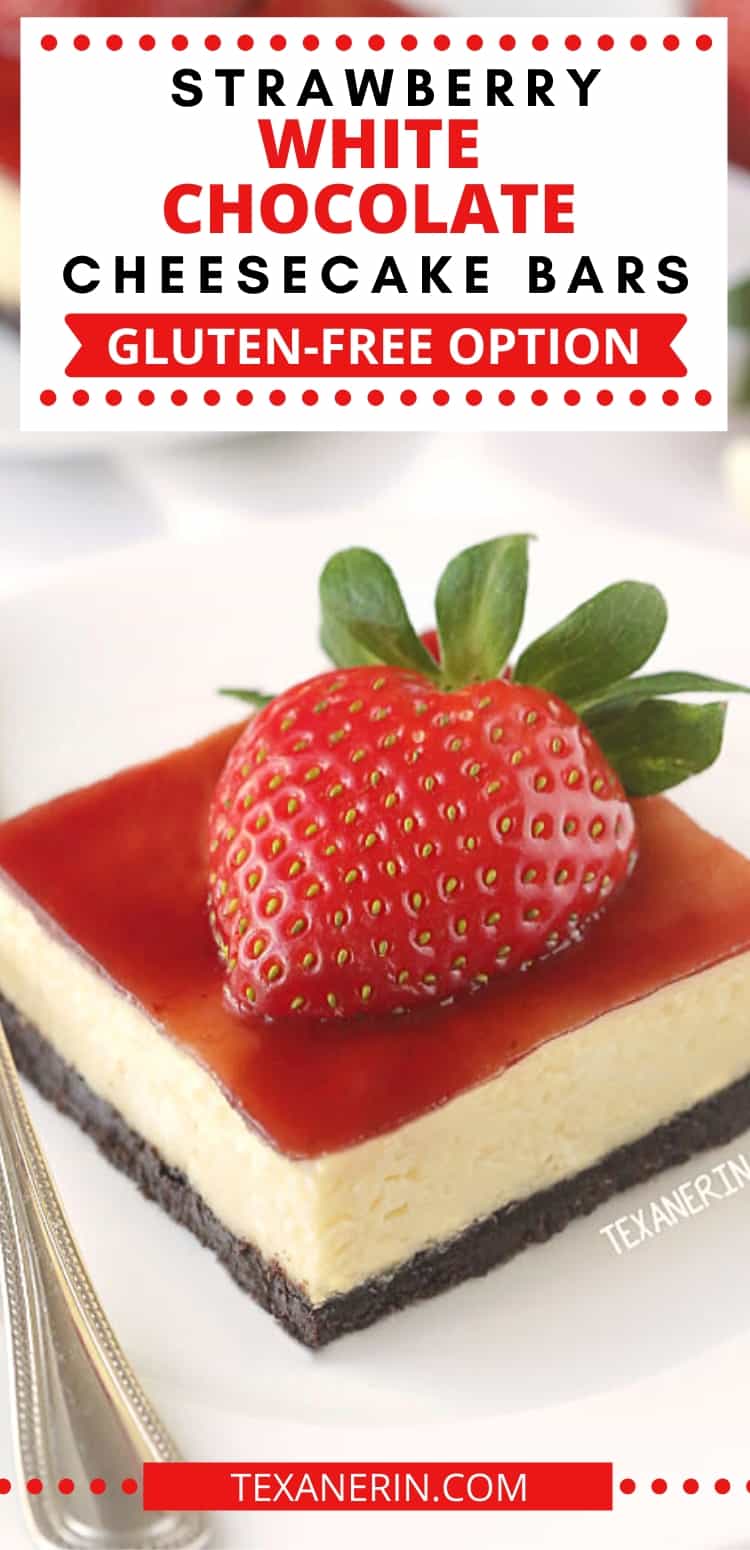 ❀
Strawberry White Chocolate Cheesecake Bars (gluten-free, whole grain options)
Prep Time:
Cook Time:
Ready in:
Yield:

12 bars
Ingredients
For the crust:

1/2 cup (100 grams) raw sugar or granulated sugar
1/2 cup (62 grams) whole wheat flour, buckwheat flour1 for a gluten-free version, or all-purpose flour
1/2 cup (58 grams) Dutch-process cocoa powder
1/8 teaspoon salt
5 1/2 tablespoons (77 grams) unsalted butter, melted

For the cheesecake filling:

1 pound (450 grams) cream cheese, room temperature
1/4 cup (50 grams) raw sugar or granulated sugar
1 teaspoon vanilla extract
pinch of salt
1 cup (6 ounces / 170 grams) white chocolate chips or chopped white chocolate, melted
2 large eggs, room temperature
3/4 cup (215 grams) seedless strawberry jam
Directions
Preheat the oven to 350°F (175 °C) and line an 8"x8" pan with a piece of parchment paper. Note that this crust recipe does not work in a regular pie pan - only as bars.
In a large mixing bowl, mix together the sugar, flour, cocoa powder, and salt. Stir in the melted butter until well combined. If you have difficulties incorporating the butter, use your hands. The mixture will be sticky.
Press the mixture onto the bottom of the prepared pan and bake for 10 minutes. When you remove it from the oven, the crust will still be quite soft but will harden a little as it cools. Let cool for at least 15 minutes while preparing the cheesecake.
Reduce the temperature to 325°F (163 °C).
In a large mixing bowl, beat the cream cheese and sugar until light and fluffy. Add the vanilla, salt and melted white chocolate and beat on low until combined. Add the eggs, one at a time, beating on low after each addition. Do not over mix. Pour evenly over the prepared crust and spread the jam evenly over the top.
Bake for 30 minutes or until the center jiggles just slightly when the pan is tapped.
Let cool completely, about 2 hours, and then refrigerate for at least 2 hours before serving.
Cover and refrigerate for up to 4 days.
Notes
Buckwheat is naturally gluten-free but not all buckwheat is manufactured in a gluten-free facility. Make sure it's certified gluten-free!
Source: My post on My Baking Addiction – Strawberry White Chocolate Cheesecake Bars