These quick + easy fudgy brownie bites have a ganache and freeze-dried raspberry topping and can be made gluten-free, dairy-free or 100% whole grain – or even with all-purpose flour. Thanks to Bob's Red Mill for making today's post possible!
Today I'm interrupting my New Orleans series to bring you a treat that'd be great for Valentine's Day! The base for these brownie bites is adapted from my best gluten-free brownies. If you don't need these brownie bites to be gluten-free, they work just as well with whole wheat flour and all-purpose flour. The only difference is that you'll need to use a tad less butter or coconut oil if using teff flour for the gluten-free version (which is noted in the recipe).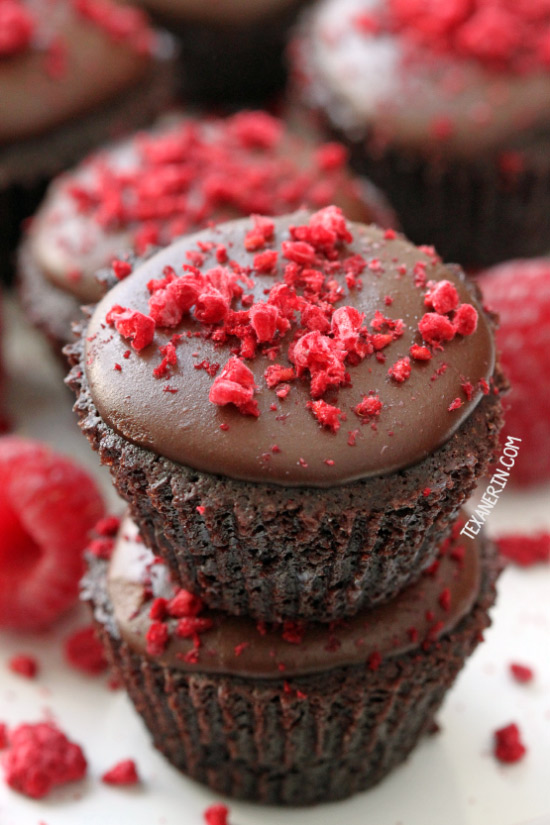 To decorate them, I used ganache and some crushed freeze-dried raspberries. I much prefer using those for my Valentine's Day treats over food coloring. And I just love how bright and pretty they are. My single regret is not adding a fresh raspberry to the top of each brownie bite in addition to the freeze-dried ones. The only way you can really mess these up is if you overbake them, which isn't all that hard to do. I always bake these fudgy brownie bites for 11 minutes but once I left them in there for 13 while I was finishing something up. They were pretty cakey, which is a quality I definitely don't like in my brownies!
I remember coming across a few teff recipes before I started my food blog and thinking something along the lines of, "Who the heck even knows what that is, much less has it at home to bake these cookies with?" So naive I was back then. ;) While it's not as versatile as totally neutral tasting flours like all-purpose flour or ivory whole wheat, it's an awesome little grain – and literally the world's smallest! It's so tiny that it's almost impossible to grind in a home grain mill. Luckily, Bob's Red Mill has us covered with their whole grain teff flour.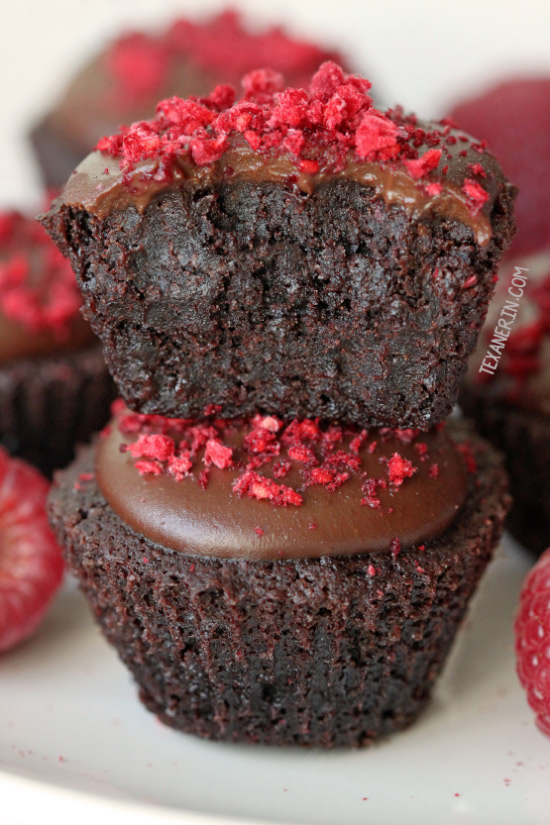 By the way, did you see this picture of what I brought back from the US with me? 80 pounds of Bob's Red Mill flour. 50 in a suitcase and 30 in my carry-on. I always do this when visiting the US and after going through security and the X-ray machine, my carry-on is pulled aside for a check 100% of the time because of how densely my bag is packed (at least that's what the TSA tells me). I liked how the last lady told me that I needed to find myself an officer gentleman friend (her words) who can buy me flour from an army base in Germany because it seemed like such a hassle. And it is. But it's so worth it because I currently have 80 pounds of Bob's Red Mill flour sitting in my pantry! :D
But back to teff. It's a great source of fiber, protein, iron and it has more calcium than any other grain – one serving has about the same amount as 1/2 cup of cooked spinach. It's also high in a newly discovered resistant starch, which is a type of fiber that isn't digested by the body. This type of starch is said to help with blood sugar management, colon health, weight control, and to help alleviate some digestive conditions.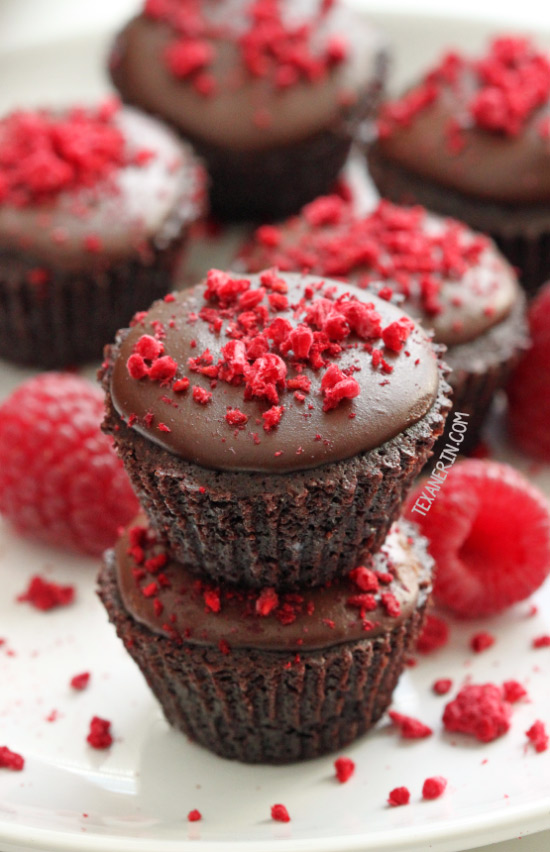 Teff has what some describe as a faint chocolate or hazelnut taste. To be honest, I think the chocolate comparison is a bit of a stretch but I'm on board with nutty! It's not something I'd use in a lightly flavored dessert like lemon cookies or vanilla cupcakes but in chocolate goodies like these gluten-free brownie bites? It's perfect.
Thanks again to Bob's Red Mill for sponsoring today's post! As always, all opinions expressed are my own. If you haven't already, be sure to check out some of their other gluten-free flours! They have a HUGE selection.
❀
Fudgy Brownie Bites (gluten-free, dairy-free, 100% whole grain options)
Prep Time:
Cook Time:
Ready in:
Yield:

32 brownie bites
Ingredients
For the brownies:

1 cup (158 grams) teff flour for a gluten-free version or 1 cup (125 grams) whole wheat flour or all-purpose flour
3/4 cup (86 grams) Dutch-process cocoa, sifted if lumpy (regular cocoa powder works, too, but I prefer the darker, more chocolaty taste of Dutch-process)
1/4 teaspoon salt
if using teff, use 3/4 cup + 1 tablespoon (182 grams) unsalted butter or refined coconut oil, melted
if using whole wheat or all-purpose flour, use 3/4 cup + 2 tablespoons (196 grams) unsalted butter or refined coconut oil, melted
1 1/2 cups (300 grams) granulated sugar, raw sugar or coconut sugar (if using coconut sugar, I recommend weighing it out or very tightly packing the cups)
2 teaspoons pure vanilla extract
3 large eggs, room temperature

For the ganache:

3/4 cup (128 grams) semi-sweet chocolate chips
3 tablespoons whipping cream or full-fat canned coconut milk
freeze-dried raspberries, for decoration
Directions
Preheat the oven to 350°F (175 °C) and line 2 mini muffin pans with 32 liners.
In a medium mixing bowl, stir together the flour, cocoa powder, and salt.
In a large mixing bowl, stir together the melted fat, sugar, vanilla extract and eggs.
Fold the dry ingredients into the wet and stir just until combined. Do not over mix!
Fill the mini muffin liners about 4/5 full and bake for 11 minutes or until a toothpick inserted in the side (and not the center) doesn't come out with raw batter on it. It may have some moist crumbs on it – just not totally raw batter.
Remove to a wire rack to cool completely.
Once the brownies have completely cooled, prepare the ganache.
Place the chocolate chips in a small bowl. In a small saucepan over medium-low heat, warm the cream just until steamy and on the verge of simmering. Remove from the heat and pour over the chocolate chips. Stir until all the chocolate chips are melted. Let cool for about 15 minutes or until thickened a bit before pouring over the brownies. Top with crushed freeze-dried raspberries.
Cover and store at room temperature for 2 days or refrigerate for up to 4 days. If you used coconut milk in the ganache, I recommend refrigerating them from day 1 to be on the safe side. For fudgier brownies, refrigerate.
Notes
For dairy-free: use coconut oil, dairy-free chocolate chips and coconut milk.
I prefer to use refined coconut oil because it doesn't have any coconut taste. If you don't mind a little coconut flavor in these brownie bites, you can use unrefined coconut oil.