This Halloween cake with eyeballs is a fun, creepy Halloween dessert that's sure to be the hit of any party. The cake is incredibly moist and chocolaty and it's topped off with cream cheese frosting, canned lychees + blueberry eyeballs and strawberry jam "blood." With a gluten-free and egg-free option.
I posted eyeball cupcakes over on Food Doodles last month and had to try a full-sized cake after I saw how well the cupcakes came out.
I have to admit that it's the same exact cake and frosting recipe. It's my absolute favorite. My search for the perfect chocolate cake was done after trying that recipe about 15 years ago.
It's my whole wheat chocolate cupcakes recipe (but you can use regular, whole wheat or GF flour for this Halloween cake recipe), which was adapted from Hershey's One Bowl Chocolate Cake.
For the cake part, you can make a classic non-healthy version or a healthier version.
You can use regular flour, whole wheat or gluten-free flour
You can make it with eggs or with chia eggs
You can use regular sugar, coconut sugar or honey
You can use whatever type of oil you'd like
The frosting recipe
On top of the best chocolate cake ever, we have some healthier cream cheese frosting. It uses a lot less sugar than regular frosting but I'm confident that you won't miss it!
The frosting tastes really similar to cream cheese tart filling. I also used this frosting recipe on this gluten-free carrot cake (which can also be made with regular or whole wheat flour!).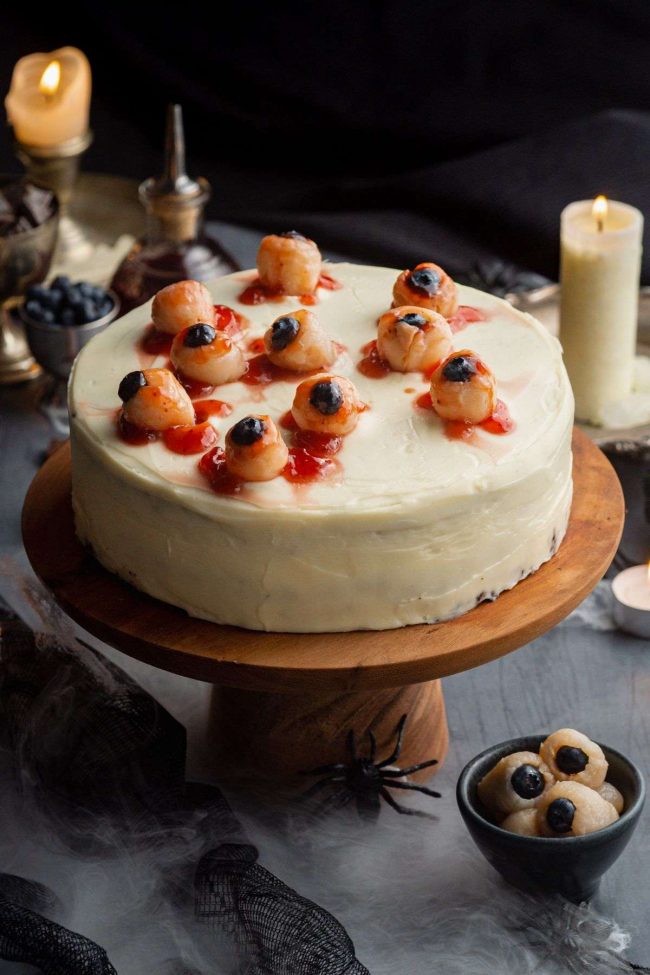 And if you're worried about not using the usual amount of sugar, just add more powdered sugar until you're happy with the sweetness.
If you live outside of North America, you most probably don't have the same kind of cream cheese that's found in the US (and maybe Canada?). It doesn't seem to exist anywhere else.
There's a super simple hack to fix that. See the notes section of the recipe for more info!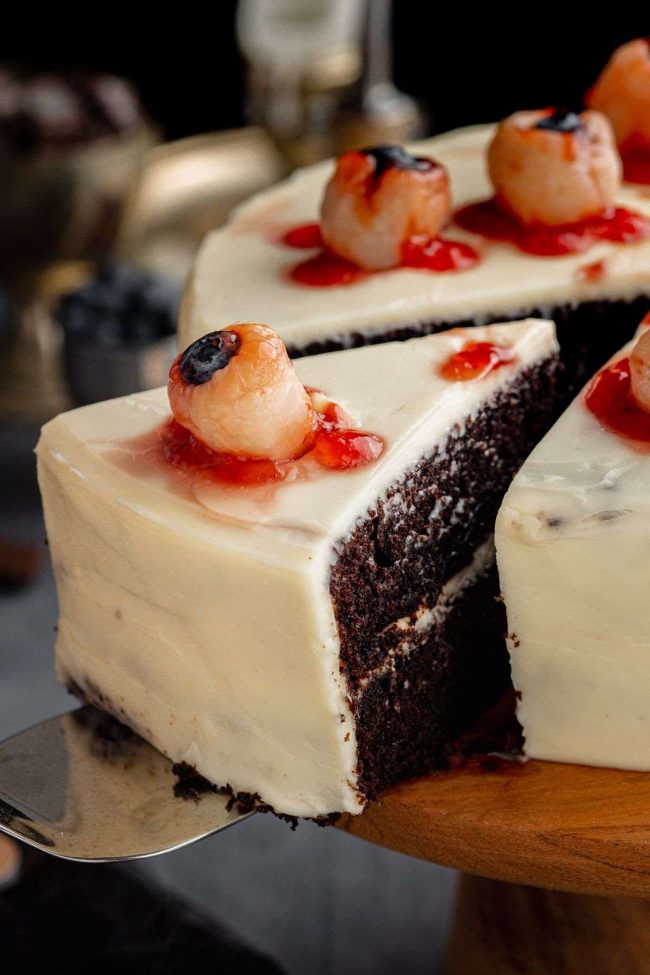 The eyeballs
I just love these things. They're one of the really gross and fun food recipes you can make for Halloween without food coloring or other processed stuff.
You can get canned lychees at Asian food shops. They're also sometimes at Whole Foods. Stick in a blueberry and the eyeballs are done!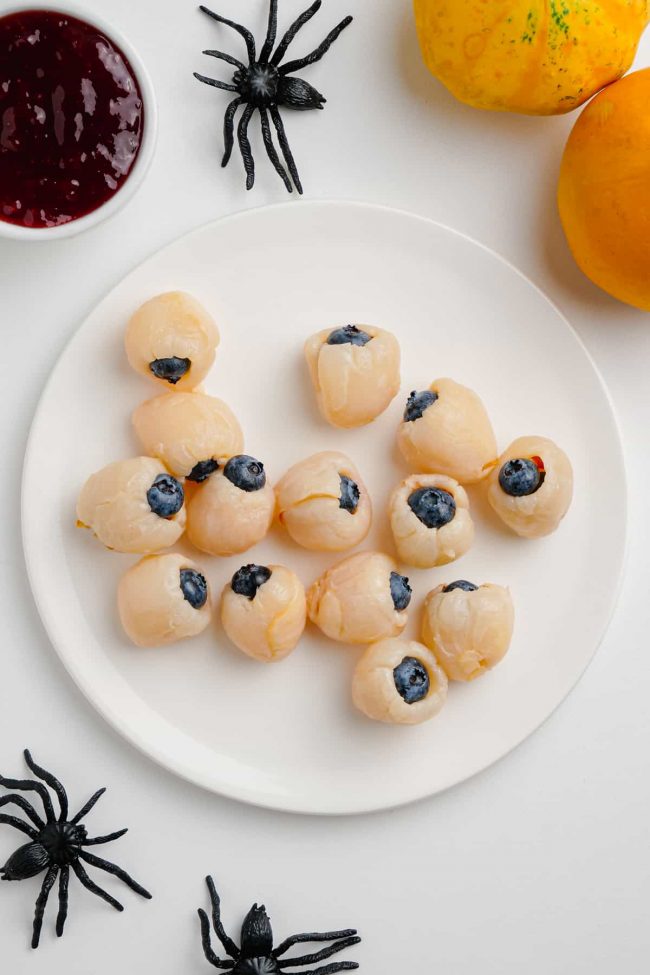 Then you put them on your frosted cake and add a bit of strawberry jam on top to give it a blood effect.
So get yourself a jar of strawberry jam and go crazy this Halloween. :D Or you can use my homemade strawberry jam. Just make sure to get out the large lumps of strawberries, unless you want a blood clot effect. ;)
For another gory Halloween dessert recipe, check out my witch finger cookies. They also use strawberry jam in place of food coloring!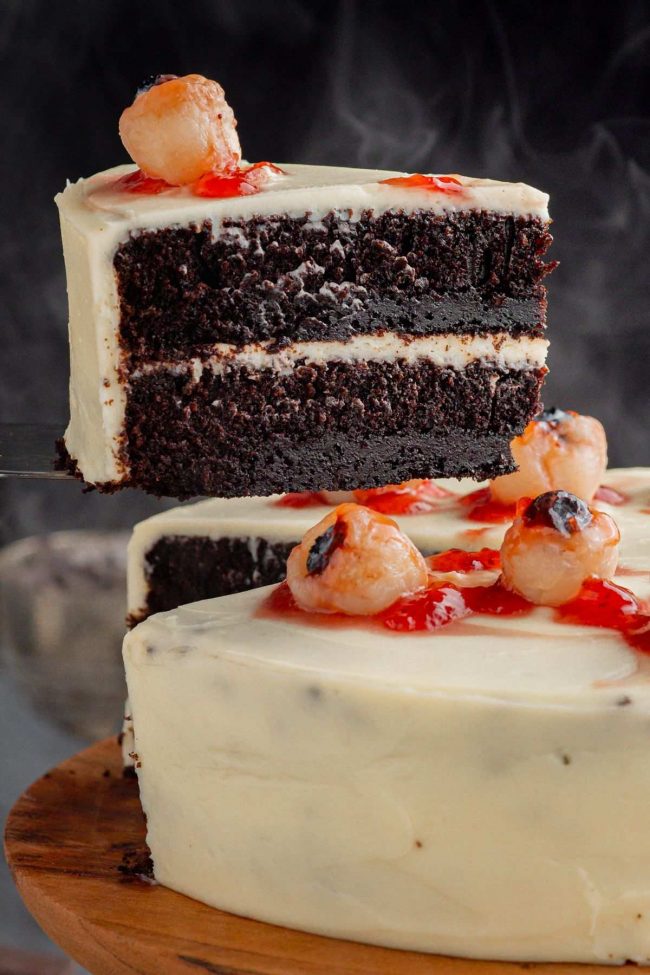 Womp womp
I just now realized that it's kind of pointless to post a full-sized cake recipe like this for Halloween this year. Oh well.
It's so cool that I'm still going to share it. For the people with large households, this is for you!
If you have a smaller family or want a healthier option, these healthy Halloween monster mouths are really fun to make with kids and there's nothing bad in them. It's just fruit, jam, nut / seed butter and nuts and seeds.
Love the eyeball idea but don't want a cake or cupcakes? Try this fruity, no sugar added Halloween punch with eyeballs! It can be made with or without rum.
Questions about this eyeball cake?
Can I use chocolate frosting instead?

I haven't tried it but I don't think it'd look as impressive with chocolate frosting. The strawberry jam "blood" wouldn't pop on brown frosting as much as it does on white.

How do I make this cake vegan?

The cake itself is actually vegan if you use granulated sugar, dairy-free milk and chia eggs. I've tested it this way and it's great. The frosting is the problem.

I really wanted to offer a dairy-free and vegan frosting but the vegan cream cheese frosting recipe I have wouldn't work.

It's too soft. It doesn't actually use any kind of cream cheese but the frosting tastes similar to cream cheese frosting.

You could use vegan cream cheese and butter, though. Then you'd have a vegan cake. I just haven't found any brands of vegan cream cheese with an ingredient list that I like.

Can I use a different egg replacer?

I've only tried chia eggs in this cake and I was surprised that it worked. I often have issues with egg subs in cakes.

I imagine that other egg replacers, that you've used in other cakes with good results, would work but I'm not positive. I'm sorry that I can't say for sure!

Where do I get canned lychees?

You can get them super cheaply at Asian food stores.

You can also find them at Whole Foods. Sometimes you'll find them in the Asian food section and sometimes in the canned fruit section. I don't think every Whole Foods has them so you might want to call and ask first.

Can I use something else instead of lychees?

I've unfortunately never seen anything similar.

What can I use instead of the blueberries?

Grapes! Make sure not to get huge ones.

Can I really use any type of oil for the cake?

You can use olive oil, canola oil, vegetable oil, grapeseed oil, etc. Anything neutral tasting.

There'd likely be some coconut taste in your cake if you use unrefined coconut oil. If you use refined, you won't taste any coconut.

If you use olive oil, can you taste it in the cake?

I used extra-virgin olive oil, which you can taste in the batter and while the cake is still hot. Once it cools, you can't taste it.

I should say that I used Aldi or Lidl extra-virgin olive oil and not a super expensive and strong oil. If you're worried about it, use light olive oil (the light refers to the taste and not calories).

Can I use butter?

I bet you could but the cake won't be as moist as butter is 80-82% fat and oil is 100% fat.

If I make the GF version, can I use a different gluten-free flour mix?

I used Bob's Red Mill Gluten-Free 1-to-1 Baking Flour and the cake was absolutely amazing with it. If you have another brand that works as a sub for all-purpose flour, then you could likely use it here.

But I can't say that it'd be perfect, both texturally and taste-wise, like the Bob's version is.

There's no way to use almond flour, coconut flour, or any other grain-free flours like that. And it's totally ridiculous that I don't have a paleo chocolate cake recipe. I'll work on that!

Does the GF version taste gluten-free?

Nope! It tastes like it was made with regular all-purpose flour. At least with the gluten-free flour mix I used and after the cake has cooled a bit.

Does the whole wheat version taste like cardboard?

Again, nope! It tastes like it was made with regular all-purpose flour. The cocoa powder and all the oil and sugar cover up the wheaty taste.

Can I reduce the sugar?

Reducing sugar also reduces the moisture so unless you want a dry cake, don't go overboard and try reducing it to 1/2 cup or some small amount.

I think using 1 1/2 cups of sugar would be safe. The honey version is already a reduced amount (1 cup of honey instead of 2 cups of sugar) and I don't recommend reducing it even more!

Can I use something other than the listed sweeteners?

I've only made this cake with the listed sweeteners and nothing else. So those are the only ones that I know 100% work.

I'm guessing that any liquid sweetener that you'd usually use in place of honey would probably work in place of the honey. And any granulated sweetener that you'd usually use in place of granulated sugar would probably also work.

Can I freeze the cake layers or the whole cake?

Yes, the cake layers freeze well – unfrosted. Add the frosting after the layers have completely defrosted and have come to room temperature. Then decorate right before serving.

It can be done a few hours ahead of time if going to a party.

I don't recommend freezing the whole decorated cake.

Let me know how you like this cake if you try it out! And what are you all doing for Halloween? We're staying home and having a little party with just the three of us. :)
❀
Halloween Cake with Eyeballs (gluten-free option)
Prep Time:
Cook Time:
Ready in:
Yield:

12 slices
Ingredients
For the cake:

2 cups (400 grams) granulated sugar or coconut sugar or 1 cup (320 grams) runny honey
1 3/4 cups (220 grams) all-purpose or whole wheat flour OR for gluten-free, use 1 3/4 cups (242 grams) Bob's Red Mill 1:1 Gluten-free Baking Flour
3/4 cup (85 grams) cocoa powder (I used Dutch-process)
1 1/2 teaspoons baking powder
1 1/2 teaspoons baking soda
1 teaspoon salt
2 large (50 grams each, out of shell) eggs or 2 chia eggs1 for egg-free
1 cup (240ml) milk of choice2
1/2 cup (120ml) oil3
2 teaspoons vanilla extract
1 cup (240ml) boiling water

For the frosting:

16 ounces (450 grams) cream cheese4, room temperature
1/4 cup (56 grams) unsalted butter, room temperature
1 1/3 cups (160 grams) powdered sugar, sifted if lumpy
pinch of salt
1/2 teaspoon vanilla extract

For the decoration:

canned lychees (1 can should be enough)
blueberries
strawberry jam (without chunks of strawberries)
Directions
To make the cake:

Preheat your oven to 350 °F (175 °C). Line 2 round 8" cake pans with parchment paper on the bottom and then grease the sides of the pans.
In a large bowl, stir together the sugar, flour, cocoa, baking powder, baking soda and salt. Add eggs, milk, oil and vanilla.
Mix until combined and then stir in the boiling water. The batter will be almost as thin as water.
Divide the batter between the two pans.
Bake for 25 minutes or until a toothpick comes out with maybe some moist crumbs, but no uncooked liquid.
Let cool for 5 minutes in the pans, and then turn out onto a rack to cool. Let cool completely before frosting.

To make the frosting:

In a medium mixing bowl, beat the cream cheese and butter together with an electric hand mixer at medium speed until well combined. It's okay if it looks a little crumbly.
Gradually beat in the powdered sugar until totally combined and then beat in the salt and vanilla. If it's firm enough, frost the cake.
If you want it firmer, refrigerate for about an hour, stirring the frosting after about 30 minutes. Don't let it chill too long before frosting your cake, though, because it gets quite firm, like a cream cheese tart filling. If that happens, just bring it to room temperature and then frost.
The frosting firms up once refrigerated but gets softer as it sits at room temperature. I think it's best to chill the frosted cake until firm so that you can add the eyeballs + jam without worrying about the jam getting watery.

To decorate:

I'd recommend decorating just a few hours before serving so that the jam doesn't start to run. I also recommend not transporting the decorated cake. It's best to transport the frosted cake and then decorate it once you get to your destination. It really only takes a few minutes.
Rinse the lychees and pat them dry with paper towels.
Place a blueberry in the center of the lychee and place on a paper towel-lined plate until all the eyeballs are ready. Place the eyeballs on the frosted cake (blueberry facing up).
Spread about 1 - 1 1/2 teaspoons of jam over each eye and slightly onto the frosting. Use however many you think is enough.
Keep chilled until ready to serve. It's fine to sit out at a party for a few hours. Store leftovers in the fridge for up to 4 days. The jam will probably get weird. I'd probably remove the decorations if you want to store it more than a day. You can also remove the eyeballs and freeze slices for a few months.
Notes
To make the chia eggs for this recipe, mix together 2 tablespoons of ground chia seed with 6 tablespoons of water until well combined. Let sit for about 1-2 minutes or until goopy like regular eggs.
If you want to use canned coconut milk, I recommend using 1/2 cup of that + 1/2 cup of water, as canned coconut milk is much thicker than regular milk.
If you use coconut oil, melt it. I also recommend using refined coconut oil so that your cake has no coconut taste to it.
We have a different type of cream cheese in the US than the rest of the world (as far as I know) that's firmer and meant for baking, rather than the kind for toast, like in Europe. For 8 ounces (225 grams) of cream cheese, buy a 300-gram package (the stuff at Aldi, Lidl, etc. works just as well as Philadelphia), put it in the center of a clean tea towel or cheesecloth, and squeeze out the liquid until you have 225 grams of cream cheese. You can now make cream cheese frosting without issue. So for this recipe, buy 600 grams of cream cheese and squeeze out the liquid until you have 450 grams of cream cheese left.
Adapted from Hershey's One Bowl Chocolate Cake