Despite living in Germany for quite a while, I don't actually have any German cookie recipes up on the blog. I have to admit that this is because… I don't exactly love them.
That's quite the way to start a post about German Christmas cookies, right? ;) I personally just much prefer American style big, fat and chewy cookies, like these vegan peanut butter cookies, molasses cookies and chocolate chip cookies.

Up first are some totally traditional cookies (so they're not allergy / dietary-friendly). German Christmas cookies are heavy on the egg whites so there aren't too many vegan options, but I've included a small section for the ones that I did find!
And a lot of them use nut flours, meaning several are naturally gluten-free. So there's a section for gluten-free cookies as well.
I've even found a few (or really, just two) paleo and keto ones! I tried to find something for everyone. I hope you'll find something you like!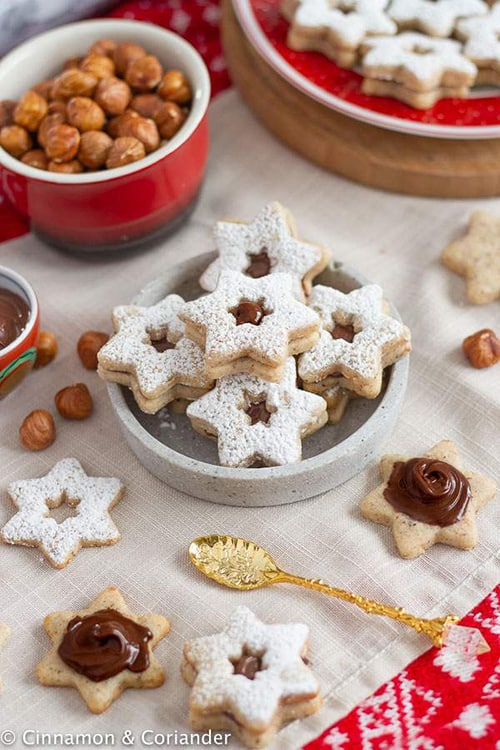 These German Hazelnut Cookies with Nutella Filling from Cinnamon & Coriander are perfect for your Christmas cookie platter. And hey, they are also perfect for those Nutella-straight-from-the-jar kind of days.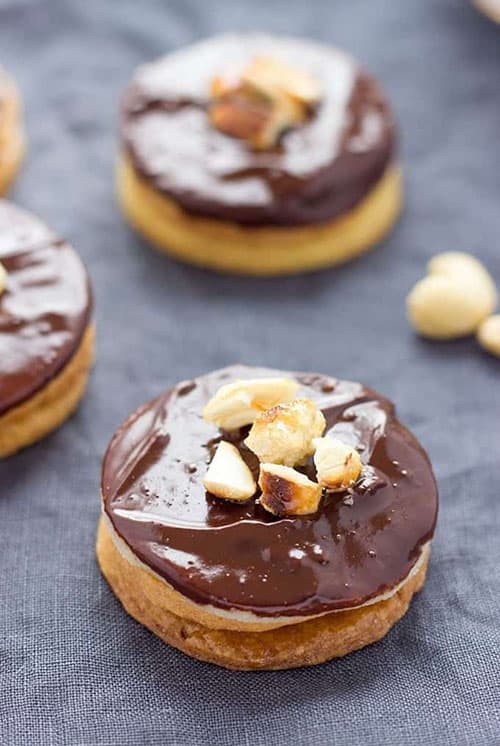 These Hausfreunde With Marzipan (Friend Of The House Cookies) from Lavender and Macarons have layers of crispy shortcrust pastry and are slathered with apricot jam and covered with sweet almond paste. These cookies are a crowd-pleaser and sure to delight your family and friends over the holidays.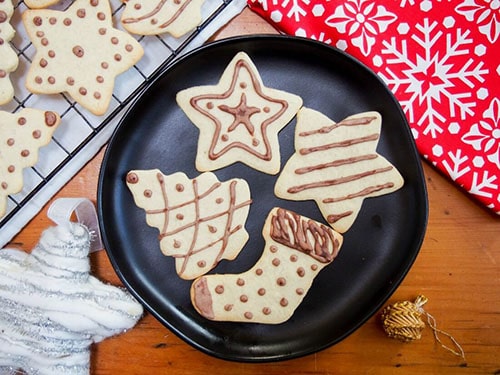 These German Ginger Cookies from Caroline's Cooking aren't gingerbread, nor ginger nut cookies, but instead more a ginger-flavored sugar cookie.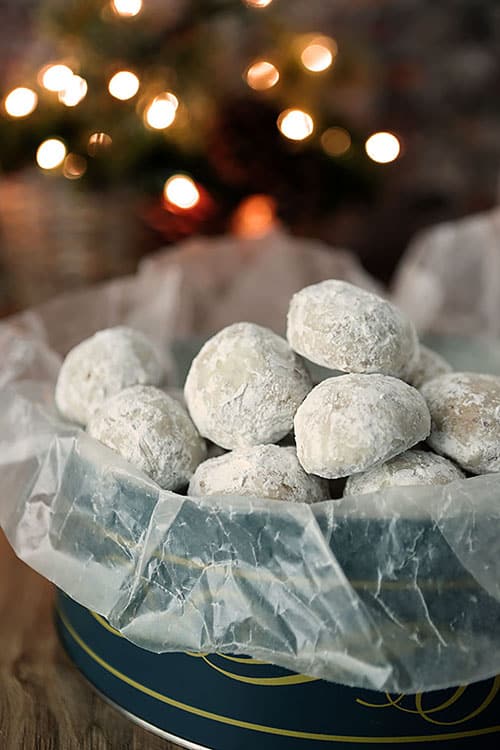 Pecan Butter Ball Cookies – Barb from Creative Culinary says, "My German grandmother made these Pecan Butter Balls every year for Christmas and both my mother and myself have followed that tradition. Similar to cookies tagged Russian and Mexican, these cookies are what is standard in Northern Europe from her Swiss and German heritage. Maybe it's because the recipe is from my grandmother but I think they're better than any other!"
Cookies that are both gluten-free + vegan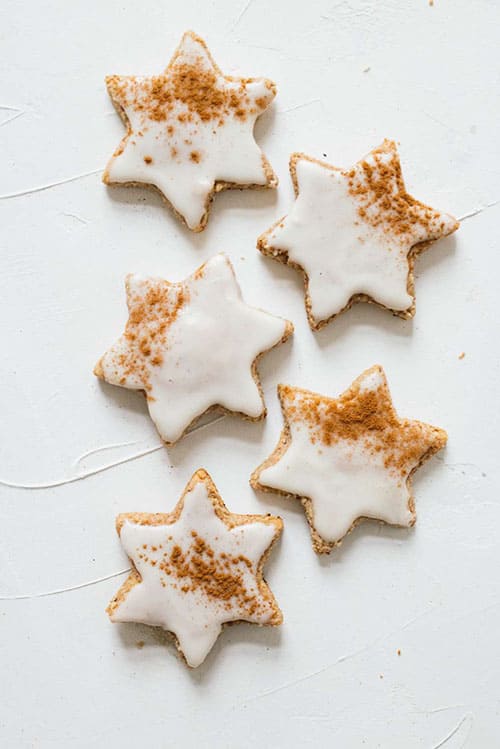 These Vegan Zimtsterne from Zucker & Jagdwurst are a gluten-free and vegan version of the blogger's grandma's recipe.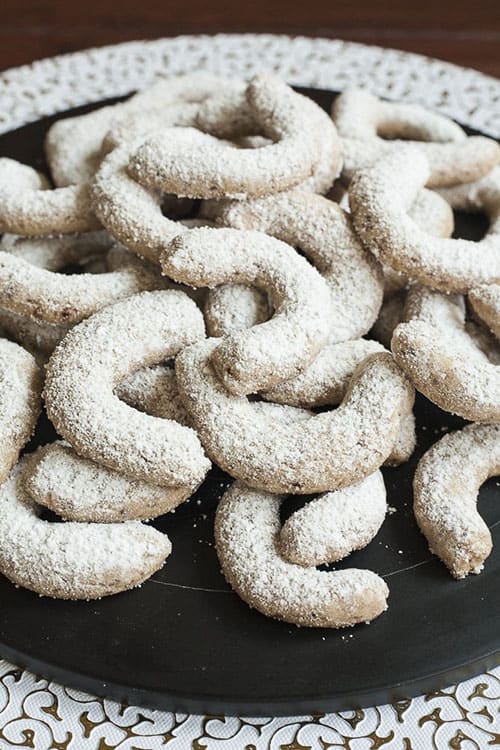 Walnut Crescent Cookies
from My Pure Plants are traditional German Christmas Cookies that are made allergy friendly. Crumbly, nutty with a generous dust of powdered sugar.
Gluten-free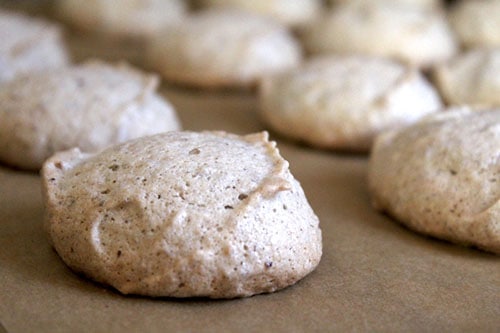 These Hazelnut Macaroons from Adamant Kitchen are a traditional German Christmas cookie that's naturally gluten-free. Made from egg whites, sugar and hazelnut flour, this old-fashioned cookie is a great option when you want to keep tradition while catering to friends and family with gluten allergies.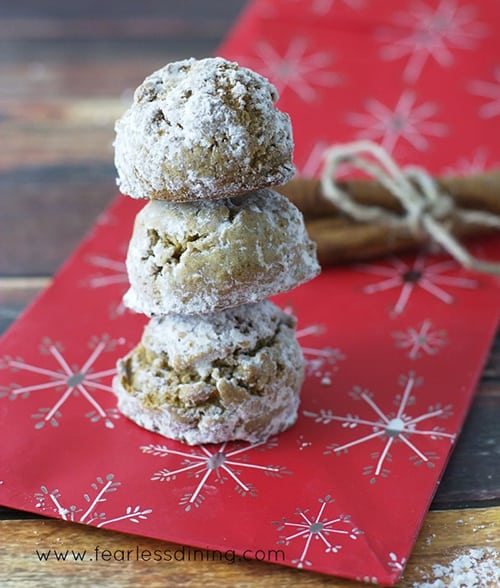 These Gluten-free Pfeffernüsse Cookies from Fearless Dining have just enough spice to make Santa happy!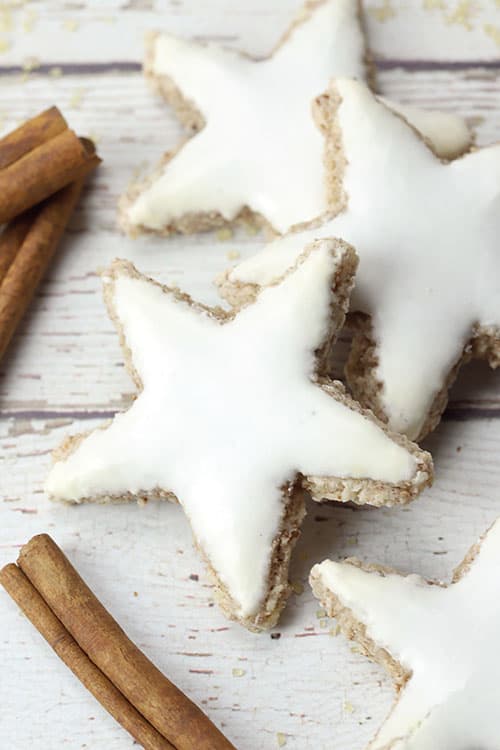 These Zimtsterne (German Cinnamon Star Cookies) from The Toasty Kitchen are a classic German cookie and a must for your holiday cookie trays. Similar to a macaroon, these chewy cut out cookies are made with almonds, egg whites, sugar, and cinnamon.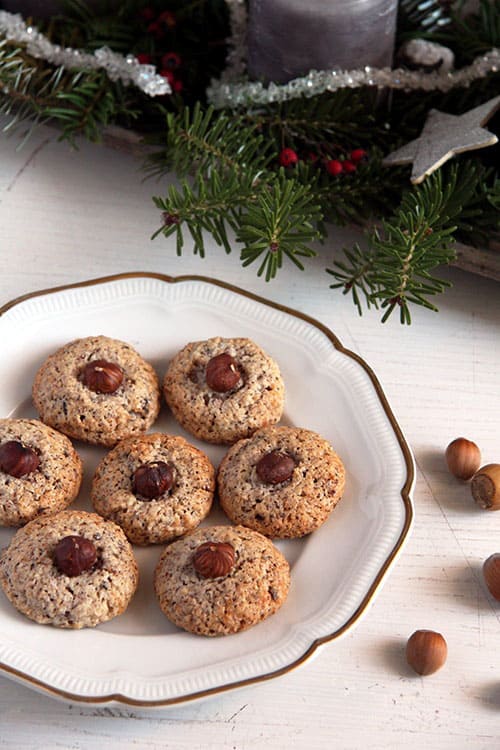 Chewy and sweet German Hazelnut Macaroons or Nussmakronen (from Where Is My Spoon) are typical German cookies made with only 4 ingredients.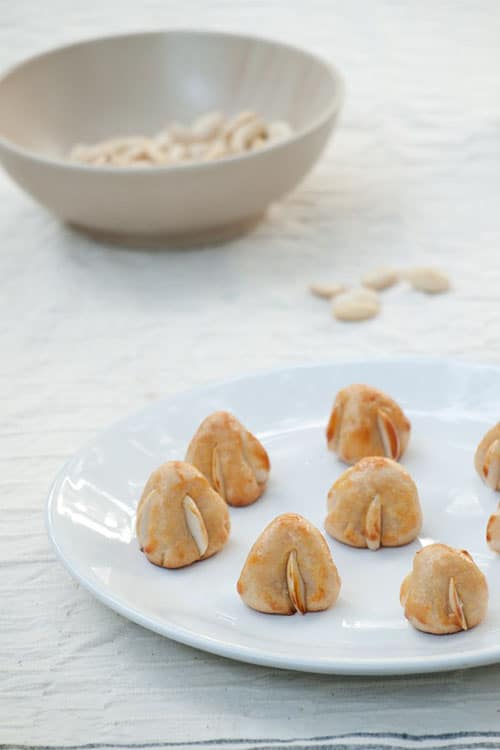 Bethmännchen from Masala Herb are marizpan almond paste cookies. The cookies originated around Frankfurt in Germany and are prepared with 4 ingredients only.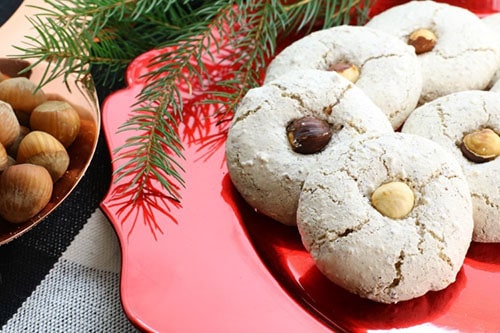 These German Hazelnut Meringue Cookies from Earth Food and Fire are light and oh so delicious! Perfect for the holidays and they only take half an hour to make!
Vegan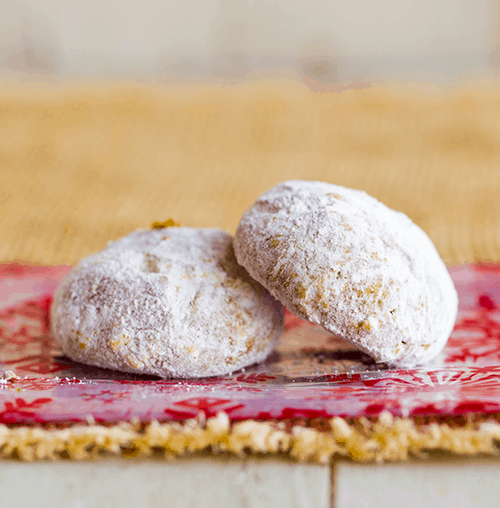 These Vegan Pfeffernüsse Cookies from Healthy Happy Life have a snowy white exterior and a spicy, soft inside.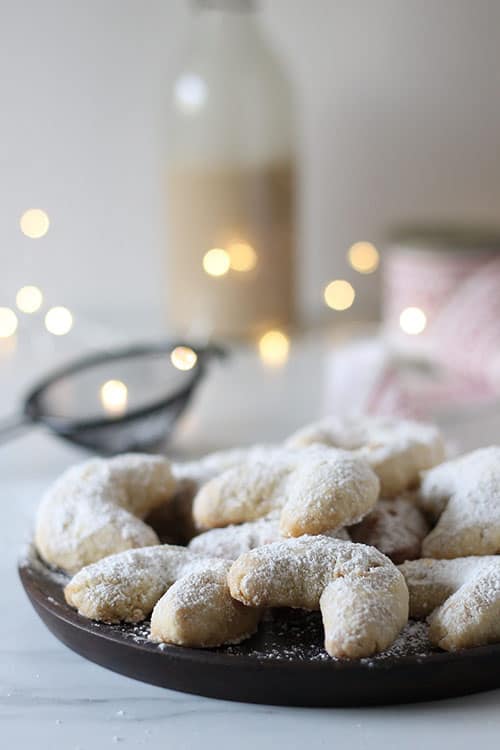 Vegan Vanillekipferl (German Vanilla Crescent Cookies) from Valises & Gourmandises are small shortbread vanilla crescent cookies. They actually come from Austria but they've managed to make it all the way to German Omas' recipe books (oma = granny), to the delight of all! They only require a few simple ingredients: flour, ground almonds, butter, sugar and vanilla.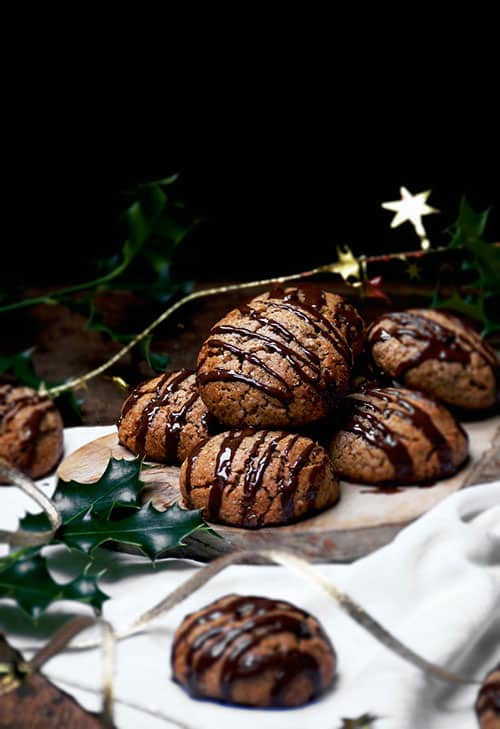 These Vegan Lebkuchen (German spiced cookies) from Occasionally Eggs are a common treat around Christmas. A bit like gingerbread, this lightened up version includes hazelnut flour, coconut sugar, and olive oil.
Paleo / Keto: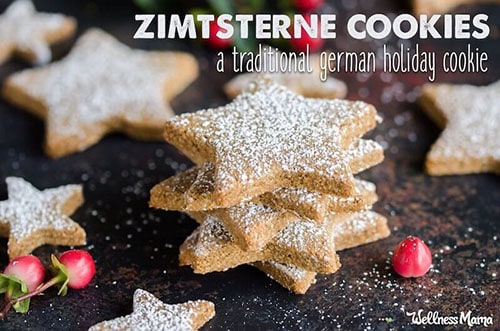 These Paleo Zimtsterne from Mommypotamus are a paleo take on the classic German cookie!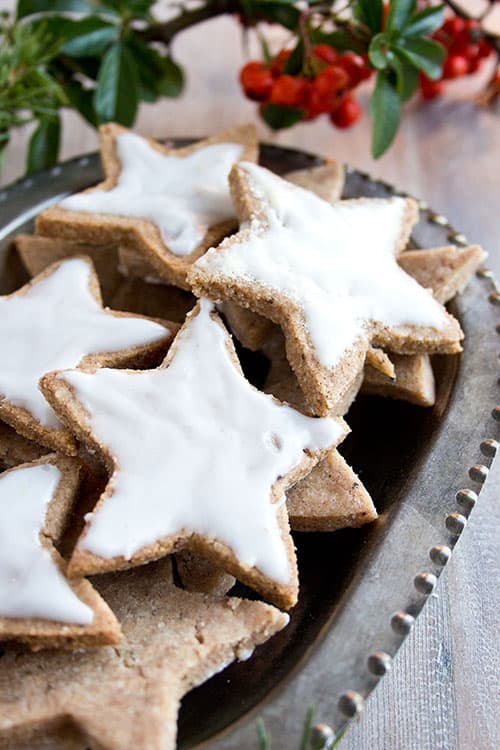 These Keto Cinnamon Stars (another Zimtsterne recipe!) from Sugar-free Londoner are also paleo, if you consider low-carb sweetener to be paleo.
Have you tried any German Christmas cookies before? What'd you think?