These molasses cookies are soft, chewy and can also be made a little healthier! With gluten-free, vegan, 100% whole grain and dairy-free options.
Up until last night when I posted this picture on Instagram, I thought I was pretty much alone in my molasses cookies love. It's like… you tell some people that you're bringing chocolate chip cookies / peanut butter cookies / anything other than molasses cookies to a party and this is their reaction.
"Aaaah! Thank you! I can't wait!"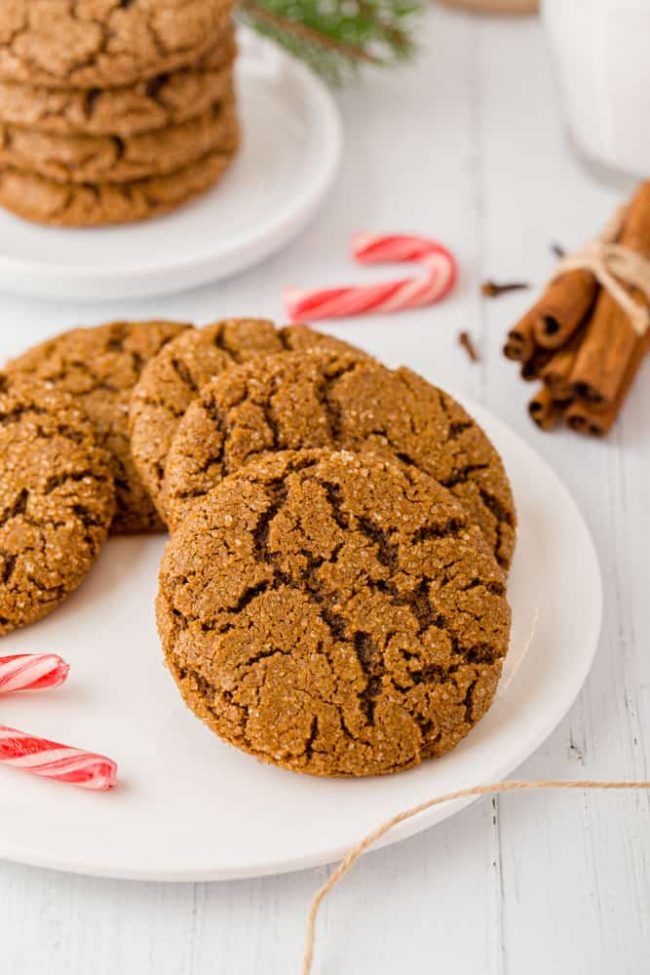 But when I say I'm bringing molasses cookies, I get:
"That would be great. Thank you."
I don't get it. Molasses cookies are amazing! When I was in school, sometimes I'd find some Archway molasses cookies in my lunchbox. The kind that came (come?) in a cardboard package with cellophane.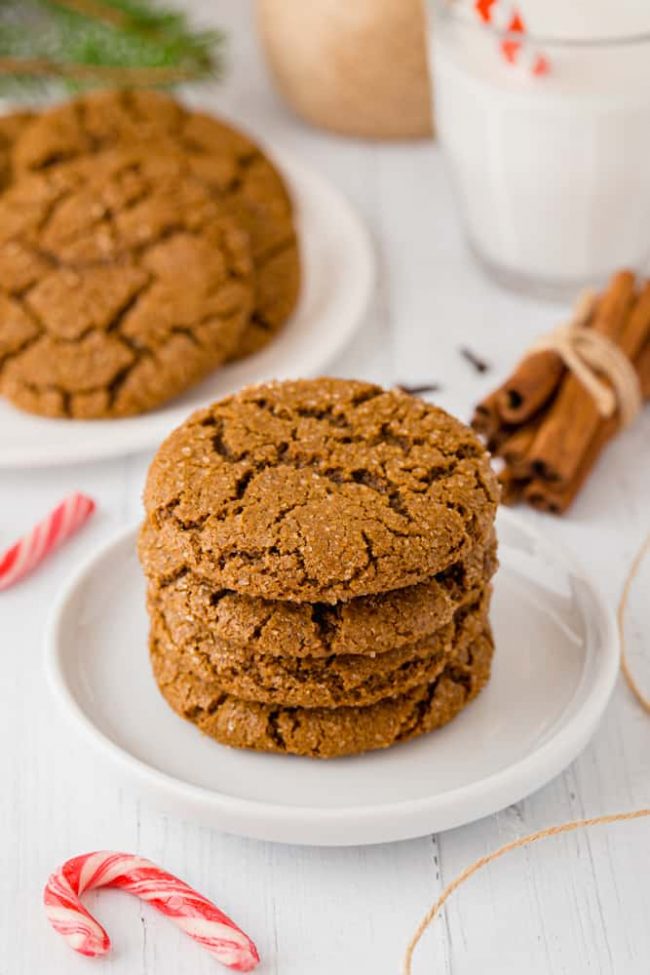 I absolutely loved them! I haven't had one in ages, but I'm positive that these healthy molasses cookies are just as good or even better and they definitely don't have any of that funky stuff that pre-packaged cookies tend to have.
If molasses cookies aren't your thing, check out these other gluten-free cookies recipes!
This was one of the first recipes I posted on my blog and I'm posting an updated version today with more ingredients options (different types of flours, sugars, and a gluten-free version!) Please read the notes section of the recipe for instructions on how to make the gluten-free molasses cookies recipe.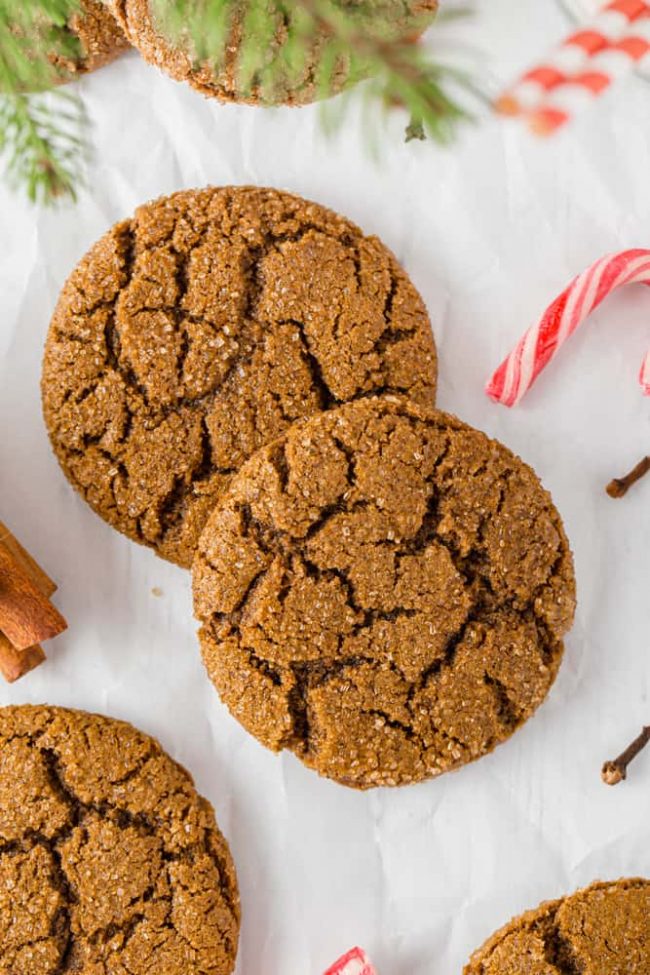 And if you prefer a grain-free version, these paleo gingerbread cookies are great They are much, much spicier and are crisp on the outside and chewy on the inside.
You can make these gluten-free molasses cookies (and the regular version) with cookie cutters, too! If you want to do that, you definitely need to chill the dough first for a few hours to make it easier to roll out and handle.
I wish I could say that this recipe is my own original creation but I've been making it since I was about 10 years old and have no idea where it came from. I looked for the source but I think I've made too many changes over the years to recognize the original. If anyone recognizes it, please let me know!
Sometimes I like to add a little orange zest but I usually prefer my molasses cookies plain. You can also rub some orange zest in the sugar you use to roll the cookie dough in for an outer orangey sugary coating.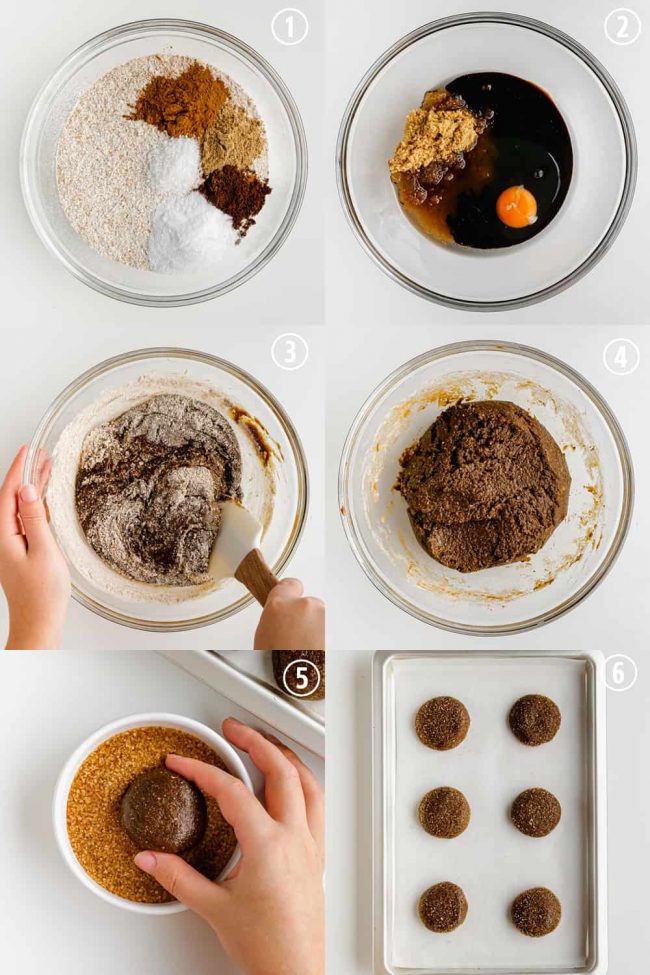 In the cookies pictured, I used blackstrap molasses and brown sugar. If you use coconut sugar or regular molasses, your cookies may be darker or lighter. And if you don't roll them in sugar, then they likely won't crackle.
I had to make these molasses cookies six times over the past two months to get the pictures. The cookies keep well for several days and so I figured I'd just make them when I had time and take pictures when a sunny day (or more realistically, a few sunny hours) rolled around.
But sunny days are hard to come by and I love my molasses cookies so I just had to keep re-making them. It wasn't the worst task. :D
Note: photos updated 12/2019! Here's an old one.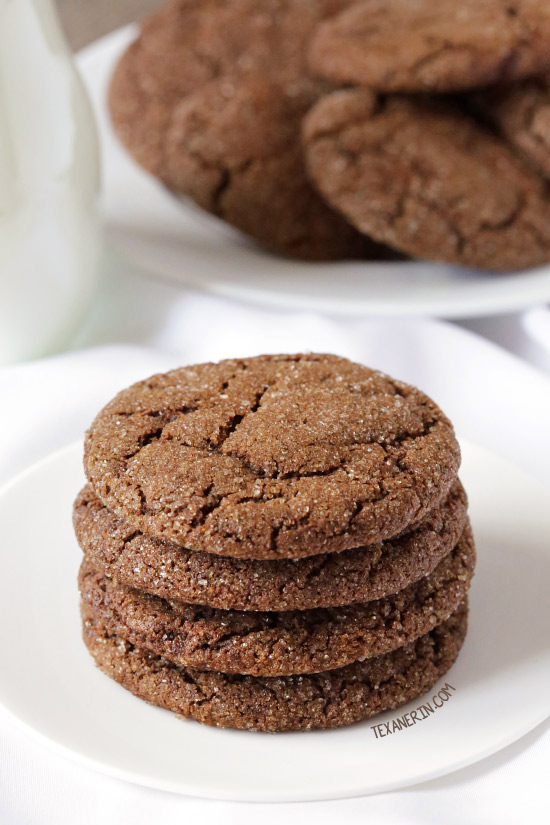 ❀
Molasses Cookies (gluten-free, vegan options)
Prep Time:
Cook Time:
Ready in:
Yield:

16 cookies
Ingredients
2 cups (240 grams) whole spelt flour, whole wheat flour, white whole wheat flour, all-purpose flour or the gluten-free flour mix in the notes for the gluten-free version
1 1/2 teaspoons baking soda
1/2 teaspoon salt
1 teaspoon ground cinnamon
1/2 teaspoon ground cloves
1/2 teaspoon ground ginger
1/2 cup (100 grams) raw sugar, brown sugar or coconut sugar
6 tablespoons (84 grams) refined coconut oil (or unrefined if you don't mind some coconut taste) or 6 tablespoons (89 milliliters) olive oil (other mild-tasting oils would work, too)
6 tablespoons (132 grams) molasses (I used blackstrap molasses)
1 large egg (50 grams, out of shell) or 1 chia egg for the vegan version
1-2 tablespoons orange zest, optional
3 tablespoons raw sugar, for rolling
Directions
In a medium mixing bowl, mix together the flour, baking soda, salt, and spices.
In a large mixing bowl, mix together the remaining ingredients except for the 3 tablespoons raw sugar.
Add the dry mix to the wet mix and stir just until combined.
Depending on the combination of ingredients used, you may need to refrigerate the dough for 1-2 hours or until the dough is firm enough to easily roll into balls. If you used coconut sugar, you must refrigerate the dough (regardless of whether or not it's firm) for at least an hour. The ones pictured were made from non-refrigerated dough. If you refrigerate the dough, the cookies will be a little thicker.
Preheat the oven to 350 °F (175°C) and line a baking sheet with a piece of parchment paper.
Roll the dough into 40 gram balls (about 1 1/2"), roll them in the sugar, flatten them a little with the palm of your hand, and bake for 6-9 minutes.
Let the cookies cool for 3 minutes on the baking sheet and then remove to a wire rack to cool completely.
Store in an airtight container for up to 5 days.
Notes
You can use your favorite gluten-free flour mixture that's a 1:1 substitute for regular all-purpose flour. I made my own, which was: 188 grams white rice flour, 68 grams potato starch, 26 grams tapioca flour / starch, 3/4 teaspoon xanthan gum.
Additional notes for the gluten-free version:


The dough will be quite wet. You'll need to refrigerate it for 1-2 hours or until firm enough to easily roll into balls.
The cookies won't crackle as much as the ones pictured (and may not crackle at all).
You do not need to press the cookies down with your palm. They appear to spread quite thin but then puff up.
My cookies were perfectly done at 7 1/2 minutes. Earlier than that and they were uncooked in the middles and any longer than that and they became cakey. All ovens are different so I recommend doing one test cookie to make sure 7 1/2 minutes is correct for your oven. The middle should no longer appear wet when they're ready.
When you take the cookies out of the oven, slide the piece of parchment paper (along with the cookies) onto the countertop so that they don't continue to bake. If they're firm enough to remove with a spatula, you could also just do that.
These don't taste 100% like the ones made with wheat. They have a slightly grainy texture that you sometimes get when you use rice flour. It's really noticeable when you eat them straight from the oven and much less noticeable once they've cooled.