Vegan peanut butter cookies with an amazing chewy texture and lots of peanut butter flavor. They're also grain-free and gluten-free with paleo and keto / low-carb options. Everyone loves these! Thanks to Bob's Red Mill for sponsoring today's post.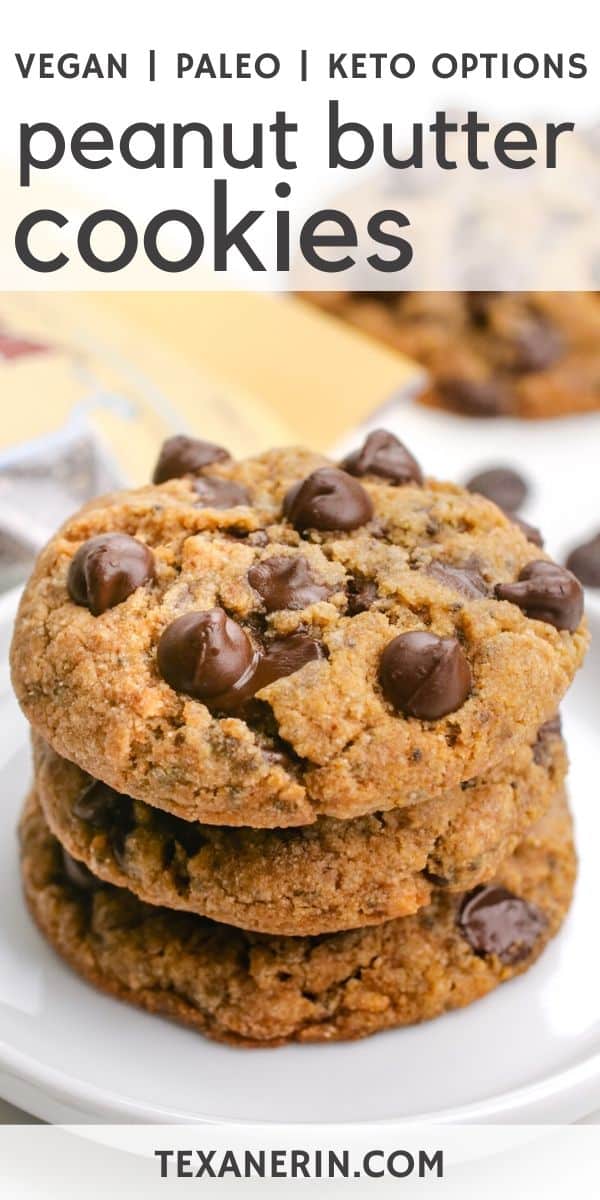 I had been blogging for six years before I posted a plain peanut butter cookie recipe – these gluten-free peanut butter cookies. I'd posted other cookies with peanut butter in them before, like my chickpea cookies, but nothing was peanut buttery enough for me until those GF peanut butter cookies.
But there was no way to make them vegan. I tried and tried but egg subs just didn't work.
So I'm super happy to be sharing these vegan peanut butter cookies today. In terms of yummyness, they may even beat the gluten-free peanut butter cookies I posted last year. It's a tough choice!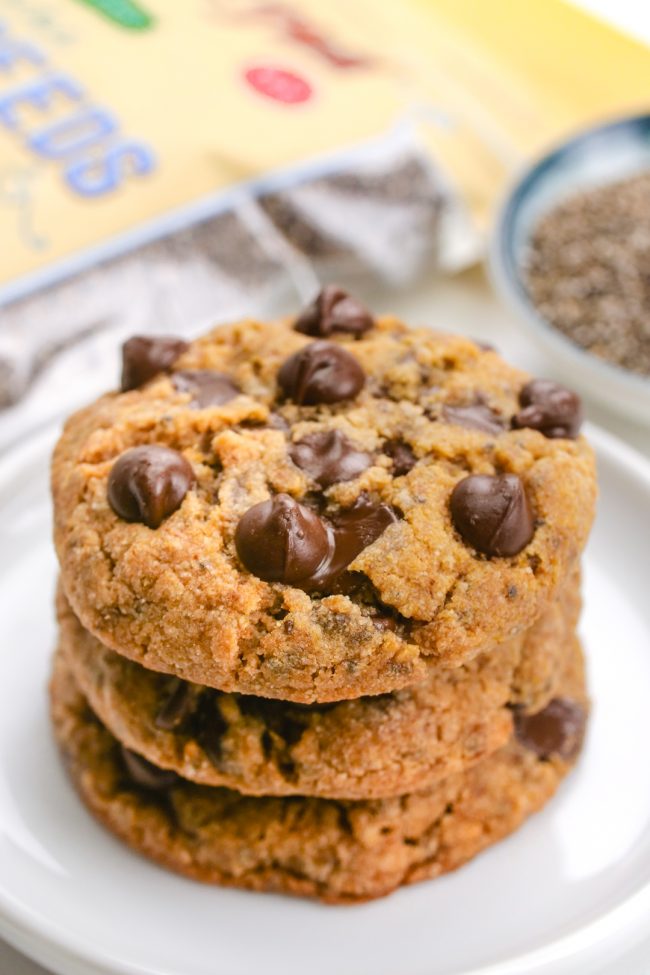 I had tried converting my paleo chocolate chip cookies into peanut butter cookies but they were never perfect. They just weren't peanut buttery enough!
I even warn people in that recipe not to use peanut butter but I still get comments from readers saying that they used peanut butter and loved them. But really… these are so much better!
The key to the cookies being loaded with peanut butter flavor is to use all coconut flour and not a combination of almond flour and coconut flour. I guess the almond flour, which I usually find really neutral, takes away too much from the peanut butter flavor.
By the way, here's how to make peanut butter. It's SO easy! You just need peanuts and a food processor or high-speed blender.
These are my go-to cookie when I have to bring something to a gathering. I've given this recipe out to so many people and none of them had any idea that the cookies were grain-free and vegan!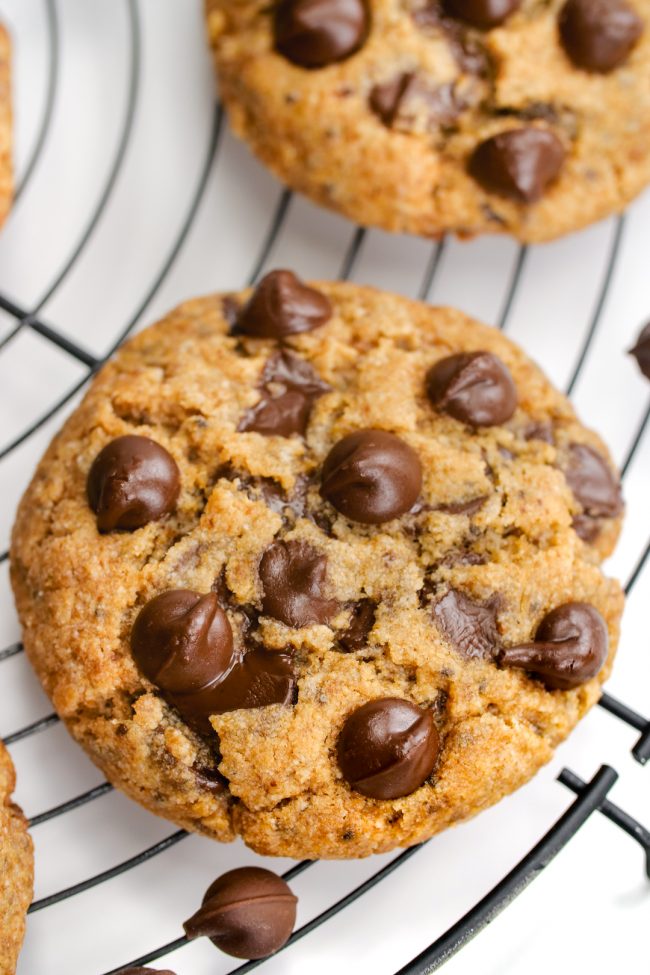 I used chia eggs to take the place of regular eggs in these cookies. If you don't need these cookies to be vegan, you can use 1 egg and 1 egg yolk in place of the 1.5 chia eggs.
I recently ran out of chia seeds and when it came time to buy some more, finding the right brand was more complicated than I thought it'd be. There's this kind of consumer reports thing here in Germany where they test different products. In one test, they tested superfoods, including chia seeds.
Two-thirds of all products got a failing grade and some were even found toxic and unsuitable for consumption. Chia seeds from different stores were pulled from the shelves. So I decided to just order some Bob's Red Mill organic chia seeds on Vitacost because I knew I wouldn't have to worry about the quality.
Bob's Red Mill is non-GMO Project Verified, which means that the ingredients they source for their products have been declared by their suppliers to be made without the use of modern biotechnology. So if you're worried about GMO products, you can buy Bob's Red Mill without worry.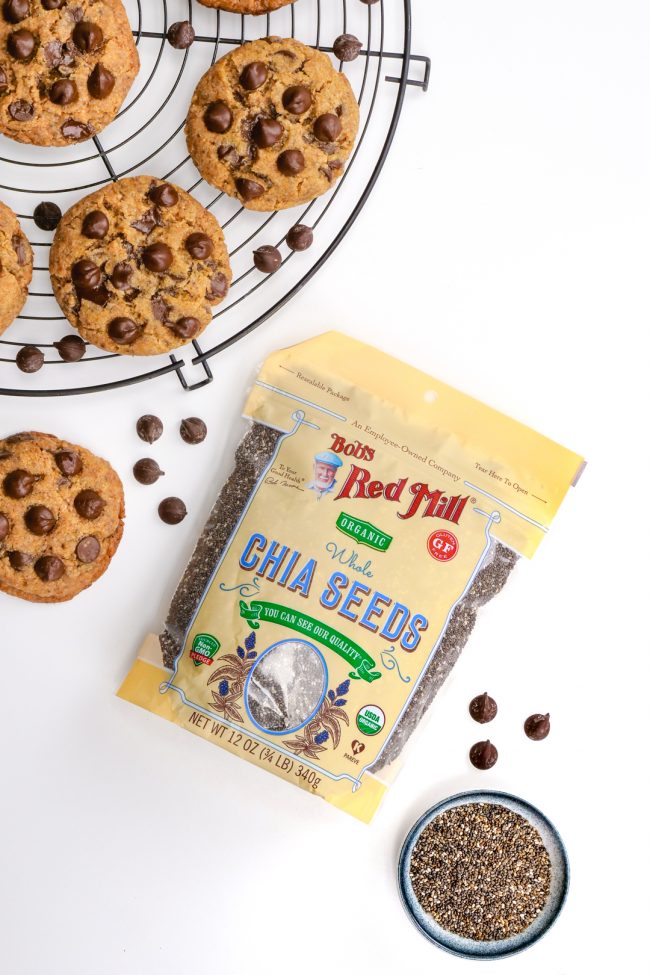 With their non-GMO Pledge, together with their dedicated gluten-free production, strict organic protocols and their commitment to meeting the highest food safety standards in the country I feel like I have nothing to worry about.
Chia eggs are my favorite egg replacer. I've used them in my gluten-free oatmeal cookies, molasses cookies, banana pancakes, and vegan pumpkin pie and many more. This chocolate protein chia pudding from Bob's Red Mill also looks delicious!
One thing to keep in mind about these vegan peanut butter cookies is that they get soft on day two. After they cool, they need to be put in an airtight container immediately to keep them crisp.
But even then, they'll be soft on the second day. It's not at all bad but it's different than the first day when they have chewy centers and crisp exteriors.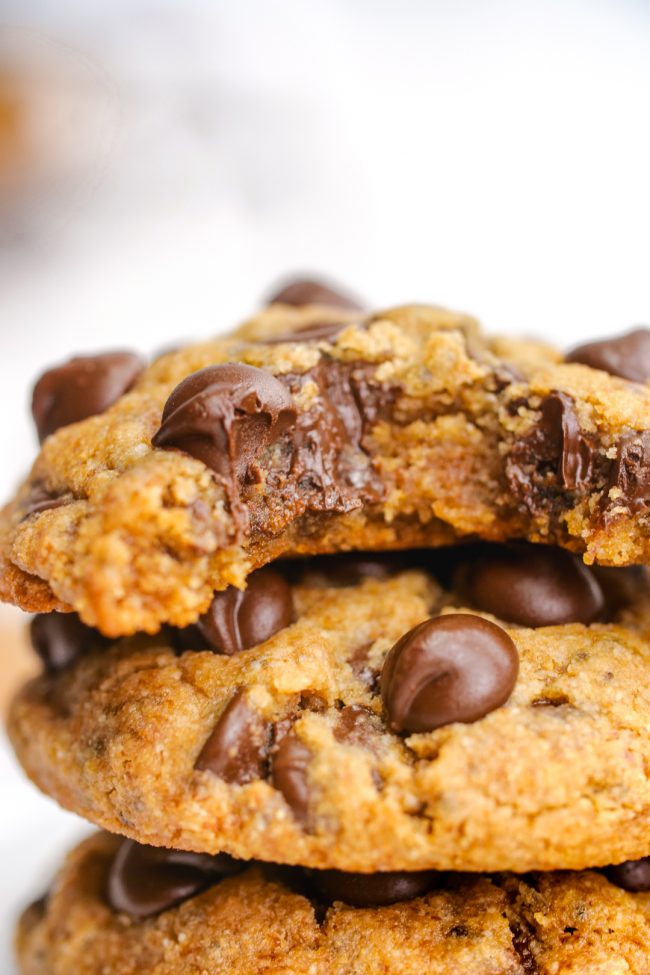 You can see what I mean by soft when you look at the end of the video when they're picked up. If you want to make these cookies ahead of time, I recommend making the dough and baking them on the day of serving. Freezing the baked cookies might work but I haven't tried so I can't say for sure.
If you need to bake some cookies ahead of time and don't want them to be soft, try my vegan paleo peppermint cookies for a great Christmas cookie. These vegan chocolate crinkle cookies would also be great!
In need of paleo cookies? Just use almond butter. They're also super tasty that way!
Substitution questions for these vegan peanut butter cookies:
Can I use something instead of coconut flour?

Nope! There's no sub for coconut flour.

Can I use butter in place of the coconut oil?

Butter will work for a non-vegan version.

Can I use something instead of coconut sugar?

Brown sugar would work if you don't care about it being paleo. Subbing in a liquid sweetener won't work. Lakanto Monkfruit Sweetener works for a low-carb version. But your cookies won't be as chewy or spread as flat as the ones in the picture.

Can I use something instead of peanut butter?

Almond butter is amazing in these! For a nut-free version, you can use sunflower seed butter. I haven't tried any other nut butters so I can't say for sure that they would work as well. Whatever you use should be free of added fat and sugar.

What can I use instead of the egg or chia egg?

I'm hesitant to recommend any other egg replacers in this recipe because I haven't tried them but I'm guessing a flax egg should work.
Thanks again to Bob's Red Mill for sponsoring today's post! Be sure to check out their website for some coupons.
If you try these vegan peanut butter cookies, I'd love to hear how they come out!
❀
Vegan Peanut Butter Cookies (paleo, low-carb / keto options)
Prep Time:
Cook Time:
Ready in:
Yield:

12 cookies
Ingredients
1/2 cup (64 grams) coconut flour
1 teaspoon baking soda
1/4 teaspoon salt
6 tablespoons (84 grams) coconut oil (the oil must be solid, like room temp butter and not melted or the dough will be greasy)
3/4 cup (150 grams) coconut sugar, very tightly packed or Lakanto Monkfruit sweetener for low-carb
6 tablespoons (98 grams) natural peanut butter (the kind with just peanuts and salt) or almond butter for paleo
1 3/4 teaspoons vanilla extract
1 1/2 chia eggs (use 1 1/2 tablespoons of ground chia seeds and 3 tablespoons + 2 teaspoons water) or 1 large egg + 1 egg yolk for a non-vegan version
1 1/4 cups (213 grams) semi-sweet chocolate chips, divided (make sure to use vegan chocolate)
Directions
In a medium mixing bowl, stir together the coconut flour, baking soda, and salt. Set aside.
In a large mixing bowl with an electric hand mixer or using a stand mixer, beat together the coconut oil, sugar, peanut butter, and vanilla at medium speed until well combined, about 1 minute.
Beat in the egg (chia or regular) on low and mix until well incorporated. Stir in the flour mixture until well combined. Then stir in 1 cup (170 grams) chocolate chips. Chill the dough for about 1-2 hours or until the dough is firm.
Preheat the oven to 350 °F (175 °C) and line a baking sheet with a piece of parchment paper.
Roll the dough into 12 (54-gram) balls and place the remaining 1/4 cup (43 grams) of chocolate chips on the top and on the sides of the dough balls. Place 4" apart on the prepared baking sheet.
Bake for 12-14 minutes or until the surface of the center of the cookies no longer appears wet. They'll be very soft but will continue to cook as they sit on the cookie sheet.
Let cool completely on the baking sheet. Store in an airtight container immediately for up to 3 days. On the first day, they'll be crisp on the outside. On the second day, the outsides soften. If the cookies are too soft for your liking, chill in the refrigerator for a firmer cookie.