Healthy wraps with peanut butter (or sunflower seed butter for a nut-free version), apple, cottage cheese and raisins are a great make-ahead lunch perfect for the lunchbox. With a gluten-free option. Thanks to Flatout for making today's post possible!
I haven't been up to making fancy meals lately. Or really, I rarely make anything fancy and almost always opt for super quick and easy. These healthy wraps definitely fit the bill!
They're perfect for the lunchbox and keep well overnight so you can prepare these a day ahead without issue. And surprisingly to me, they pack well. I was thinking the cottage cheese would make them a little too runny.
Cottage cheese + peanut butter might sound like a weird combination but it's actually really good (as long as you like the texture of cottage cheese!). I used it here as a way to pack in more protein.
If you don't like cottage cheese, I'm thinking cream cheese would be a tasty alternative.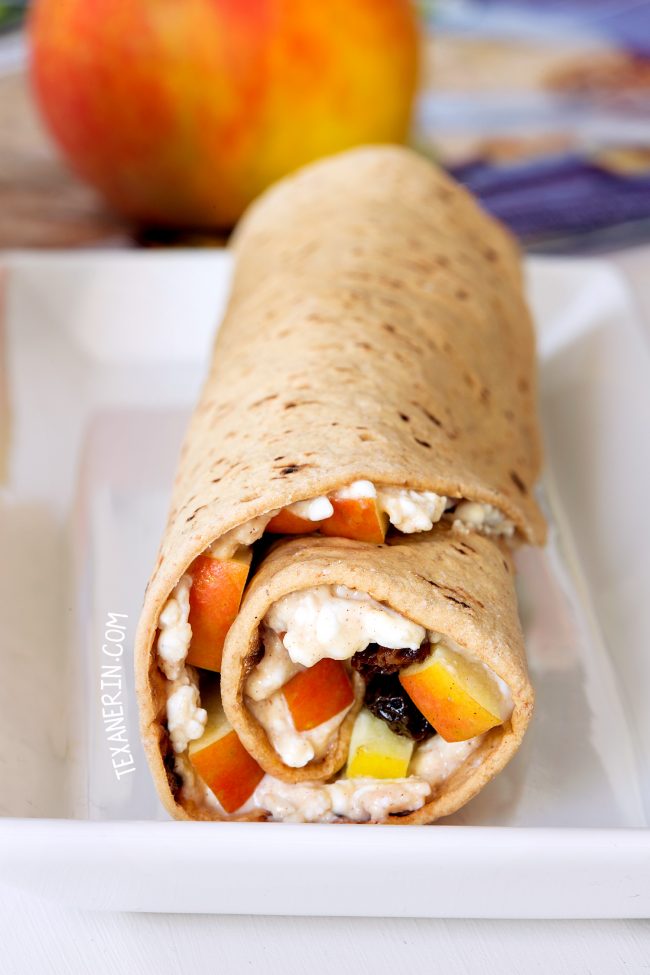 These wraps aren't super peanut buttery so feel free to up the peanut butter if you want loads of peanut butter flavor. I'm thinking a nice drizzle of peanut butter after you put on the apples and raisins is almost a must for peanut butter lovers like me. :)
Flatout Goodness!
Are you familiar with Flatout® Flatbread? They have loads of awesome flavors and for today's recipe, I went with Flatout Light Original flatbread but for a gluten-free version, you could also use Flatout Gluten-free. Both are nice and pliable – much easier than rolling a tortilla!
If you're in the mood for something savory, these chicken fajitas are amazing on Flatout!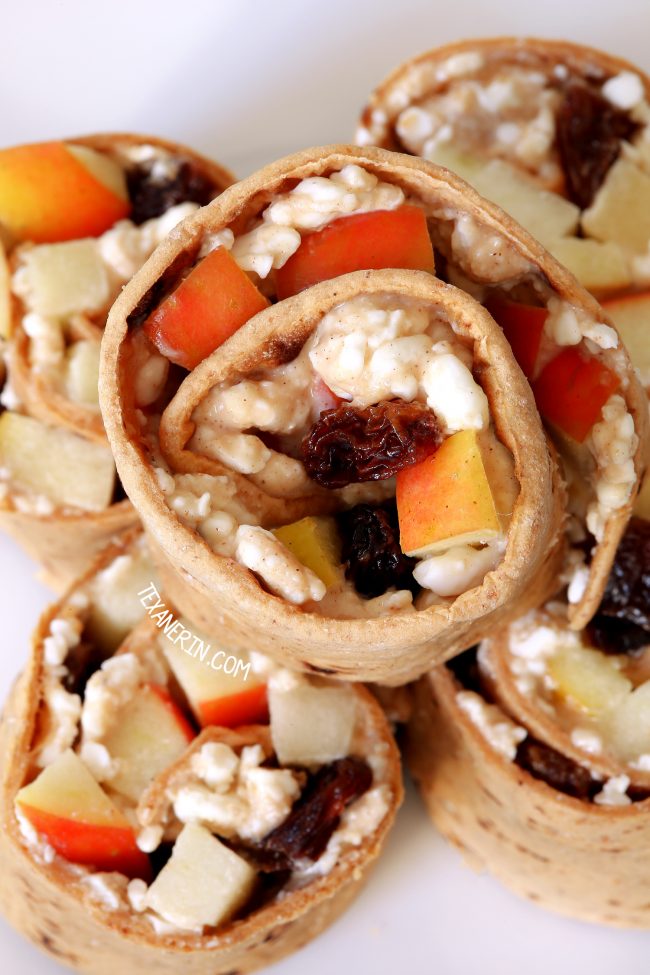 Flatout Flatbreads are big on flavor with no added sugar while also being a great source of protein and fiber, making them an excellent choice for those looking for healthier flatbread options. So it wasn't a big surprise to learn that they're now endorsed by Weight Watchers®!
Even if you're not on Weight Watchers, you can feel good about eating food which is low in SmartPoints (like these peanut butter and apple wraps), because that means you're making healthy choices. Flatout is a simple solution to creating quick, easy and tasty meals. And you most definitely don't have to deprive yourself of the foods you love if you're working to manage your weight!
Flatout Flatbreads are in the deli / bakery section of most major grocery stores. If you can't find them, just ask or visit FlatoutFinder.com to find a store near you.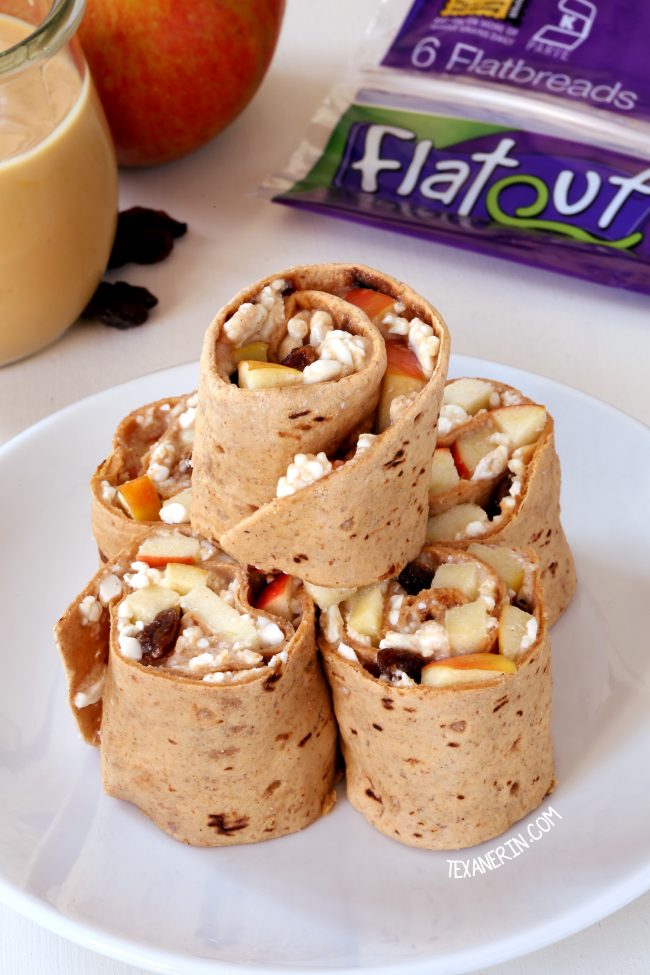 Interested in Weight Watchers?
On the Weight Watchers Beyond the Scale program, which empowers Weight Watchers members to eat the foods they love and live the life they want while losing weight, members can enjoy Flatout Flatbreads for 2 to 4 SmartPoints® value each.
As part of Beyond the Scale, the SmartPoints® food plan makes eating better simple, using the latest nutritional science to translate complex nutritional information into one simple number. The plan nudges Weight Watchers members toward a pattern of eating that includes more lean protein, fruits and vegetables, and less sugar and saturated fat.
All Flatout Light flatbreads have 2 to 3 SmartPoints value per flatbread.
All Flatout ProteinUp CarbDown flatbreads have 3 SmartPoints value (not to mention 12 grams of protein!) per flatbread.
All Flatout Artisan Thin Pizza Crust have 4 SmartPoints value per flatbread.
❀
Healthy Wraps with Peanut Butter and Apple (gluten-free option)
Prep Time:
Cook Time:
Ready in:
Yield:

1 serving
Ingredients
1 Flatout Light Original (use Flatout Gluten-free if you need these to be gluten-free)
1/4 cup cottage cheese
1 tablespoon peanut butter (the kind with just peanuts and salt - no added sugar or fat) - or sunflower seed butter for a nut-free version
1 1/2 teaspoons honey
1/4 teaspoon vanilla extract
1/16 teaspoon ground cinnamon
1 small apple (I recommend a juicy, sweet-tart one like Braeburn)
1 tablespoon unsweetened raisins
Directions
In a small bowl, mix together the cottage cheese, peanut butter, honey, vanilla extract and ground cinnamon.
Spread the mixture over the Flatout wrap, almost all the way to the edges.
Cut the apple into thin strips. Place half of the strips perpendicular to the long end in the left half of the wrap and the other half of the apple strips in the right half of the wrap.
Sprinkle the raisins evenly over the wrap and tightly fold up (from the short end on the left to the short end on the right).
Serve as is or cut into 5-6 pieces.
Notes
9 SmartPoints® value per wrap (using Flatout Light Original and peanut butter).
Thanks again to Flatout for sponsoring today's post! Weight Watchers for services and SmartPoints are the registered trademarks of Weight Watchers International, Inc. Trademarks are used with permission by Flatout, Inc.